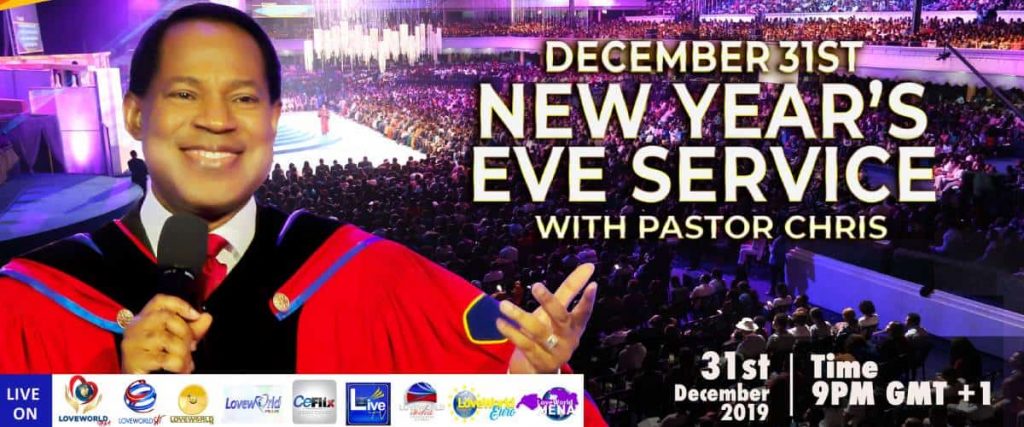 One Night!
One Meeting!
Multiple Locations!
Billions Participating!
Worldwide Impact!
Our New Year's Eve Service holds on Tuesday, December 31st, and will be streamed live to all our Churches; the LoveWorld Networks and Web/Mobile platforms; and, on major satellite, terrestrial and local TV and Radio Stations around the world.
Make sure you participate, and invite others to join you too, as we pray, worship together and usher in 2020 with the Word in faith and the Holy Spirit.
Locate a viewing center, select a TV or Radio Station, or participate through your preferred mobile or web application/ website.
Web/Mobile Platforms
Radio Stations
| | | | | | |
| --- | --- | --- | --- | --- | --- |
| S/N | COUNTRY | NAME OF RADIO STATION | CHANNEL\FREQUENCY | STATE\CITY | TIME (GMT +1) |
| 1 | AFGHANISTAN | BVB RADIO AFGHANISTAN | | | Rebroadcast |
| 2 | AFGHANISTAN | RADIO LIFE EST USA | | | Rebroadcast |
| 3 | ALGERIA | BVB RADIO ALGERIA | | | Rebroadcast |
| 4 | AUSTRALIA | BVB RADIO AUSTRALIA | | | Rebroadcast |
| 5 | AUSTRALIA | RADIO LIFE AUSTRALIA | | | Rebroadcast |
| 6 | AUSTRIALIA | MAGIC FM | | | Rebroadcast |
| 7 | Bayelsa | Crystal Radio | | | 10PM |
| 8 | BELARUS | BVB RADIO BELARUS | | | Rebroadcast |
| 9 | BELGIUM | BVB RADIO BELGIUM | | | Rebroadcast |
| 10 | BELIZE | WAMALALI RADIO | | | Rebroadcast |
| 11 | BURUNDI | HERITAGE FM 104.9 | | | 9.30PM |
| 12 | Burundi | Buja FM | | | 10PM |
| 13 | BURUNDI | BUJA FM | | | 10PM |
| 14 | Burundi | Destiny FM | | | 10PM |
| 15 | BURUNDI | DESTINY FM | | | 10PM |
| 16 | BURUNDI | HERRITAGE FM | | | Rebroadcast |
| 17 | BURUNDI | ISANGANIRO | | | 10PM |
| 18 | Burundi | Isanganiro FM | | | 10PM |
| 19 | CAMEROUN | CHANNEL PEOPLE | | | Rebroadcast |
| 20 | CAMEROUN | CMTV | | | Rebroadcast |
| 21 | CAMEROUN | Foundation Radio | | BAMENDA | 11PM |
| 22 | CAMEROUN | Nkongsamba FM | | BAMENDA | 11PM |
| 23 | CAMEROUN | Ocean City Radio | | BAMENDA | 11PM |
| 24 | CAMEROUN | Radio Hotcoa | | BAMENDA | 11PM |
| 25 | CAMEROUN | Radio Mediafrique | | BAMENDA | 11PM |
| 26 | CAMEROUN | Radio Mont Manegouba | | BAMENDA | 11PM |
| 27 | CAMEROUN | Santa Community Radio | | BAMENDA | 11PM |
| 28 | CAMEROUN | Tiko Council Community Radio | | BAMENDA | 11PM |
| 29 | CARLIFORNIA | KDIA 1640 AM | | | Rebroadcast |
| 30 | CE ABA | REAL FM  | | | 10PM |
| 31 | CE ILORIN | SOBI FM | | | 10PM |
| 32 | CE ILORIN | UNIFORM FM | | | 10PM |
| 33 | CE JALINGO | GEMBU RADIO | | | 10PM |
| 34 | CE JALINGO | TARABA STATE BROADCASTING  | | | 10PM |
| 35 | CE T&T | ISAAC FM | | | 10PM |
| 36 | CE TOGO | BORNNE NOUVELLE | | | 10PM |
| 37 | CE TOGO | FREQUENCE 01 | | | 10PM |
| 38 | CE TOGO | KNTB | | | 10PM |
| 39 | CE TOGO | RADIO MISSIONAIRE | | | 10PM |
| 40 | CE TOGO | RADIO TSEVIE | | | 10PM |
| 41 | CE TOGO | RADIO ZION | | | 10PM |
| 42 | CE YOLA | GOTEL RADIO STATION | | | 10PM |
| 43 | Central Africal | Light FM | | | 10PM |
| 44 | Central Africal | Radio Ndeke Luka | | | 10PM |
| 45 | Central Africal | TMMMN | | | 10PM |
| 46 | CHAD | BVB RADIO CHAD | | | Rebroadcast |
| 47 | Chad | Radio La Voix de la Femme | | | 10PM |
| 48 | Chad | Radio La Voix de l'esperance | | | 10PM |
| 49 | Chad | Radio Oxygene | | | 10PM |
| 50 | CYPRUS | DANCE FM | | | Rebroadcast |
| 51 | DENMARK | AIR1 RADIO | | KCITY Radio (Gospel radio) | Rebroadcast |
| 52 | DJIBOUTI | BVB RADIO DJIBOUTI | | | Rebroadcast |
| 53 | DRC | CEBS FM – Kinshasa | | | 10PM |
| 54 | DRC | HERITAGE FM – Lubumbashi | | | 10PM |
| 55 | DRC | JAMBO FM – Isiro | | | 10PM |
| 56 | DRC | KANANGA 24  | | | 10PM |
| 57 | DRC | KIN24 FM – Kinshasa | | | 10PM |
| 58 | DRC | MIKUBA FM – Kolwezi | | | 10PM |
| 59 | DRC | RADIO 13 – Buta | | | 10PM |
| 60 | DRC | RADIO MONT-CARMEL Mbuji-Mayi | | | 10PM |
| 61 | DRC | RADIO SVEIN – Bukavu | | | 10PM |
| 62 | DRC | RFGL – Kalemie | | | 10PM |
| 63 | DRC | RTM – Moanda | | | 10PM |
| 64 | DRC | RTVL RADIO – Bunia | | | 10PM |
| 65 | EGYPT | BVB RADIO EGYPT | | | Rebroadcast |
| 66 | EGYPT | FANOS ONLINE RADIO EGYPT | | | Rebroadcast |
| 67 | EGYPT | Jesus Today | | | Rebroadcast |
| 68 | EGYPT | RADIO LIFE UK | | | Rebroadcast |
| 69 | ETHIOPIA | BVB RADIO ETHIOPIA | | | Rebroadcast |
| 70 | FRANCE | BVB RADIO FRANCE | | | Rebroadcast |
| 71 | GEORGIA | BVB RADIO GEORGIA | | | Rebroadcast |
| 72 | GERMANY | RADIO LIFE GERMANY | | | Rebroadcast |
| 73 | Ghana |  123Fm  | | Nungua | 11PM |
| 74 | Ghana |  Destiny Radio   | | Nungua | 11PM |
| 75 | Ghana |  Eastern fm koforidua  | | Nungua | 11PM |
| 76 | Ghana |  Freetown radio | | Nungua | 11PM |
| 77 | Ghana |  Ho Fm | | Nungua | 11PM |
| 78 | Ghana |  Jangay radio 99 | | Nungua | 11PM |
| 79 | Ghana |  Joy FM  | | Nungua | 11PM |
| 80 | Ghana |  Kalleone Radio | | Nungua | 11PM |
| 81 | Ghana |  Kasapa fm | | Nungua | 11PM |
| 82 | Ghana |  Kingdom Fm | | Nungua | 11PM |
| 83 | Ghana |  Live FM  | | Nungua | 11PM |
| 84 | Ghana |  Malo Radio  | | Nungua | 11PM |
| 85 | Ghana |  Mattrujung Star radio | | Nungua | 11PM |
| 86 | Ghana |  Nkonim Fm  | | Nungua | 11PM |
| 87 | Ghana |  Oman Fm  | | Nungua | 11PM |
| 88 | Ghana |  Osagyofo fm  | | Nungua | 11PM |
| 89 | Ghana |  Pink Fm  | | Nungua | 11PM |
| 90 | Ghana |  Radio Democracy 98:3 fm – | | Nungua | 11PM |
| 91 | Ghana |  Radio visa  | | Nungua | 11PM |
| 92 | Ghana |  Rite Fm | | Nungua | 11PM |
| 93 | Ghana |  Seal radio  | | Nungua | 11PM |
| 94 | Ghana |  Sela Radio  | | Nungua | 11PM |
| 95 | Ghana |  Star FM  | | Nungua | 11PM |
| 96 | Ghana |  Sunny FM  | | Nungua | 11PM |
| 97 | Ghana |  Testimony Fm | | Nungua | 11PM |
| 98 | Ghana |  Voice of Kono | | Nungua | 11PM |
| 99 | Ghana |  West fm  | | Nungua | 11PM |
| 100 | Ghana |  Yang online radio station  | | Nungua | 11PM |
| 101 | Ghana |  Zcami Radio | | Nungua | 11PM |
| 102 | Ghana | Adom FM  | | Nungua | 11PM |
| 103 | GHANA | AGOO FM | | | 10PM |
| 104 | Ghana | Ahotor Fm | | Nungua | 11PM |
| 105 | Ghana | Ajays Radio | | Nungua | 11PM |
| 106 | GHANA | AKYEMAN FM | | | 10PM |
| 107 | Ghana | ALL OUT RADIO | | Nungua | 11PM |
| 108 | Ghana | Amaze radio | | Nungua | 11PM |
| 109 | GHANA | ANKOBRA FM | | | 10PM |
| 110 | Ghana | Ashaiman TV  | | Nungua | 11PM |
| 111 | GHANA | ATL fm | | | 10PM |
| 112 | Ghana | Beyond Fm | | Nungua | 11PM |
| 113 | GHANA | Beyond Fm. | | | 11PM |
| 114 | GHANA | BISHARA RADIO | | | 10PM |
| 115 | Ghana | Bishira Radio | | Nungua | 11PM |
| 116 | Ghana | Christ Fm  | | Nungua | 11PM |
| 117 | GHANA | CLASSIC FM | | | 10PM |
| 118 | Ghana | Coastal fm | | Nungua | 11PM |
| 119 | GHANA | FOX FM | | | 10PM |
| 120 | Ghana | Free Fm | | Nungua | 11PM |
| 121 | Ghana | Free fm  | | Nungua | 11PM |
| 122 | GHANA | FREEDOM FM | | | 10PM |
| 123 | Ghana | freedom fm | | Nungua | 11PM |
| 124 | GHANA | GOOD LIFE FM | | | 10PM |
| 125 | GHANA | GOODNEWS FM | | | 10PM |
| 126 | Ghana | Handicap radio | | Nungua | 11PM |
| 127 | GHANA | HOME RADIO | | | 10PM |
| 128 | GHANA | HOPE FM | | | 10PM |
| 129 | GHANA | JERRYSON FM | | | 10PM |
| 130 | GHANA | JUBILEE RADIO | | | 10PM |
| 131 | GHANA | K FM | | | 10PM |
| 132 | GHANA | KAN FM | | | 10PM |
| 133 | GHANA | KESMI FM | | | 10PM |
| 134 | GHANA | KINGDOM FM | | | 10PM |
| 135 | Ghana | Kingdom fm | | Nungua | 11PM |
| 136 | GHANA | KINGS RADIO | | | 10PM |
| 137 | Ghana | KISS 104 RADIO | | Nungua | 11PM |
| 138 | GHANA | KULL FM | | | 10PM |
| 139 | Ghana | Liberia Broadcasting system | | Nungua | 11PM |
| 140 | GHANA | Live FM (Ghana) | | | 11PM |
| 141 | Ghana | Magyk fm | | Nungua | 11PM |
| 142 | GHANA | OFIE FM | | | 10PM |
| 143 | GHANA | OKWAWU FM | | | 10PM |
| 144 | GHANA | PAD FM | | | 10PM |
| 145 | GHANA | PARAGON FM | | | 10PM |
| 146 | Ghana | Radio mankeneh-95 | | Nungua | 11PM |
| 147 | GHANA | RADIO TAMALE | | | 10PM |
| 148 | GHANA | Radio Universe | | | 10PM |
| 149 | Ghana | RADIO VOICE OF FAITH | | Nungua | 11PM |
| 150 | GHANA | Radio Windy Bay | | | 10PM |
| 151 | Ghana | SLBC RADIO | | Nungua | 11PM |
| 152 | Ghana | SLBC radio 88 | | Nungua | 11PM |
| 153 | GHANA | Star FM (Ghana) | | | 11PM |
| 154 | GHANA | Sunny FM (Ghana) | | | 11PM |
| 155 | GHANA | TOSH FM | | | 10PM |
| 156 | Ghana | Universal radio | | Nungua | 11PM |
| 157 | Ghana | Voh( handicap) | | Nungua | 11PM |
| 158 | GHANA | VOLTA PREMIER FM | | | 10PM |
| 159 | Ghana | West coast radio 92 | | Nungua | 11PM |
| 160 | GHANA | WEST END | | | 10PM |
| 161 | GLOBAL | LOVEWORLD RADIO | | GLOBAL | 10PM |
| 162 | INDA | BVB RADIO INDIA | | | Rebroadcast |
| 163 | INDIA | RADIO LIFE INDIA | | | Rebroadcast |
| 164 | INDONESIA | BVB RADIO IRAQ | | | Rebroadcast |
| 165 | Iran | IRIB Iran | | | 10PM |
| 166 | ISREAL  | BVB RADIO ISREAL | | | Rebroadcast |
| 167 | Jamaica | Gospel FM | | | 10PM |
| 168 | Jamaica | Love 101 FM | | | 10PM |
| 169 | JORDAN | BVB RADIO JORDAN | | | Rebroadcast |
| 170 | KENYA | BVB RADIO KENYA | | | Rebroadcast |
| 171 | Lagos | Amen Radio | | | 10PM |
| 172 | Lagos | Triumphant Radio | | | 10PM |
| 173 | Lagos | WIG Radio | | | 10PM |
| 174 | Lagos | Worship Culture Radio | | | 10PM |
| 175 | LEBANON | BVB RADIO LEBANON | | | Rebroadcast |
| 176 | LEBANON | RADIO 1 | | | Rebroadcast |
| 177 | LIBERIA | BVB RADIO LIBERIA | | | Rebroadcast |
| 178 | LIBERIA | ELBC | | | 11PM |
| 179 | Liberia | ELBC Liberia | | | 10PM |
| 180 | Liberia | LNTV | | | 10PM |
| 181 | LIBYA | BVB RADIO LIBYA | | | Rebroadcast |
| 182 | London | Ready FM | | | 10PM |
| 183 | MADAGASTAR | 102.4 RMK | | | Rebroadcast |
| 184 | MALAWI | ABC LILONGWE | | | Rebroadcast |
| 185 | MALAWI | ABC MZUZU | | | Rebroadcast |
| 186 | MALAWI | LIVING STONE | | | Rebroadcast |
| 187 | MALAWI | Timveni Radio | | | 10PM |
| 188 | MALAWI | Trans world Radio | | | 10PM |
| 189 | MALAWI NORTH | LIVING STONIA BLANTYRE | | | Rebroadcast |
| 190 | MALAWI NORTH | LIVING STONIA LILONGWE | | | Rebroadcast |
| 191 | MALAWI NORTH | LIVING STONIA RADIO MUAZU  | | | Rebroadcast |
| 192 | MALI | RADIO ESPOUR | | | Rebroadcast |
| 193 | MALI | RADIO GUINTAIN  | | | Rebroadcast |
| 194 | MAURITIUS | COOL FM | | | 10PM |
| 195 | MAURITIUS | RADIO MAURITIUS | | | 10PM |
| 196 | MAURITIUS | TOP FM | | | 10PM |
| 197 | MOLDOVA | BVB RADIO MOLDOVA | | | Rebroadcast |
| 198 | NAMIBIA | MTV NAMIBIA | | | Rebroadcast |
| 199 | NEPAL | BVB RADIO NEPAL | | | Rebroadcast |
| 200 | NETHERLANDS | BVB RADIO NETHERLANDS | | | Rebroadcast |
| 201 | NIGER | BVB RADIO NIGER | | | Rebroadcast |
| 202 | NIGERIA | 105.9 – Inspiration FM | | | 10PM |
| 203 | NIGERIA | DARLING FM | | Imo State | 10PM |
| 204 | NIGERIA | SOLID FM | | IMO, ABIA, ENUGU, EBONYI, ANAMBRA | 10PM |
| 205 | NIGERIA | URBAN RADIO | | IMO, ABIA, ENUGU | 10PM |
| 206 | NIGERIA | 100.7 – UNIUYO FM (University of Uyo) | | | 10PM |
| 207 | NIGERIA | 101.1 – Planet FM | | | 10PM |
| 208 | NIGERIA | 104.5 – Atlantic FM | | | 10PM |
| 209 | NIGERIA | 105.5 – Paradise FM | | | 10PM |
| 210 | NIGERIA | 106.9 – XL FM | | | 10PM |
| 211 | NIGERIA | 107.5 – Gospel Revolution FM | | | 10PM |
| 212 | NIGERIA | 90.5 – AKBC | | | 10PM |
| 213 | NIGERIA | 94.5 – Passion FM | | | 10PM |
| 214 | NIGERIA | 95.1 – Comfort FM | | | 10PM |
| 215 | Nigeria | Ajilete FM, 92.1 Ogbomosho | | | 10PM |
| 216 | NIGERIA | ATLANTIC FM | | UYO | 11PM |
| 217 | NIGERIA | ATLANTIC FM | | URL- www.kcityradio.com | Rebroadcast |
| 218 | NIGERIA | BLAZE FM | | OWERRI | 10PM |
| 219 | NIGERIA | BLAZE FM | | Enugu | 10PM |
| 220 | NIGERIA | BRONZE FM | | | 11PM |
| 221 | NIGERIA | CHARITY FM | | | 11PM |
| 222 | NIGERIA | CHOICE FM  | | | 11PM |
| 223 | NIGERIA | COAL CITY FM | | | 11PM |
| 224 | NIGERIA | COMPANION FM | | | 11PM |
| 225 | NIGERIA | CORRECT FM – 97.3 | | CALABAR | 11PM |
| 226 | NIGERIA | CRBC RADIO IKOM – 89.7 | | CALABAR | 11PM |
| 227 | NIGERIA | CREEK FM | | YENEGOA | 11PM |
| 228 | NIGERIA | CROSS RIVER RADIO – 92.6 | | CALABAR | 11PM |
| 229 | Nigeria | Crown FM, Warri | | | 10PM |
| 230 | NIGERIA | DREAM FM | | IMO, ABIA, ENUGU, EBONYI, ANAMBRA | 10PM |
| 231 | NIGERIA | EQUITY FM | | | 11PM |
| 232 | NIGERIA | EXCEL FM | | | 11PM |
| 233 | NIGERIA | FAD FM – 93.1 | | CALABAR | 11PM |
| 234 | Nigeria | Gboko FM, Warri | | | 10PM |
| 235 | NIGERIA | GIFT FM | | | 11PM |
| 236 | NIGERIA | GLOBE FM | | BAUCHI | 11PM |
| 237 | NIGERIA | GOLD FM | | | 11PM |
| 238 | NIGERIA | HARMONY FM | | | 11PM |
| 239 | NIGERIA | HARVEST FM | | MAKURDI | 11PM |
| 240 | NIGERIA | HEARTLAND FM | | IMO STATE | 10PM |
| 241 | NIGERIA | HEARTLAND FM | | | 11PM |
| 242 | NIGERIA | HIGHLAND FM | | | 11PM |
| 243 | NIGERIA | HIT FM – 95.9 | | CALABAR | 11PM |
| 244 | NIGERIA | HORIZON FM | | | 11PM |
| 245 | NIGERIA | HOT FM | | | Rebroadcast |
| 246 | NIGERIA | JEWEL FM | | | 11PM |
| 247 | Nigeria | Kanem FM | | | 11pm |
| 248 | NIGERIA | KAPITAL FM | | | 11PM |
| 249 | Nigeria | KCITY Radio (Gospel radio) | Online | Lagos | 10PM |
| 250 | Nigeria | KU FM Benin | | | 10PM |
| 251 | NIGERIA | LIGHT HOUSE FM | | YOLA | 11PM |
| 252 | NIGERIA | LION FM | | IMO, ABIA, ENUGU, EBONYI, ANAMBRA | 10PM |
| 253 | Nigeria | Liveway Radio | | | 10PM |
| 254 | NIGERIA | LOVE FM | | | Rebroadcast |
| 255 | NIGERIA | METRO FM | | | 11PM |
| 256 | Nigeria | Naija Gospel Radio | | | 10PM |
| 257 | NIGERIA | NTA UZARUE | | | Rebroadcast |
| 258 | Nigeria | Oghara FM | | | 10PM |
| 259 | NIGERIA | ORECIOUS FM | | | 11PM |
| 260 | NIGERIA | PACESETTER FM | | UMUAHIA | 11PM |
| 261 | NIGERIA | PARADISE FM | | | 11PM |
| 262 | NIGERIA | PARAMOUNT FM | | | 11PM |
| 263 | NIGERIA | PASSION FM | | | 11PM |
| 264 | NIGERIA | PEACE FM | | | 11PM |
| 265 | Nigeria | PEACE FM | | | Rebroadcast |
| 266 | NIGERIA | PLANET FM | | | 11PM |
| 267 | NIGERIA | PLANET RADIO | | | Rebroadcast |
| 268 | NIGERIA | POSITIVE FM | | | 11PM |
| 269 | NIGERIA | PREMIER FM | | | 11PM |
| 270 | NIGERIA | PRIDE FM | | | 11PM |
| 271 | NIGERIA | PRIME FM | | | 11PM |
| 272 | NIGERIA | PROGRESS FM | | | 11PM |
| 273 | NIGERIA | PURITY FM | | AWKA | 11PM |
| 274 | NIGERIA | PYRAMID FM | | | 11PM |
| 275 | NIGERIA | ROYAL FM | | | 11PM |
| 276 | NIGERIA | SHINE FM | | | Rebroadcast |
| 277 | NIGERIA | SOLID FM | | | 11PM |
| 278 | NIGERIA | SPARKLING FM – 92.3 | | CALABAR | 11PM |
| 279 | NIGERIA | SUNSHINE FM | | | 11PM |
| 280 | NIGERIA | SUPREME FM  | | | 11PM |
| 281 | Nigeria | SWAG Radio | | | 10PM |
| 282 | NIGERIA | TREASURE FM | | | 11PM |
| 283 | NIGERIA | UNITY FM | | | 11PM |
| 284 | NIGERIA | WE FM | | | Rebroadcast |
| 285 | OMAN | RADIO LIFE OMAN | | | Rebroadcast |
| 286 | PAKISTAN | BVB RADIO PAKISTAN | | | Rebroadcast |
| 287 | PAKISTAN | RADIO LIFE PAKISTAN | | | Rebroadcast |
| 288 | PHILLIPPINES | V-HIVE | | | Rebroadcast |
| 289 | RUSSIA | BVB RADIO RUSSIA | | | Rebroadcast |
| 290 | RWANDA | BVB RADIO RWANDA | | | Rebroadcast |
| 291 | RWANDA | RADIO AFIA | | | 11PM |
| 292 | RWANDA | RADIO UMCYO | | | 11PM |
| 293 | RWANDA | ROYAL RADIO | | | Rebroadcast |
| 294 | SAUDI ARABIA | BVB RADIO SAUDI ARABIA | | | Rebroadcast |
| 295 | SIERRA LEONE | Ajays Radio | | | 11PM |
| 296 | SIERRA LEONE | ALL OUT RADIO. | | | 11PM |
| 297 | SIERRA LEONE | Amaze radio | | | 11PM |
| 298 | SIERRA LEONE | Freetown radio | | | 11PM |
| 299 | SIERRA LEONE | Handicap radio | | | 11PM |
| 300 | SIERRA LEONE | Jangay radio 99.2 fm | | | 11PM |
| 301 | SIERRA LEONE | Kalleone Radio | | | 11PM |
| 302 | SIERRA LEONE | KISS 104 RADIO. Bo | | | 11PM |
| 303 | SIERRA LEONE | Mattrujung Star radio | | | 11PM |
| 304 | SIERRA LEONE | Radio Democracy 98:3 fm – | | | 11PM |
| 305 | SIERRA LEONE | Radio Democracy 98:3 fm – | | | 11PM |
| 306 | SIERRA LEONE | Radio mankeneh-95.1fm | | | 11PM |
| 307 | SIERRA LEONE | RADIO VOICE OF FAITH. | | | 11PM |
| 308 | SIERRA LEONE | SLBC radio 88.0fm | | | 11PM |
| 309 | SIERRA LEONE | Tumac Radio | | | 11PM |
| 310 | SIERRA LEONE | Universal radio | | | 11PM |
| 311 | SIERRA LEONE | Voh( handicap) | | | 11PM |
| 312 | SIERRA LEONE | Voice of Kono | | | 11PM |
| 313 | SIERRA LEONE | Zcami Radio | | | 11PM |
| 314 | SIRRALEONE | UNIVERSAL RADIO FM | | | Rebroadcast |
| 315 | SLOVENIA | Radio Net (http://radionet.si/) | | | Rebroadcast |
| 316 | SOMALIA | BVB RADIO SOMALIA | | | Rebroadcast |
| 317 | SOUTH AFRICA | Alex FM | | Gauteng Province | 11PM |
| 318 | SOUTH AFRICA | Bojanala FM  | | North West | 11PM |
| 319 | SOUTH AFRICA | Cosmo FM | | Gauteng Province | 11PM |
| 320 | SOUTH AFRICA | Eldos FM | | Gauteng Province | 11PM |
| 321 | South Africa | EMB Radio | | | 10PM |
| 322 | SOUTH AFRICA | Kassie FM | | Gauteng Province | 11PM |
| 323 | SOUTH AFRICA | Kumkani FM  | | East London | 11PM |
| 324 | SOUTH AFRICA | Mdantsane FM | | East London Province  | 11PM |
| 325 | SOUTH AFRICA | PLATINUM TV | | | Rebroadcast |
| 326 | SOUTH AFRICA | Port Elizabeth FM | | SOWETO | 11PM |
| 327 | SOUTH AFRICA | REVIVAL FM | | | 11PM |
| 328 | South Africa | Triumph Radio | | | 10PM |
| 329 | SOUTH AFRICA | Westside FM | | Gauteng Province | 11PM |
| 330 | South Sudan | 88.4 City Fm | | | 10PM |
| 331 | South Sudan | Favour Fm | | | 10PM |
| 332 | South Sudan | Sama Fm | | | 10PM |
| 333 | SRILANKA | BVB RADIO SRILANKA | | | Rebroadcast |
| 334 | St Kitts & Nevis | SVG Radio | | | 10PM |
| 335 | SUDAN  | BVB RADIO SUDAN | | | Rebroadcast |
| 336 | SVG | NBC Saint Vincent | | SVG | 11PM |
| 337 | SYRIA | BVB RADIO SYRIA | | | Rebroadcast |
| 338 | SYRIA | RADIO LIFE PAKISTAN | | | Rebroadcast |
| 339 | SYRIA | RADIO TUNES | | | Rebroadcast |
| 340 | TANZANIA | CLOUD Radio | | | 10PM |
| 341 | TANZANIA | TBC Radio | | | 10PM |
| 342 | Tanzania | WIG Radio 2 | | | 10PM |
| 343 | Togo | Frequence 1 | | | 10PM |
| 344 | Togo | KNTB Radio | | | 10PM |
| 345 | Togo | Radio Bone Nouvelle | | | 10PM |
| 346 | Togo | Radio Zion | | | 10PM |
| 347 | Uganda | 11 FM | | | 11PM |
| 348 | Uganda | Afia Radio | | | 11PM |
| 349 | Uganda | BEAT FM KABALE | | | 11PM |
| 350 | Uganda | CONTINENTAL RADIO | | | 11PM |
| 351 | Uganda | EJAZZI | | | 11PM |
| 352 | Uganda | HUNTER FM | | | 11PM |
| 353 | Uganda | JOGO FM BUSIA  | | | 11PM |
| 354 | Uganda | KIBANDA FM | | | 11PM |
| 355 | Uganda | KIRA FM | | | 11PM |
| 356 | Uganda | KIRYANDONGO FM | | | 11PM |
| 357 | Uganda | KISORO FM | | | 11PM |
| 358 | Uganda | MPIGI FM  | | | 11PM |
| 359 | Uganda | QFM | | | 11PM |
| 360 | Uganda | SHINE FM | | | 11PM |
| 361 | Uganda | SMART FM RADIO | | | 11PM |
| 362 | Uganda | SOUL LIGHT | | | 11PM |
| 363 | Uganda | SPEAK FM | | | 11PM |
| 364 | Uganda | SPIRIT FM KOBOKO | | | 11PM |
| 365 | Uganda | VCC RADIO FM | | | 11PM |
| 366 | Uganda | WOT ONLINE | | | 11PM |
| 367 | Uganda | YOFOCHM | | | 11PM |
| 368 | UK | BVB RADIO UK | | | Rebroadcast |
| 369 | UK | Cfaith Radio | | | 10PM |
| 370 | UK | RADIO LIFE UK | | | Rebroadcast |
| 371 | UK | Salt FM | | | 10PM |
| 372 | UK | Snatch Radio UK | | | Rebroadcast |
| 373 | UKRAINE | BVB RADIO UKRAINE | | | Rebroadcast |
| 374 | UKRAINE | RADIO MELODIA | | | Rebroadcast |
| 375 | UKRAINE | RADIO SVIZZERA | | | Rebroadcast |
| 376 | USA | LOVE 860 Atlanta USA | | ATLANTA | 10PM |
| 377 | USA | ELSHADAI 540AM | | | Rebroadcast |
| 378 | USA | Gospel Hit Radio | | | 10PM |
| 379 | USA | RADIO LIFE EST USA | | | Rebroadcast |
| 380 | VENEZUELA | 107.1 VALLE DE PASCU | | | Rebroadcast |
| 381 | VENEZUELA | 94.1 VILLA DE CURA GUARICO FORTALEZA | | | Rebroadcast |
| 382 | VENEZUELA | ALFA 98.1 CALABOZO, GUARICO  | | | Rebroadcast |
| 383 | VENEZUELA | ECO STEREO 103.1 SAN FRACISCO, ZULIA | | | Rebroadcast |
| 384 | VENEZUELA | EXCELENTE 107.7 CALABOZO, GUARICO | | | Rebroadcast |
| 385 | VENEZUELA | SATELLITE 89.5 MARACAIBO, ZILIA | | | Rebroadcast |
| 386 | VENEZUELA | SUBLIME 94.7 SANJUAN GUARICO EMMANUEL | | | Rebroadcast |
| 387 | ZAMBIA | Joy FM | | | 11PM |
| 388 | ZAMBIA | One love Radio | | | 11PM |
| 389 | ZAMBIA | QFM | | | 11PM |
| 390 | Zimbabwe | Power FM | | | 10PM |
| 391 | Zimbabwe | Power FM Radio Station 99.3 frequency | 99.3 frequency | Harere | 11PM |
| 392 | Zimbabwe | Radio Zimbabwe | | | 10PM |
| 393 | Zimbabwe | Star Fm | | | 10PM |
| 394 | Zimbabwe | ZiFm | | | 10PM |
Viewing Centers
| | | | | | | | |
| --- | --- | --- | --- | --- | --- | --- | --- |
| S/NO. | COUNTRY | NAME OF BUILDING/ PARK/ STADIUM (ETC.) | STREET NAME AND NUMBER | POST CODE | TOWN | CITY | STATE |
| 1 | Angola | Behind Dsj Trading Center | Luta Continua | | Lubango | Lubango | Lubango |
| 2 | Angola | Ex Coca Cola | Rua Da Ex Coca Cola | | Luanda | Luanda | Luanda |
| 3 | Angola | Hotel Camama | Rua Do Hotel Camama | | Luanda | Luanda | Luanda |
| 4 | Benin Republic | Abattoir | Rue Duke College Bef Avenue Derrier Le Marche Abattoire | | Abattoir | Cotonou | Cotonou |
| 5 | Benin Republic | Calavi Kpota | St Lois, Calavi Kpota | | Calavi | Cotonou | Cotonou |
| 6 | Benin Republic | Christ Embassy Auditorium | Str. Vedoko | | Cotonou | Cotonou | Cotonou |
| 7 | Benin Republic | Fin Pavè | Carrefour Agbodjedo | | Agbodjedo | Cotonou | Cotonou |
| 8 | Benin Republic | Immeuble Lanwassonou | Str. Gboddodji | Num. 155 | Gboddodji | Porto Novo | Port Novo |
| 9 | Benin Republic | Kohounou | Derrier Le Stade De L'amitie | | Amitie | Cotonou | Cotonou |
| 10 | Benin Republic | Kpebie | Vons L'hopital Kpebie | | Parakou | Parakou | Cotonou |
| 11 | Benin Republic | Parking Les Bagnoles | Sous Echangeur De Godomey | | Cotonou | Godomey | Benin Republic |
| 12 | Benin Republic | Rond Point Sainte Cecile | Str. Etoile Rouge | Num. 6106 | Cotonou | Cotonou | Cotonou |
| 13 | Benin Republic | Space In Front Of Church | Devante L'eglise Christ Embassy | | Bohicon | Cotonou | Cotonou |
| 14 | Benin Republic | Yagbe | Vons En Face De | | Avotrou | Cotonou | Cotonou |
| 15 | Burkina Faso | Ce Burkina Faso Rd | Ave Tansoba Ouaga | | Ouaga | Ouaga | Ouaga |
| 16 | Burundi | Ce Seychelles 1 | 2325,Avenue Kigobe,Bujumbura | | Bujumbura | Bujumbu | Bujumbura |
| 17 | Canada | | 8250 Ave Mountain Sights. Qc H4p 2b7 | | Ndg | Montreal | Quebec |
| 18 | Canada | | #630 On 4e Ave | | Verdun | Montreal | Quebec |
| 19 | Canada | | 285 Rue Quinlan | | Lasalle | Montreal | Quebec |
| 20 | Canada | | 11701 Avenue Pigeon, | | Montréal-Nord | Montreal | Quebec |
| 21 | Ce Burundi | Best Hotel | Avenue De La Revolution | | Bujumbura Marie | Bujumbura | Burundi |
| 22 | Ce Burundi | Centre De Formation Proffessionee De Kigobe | Avenue  Muhabo | | Bujumbura Marie | Bujumbura Mairie | Burundi |
| 23 | Ce Drc | Ce Boma | Lumumba Avenue No.904 Bomaville Quater | | Boma | Boma | Drc |
| 24 | Ce Drc | Ce Lubumbashi | Avenue Du 30 Juin | | Lubumbashi | Haut Katanga | Drc |
| 25 | Ce Iringa | Iringa Boma | Posta | | Iringa | Iringa | Tanzania |
| 26 | Ce Maurutius | Ce Mauritius | Tagore Road Richemare | | Flacq | Flacq | Mauritius |
| 27 | Christ Embassy Galway | Clayton Hotel, | Galway,Ballybrit | | | Galway | Republic Of Ireland |
| 28 | Cote D'ivoire | Ce Abidjan | Carrefour Faya 3eme Rue A Droite Derriere Le Super Marche Bon Prix | |  Faya | Abidjan | Abidjan |
| 29 | Cote D'ivoire | Ce Agboville | Agboville Quartier Sambregnan Route Du Lycee 3 | | Agboville | Agboville | Agboville |
| 30 | Cote D'ivoire | Ce Bouake | Air France 3 Apres Le Glacier Sur La Voie De La Pharmacie Ayata A Votre Gauche | | Bouake | Bouake | Bouake |
| 31 | Cote D'ivoire | Ce Yamoussoukro | Immeuble Face Gare Utb | | Yamoussoukro | Yamoussoukro | Yamoussoukro |
| 32 | Drc | Ce Nyanama |  Avenue Kauka 5573 Maisha Park,Arret Royal, Gombe | | Kinshasa | Kinshasa | Kinshasa |
| 33 | Drc | Ce Sheema | 2186, Avenue Du 30 Juinref: Behind The House Of Parliament | | Lubumbashi | Lubumba | Lubumbashi |
| 34 | Drc | Ce Sherikat | 111, Avenue Du Port Goma | | Goma | Goma | Goma |
| 35 | Drc | Children's Amusement Park | 112,Avenue Bacongo | | Boma | Boma | Boma |
| 36 | Drc | Christ Embassy | 28, Nonge C/Mont Ngafula  Kinshasa | | Kinshasa | Kishasha | Kinshasa |
| 37 | Drc | Christ Embassy |  Croisement Des Avenues Lusanga Et Djugu | | Kolwezi | Kolwezi | Kolwezi |
| 38 | Drc | Christ Embassy | Avenue Des Impots Q/Soyo C Matadi | | Matadi | Matadi | Matadi |
| 39 | Drc | Mariapolis | Avenue Mukaka No.148 | | | Kolwezi | Lualaba |
| 40 | Drc | Matadi Quatier | Soyo Avenue Des Imports No.8 | | | Matadi | Matadi |
| 41 | Drc | St. Herman Hall | Avenue Lusambo No.49 Kitambo | | | Kinshasa | Kinshasa |
| 42 | Drc | Venus Hotel Okapi Hall | 306 Avenue De La Gombe | | | Kinshasa | Kinshasa |
| 43 | Egypt | El Nile Buildings | Block 2k | | El Salam City | Cairo | Cairo |
| 44 | Ethiopia | Belay Zewde Building | 3rd Floor Belay Zewde Building | | Seido | Diredawa | |
| 45 | Ethiopia | Christ Embassy | Adwa Road, Behind Safety Driving School, By Shola Market | | Shola | Addis Ababa | |
| 46 | Ethiopia | Christ Embassy | Zambian Embassy Residence Road, Vatican Sarbet | | Sarbet | Addis Ababa | |
| 47 | Ethiopia | Christ Embassy | After Commercial Bank Of Ethiopia Behind Dr Fikru Clinic | | Zero Arat Kebele | Nazareth | |
| 48 | Ethiopia | Christ Embassy | Beside Agip Filling Station | | Nekempt | Nekempt | |
| 49 | Ethiopia | Christ Embassy | Behind Genesis Café, Chamo Campus | | Secha | Arba Minch | |
| 50 | Ethiopia | Christ Embassy  | Behind Atlas Pension | | Hawassa | Hawassa | |
| 51 | Ethiopia | Zoskales Academy | Block 7 Zoskales Academy | | Lebu | Addis Ababa | |
| 52 | Fiji | Cuvu Church | Cuvu Beach Road | | Sigatoka | Cuvu | |
| 53 | Fiji | Mead Center | 320 Mead Road | | Nabua | Suva | |
| 54 | Fiji | Nadi Civic Center | Main Street | | Nadi | | |
| 55 | Fiji | Raiojibhai Patel Building | 50 Raiojibhai Patel Street | | | Suva | |
| 56 | Fiji | Ratu Luke Provincial School | Daria, Wainunu | | Nabouwalu | | |
| 57 | Fiji | Salvation Army | 8 Kadavu Street | | | Lautoka | |
| 58 | Fiji | Takia Hotel | Nasekula Road | | Labasa | Labasa | |
| 59 | Fiji | Tavua Hotel | Nasivi Street | | Tavua | | |
| 60 | Ghana |  Christ Embassy Tutuka Church Auditorium | Brahabebome | | Tutuka | Obuasi | Ashanti Region |
| 61 | Ghana | 10th Street Sekondi Komfu Ase | Sekondi | | Sekondi | Sekondi | Western Region |
| 62 | Ghana | 360 Montessori School Compound | Along Bolgatanga Bawku Road | | Kumbusco | Bolgatanga | Upper East Region |
| 63 | Ghana | 6th Asafoatse Mankata Link | Mankata Link | | Kotobabi | Accra | Greater Accra |
| 64 | Ghana | Aboadze Centre, Bubruase Community Park, On The Beach Road | Aboadze Centre, Bubruase Community Park, On The Beach Road | | Aboadze | Aboadze | Western Region |
| 65 | Ghana | Achimota Old Station | Achimota | | Accra | Accra | Greater Accra |
| 66 | Ghana | All Workers Canteen | Akim Oda Quarters, Adjacent The Audit Service | | Akim Oda | Akim Oda | Eastern Region |
| 67 | Ghana | Amugu Rural Bank | | | Ho | Ho | Volta Region |
| 68 | Ghana | Arena Football Ground | Arena Utc Accra | | Accra Central | Accra | Greater Accra |
| 69 | Ghana | Assin Foso Habitat Office Hall | | | Assin Fosu | Cape Coast | Western Region |
| 70 | Ghana | Atabu Junction | Fodome Road – Atabu Junction | | Hohoe | Volta | Volta |
| 71 | Ghana | Atonsu Fabi Junction | Off Esreso Road | | Kumasi | Kumasi | Ashanti Region |
| 72 | Ghana | B&Q Hotel Conference Hall | Nkroful High Street | | Nkroful | Nkroful | Western Region |
| 73 | Ghana | Beco Guest House Conference Hall | Offinso Training Road | | Offinso | Offinso | Ashanti Region |
| 74 | Ghana | Big Ada Lelobinya Gardens, Community Centre. | (Ada Tech. Old Site), Ada Foah | | Ada Foah | Ada Foah | Ada Foah |
| 75 | Ghana | Bokoro Bus Stop | Bokoro School Building  | | | Inchaban | Western Region |
| 76 | Ghana | Cambridge Hostel Hall | Ohwimasi Street | | Kwadaso | Kumasi | Ashanti Region |
| 77 | Ghana | Canadian Spot Building | Kcc Junction Towards Mayosa, 3rd Building Right | | South Suntreso | Kumasi | Ashanti Region |
| 78 | Ghana | Ce Abura | Abura Sawmill Eyifua Junction | | Abura | Cape Coast | Western Region |
| 79 | Ghana | Ce Adenta-1 | No.2 Okpoti Street | | Adenta | Accra | Accra |
| 80 | Ghana | Ce Adom Church Premises | Nkwanta Township | | Adom | Nkwanta  | Oti Region |
| 81 | Ghana | Ce Aflao | Opposite Vodafone | | Aflao | Volta | Volta |
| 82 | Ghana | Ce Agbozume Auditorium | Adjacent Agbozume Police Station | | Lasikpodzi | Agbozume | Volta Region |
| 83 | Ghana | Ce Akatsi | Volta Academy Park | | Akatsi | Ho | Volta Region |
| 84 | Ghana | Ce Akosombo | Akosombo | | Akosombo | Eastern Region | Eastern Region |
| 85 | Ghana | Ce Akropong Auditorium | Royal Junction | | Akropong | Akropong | Eastern Region |
| 86 | Ghana | Ce Anaji Premises | Nakof Chinese Hotel Junction | | Anaji | Anaji | Western Region |
| 87 | Ghana | Ce Apewosika | Cnc Auditorium | | Apewosika | Cape Coast | Western Region |
| 88 | Ghana | Ce Apollo Auditorium | Ck Garlley Residence, Opposite Kingstel Hostel | | Apollo | Takoradi | Western Region |
| 89 | Ghana | Ce Bogoso Church Auditorium  | Attechem, Near Anglican Primary School  | | Bogoso | Tarkwa | Western Region |
| 90 | Ghana | Ce Cape Coast Auditorium | Interbenton | | Cape Coast | Cape Coast | Western Region |
| 91 | Ghana | Ce Chiraa Auditorium | Adjei Darko Ground Park | | Chiraa | Chiraa | Bono East Region |
| 92 | Ghana | Ce Church Dormiabra Premises | Fan Ice Depo | | Dormiabra | Takoradi | Western Region |
| 93 | Ghana | Ce Daboase Church Auditorium | Akyease Nkwanta, Gwcl Street | | Daboase | Takoradi | Western Region |
| 94 | Ghana | Ce Elmina | Frontage Elimina Castle | | Elimina | Central | Cape Coast |
| 95 | Ghana | Ce Kadjabi Auditorium | Near Mawuli Bar | | Kadjabi | Kadjabi | Volta Region |
| 96 | Ghana | Ce Kenyasi Auditorium | K1 Opposite Old Electoral Commision | | Kenyasi | Kenyasi | Bono East Region |
| 97 | Ghana | Ce Koforidua | Uncle Sam ,Normal Technical Street . | | Koforidua | Eastern Region | Eastern Region |
| 98 | Ghana | Ce Kojokrompremises | Oboukrom Hill | | Kojokrom | Kojokrom | Western Region |
| 99 | Ghana | Ce Korle Bu Auditorium | Korle Bu  | | Korle Bu | Accra | Greater Accra |
| 100 | Ghana | Ce Kpong Church Venue | Kpong, Ahunjo Junction | | Kpong | Kpong | Eastern Region |
| 101 | Ghana | Ce Kumasi 2 Church Hall | Suame Maakro Junction Offinso Techiman Station | | Maakro | Suame | Ashanti Region |
| 102 | Ghana | Ce Mankessim | Opposite New Apostolic Church | | Nananum | Cape Coast | Western Region |
| 103 | Ghana | Ce Moree | Moree Community Centre | | Moree | Cape Coast | Western Region |
| 104 | Ghana | Ce North Legon Auditorium | North Legon School Junction | | North Legon | Accra | Greater Accra |
| 105 | Ghana | Ce Old Town Premises | Sodai, Old Town | | Akim Oda | Akim Oda | Eastern Region |
| 106 | Ghana | Ce Osu | Osu Oxford | | Osu | Accra | Accra |
| 107 | Ghana | Ce Sogakope | Sogakope District Hospital | | Sogakope | Ho | Volta Region |
| 108 | Ghana | Ce Swedru  | Narrow Way School Park | | Swedru | Swedru | Western Region |
| 109 | Ghana | Ce Tarkwa Auditorium | Tarkwa Na-Boso Near Mkt Circle | | Boso Mkt Circle | Tarkwa | Western Region |
| 110 | Ghana | Ce Wa Auditorium | Kpongu Junction, Adjacent Dr. Lotsu Clinic | | Wa | Wa | Upper West Region |
| 111 | Ghana | Ce Winneba Auditorium | No. 2 Og Blankson Street (Opposite Emas A Rural Bank) | | Winneba | Winneba | Central Region |
| 112 | Ghana | Chemunaa Community Main Station Outdoor | Legon | | East Legon | Accra | Accra |
| 113 | Ghana | Christ Embassy  Bolgatanga Church Hall | Beside Ghana News Agency Tanzui Bolgatanga | | Bolgatanga | Bolgatanga | Upper East Region |
| 114 | Ghana | Christ Embassy  Konongo Church Hall | Near Old Railways Station Freetown | | Konongo | Konongo | Ashanti Region |
| 115 | Ghana | Christ Embassy  Kumasi 4 Church Hall | Pankrono High Street, Near Kodua Junction | | Kumasi | Kumasi | Ashanti Region |
| 116 | Ghana | Christ Embassy Abrepo | Abrepo Highways Street, After Sos Station | | Abrepo | Kumasi | Ashanti Region |
| 117 | Ghana | Christ Embassy Agblezaa Hall | Malik Taxi Rank | | Agblezaa | Accra | Greater Accra |
| 118 | Ghana | Christ Embassy Atomic Auditorium | Big Guys Pub Off Ashomang Estate Road | | Atomic | Accra | Greater Accra |
| 119 | Ghana | Christ Embassy Banana Inn | Mango Down, Azar Bus Stop | | Dansoman | Accra | Greater Accra |
| 120 | Ghana | Christ Embassy Bibiani Church Hall | Ahodwo Last Stop Bibiani | | Bibiani | Bibiani | Western North Region |
| 121 | Ghana | Christ Embassy Dansman Auditorium | Asoridanhun | | Dansoman | Accra | Greater Accra |
| 122 | Ghana | Christ Embassy Dome Auditorium | Near Auntie Mary Station | | Dome Pillar 2 | Accra | Greater Accra |
| 123 | Ghana | Christ Embassy East Airport Hall | W.O Ako Junction | | East Airport | Accra | Greater Accra |
| 124 | Ghana | Christ Embassy Galalia  | Zakmus Park | | Galalia | Accra | Greater Accra |
| 125 | Ghana | Christ Embassy Jirapa Premises | Konkuo Behind The St. Joseph Hospital  | | Jirapa | Jirapa | Upper West Region |
| 126 | Ghana | Christ Embassy Keta Auditorium | Opposite Payless School | | Keta | Keta | Volta Region |
| 127 | Ghana | Christ Embassy Kumasi 1 Church Hall | Adjecent The Ark Building Asokwa | | Kumasi | Kumasi | Ashanti Region |
| 128 | Ghana | Christ Embassy Kutunse Auditorium | Near Koans Estate  | | Kutunse | Accra | Greater Accra |
| 129 | Ghana | Christ Embassy Legon 4 Hall | Mempeasem Station | | Madina | Accra | Greater Accra |
| 130 | Ghana | Christ Embassy Legon Hall | Firestone Bus Stop | | Madina | Accra | Greater Accra |
| 131 | Ghana | Christ Embassy Old Weija Church Hall | Christ Embassy Junction, Old Weija Market | | Old Weija | Accra | Greater Accra |
| 132 | Ghana | Christ Embassy Spintex Auditorium | 18th Junction  | | Spintex | Accra | Greater Accra |
| 133 | Ghana | Christ Embassy Tamale Main | Kalpohin Estate | | Tamale | Tamale | Northern Region |
| 134 | Ghana | Christ Embassy Yikene Church Auditorium | Bolga-Navrongo Highway | | Bolgatanga | Yikene | Upper East Region |
| 135 | Ghana | Church Auditorium | Labadi Road Off Labone | | La | Accra | Greater Accra |
| 136 | Ghana | Church Auditorium | Taifa Bankasie | | Taifa | Accra | Greater Accra |
| 137 | Ghana | Church Auditorium | Maye Hot Bus Stop | | Madina | Accra | Greater Accra |
| 138 | Ghana | Church Auditorium | Agapa City | | Agape City | Accra | Greater Accra |
| 139 | Ghana | Church Auditorium | Near Ashaley Botwe Nanakrom | | Ashaley Botwe | Accra | Greater Accra |
| 140 | Ghana | Church Auditorium | Ashiyie | | Ashiyie | Accra | Greater Accra |
| 141 | Ghana | Church Auditorium | Mateheko | | Mataheko | Accra | Greater Accra |
| 142 | Ghana | Church Auditorium | Awoshie Last Stop | | Awoshie | Awoshie | Greater Accra |
| 143 | Ghana | Church Auditorium  | Rambell Street | | Lapaz | Accra | Greater Accra |
| 144 | Ghana | Church Auditorium  | 9 Bakoniaba Street Near Nat Vision | | Sunyani | Sunyani | Bono Region |
| 145 | Ghana | Church Auditorium   | Awoshie | | Awoshie | Accra | Greater Accra |
| 146 | Ghana | Church Auditorium   | Broadcasting | | Broadcasting | Accra | Greater Accra |
| 147 | Ghana | Church Auditorium/ North Tema Co-Operative Building | Redemption Valley Rd | | Tema Comm 9 | Tema  | Greater Accra |
| 148 | Ghana | Club 51 Behind Ahantaman Rural Bank Sekondi  Mkt | Sekondi | | Sekondi | Sekondi | Western Region |
| 149 | Ghana | Damang Community Centre | Damang Taxi Rank | | Taxi Rank | Damang | Western Region |
| 150 | Ghana | Damango Viewing Centre | Damango Town Park | | Damango | Damango | Savannah Region |
| 151 | Ghana | East Legon | America House | | East Legon | Accra | Greater Accra |
| 152 | Ghana | Ees Mountain Lodge Behind Ecg Office | Lynn's Avenue | | Mampong | Mampong | Eastern Region |
| 153 | Ghana | Ejisu Roundabout | Accra Kumasi Highway | | Ejisu | Kumasi | Ashanti Region |
| 154 | Ghana | Esiama Top Former Gn Bank  | Takoradi Elubo Road | | Esiama | Esiama | Western Region |
| 155 | Ghana | Everlip Junction | Krispy Street | | Kasoa | Central | Central Region |
| 156 | Ghana | Executive Hotel | Near The Police Barracks | | Breman Asikuma | Asikuma | Central Region |
| 157 | Ghana | Fore Court Of Church Auditorium | Weija Barrier | | Weija | Accra | Greater Accra |
| 158 | Ghana | Forecourt Of Church Auditorium | Jiga Junction | | Sowutuom | Accra | Greater Accra |
| 159 | Ghana | Forecourt Of Npp Chairman's Hse | Agblezaa Manet Road | | Teshie | Accra | Greater Accra |
| 160 | Ghana | Forecourt Of Veterinary Office | Old Town Junction | | Dambai | Ho | Volta Region |
| 161 | Ghana | Frebe Mall | Off Fijai Junction | | Near Effia Nkwanta Hosp | Sekondi-Takoradi | Western Region |
| 162 | Ghana | Ghana Education Service Hall | Adjacent Jendu Park, Bakaekyire | | Sekondi  | Takoradi | Western Region |
| 163 | Ghana | Gprtu Conference Hall | Near Agyeiwaa Hotel | | Ahenfi | Techiman | Bono-East Region |
| 164 | Ghana | Guardian Hotel | Swedru Bypass Near Main Bridge | | Agona Swedru | Swedru | Greater Accra |
| 165 | Ghana | Kelstrijd School | Mawuli Obuasi | | Mawuli | Obuasi | Ashanti Region |
| 166 | Ghana | Kojokrom Lorry Station Sekondi | Main Takoradi-Cape Coast Road | | Kojokrom | Sekondi | Western Region |
| 167 | Ghana | Kumasi Anglican School Hall  | Amokom, Opposite Kumasi Technical University | | Kumasi | Kumasi | Ashanti Region |
| 168 | Ghana | Labadi | Labadi Road Off Labone | | Accra | Accra | Accra |
| 169 | Ghana | Loveworld Arena Accra | Plot 29 Nelson Mandela Avenue, South Legon Commercial Area | | South Legon | Accra | Greater Accra |
| 170 | Ghana | Main Church Auditorium | Funko Road, Off Takoradi Agona Nkwanta Road, Opposite Saint Mary Boys Shs | | Takoradi | Takoradi | Western Region |
| 171 | Ghana | Mr. Joel's Estate | Ib Bawa Street Yendi-Saboba Road | | Saboba | Tamale | Northern Region |
| 172 | Ghana | Municipal Health Directorate Conference Hall | Bawku Highway Street | | Bawku | Bawku | Upper East Region |
| 173 | Ghana | Netab House | Kwatei Gbawe Road | | Mallam | Accra | Greater Accra |
| 174 | Ghana | Nkramo School Park | Nkramo School | | Nsoatre | Nsoatre | Bono |
| 175 | Ghana | Nonge Hall | Sacora Market Bi-0005-8883 | | Drobo | Accra | |
| 176 | Ghana | Nyamekye Town | 2nd Trakor Street Nyamekye | | Darkuman | Nyamekye | Nyamekye |
| 177 | Ghana | Old Assembly Council Hall | | | Dzodze | Ho | Volta Region |
| 178 | Ghana | Outreach Viewing Centre | Wulensi Town Park | | Wulensi | Wulensi | Northern Region |
| 179 | Ghana | Palace Hotel | Berekum Sunyani Street | | Berekum | Berekum | Bono Region |
| 180 | Ghana | Park  | New Market Square  | | Bamboi | Bamboi | Bono East Region |
| 181 | Ghana | Prestea Center, Number 3 Prestea, From I Swear God Junction | Prestea Center, Number 3 Prestea, From I Swear God Junction | | Prestea | Prestea | Western Region |
| 182 | Ghana | Regional Post Office. | No.3 Residency Road(Adjacent Vodafone  Office) | | Ho | Ho | Volta Region |
| 183 | Ghana | Saboba Viewing Centre | Jagridongo  | | Saboba | Saboba | Northern Region |
| 184 | Ghana | Salisberg Hotel Conference Room | Off Atonsu-Gyinase Road | | Kumasi | Kumasi | Ashanti Region |
| 185 | Ghana | Somanya Social Welfare | Somanya | | Somanya | Eastern Region | Eastern Region |
| 186 | Ghana | Square One Event Centre | Adoagyiri | | Nkawkaw | Nkawkaw | |
| 187 | Ghana | St Barnabas Anglican Sch Park | Nkoranza  | | Nkoranza | Nkoranza | Bono |
| 188 | Ghana | St Lucy Basic School | True Church Street | | Jinijini | Berekum | Bono Region |
| 189 | Ghana | St. Theresa's Assembly Hall | Sacora Market Bi-0005-8883 | | Drobo | Drobo | Bono Region |
| 190 | Ghana | Star Junction Tabora | Tabora | | Tabora | Accra | Accra |
| 191 | Ghana | Sunyani Techinical University | Aphas Hall | | Sunyani | Sunyani | Bono Region |
| 192 | Ghana | Teberebie Community Centre | Teberebie Taxi Station | | Taxi Rank | Teberebie | Western Region |
| 193 | Ghana | Town Hall | Have Road | | Have Ho | Ho | Volta Region |
| 194 | Ghana | Werba House Conference Hall | By-Pass Near Municipal Office (Along Agona Nkwanta, Takoradi Road) | | Agona Nkwanta | Takoradi | Western Region |
| 195 | Ghana | Zonal Council Conference Hall | Near The Kintampo Municipal Hospital Road | | Kintampo | Kintampo | Bono-East Region |
| 196 | Grenada | Grand Bras | St. Andrews | | St. Andrews | | |
| 197 | Hungary | Danubius Astoria Hotel | Kossuth Lajos Utca 19-21 | | | Budapest | Budapest |
| 198 | India | Toby's Shopping Mall | Lane 5, Pingale Sanai Hall, Koregaon Park, Pune-411001 | | | Pune | Maharashtra |
| 199 | India | Tranquebar | Lane 5, Pingale Sanai Hall, Koregaon Park, Pune-411002 | | | Pune | Maharashtra |
| 200 | India | Twiga Hall  | Commercial Complex,No F-25,Nibm Road, Kondhwa | | | Pune | Maharashtra |
| 201 | India | Unity Multipurpose Hall | Basement Place, Near Kate Petrol Pump, Pimle Gurav Road, Dapodi, Pune-12 | | | Pune | Maharashtra |
| 202 | India | Ushindi Hall | 3rd Floor, No-25, 2nd Cross Road, Hrbr Layout, 1st Block,Kalyan Nagar, Bangalore-560043 | | | Bangalore | Karnataka |
| 203 | India | | #69, 2nd Floor, Off Relance Fresh, Anandpura Circle, Tc Palya Main Road, K.R Puram, Bangalore-560036 | | | Bangalore | Karnataka |
| 204 | India | | No-1 B, East Mada Street, Villivakkam, Chennai-600049 | | | Chennai | Tamil Nadu |
| 205 | India | | H. No-138/2, Cumia  Morod  Guirim, Bardez, Goa – 403510 | | | Goa | Maharashtra |
| 206 | India | | Aicher Market, Near Oriental Bank, Greater Noida-201310 | | | Greater Noida | Uttar Pradesh |
| 207 | Kenya | Church Venue | Kibo Street, Off Enterprise Road, Off Road A | | Nairobi | Nairobi | Kenya |
| 208 | Kenya | Church Venue | Memorial Park Hall,Opposite Railways Bus Station | | Cbd | Nairobi | Kenya |
| 209 | Kenya | Church Venue | Daima Opp Achievers Junior Campus   Imara-Daima | | Imara Daima | Nairobi | Kenya |
| 210 | Kenya | Church Venue | Jogoo Road ,Jogoo High School | | Eastlands | Nairobi | Kenya |
| 211 | Kenya | Church Venue | Besides Bourbon Bridge Lounge(Former Native Club)Near Church Of The Christians, Roasters | | Kasarani | Nairobi | Kenya |
| 212 | Kenya | Church Venue | Leester Supermarket By Soko Stage,Githurai 44 | | Guthurai | Kiambu | Kenya |
| 213 | Kenya | Church Venue | Tom Mboya Street,Memorial Hall,Opposite Co-Operative Bank Near Makup Police | | Ce Mombasa | Mombasa | Kenya |
| 214 | Kenya | Church Venue | Asian Quarters Behind St Marys Boys High School | | Nyeri | Nyeri | Kenya |
| 215 | Kenya | Church Venue | Fred Pharmacy, Kamindi Supermarket | | Kiambu | Kiambu | Kenya |
| 216 | Kenya | Church Venue | Othaya Central Plaza | | Nyeri | Nyeri | Kenya |
| 217 | Kenya | Church Venue | Jerusalem Close, Off Nkoroi Kanisani, Rongai | | Kiserian | Kajiado | Kenya |
| 218 | Kenya | Church Venue | John Saga Hall | | Huruma | Nairobi | Kenya |
| 219 | Kenya | Church Venue | Near Tigers Building,Nanyuki | | Nanyuki | Laikipia | Kenya |
| 220 | Kenya | Church Venue | Drive In Primary School, At Ruaraka | | Mathare North | Nairobi | Kenya |
| 221 | Kenya | Church Venue | | | Mwiki | Nairobi | Kenya |
| 222 | Kenya | Church Venue | New Rehema House On Rapta Road Opposite Capital West | | Westlands | Nairobi | Kenya |
| 223 | Kenya | Church Venue | Social Hall,Within   Kangemi Hopistal | | Kangemi | Nairobi | Kenya |
| 224 | Kenya | Church Venue | Mushville Hub, Orange Building Directly Opposite Izza Inn – On The 3rd Floor | | Kitengela | Kajiado | Kenya |
| 225 | Kenya | Church Venue | Wote Driving School,On Wote Mwaani Roadnext To Multipurpose | | Makueni | Makueni | Kenya |
| 226 | Kenya | Church Venue | Jakai Bus Stop Next To Old Car Wash | | Gashie | Kiambu | Kenya |
| 227 | Kenya | Church Venue | Bee Center, Opposite Lukache Car Wash-Spine Road | | Donholm | Nairobi | Kenya |
| 228 | Kenya | Church Venue | Peter Kibkosia Kinyanjui Road  Moi Drive | | Umoja | Nairobi | Kenya |
| 229 | Kenya | Church Venue | Kangundo Road Stage 18 Opposite Rasmi Reality Stage | | Saika | Nairobi | Kenya |
| 230 | Kenya | Church Venue | Acaranda Grounds Soweto Social Hall | | Soweto | Nairobi | Kenya |
| 231 | Kenya | Church Venue | Obama Estate- | | Kayole | Nairobi | Kenya |
| 232 | Kenya | Church Venue | Biashara Centre 2nd Floor | | Nakuru | Nakuru | Kenya |
| 233 | Kenya | Church Venue | Ymca Main Hall,Besides Kisumu Museum Alond Nairobi Road | | Kisumu | Kisumu | Kenya |
| 234 | Kenya | Church Venue | The Don Hotel Bondo Usenge Road | | Bondo | Siaya | Kenya |
| 235 | Kenya | Church Venue | Opp Post Bank By Mbitha Main Road | | Mbitha | Homa Bay | Kenya |
| 236 | Kenya | Church Venue | Maili Nne | | Eldoret | Uasin Gishu | Kenya |
| 237 | Kenya | Church Venue | Nelion Center Thika Town (Fourth Floor) | | Thika | Kiambu | Kenya |
| 238 | Kenya | Church Venue | Bofa  Beach Resort | | Kilifi | Kilifi | Kenya |
| 239 | Latvia | Hestia Hotel Jugend | Pulkveza Brieza Iela 11, Centre, Lv-1010 Riga, Lativia | | | Riga | Riga |
| 240 | Lebanon | Samir Naddaf Building | Charbine Street,  Block E 1st Floor  | | Tilal Ain Saade | Tilal Ain Saade | Lebanon |
| 241 | Loveworld Borehamwood | Avis Hotel | Avis Hotel, Borehamwood | | | Borehamwood,London | United Kingdom |
| 242 | Loveworld Glasgow  | Caddar Community Centre | , 110 Tresta Road, Glasgow.  | G23 5ae | | Glasgow | United Kingdom |
| 243 | Loveworld Hull | Balfour Community Centre. | Holderness Road, Hull.  | Hu9 2eu | | Hull | United Kingdom |
| 244 | Madagascar | Villa  Henri Ii | Lot 118 Bis | | Ambohibao | Antananarivo | Antananarivo |
| 245 | Mali | Ce Bamako | Kalaban Coura, Apres 30 Metre, Face Restuarant Fadt Grill 2, Bamako | | Bamako | Bamako | Bamako |
| 246 | Mauritius | Ce Rwanda |  Avenue Saint Geran, Albbion- Petite Reviere | | St.Piere | St. Piere | St.Piere |
| 247 | Mauritius | Christ Embassy | Tranquebar Street,Port Louis | | Port Louis | Port Louis | Port Louis |
| 248 | Nauru | | Block 52 Location | | Dening | | |
| 249 | New Caledonia | | 5 Rueedouard Unger Valley Du Tir | | | Noumea | |
| 250 | New Zealand | Christchurch Community House | 301 Tuam Street | | Christchurch | Christchurch | Na |
| 251 | New Zealand | Holiday Inn | 2 Ascot Road, Mangere | | Auckland | Auckland | Na |
| 252 | New Zealand | | 2 Ascot Road, Mangere | | Auckland | Auckland | Na |
| 253 | New Zealand | | 301 Tuam Street | | Christchurch | Christchurch | Na |
| 254 | Nigeia | Old Russian Cinema | Moscow Road,Civic Center | | Town | Port Harcourt | Rivers State |
| 255 | Niger | Académie Des Arts Martiaux | | | Niamey | Niamey | Niamey |
| 256 | Nigeria |  Omeife Hall | Near Zecon Filling Station | | Omeife | Onitsha | Anambra |
| 257 | Nigeria |  Oraifite 1 Hall | 25 Umuzike Street | | Awada | Onitsha | Anambra |
| 258 | Nigeria |  Otuocha Hall | Umueri Town Hall  | | Umeri | Otuocha | Anam Bra West |
| 259 | Nigeria |  Zonal Church Hall | 59 Limca Road | | Nkpor | Onitsha | Anambra |
| 260 | Nigeria | 6:45 Restaurant & Bar  | 51 , Ikot Abasi Street Uyo | | Uyo | Uyo | Akwa Ibom |
| 261 | Nigeria | 99 Ikot Ekpene Rd | 99 Ikot Ekpene Rd | | Uyo | Uyo | Aks |
| 262 | Nigeria | A Residential House | Ibesikpo L.G.A. | | Ibesikpo L.G.A. | Uyo | Akwa Ibom |
| 263 | Nigeria | A Village Hall | Obio Offot | | | Uyo | Akwa Ibom |
| 264 | Nigeria | Aba_Teacher | Opposite Butoal Filling Station, Omi Adio  | | Omi Adio | Ibadan | Oyo |
| 265 | Nigeria | Abaji Polo Assemble Hall | Ogu | | Okirika | Okirika | Rivers |
| 266 | Nigeria | Abatete Hall | Akakpijo Ngala Plaza Along Ekeaga Eziowelle Road | | Abatete | Onitsha | Anambra |
| 267 | Nigeria | Abdulai House | Opposite Hebron Hospital, Agor Tailor; Odo-Ona  | | Odo-Ona | Ibadan | Oyo |
| 268 | Nigeria | Adadiaha | Adadiaha | | Uruan | Uyo | Akwa Ibom  |
| 269 | Nigeria | Akuzor Community Hall | | | Akuzor | Onitsha | Anambra |
| 270 | Nigeria | Alexander Hotel | Abanla Off Ile Tutun, Ibadan | | Abanla | Ibadan | Oyo |
| 271 | Nigeria | Amoji Hall | | | Umuoji | Onitsha | Anambra |
| 272 | Nigeria | Amori House | Opposite Lagos Park Iwo Road | | Iwo Road | Ibadan | Oyo |
| 273 | Nigeria | An Open Field | Aka Nung Udoe Road | | Ibesikpo L.G.A. | Uyo | Akwa Ibom |
| 274 | Nigeria | Awka Road Hall | 35 Awka Road | | Inland Town | Onitsha | Anambra |
| 275 | Nigeria | Ayinde Plaza  | Opp First Bank Abeokuta Road, Apata, Ibadan. | | Apata | Ibadan | Oyo |
| 276 | Nigeria | Azu Ogbunike | Opposite Building Material Market | | Ogbunike | Onitsha | Anambra |
| 277 | Nigeria | Azu Ogbunike | Opposite Building Material Market | | Ogbunike | Onitsha | Anambra |
| 278 | Nigeria | Babaolawale Shopping Complex | Monatan | | Monatan Junction | Ibadan | Oyo |
| 279 | Nigeria | Bannat Hotel | Agbeja Street Off Imalefalafia. Oke-Ado | | Imalefalafia | Ibadan | Oyo |
| 280 | Nigeria | Baptist Convention Grounds | 5,Tv Road | | Benin | Benin City | Edo State |
| 281 | Nigeria | Baptist High School Field | Along Tv Road | | Benin | Benin City | Edo State |
| 282 | Nigeria | Baptist High School Field | Along Tv Road | | Benin | Benin City | Edo State |
| 283 | Nigeria | Barbecued Goat Meat &Drinks Joint | Ikot Abasi Street Uyo | | Uyo | Uyo | Akwa Ibom |
| 284 | Nigeria | Barka Hall | Gospel Area,Arulogun Road | | Arulogun | Ibadan | Oyo |
| 285 | Nigeria | Beeri Outreach Venue | Nyoobe, Beeri | | Eleme | Eleme | Rivers |
| 286 | Nigeria | Bembo Juntion Poly Ibadan Road | Adjacent Police Barracks | | Sango | Ibadan | Oyo |
| 287 | Nigeria | Bodo Town Square | Bodo | | Bodo | Bodo | Rivers |
| 288 | Nigeria | Bojos Hostel | 25, Jeje Street | | Apete | Ibadan | Oyo |
| 289 | Nigeria | Bolatito Bustop | Ido Road | | Oluguneru | Ibadan | Oyo |
| 290 | Nigeria | Bunmi Memorial Event Center,  Baptist Bus Stop, Beside Foodco, Akobo | Along Akobo Road. | | Akobo | Ibadan | Oyo |
| 291 | Nigeria | Ce 33 Mega Church | 3 Ohaegbu Street | | 03-Mar | Onitsha | Anambra |
| 292 | Nigeria | Ce Bigtown 1 | 7, Terminal Road Mkpat Ibeno | | Ibeno | Eket | Akwa Ibom |
| 293 | Nigeria | Ce City Of Light | Km 2, Eket Ibeno Road Ibeno. | | Ibeno | Eket | Akwa Ibom |
| 294 | Nigeria | Ce College Road | 70 College Road Nsugbe | | Nsugbe | Onitsha | Anambra |
| 295 | Nigeria | Ce Ediene Abak | Old Uyo Road , Abak | | Abak |  Abak | Akwa Ibom |
| 296 | Nigeria | Ce Eke Nkpor | 3 Eke Nkpor-Umuoji After Avemco Filling Station | | Eke Nkpor | Onitsha | Anambra |
| 297 | Nigeria | Ce Epe Central Church Itamarun Epe | Inside Enyo Filling Station Beside Epe Local Government Secretariat | | Epe | Epe | Lagos |
| 298 | Nigeria | Ce Esit Eket | Party House Esit Eket | | Eket | Eket | Akwa Ibom |
| 299 | Nigeria | Ce Etinan  | 46 Isemin Road Etinan  | | Etinan | Etinan | Akwa Ibom |
| 300 | Nigeria | Ce Ita Uruan | Ita Uruan | | Uruan | Uyo | Aks |
| 301 | Nigeria | Ce Nwaniba 1 | 1 Udoikpe Close | | Nwaniba | Uyo | Akwa Ibom |
| 302 | Nigeria | Ce Obosi | No 7 Udoodu Obosi By Aforadike | | Obosi | Onitsha | Anambra |
| 303 | Nigeria | Ce Okon | Behind Udua Udo Inyang By Eti Etop Nurs. School Okon | | Okon | Eket | Akwa Ibom |
| 304 | Nigeria | Ce Oron Main Town | 165, Oron Road . Oron | | Oron | Oron | Akwa Ibom |
| 305 | Nigeria | Ce Triumphant City | Onna Local Government Council Secretariat Abat | | Onna | Eket | Akwa Ibom |
| 306 | Nigeria | Ce Ukanafun | No 30 Park Road | | Ikot Akpa Nkuk |  Ukanafun | Akwa Ibom |
| 307 | Nigeria | Ce Ukpenekang | Motor Park Ibeno | | Ibeno | Eket | Akwa Ibom |
| 308 | Nigeria | Central Church Eket | 1, Mkpok Road Eket | | Eket | Eket | Akwa Ibom |
| 309 | Nigeria | Chicken Republic Hall | 2nd Floor, Chicken Republic Building, By Opic | | Oke Ilewo | Abeokuta | Ogun |
| 310 | Nigeria | Chief Akhigbe's Compound | Off Post Office Iruekpen. | | Irruekpen | | Edo State |
| 311 | Nigeria | Christ |Embassy Agohausa | 6, Cementry Street | | Ajegunle | Lagos | Lagos |
| 312 | Nigeria | Christ Embassy | Offiong | | Eka Uruk Essiet | Etim Ekpo | Akwa Ibom |
| 313 | Nigeria | Christ Embassy 112 Road | Plot 1, 2nd Building, 112 Road, Festac Town | | Festac | Lagos | Lagos |
| 314 | Nigeria | Christ Embassy 7th Avenue | Plot 1710, F1 Close, 7th Avenue | | Festac | Lagos | Lagos |
| 315 | Nigeria | Christ Embassy Afromedia | 2, Ola Shue Street Chuech B/Stop Aka Road | | Ajangbadi | Lagos | Lagos |
| 316 | Nigeria | Christ Embassy Ajao | 39, Osolo Way By Ibiyemi Junction | | Ajao Estate | Lagos | Lagos |
| 317 | Nigeria | Christ Embassy Ajegunle 1 | 2, James Igbe Street | | Ajegunle | Lagos | Lagos |
| 318 | Nigeria | Christ Embassy Ajegunle 2 | 21, Aiyenoro Street | | Ajegunle | Lagos | Lagos |
| 319 | Nigeria | Christ Embassy Ajose | Emotan Phase 2 Hall, Olufemi Samson Street | | Ilasamaja | Lagos | Lagos |
| 320 | Nigeria | Christ Embassy Amukoko | Ekum School Amukoko | | Ajegunle | Lagos | Lagos |
| 321 | Nigeria | Christ Embassy Apapa | 9, Ibikunle Akintoye Street, Apapa | | Apapa | Lagos | Lagos |
| 322 | Nigeria | Christ Embassy Auditorium | Opposite Eleweran Police Headquarters | | Eleweran | Abeokuta | Ogun |
| 323 | Nigeria | Christ Embassy Auditorium | 2, Moriamo Adetoro Avenue, Brake Master Junction, Leme, Abiola Way | | Leme | Abeokuta | Ogun |
| 324 | Nigeria | Christ Embassy Badagry | De Hotel The James Opposite First Bank Badagry | | Badagry | Lagos | Lagos |
| 325 | Nigeria | Christ Embassy Bodija  | 4 Ondo Street,  Off Osuntokun Bodija | | Bodija | Ibadan | Oyo |
| 326 | Nigeria | Christ Embassy Church  | 103 Ikpa Road | | Uyo | Uyo | Akwa Ibom |
| 327 | Nigeria | Christ Embassy Complex | Off Ojealaro Street. | | Afuze | Afuze | Edo State |
| 328 | Nigeria | Christ Embassy Complex | No 1 Olele Market Road, Off Market Road. | | Eguare | Irrua | Edo State |
| 329 | Nigeria | Christ Embassy Complex | 95 New Agbor Road, Behind Odallo Villa. | | Uwalor | Uromi | Edo State |
330
Nigeria
Christ Embassy Crusade Grounds
Km 12 Obe, Benin Sapele Road
Benin
Benin
Edo
331
Nigeria
Christ Embassy Dopemu
No. 21 Odebunmi Street, Egbeda
Egbeda
Lagos
Lagos
332
Nigeria
Christ Embassy Egbe 1
6/8 Adelakun Street,Egbe,Lagos
Egbe
Lagos
Lagos
333
Nigeria
Christ Embassy Egbeda
42, Karimu Laka Street
Egbeda
Lagos
Lagos
334
Nigeria
Christ Embassy Ejigbo
24-26 Bamgboye Street, Off Poweline Bus Stop
Ejigbo
Lagos
Lagos
335
Nigeria
Christ Embassy Elelenwon
93 Odani Road Beside Fugro Company Elelnwon
Port Harcourt
Port Harcourt
Riverd
336
Nigeria
Christ Embassy Eleyele 1
No 39, Eleyele Road
Eleyele
Ibadan
Oyo
337
Nigeria
Christ Embassy Felele
No.12 Adegboye Onigbinde Crescent, Opp. Onibonoje House Felele, Ibadan.
Felele
Ibadan
Oyo
338
Nigeria
Christ Embassy Forestry
Agbesola Event Center Beside Uba (Igboerin Junction) Off Lasu Igando Road
Igando
Lagos
Lagos
339
Nigeria
Christ Embassy Gloryland
First Floor, Covenant Child Petrol Station, Isuti Road Off Akesan
Igando
Lagos
Lagos
340
Nigeria
Christ Embassy Iba
21, Eleda Street, Iba Newsite
Ijanikin
Lagos
Lagos
341
Nigeria
Christ Embassy Iba Ijanikin
3, Christ Embassy Avenue, Alasia Bus Stop, Ijanikin
Ijanikin
Lagos
Lagos
342
Nigeria
Christ Embassy Ibesikpo.
No.74 Afaha Offiong  Road
Nung Udoe
Ibesikpo
Akwa Ibom
343
Nigeria
Christ Embassy Ibesikpo.
No.74 Afaha Offiong Road
Nung Udoe
Ibesikpo
Akwa Ibom
344
Nigeria
Christ Embassy Idimu 1
127/128, Idimu Ejigbo Road, Field Bus Stop
Ejigbo
Lagos
Lagos
345
Nigeria
Christ Embassy Idimu 3
158, Ikotun Idimu Road, Opposite Glory Plaza, Nobest Bus Stop, Idimu, Ikotun Road
Idimu
Lagos
Lagos
346
Nigeria
Christ Embassy Igando 3
Unity Bus Stop Along Governors Road Odo Eran, Along Lasu Igando Road
Igando
Lagos
Lagos
347
Nigeria
Christ Embassy Ijora Badia
Ijora Badia, By Badia Police Station
Ijora Badia
Lagos
Lagos
348
Nigeria
Christ Embassy Ikotun
Oladun Street Beside Ken Dallas Hotel, Council, Ikotun
Ikotun
Lagos
Lagos
349
Nigeria
Christ Embassy Ipaja
No 248 Fatolu Bus Stop Ayobo, Ipaja Road.
Ipaja
Lagos
Lagos
350
Nigeria
Christ Embassy Ire Akari
13, Ajilo Street
Ire Akari
Lagos
Lagos
351
Nigeria
Christ Embassy Isashi
11, Yusuf Bakara Off Sule Bada Street
Isashi
Lagos
Lagos
352
Nigeria
Christ Embassy Isheri
Km 2 Lasu Igando  Road By Estate Bus Stop
Igando
Lagos
Lagos
353
Nigeria
Christ Embassy Isheri 2
Vip Event Center, Km 2 Lasu Igando Road, Beside Diamond Estate Bus Stop, Lasu Igando Road
Igando
Lagos
Lagos
354
Nigeria
Christ Embassy Isolo 1
24, Alhaji Alade Apatira Street, Off Adejumo Tennis Club Road
Oke Afa
Lagos
Lagos
355
Nigeria
Christ Embassy Isolo 2
No 1, Bello Road, Ilasamaja Industrial Estate
Ilasamaja
Lagos
Lagos
356
Nigeria
Christ Embassy Kirikiri Industrial
25, Alhahun Osumba Estate
Ajegunle
Lagos
Lagos
357
Nigeria
Christ Embassy Kirikiri Town
5a Comfort Oboh Street
Ajegunle
Lagos
Lagos
358
Nigeria
Christ Embassy Mission
Primap Plaza Beside Finger Estate, Marwa Road
Satalite Town
Lagos
Lagos
359
Nigeria
Christ Embassy Nigerdock
Nigerdock Island
Island
Lagos
Lagos
360
Nigeria
Christ Embassy Obadore
Opposite Westland College
Obadore
Lagos
Lagos
361
Nigeria
Christ Embassy Obajana
Beside Government Model Secondary School
Makurdi
Makurdi
Benue
362
Nigeria
Christ Embassy Obangede
№1 Aliade Road By Abagu Round About
Gboko
Gboko
Benue
363
Nigeria
Christ Embassy Ojo
337/339 Old Ojo Road Alakija
Ojo
Lagos
Lagos
364
Nigeria
Christ Embassy Oke-Ado
By, Oke Ado Market Beside Mrs Filling Station Awolowo Way. Oke Ado Ibadan.
Oke-Ado
Ibadan
Oyo
365
Nigeria
Christ Embassy Olomi
Feran Jesu/Baba Igbira Bus Stop, Acedemy/ Ayegun  Road, Olunde
Olomi
Ibadan
Oyo
366
Nigeria
Christ Embassy Olowonla
Church 1 O'mark School Hall, O'mark Bus Stop, Along Lasu Igando Road
Igando
Lagos
Lagos
367
Nigeria
Christ Embassy Oyigbo Group
Town School Oyigbo Along Old Aba Road By School Road Junction
Oyigbo
Port Harcourt
Riverd
368
Nigeria
Christ Embassy Pipeline 1
135, Idimu Egbeda Road By Ile-Epo Alhaji Bus Stop
Egbeda
Lagos
Lagos
369
Nigeria
Christ Embassy Pipeline 2
15, Ewenla Street, Pipeline Bus Stop Idimu, Ikotun Road
Ikotun
Lagos
Lagos
370
Nigeria
Christ Embassy Sagbokoji
Sagbokoji Island
Island
Lagos
Lagos
371
Nigeria
Christ Embassy Saki
No 30, Kolasho House, Ajegunle 
Saki
Saki
Oyo
372
Nigeria
Christ Embassy Soka
No 3 Falola Street, By Ad Filling Station; New Felele Soka
Soka
Ibadan
Oyo
373
Nigeria
Christ Embassy Wilmer
42, Road, Opposite New Port Hotel, Olodi Apapa
Apapa
Lagos
Lagos
374
Nigeria
Christ Embassy Zonal Church
1, Christ Embassy Close
Ago Palace Way
Lagos
Lagos
375
Nigeria
Christ Embassy, Afaha Offiong
Edembom 1
Afaha Offiong
Nsit Ibom
Akwa Ibom
376
Nigeria
Christ Embassy, Morya Hospital
Igbanomaje Upu Road
Otukpo
Otukpo
Benue
377
Nigeria
Christ Embassy, Sai Kids School
№93 Naka Road, Adjacent Our Lady Of Perpetual Help Cathedral
Makurdi
Makurdi
Benue
378
Nigeria
Christ Embassy, Sunshree Woods Commercial Building
Opposite Coca Cola Plant A, Gboko Road
Makurdi
Makurdi
Benue
379
Nigeria
Christ Embassy,Nsg Towers
№2, Dokichi Street
Vandeikya
Vandeikya
Benue
380
Nigeria
Christ Embassy,Shri Vinayaka Complex
Chong Chong Filling Station, Union Bank Road
Oju
Oju
Benue
381
Nigeria
Christchurch Community House
Alfa Street, Off Iorkyaa-Ako Street, 1st Avenue On The Left
Makurdi
Makurdi
Benue
382
Nigeria
Christmas Village
Udoudoma
Uyo
Uyo
Akwa Ibom 
383
Nigeria
Chrst Embassy Onne 1
Iita Road Onne,Opposte Mtn Mast
Port Harcourt
Rivers
384
Nigeria
Chrst Embassy Onne 2 Ogbakiri
Opposite Old Union Bank Notore Rd Alejor Onne
Port Harcourt
Rivers
385
Nigeria
Church  Auditorium
27 Prince Igbara Street Bori
Beeri
Beeri
Rivers
386
Nigeria
Church  Auditorium
58 Gokana Streetoff Bonue Road Bori
Okirika
Okirika
Rivers
387
Nigeria
Church Auditorium
69 Gombe / Yola Road
Billiri
Gombe
Gombe
388
Nigeria
Church Auditorium
Behind Sbs Hotel Bangaje
Kaltungo
Gombe
Gombe
389
Nigeria
Church Auditorium
Angwan Tiv
Tunfure
Gombe
Gombe
390
Nigeria
Church Auditorium
Buba Shango Opp Mtn Office Behind Deputy Governor Office
Buba
Gombe
Gombe
391
Nigeria
Church Auditorium
Shago Biu Yelwan
Yalanguruza
Gombe
Gombe
392
Nigeria
Church Auditorium
No5 Keana Road
Keana
Jos
Plateau
393
Nigeria
Church Auditorium
Opposite Utan Junction
Rukuba Road
Jos
Plateau
394
Nigeria
Church Auditorium
Inside New Jos Hotel After Gada-Biu
Aheri
Jos
Plateau
395
Nigeria
Church Auditorium
Opp Nda Base Camp
Anguldi
Jos
Plateau
396
Nigeria
Church Auditorium
Inside Zang Commercial School
Bukuru
Jos
Plateau
397
Nigeria
Church Auditorium
2nd Building On Itf Road Adjacent Nysc Secrateriat
Kuffang
Jos
Plateau
398
Nigeria
Church Auditorium
Way Mac Plaza Near St Murumba Busa Buji
Apata
Jos
Plateau
399
Nigeria
Church Auditorium
Secretariat Road
Rukuba Barracks
Jos
Plateau
400
Nigeria
Church Auditorium
Opp Flash 4000 Photo Studio Beside Pankshin Youth Center
Pankshin
Jos
Plateau
401
Nigeria
Church Auditorium
78b Angwan Magaji Fudawa
Bauchi Road
Jos
Plateau
402
Nigeria
Church Auditorium
Behind St Peters School
Langtan
Jos
Plateau
403
Nigeria
Church Auditorium
Opposite Barkin Ladi Pharmacy Beside The Market
Barki Ladi
Jos
Plateau
404
Nigeria
Church Auditorium
4a Kashim Ibrahim Street Beside Solat Hospital
West Of Mines Town
Jos
Plateau
405
Nigeria
Church Auditorium
After Carly Medical Center Lohdik
Rantya
Jos
Plateau
406
Nigeria
Church Auditorium
Lamingo Road
Lamingo
Jos
Plateau
407
Nigeria
Church Auditorium
Igbo Community Association Hall
Apata
Jos
Plateau
408
Nigeria
Church Auditorium
Behind Hunters Lodge Off Ibadan Way New Bussa
Kainji
Kainji
Niger
409
Nigeria
Church Auditorium
Behind First Bank Mangu
Mangu
Kos
Plateau
410
Nigeria
Church Auditorium
Top Medical Road Adjacent Alovera Hotel
Tunga
Minna
Niger
411
Nigeria
Church Auditorium
Beside Zumratul Mumin Comprehensive School
Kontagora
Minna
Niger
412
Nigeria
Church Auditorium
Opposite Las Vegas Extension Off Old Polytechnic Road
Bida
Minna
Niger
413
Nigeria
Church Auditrium
Egelebie Ama Opposite Refinery Road
Ogbakiri
Port Harcourt
Rivers
414
Nigeria
Church Center
Aka Road 65
Uyo
 Uyo
Akwa Ibom
415
Nigeria
Church Hall
19, Osime Street (Tony Odidi's House)
Agenebode
Agenebode
Edo State
416
Nigeria
Church Hall
Beside Chosen Hotel.
Ihumudumu
Ekpoma
Edo State
417
Nigeria
Church Hall
Omoaka Close, Iohiokpo Qtrs.
Fugar
Fugar
Edo State
418
Nigeria
Church Hall
Opposite Health Centre Road, 
Ikpeshi
Ikpeshi
Edo State
419
Nigeria
Church Venue
Uyo Ikot Ekpene Highway
Ikot Adaidem
Ibiono
Akwa Ibom 
420
Nigeria
Church Venue
Okon
Okon
Ikot Abasi
Akwa Ibom 
421
Nigeria
Church Venue
Tanke,University Rd,Ilorin.
–
Ilorin
 Kwara
422
Nigeria
Church Venue
Ikot Ekwere
Ikot Ekwere
Itu
Akwa Ibom 
423
Nigeria
Church Venue
Katsina-Ala Club, Off J. S Tarka Road
Katsina-Ala
Katsina-Ala
Benue
424
Nigeria
Church Venue
Gadumo
Lokoja
Lokoja
Kogi State
425
Nigeria
Church Venue
Kogi Circle
Lokoja
Lokoja
Kogi State
426
Nigeria
Church Venue
4, Rashidat Ibrahim Street
Ganaja
Lokoja
Kogi State
427
Nigeria
Church Venue
Opposite Army Barracks, Lokoja
Lokoja
Lokoja
Kogi State
428
Nigeria
Church Venue
№ D10/21 Hudco Quarters, North Bank
Makurdi
Makurdi
Benue
429
Nigeria
Church Venue
№ 2 Peter Achimugu Street, Opp Old Jamb Office, Old Gra
Makurdi
Makurdi
Benue
430
Nigeria
Church Venue
Opp Ukpam Junction
Daudu
Makurdi
Benue
431
Nigeria
Church Venue
Mbiokporo
Mbiokporo
Nsit Ubium
Akwa Ibom 
432
Nigeria
Church Venue
Town Hall
Uyo
Oron
Akwa Ibom 
433
Nigeria
Church Venue
30 Park Rd, Ikot Akpa Nkuk, Ukanafun
Ukanafun
Ukanafun
Akwa Ibom 
434
Nigeria
Church Venue
Uruan
Uruan
Uruan
Akwa Ibom 
435
Nigeria
Church Venue
Alfred Street, Off Idoro Rd
Itam
Uyo
Akwa Ibom
436
Nigeria
Church Venue
Ekiri Itam
Itam
Uyo
Akwa Ibom
437
Nigeria
Church Venue
Aka Idedem
Itam
Uyo
Akwa Ibom
438
Nigeria
Church Venue
37 Udoh Street
Uyo
Uyo
Akwa Ibom 
439
Nigeria
Church Venue
127 Urua Ekpa Rd, Uyo
Uyo
Uyo
Akwa Ibom 
440
Nigeria
Church Venue
Osongama
Osongama
Uyo
Akwa Ibom 
441
Nigeria
Church Venue
165 Aka Obot Idim Rd, Obot Idim
Obot Idim
Uyo
Akwa Ibom 
442
Nigeria
Church Venue
Ituk Mbang
Uruan
Uyo
Akwa Ibom 
443
Nigeria
Church Venue
1 Paul Ekpeowo Street
Nwaniba
Uyo
Akwa Ibom 
444
Nigeria
Church Venue
6 Nung Utuobok Street,Oron Rd
Uyo
Uyo
Akwa Ibom 
445
Nigeria
Church Venue
169 Timber Market Road ,Uyo
Uyo
Uyo
Akwa Ibom 
446
Nigeria
Church Venue
Ikot Okubo
Uyo
Uyo
Akwa Ibom 
447
Nigeria
Civic Center Igwebuike Hall
Eziowelle
Onitsha
Anambra
448
Nigeria
Civic Centre-Women Hall
Ifitedunu
Onitsha
Anambra
449
Nigeria
Community Secondary School
Kira Bori
Kpite
Tai
Rivers
450
Nigeria
Communty Secondary School
Alode Eleme
Kira
Tai
Rivers
451
Nigeria
Dagama Ikemifite
Before Ofor Market Square
Ikkemifite Nnado
Onitsha
Anambra
452
Nigeria
Diggs Events Centre
Opposite Russian Field, Abuja Estate
Ajaokuta
Ajaokuta
Kogi State
453
Nigeria
Drinking Palor 
Mberebe Obio
Ibesikpo L.G.A
Uyo
Akwa Ibom
454
Nigeria
Eden Plaza, First Floor
Opposite Ajibode Maternity
Ajibode
Ibadan
Oyo
455
Nigeria
Egbeda Complex 
New Ife Road, Opp. Sazo Filling Station, Adegbayi 
Adegbayi
Ibadan
Oyo
456
Nigeria
Ekom Iman Junction
Ekom Iman Junction
Uyo
Uyo
Akwa Ibom 
457
Nigeria
Ekwulobia Town Hall, 
63 Nwaziki Street
Awada
Onitsha
Anambra
458
Nigeria
Endurance Event Centre
Along New Agbor Express Road.
Idumomo
Igueben
Edo State
459
Nigeria
Etinan
Etinan Road
Uyo
Uyo
Akwa Ibom 
460
Nigeria
Etinan Circus 
Circus Junction Etinan
Etinan
Etinan
Akwa Ibom
461
Nigeria
Federal House Estate
5 Emeka
Federal House
Onitsha
Anambra
462
Nigeria
Fegge Hall
76 Zik Avenue
Fegge
Onitsha
Anambra
463
Nigeria
Femalk Hotel Multi-Purpose Hall
Old Oyo Express, Oyo Town. 
Oyo
Oyo
Oyo
464
Nigeria
Gaadi Community Hall
110, Ayegba Omaidoko Way
Gidan Lona
Idah
Kogi State
465
Nigeria
Giwa Amu, Playground
22, Giwa Amu Road
Benin
Benin
Edo
466
Nigeria
Government Secondary School Ground
Opposite Anglican Church, Obajana-Kabba Road
Obajana
Lokoja
Kogi State
467
Nigeria
Green Springs Hotel
Old Ife Road, Ibadan.
North East
Ibadan
Oyo
468
Nigeria
Handworkers Hall
Jafu Street. Koto Ajo Fiditi
Fiditi
Fiditi
Oyo
469
Nigeria
Holiday Inn
Kogi Guest House, Along Ohinohi's Palace Road, Gra
Okene
Okene
Kogi State
470
Nigeria
Idak Okpo
No1 Nnung Inyang Street By Idak Akpo Junction
Uyo
Uyo
Akwa Ibom
471
Nigeria
Ifiayong
Primary School 
Ifiayong
Uyo
Akwa Ibom
472
Nigeria
Ikot Ambang Market Square
Ikot Ambang
Uyo
Uyo
Akwa Ibom
473
Nigeria
Ikot Ambang Opposite Ikot Ambani Market
Ikot Ekpene Road Highway
Ikot Ambang
Ibiono
Akwa Ibom
474
Nigeria
Ikot Ediom Junction.
Asutan Ekpe
Ibesikpo
Ibesikpo
Akwa Ibom
475
Nigeria
Ikot Ediom Junction.
Asutan Ekpe
Ibesikpo
Ibesikpo
Akwa Ibom
476
Nigeria
Ikot Inyang
Ikot Inyang
Uyo
Akwa Ibom
477
Nigeria
Imaobong Missionary Outreach Hospital.
Mbak Ekpe
Ibesikpo
Ibesikpo
Akwa Ibom
478
Nigeria
Imaobong Missionary Outreach Hospital.
Mbak Ekpe
Ibesikpo
Ibesikpo
Akwa Ibom
479
Nigeria
Isamo Hotel
Unity Multipurpose Hall, Uvete
Nagazi
Okene
Kogi State
480
Nigeria
Iyiowa Boys Community Secondary School
Odepke
Onitsha
Anambra
481
Nigeria
Judiciary Court Compound
3 Barrack Road.
Eguare
Ekpoma
Edo State
482
Nigeria
Junction
Nung Udoh Okpok Junction
Anua Obio
Uyo
Aks
483
Nigeria
Kebbys Building
Aragaraga Filling Station, Opposite Ihima Road,
Okehi
Okehi
Kogi State
484
Nigeria
Kennedy Ekong Hall
Itu Local Govt Council
Itu
Itu
Akwa Ibom
485
Nigeria
Kogi Guest House Le Grand Blu Hall
New Yidi Road
Ilorin
Kwara
486
Nigeria
Kpite Town Hall
Kpite
Mogho
Gokana
Rivers
487
Nigeria
Le Danti Hotel
Akpasak Estate
Uyo
Uyo
Akwa Ibom
488
Nigeria
Loveworld Arena
New Garage, Beside Dove Filling Station Akala Express
New Garage
Ibadan
Oyo
489
Nigeria
Loveworld Arena
Loveworld Arena, Road Beside Enyo Filling Station By Chisco Bus-Stop, Lekki-Ajah Express Way
Lekki
Lagos
Lagos
490
Nigeria
Loveworld Arena, Erediauwa
1, Embassy Way
Benin
Benin
Edo
491
Nigeria
Loveworld Complex (Church Venue)
100 Ibong Road
Ikot Ekpene
Ikot Ekpene
Akwa Ibom
492
Nigeria
Lububashi Church Majestic Hall, Matadi Building
Olofa Road
Offa
Kwara
493
Nigeria
Marshall Primary School
 Iwukem Junction Iwukem
Etim Ekpo
Akwa Ibom
494
Nigeria
Marshall Primary School
Iwukem Junction, Iwukem
Etim Ekpo
Etim Ekpo
Akwa Ibom
495
Nigeria
Mazengo Hall
Taki
Ogbomosho
Oyo
496
Nigeria
Merciful God House
Opposite Jide Oloda, By Takie Roundabout
Ogbomosho
Ogbomosho
Oyo
497
Nigeria
National Council Of Women Society Building
House 3, Ncws Estate
Samonda
Ibadan
Oyo
498
Nigeria
Nnobi Hall
70 Ozomagala
Odaokpu
Onitsha
Anambra
499
Nigeria
Nnung Akpan Junction.
Open Field By The Junction At The Edge Of The Street.
Obio Offot.
Uyo
Akwa Ibom
500
Nigeria
Nonwa Uedema Town Hall, Keagba-Nonwa Uedume Community, Tai
Keagba-Nonwa Uedume 
Wiiyakara
Wiiyakara
Rivers
501
Nigeria
Oasis Recreation Spot
#7, Old Stadium Rd(Pepsi Rd).Off Abak Rd.
Obio Offot
Uyo
Akwa Ibom
502
Nigeria
Oba Shopping Complex
Alexander. Apata, 2b.
Alexander
Ibadan
Oyo
503
Nigeria
Obiwale Cultural Center
Along Eliozu /Airforce Road
Obioakpo
Port Harcourt
Riverd
504
Nigeria
Oboduokwu Hall
180b Obodoukwu Road, Okpoko
Okpoko
Onitsha
Anambra
505
Nigeria
Obolo Town Hall, Ebubu
Obolo, Ebubu
Ebubu
Ebubu
Rivers
506
Nigeria
Ogbidi Event Centre
Ihumudumu.
Ihumudumu
Ekpoma
Edo State
507
Nigeria
Old Parade Ground
Area 10, By Radio House
Garki
Abuja
Federal Capital Territory (Fct)
508
Nigeria
Omono Event Centre
Km 109 Benin-Auchi Express Road, Opposite Conoil Filling Station.
Eko-Ewu
Ewu
Edo State
509
Nigeria
Open Air
Behind Mogho Football Field  Gokana Bori
Bori
Bori
Rivers
510
Nigeria
Open Air
Opposte Civic Hall Bolo
Okirika
Okirika
Rivers
511
Nigeria
Open Field
Imekuri Road, Behind High Chief Ughonoh Compound.
Okugbe
Okpilla
Edo State
512
Nigeria
Opp. Federal Poly Offa Gate
No 1 New Industrial Layout,One Man Bus Stop,Zone 1
Finima
Bonny Island
Rivers State
513
Nigeria
Opposite Alegongo Primary School
Alegongo
Alegongo
Ibadan
Oyo
514
Nigeria
Oyawale House 
No 30, Opp Oba Akinyele Memorial High School 
Bashorun
Ibadan 
Oyo
515
Nigeria
Ozalla Town Hall
Ozalla Road
Ozalla
Ozalla
Edo State
516
Nigeria
Public Field
Off Jettu Road.
Jettu
Auchi
Edo State
517
Nigeria
Residential Compound
Nung Ukum
Ibesikpo L.G.A.
Uyo
Akwa Ibom
518
Nigeria
Round About
Water Fountain 
Nwaniba 
Uyo
Akwa Ibom
519
Nigeria
Royal Suites And Homes
Government Secondary School Ground,Bonny Island
Bonny
Bonny Island
Rivers Sate
520
Nigeria
Sabasaba Hall
Adonai Townsquare
Adoni
Adoni
River State
521
Nigeria
School
Group School Ikot Obio Owo
Ukanafun
Ukanafun 
Aks
522
Nigeria
Suite T18, Post Housing Complex, Phase 2
Stanbic Ibtc Bank Atm Cash Center,Eleyele
Eleyele
Ibadan
Oyo
523
Nigeria
The Clarion Hotel
Stadium Road
Elekahia
Port Harcourt
Rivers State
524
Nigeria
The Great Hall, Beside Genesis Hall,
Molete
Ibadan
Oyo
Opposite Lemmy House,Molete-Challenge Road, Fire Service
525
Nigeria
The Place(Relaxation Center)
Nwaniba Road
Uyo
Uyo
Akwa Ibom
526
Nigeria
Town Hall
Awolome Biri Sandfilled Koniju Town Okrika
Okirika
Okirika
Rivers
527
Nigeria
Triosis Academy  Building
Eleyele-Sango Road
Eleyele
Ibadan
Oyo
528
Nigeria
Trusted Vision Plaza, Papa Busstop, Along Alakia – Isebo Road.
Isebo Road.
Alakia
Ibadan
Oyo
529
Nigeria
Ugwuagba Hall
28 Amanator Street 
Ugwuagba Obosi
Onitsha
Anambra
530
Nigeria
Unity Park
Ikpa Road Traffic Light Junction
Uyo
Uyo
Akwa Ibom
531
Nigeria
Use Offot
Primary School 
Use
Uyo
Akwa Ibom
532
Nigeria
Village Hall Abiakpo Nkap, Obot Akara
Abiakpo Nkap, Obot Akara
Obot Akara
Akwa Ibom
533
Nigeria
Vine Yard Multi Purpose Hall
5 Nyebuchi Street Faith Avenue
Port Harcourt
Port Harcourt
Rivers
534
Nigeria
Water Fountain
Nwaniba Rd
Uyo
Uyo
Akwa Ibom
535
Nigeria
Wiiyakara Community Sec Sch
Barsaga
Bori
Bori
Rivers
536
Nigeria
Wisdom Building Complex
130 Oyo Road (Niser Area)
Ojoo 
Ibadan
Oyo
537
Nigeria
Nonwa
Rivers
538
Nigeria 
Agss Multi-Purpose Hall 
Abonnema Girls Secondary School (Agss) Compound, Briggs Compound Abonnema
Abonnema
Port Harcourt 
Rivers State
539
Nigeria 
Behind Itam Police Station
Itu Road
Uyo
Uyo
Akwaibom 
540
Nigeria 
C E Model Ch
366 Nwaniba Rd.
Use
Uyo
Akwa Ibom
541
Nigeria 
Ce Obot Idim 
165 Aka Obot Idim Road 
Obot Idim 
Uyo/Ibesikpo 
Akwa Ibom 
542
Nigeria 
Cedar & Olive Hospital
Essien Inyang Ide
Abak 
Abak 
Akwaibom 
543
Nigeria 
Christ Embassy Abak
Utu-Abak 
Abak
Abak
Akwaibom 
544
Nigeria 
Christ Embassy Ibagwa
Ntan Street
Ibagwa 
Abak
Akwaibom 
545
Nigeria 
Christ Embassy Ikot Abasi 
Eduok Lane Off Ikot Obong 
Ikot Abasi 
Ikot Abasi 
Akwaibom 
546
Nigeria 
Christ Embassy Park Road Church
Itam Police Station
Uyo
Uyo
Akwaibom 
547
Nigeria 
Church Hall
Megallo Building By Ososo Junction
Igarra
Igarra
Edo State
548
Nigeria 
Government Primary School
Secretariat Road Iquita.
Oron
Oron
Akwa Ibom 
549
Nigeria 
Idu Uruan
Idu Uruan
Nwaniba
Uyo 
Akwa Ibom
550
Nigeria 
Ikot Abasi Carnival Village 
Ascon Road, 
Ikot Akpanata 
Ikot Abasi 
Akwaibom 
551
Nigeria 
Ikot Abasi Etinan
Ikot Abasi Junction
Etinan
Etinan
Akwa Ibom
552
Nigeria 
Ikot Abasi Prison Custody 
 By Local Government Council Ikot Abasi 
Ikot Abasi 
Ikot Abasi 
Akwaibom 
553
Nigeria 
Loveworld Worship Center 
4 Marina Road
Oron
Oron
Akwa Ibom 
554
Nigeria 
Otaji Polo
Otaji Compound By Jetty
Buguma
Port Harcourt 
Rivers State
555
Nigeria 
Police Barracks Ikot Abasi 
Ikot Abasi Divisional Police Headquarters 
Ikot Abasi 
Ikot Abasi 
Akwaibom 
556
Nigeria 
The Yakubu Gowon (Former Liberation) Stadium
Stadium Road
Elekahia
Port Harcourt 
Rivers State
557
Nigeria 
Uduak Abasi Hospital
Ikot Ekpene Road
Abak 
Abak 
Akwaibom 
558
Nigeria 
Utaewa 
By The Beach 
Utaewa 
Ikot Abasi 
Akwa Ibom
559
Nigeria 
Vincent Viewing Center
1 Ikot Okoro Road 
Abak 
Abak 
Akwaibom 
560
Papua New Guinea
Shady Hotel
Taurama Road, 2 Miles
Port Moresby
561
Poland
Warsaw
Warsaw
562
Portugal
Rua Aleixo Ribeiro 
14b, Venteira 2700-030
Amadora
Lisbon
563
Portugal
Rua Herois De Chaimite,
No 21, Lote D, 1 Armazem, Odivelas. 2675-376, Odivelas
Odivelas
Lisbon
564
Republic Of Ireland
Educate Together National School.
Powerstown Road. Tyrrelstown. Dublin 15
Dublin 15
Blanchardstown
565
Republic Of Ireland
Maldron Hotel,
Maldron Hotel, Smithfield.Dublin 7
Dublin 7
Dublin
566
Republic Of Ireland
Maughan House,
Marina Commercial Park, Centre Park Road. Cork-Ireland
Cork
567
Republic Of Ireland
The Axis,
Main Street, Ballymun, Dublin 9-Ireland. 
Dublin 9
Ballymun
568
Republic Of Ireland
5 Besexwell Lane Drogheda Co. Louth
Drogheda
569
Republic Of Ireland
Unit 2 Block K, Ballymount Drive, Ballymount Industrial Estate. Dublin 12.
Dublin 12
Dublin
570
Republic Of Ireland
Unit 5, Glyde View, Aiken Business Park, Off Old Coes Road(Besides Nct Building) Dundalk. Co Louth. Ireland
Dundalk
| | | | | | | | |
| --- | --- | --- | --- | --- | --- | --- | --- |
| 571 | Reunion Island | Ce Reunion Island | 40 Avenue Desbassyns -97490- Sainte Clotilde, Reunion | | St Dennis | St Dennis | St Dennis |
| 572 | Romania | Soseaua | Giurgiului 39 Sector 4 | | | Bucharest | Bucharest |
| 573 | Russia | Christian Centre | 31a Fabritsiusa Ulitsa | | | Moscow | Moscow |
| 574 | Russia | Hotel Seliger | Sovetskaya 33 | | | Tver | Tver |
| 575 | Russia | St Petersburg Christian University | Narvky Prospekt 13b | | | St Peterburg | St Petersburg |
| 576 | Russia | | Chkalova 33a | | | Ryazan | Ryazan |
| 577 | Russia | | Tulskovo Rabochevo Polka 3 | | | Tula | Tula |
| 578 | Rwanda | Ce Airport Road | Remera, Opposite Hill Top Hotel By Giporiso Junction | | Remera | Kigali | Kigali |
| 579 | Senegal | Ce Dakar | Ecole Saldia Dieupeul  | | Dakar | Dakar | Dakar |
| 580 | Seychelles | Big Brothers Hotel | 2nd Floor Espace Building Victoria Mahe Seychelles | | Mahe | Mahe | Mahe |
| 581 | Solomon Islands | Global Harvest Church | Global Harvest Church | | Honiara | | |
| 582 | South Africa | 2nd Building Behind Ok | Caledon Street | | Villiersdorp | Villiersdorp | Western Cape |
| 583 | South Africa | 3rd Floor China Mall (Former The Wheel) | 55 Gillespie Street, South Beach, Durban | | Durban | Durban | Kwazulu Natal |
| 584 | South Africa | Behind Lewis Stores | 51 Stockenstroom Street  | | Worcester Cbd | Worcester | Western Cape |
| 585 | South Africa | Benoni Church | 81 Bedford Avenue | | Benoni | Johannesburg | Gauteng |
| 586 | South Africa | Carlie De Wet Sport Centre | Church Street | | Robertson | Robertson | Western Cape |
| 587 | South Africa | Castle Of Good Hope | Cnr Of Buitenkant And Strand Streets | | Cape Town | Cape Town | Western Cape |
| 588 | South Africa | Ce Atteridgeville | Patogeng Primary School, Khudu Street | | Atteridgeville | Pretoria | Gauteng |
| 589 | South Africa | Ce Brits | 41 De Wits Avenue, Brits | | Brits | Brits | North West |
| 590 | South Africa | Ce Carletonville | 20 Railway Street, Oberholzer, Carletonville | | Carletonville | Johannesburg | Gauteng |
| 591 | South Africa | Ce Centurion | 31 Kwartsiet Street, Centurion | | Centurion | Pretoria | Gauteng |
| 592 | South Africa | Ce Germiston | Corner Victoria Street And 1 Boksburg Road | | Germiston | Germiston | Gauteng |
| 593 | South Africa | Ce Hammanskraal | 126 Tshepo Complex Cnr Mandela & Marokolong | | Hammanskraal | Pretoria | Gauteng |
| 594 | South Africa | Ce Heidelberg | 45b Apsey Street Rensburg Heidelberg | | Heidelberg | Heidelberg | Gauteng |
| 595 | South Africa | Ce Kagiso | 5518 Tholane Street,Kagiso, Mogale City, 1754 | | Kagiso | Johannesburg | Gauteng |
| 596 | South Africa | Ce Katlehong 1 | 5 Mofokeng Section Katlehong | | Katlehong | Johannesburg | Gauteng |
| 597 | South Africa | Ce Katlehong 2 | 2091 Admin Block Cnr Tshabalala & Vlie Str, Credi Section Katlehong | | Katlehong | Johannesburg | Gauteng |
| 598 | South Africa | Ce Kensington | 433 Commissioner Street Kensington | | Kensington | Johannesburg | Gauteng |
| 599 | South Africa | Ce Malvern | 501 Jules Street (Malvern Plaza), Malvern | | Malvern | Johannesburg | Gauteng |
| 600 | South Africa | Ce Menlyn | 441 Roderick's Road, Lynnwood | | Menlyn | Pretoria | Gauteng |
| 601 | South Africa | Ce Platfontein | 816 Tv Leeuw Street Platfontein | | Platfontein | Platfontein | Northern Cape |
| 602 | South Africa | Ce Potchefstroom | 154 Ross Street, Cnr Ikageng Road, Opposite Build-It Industria. Potchefstroom | | Potchefstroom | Johannesburg | North West |
| 603 | South Africa | Ce Potchefstroom 2 | 91 Wolmarans Street, Potchefstroom | | Potchefstroom | Johannesburg | Gauteng |
| 604 | South Africa | Ce Potchefstroom 3 | Number 14 Marree And River Street, Potchefstroom | | Potchefstroom | Johannesburg | North West |
| 605 | South Africa | Ce Pretoria | 642 Steve Biko | | Gezina | Pretoria | Gauteng |
| 606 | South Africa | Ce Pretoria West | 563 Carl Street, Pretoria West | | Pretoria West | Pretoria | Gauteng |
| 607 | South Africa | Ce Randfontein | 64 Main Street Randfontein Cbd | | Randfontein | Randfontein | Gauteng |
| 608 | South Africa | Ce Regents Park | 65 Cnr Alice And Augusta Street, Regents Park | | Regents Park | Johannesburg | Gauteng |
| 609 | South Africa | Ce Springs | No: 47,  5th Avenue, Corner 8th Str | | Springs | Springs | Gauteng |
| 610 | South Africa | Ce Vereeniging | Cnr Kruger And Voortrekker Street, Vereeniging | | Vereeniging | Vereeniging | Gauteng |
| 611 | South Africa | Ce Warrenton | 33 Uys Street Warrenton | | Warrenton | Warrenton | Northern Cape |
| 612 | South Africa | Ce Witbank | A12 Highveld Centre, Klipfontein | | Witbank | Witbank | Mpumalanga |
| 613 | South Africa | Christ Embassy Alberton | 66 Charl Cilliers Street | | Alberton | Johannesburg | Gauteng |
| 614 | South Africa | Christ Embassy Alwal North | Murray Street Opp Misphar Bnb | | Alwal North | Alwal North | Eastern Cape |
| 615 | South Africa | Christ Embassy Bethlehem | 2 Malan Street Bethlehem Dry Clean Building Opp Agriseket | | Bethlehem | Bethlehem | Free State |
| 616 | South Africa | Christ Embassy Bloemfontein | 46 East Burger Street; Opp Bon Hotel Central | | Bloemfontein | Bloemfontein | Free State |
| 617 | South Africa | Christ Embassy Boksburg | Number 5, Corner Eloff And Market Street, Boksburg East | | Boksburg | Johannesburg | Gauteng |
| 618 | South Africa | Christ Embassy Botshabelo | 160  Blue Street ,Industrial Area,Next To Khotso Build,Botshabelo | | Botshabelo | Botshabelo | Free State |
| 619 | South Africa | Christ Embassy Edendale | Shop No. 24b, 20 Edendale Road, Edendale | | Edendale | Edendale | Kwazulu Natal |
| 620 | South Africa | Christ Embassy Empangeni  | Lot 7955, 24 North Rd, Empangeni | | Empangeni | Empangeni | Kwazulu Natal |
| 621 | South Africa | Christ Embassy Eshowe | Little Flower School Centre, Ulundi Street, Eshowesibindi  Office,1 Osbone Road, Eshowe  (Behind Shell Garage) | | Eshowe | Eshowe | Kwazulu Natal |
| 622 | South Africa | Christ Embassy Esikhawini | Dlamvuzo High School, Esikhawini | | Esikhawini | Esikhawini | Kwazulu Natal |
| 623 | South Africa | Christ Embassy Howick | 13 Ciga Flats, Howick | | Howick | Howick | Kwazulu Natal |
| 624 | South Africa | Christ Embassy Jozini | Emakhonyeni Reserve, Jozini | | Jozini | Jozini | Kwazulu Natal |
| 625 | South Africa | Christ Embassy Kempton Park | No. 40 West Street, Kempton Park | | Kempton Park | Johannesburg | Gauteng |
| 626 | South Africa | Christ Embassy Kokstad  | Home Of Comfort Orphanage Hall;Scott Street | | Kokstad | Kokstad | Eastern Cape |
| 627 | South Africa | Christ Embassy Kroonstad | 70 Cross Street ;Kroonstad | | Kroonstad | Kroonstad | Free State |
| 628 | South Africa | Christ Embassy Kwamhlanga | 6 Mountainview ,Zone1 Kwamhlanga | | Kwamhlanga | Kwamhlanga | Mpumalanga |
| 629 | South Africa | Christ Embassy Ladysmith | 37 Muchison Street,Ladysmith | | Ladysmith | Ladysmith | Kwazulu Natal |
| 630 | South Africa | Christ Embassy Mandeni | Former Thokoza Lounge (Kwagcaleka), Mandeni | | Mandeni | Mandeni | Kwazulu Natal |
| 631 | South Africa | Christ Embassy Middleburg | No 26 Bhirmy Damane Street;Steve Dickinson Building | | Middleburg | Middleburg | Mpumalanga |
| 632 | South Africa | Christ Embassy Mthatha | 60 Sprigg Street;Mbuqe Taxi Rank Opp Agu Tryers | | Mthatha | Mthatha | Eastern Cape |
| 633 | South Africa | Christ Embassy Mtubamtuba | Mgqabula Area, Nkodibe, Mtubatuba | | Mtubamtuba | Mtubamtuba | Kwazulu Natal |
| 634 | South Africa | Christ Embassy Nelspruit | 43 Anderson Street ;Nelspruit City Center | | Nelspruit | Nelspruit | Mpumalanga |
| 635 | South Africa | Christ Embassy Newcastle | 61 Harding Street, Newcastle Central, 2940 | | Newcastle | Newcastle | Kwazulu Natal |
| 636 | South Africa | Christ Embassy Northdale | 30 Failsworth Road, Off Manchester Road Opposite Midlands Builders | | Northdale | Northdale | Kwazulu Natal |
| 637 | South Africa | Christ Embassy Pmb | Building No 1,Cnr Plaframan And Newport Rd Masons Mill, Pmb | | Pietermaritzburg | Pietermaritzburg | Kwazulu Natal |
| 638 | South Africa | Christ Embassy Port Shepstone | 8 Berg Road, Maburg, Port Shepstone | | Portshepstone | Portshepstone | Kwazulu Natal |
| 639 | South Africa | Christ Embassy Postmansburg | Thusanang Age Of Hope Hall Postdene Postmasburg 8420 | | Postmansburg | Postmansburg | Free State |
| 640 | South Africa | Christ Embassy Queensburgh | 500 Sania Road, Sea View, Durban | | Durban | Durban | Kwazulu Natal |
| 641 | South Africa | Christ Embassy Qwaqwa | Motsekuwa; Reahola Secondary School | | Qwaqwa | Qwaqwa | Free State |
| 642 | South Africa | Christ Embassy Reitz | Guesthouse Hall, 241 Washela Street, Petshana | | Reitz | Reitz | Free State |
| 643 | South Africa | Christ Embassy Richards Bay | 5 Pessetta Parade, Richards Bay (Next To Magistrate Court) | | Richards Bay | Richards Bay | Kwazulu Natal |
| 644 | South Africa | Christ Embassy Siyabuswa | Siyabuswa A,Next To Bonginhlanhla School | | Siyabuswa | Siyabuswa | Mpumalanga |
| 645 | South Africa | Christ Embassy Standerton | Khulasakhile Sec School, Standerton | | Standerton | Standerton | Mpumalanga |
| 646 | South Africa | Christ Embassy Sunninghill | Rivonia Central; 1st Floor,Cnr Rivonia Boulevard And 9th Avenue | | Rivonia | Johannesburg | Gauteng |
| 647 | South Africa | Christ Embassy Umzimkulu | 10 Margret Street Ixopo | | Umzinkulu | Umzinkulu | Kwazulu Natal |
| 648 | South Africa | Christ Embassy Verulam | 51 Lotus Rd.Corner Of Jabu Ngcobo Rd. [Off N2] And Lotus Rd. Verulam | | Verulam | Verulam | Kwazulu Natal |
| 649 | South Africa | Christ Embassy Vryheid | 198 Church Street, Vryheid | | Vryheid | Vryheid | Kwazulu Natal |
| 650 | South Africa | Christ Embassy Watersmeet | Peacetown No 1, Tamatisi Area, Ladysmith | | Ladysmith | Ladysmith | Kwazulu Natal |
| 651 | South Africa | Christ Embassy Welkom | 30 Bok Street ;Welkom | | Welkom | Welkom | Free State |
| 652 | South Africa | Christ Embassy Whittlesea | Bula Tryer& Repairs Workshop Next To The Police Station | | Whittlesea | Whittlesea | Eastern Cape |
| 653 | South Africa | Faranani Primary | School, Ext 11 Protea Glen | | | | Gauteng |
| 654 | South Africa | Goldilocks Crêche | Nduli | | Nduli | Ceres | Western Cape |
| 655 | South Africa | Goldwill Office Park, | Springhaas Road, Weltervreden Park | | Johannesburg | Johannesburg | Gauteng |
| 656 | South Africa | Indian Centre | Nr5 Indian Centre, Pniel Rd | | Kimberley | Kimberley | Northern Cape |
| 657 | South Africa | Island Of Hope (Opposite Shoprite) | 80 Breda Street,  | | Paarl | Paarl | Western Cape |
| 658 | South Africa | Johannesburg Main Church | 116 President Street | | Johannesburg | Johannesburg | Gauteng |
| 659 | South Africa | Jubilee Park | Corner Troye & Kotzee | | Sunnyside | Pretoria | Gauteng |
| 660 | South Africa | Just Care Centre | Cnr Of Angelier And Malva Streets  | | Mount Pleasant | Hermanus | Western Cape |
| 661 | South Africa | Mothibi Stad Complex  | Mothibi Stad Complex Kuruman | | Kuruman | Kuruman | Northern Cape |
| 662 | South Africa | Ng Church Hall | 47 Fichat Street | | George South | George | Western Cape |
| 663 | South Africa | Old Age Home | 2616 Skhosana Str | | Bekkersdal | Bekkersdal | Gauteng |
| 664 | South Africa | Reiger Park Church | 17 Cassle Street | | Reiger Park | Boksburg | Gauteng |
| 665 | South Africa | Rino  Sportgronde Hall | Loop Street  | | Piketberg | Piketberg | Western Cape |
| 666 | South Africa | South Church | 106 Harry Street | | Robertsham | Johannesburg | Gauteng |
| 667 | South Africa | The Jesus Building | 6 Viro Crescent | | Stikland | Stikland | Western Cape |
| 668 | South Africa | Vanderbijlpark Church | 9 Cosmos Building | | Vanderbijlpark | Vereeniging | Gauteng |
| 669 | South Africa | Vraagom Saal  | White City (Behind St Andrews School) | | White City | Saldhana | Western Cape |
| 670 | South Africa | Zillim Building | Zillim Building By Standard Bank | | Westonaria | Westonaria | Gauteng |
| 671 | South Africa | | Hoof Weg 12 | | Ashton | Ashton | Western Cape |
| 672 | South Korea | 13-Mar | Sillim-Ro 29-Gil | | Gwanak-Gu | Seoul-Si | Seoul |
| 673 | South Korea | 87, Yeche-Ro | 67 Beon-Gil | | Seowon-Gu | Cheongju-Si | Chungcheongbuk-Do |
| 674 | South Korea | 896-2 | Bono-Dong | | Sangnok-Gu | Ansan-Si | Gyeonggi-Do |
| 675 | South Sudan | Bob Sege Building (1st Floor) | Block G, Plot 24, Airport Road, Kololo Juba | | Kololo | Juba | Juba |
| 676 | South Sudan | Building One | Hai- Tawara, Rock City Juba | | Hai Tawara | Juba | Juba |
| 677 | Sri-Lanka | | 170/C/1/2 Columbo Road | | | | Colombo |
| 678 | St Vincent And The Grenadines |  Upstairs Cooperative Building | Grenville | | Kingstown | Kingstown | St George |
| 679 | Tanzania | Ce Offa | Sunset Makonde, Mbezi Beach | | Dar Es Salaam | Zanzibar | Dar El Salaam |
| 680 | Tanzania | Ce Ogbomosho 1 | Sinza Kwa Remi | | Sinnza | Sinza | Sinza |
| 681 | Tanzania | Ce Soroti 1 |  Mbagala Sabasaba | | Dar Es Salaam | Mbagala | Mbagala |
| 682 | Tanzania | Ce Tororo |  Bamaga Kinodoni | | Dar Es Salaam | Kiodon | Kiondoni |
| 683 | Tanzania | Cfp, Ecole Technique Professionnelle Á Kigobe | Rwegasore Road, City Centre Mwanza | | Mwanza | Mwanza | Mwanza |
| 684 | Tanzania | Christ Embassy Finima 1 Auditorium | New Dodoma Street | | Dodoma | Dodoma | Dodoma |
| 685 | Tanzania | Kigurunyembe Savey Hotel | Kigurunyembe | | | Morogoro  | Morogoro |
| 686 | Tanzania | Kilimanjaro Crane Hotel | Kilimanjaro Crane | | | Moshi | Moshi |
| 687 | Tanzania | Lumuli | Iringa Road | | | Dodoma | Dodoma |
| 688 | Tanzania | New Safari Hotel | Clock Tower | | | Arusha | Arusha |
| 689 | Tanzania | Vijana Center Building | Mlango Mmoja | | | Mwanza | Mwanza |
| 690 | Thailand | The Park Nine Suvarnabhumi | 599,599/1, Khwaeng Lat Krabang, Khet Lat Krabang, Krung Thep Maha Nakhon 1052 | | Bangkok | Bangkok | Bangkok |
| 691 | Togo | Ce Atakpame Auditorium | Awussa Zongo | | Atakpame | Atakpame | Region Des Plateaux |
| 692 | Togo | Ce Kara Auditorium | Rue Tchintchinda, Derriere Cap Tomde | | Tomde | Kara | Region De Kara |
| 693 | Togo | Ce Kpalime Auditorium | Fiakome, Rue De Hanyigba, Ancien Hotel Concordia, | | Kpalime | Kpalime | Region Des Plateaux |
| 694 | Togo | Ce Lome | Boulevard De La Paix Route De L'aeroport En Face De Cerfer, A Cote De Sinocar | | Cerfer | Lome | Maritime |
| 695 | Togo | Ce Sanguera | Sanguera Kleme | | Sanguera | Sanguera | Region Maritime |
| 696 | Togo | Ce Sokode Auditorium | National N°1, Face Btci | | Sokode | Sokode | Region Centrale |
| 697 | Tonga | St Andrew Hall | Longolongo | | | Nuku'alofa | |
| 698 | Uganda | Bas Congo Building | Behind Metroplex Naalya | | Naalya | Kampala | Kampala |
| 699 | Uganda | Bekandim Resort | Ggaba Near Shell Bunga | | Ggba | Kampala | Kampala |
| 700 | Uganda | Beside Tuyil Industries | Commercial Street, Opposite St Stephen's Clinic | | Luzira | Kampala | Kampala |
| 701 | Uganda | Ce Arua | Adjacent To Bank Of Uganda Gulu | | Gulu | Gulu | Gulu |
| 702 | Uganda | Ce Bukedea | Bilpham Road, Opposite Medani Rainbow Hai-Kuwait | | Kuwait | Kuwait | Juba |
| 703 | Uganda | Ce Busia | Bira House | | Mukono | Mukono | Mukono |
| 704 | Uganda | Ce Entebbe1 | Bouba, Opposite Join Police Station, Gudele | | Gudele | Gudele | Gudele |
| 705 | Uganda | Ce Fort Portal | Coronation Hotel | | Hoima | Hoima | Hoima |
| 706 | Uganda | Ce Ganaja | District Community Hall Bukedea | | Bukedea | Bukedea | Bukedea |
| 707 | Uganda | Ce Ggaba | Divine Mercy Hotel Kaberamaido | | Kaberamaido | Kaberamaido | Kaberamaido |
| 708 | Uganda | Ce Gudele | Former Spinrch Resort Kumi | | Kumi | Kumi | Kumi |
| 709 | Uganda | Ce Gulu | Garden Courts Hotel Masaka | | Masaka | Masaka | Masaka |
| 710 | Uganda | Ce Gulu 2 | Gulu Crystal Hotel. | | Gulu | Gulu | Gulu |
| 711 | Uganda | Ce Hai Kuwait 1 | Katabi Opposite St Joseph Primary School | | Katabi | Entebbe | Entebbe |
| 712 | Uganda | Ce Hoima | Chez Johnson Hotel | | Muyenga | Kampala | Kampala |
| 713 | Uganda | Ce Idah | Red Cross Building Near Arua Hill Round About | | Arua | Arua | Arua |
| 714 | Uganda | Ce Juba 1  | La Maison Conference Hall | | Kotido | Kotido | Kotido |
| 715 | Uganda | Ce Kabale | Lira Central Primary School, Aloi Road | | Lira | Lira | Lira |
| 716 | Uganda | Ce Kaberamaido | Little Ritz Hotel | | Kabale | Kabale | Kabale |
| 717 | Uganda | Ce Koboko | Lologo 2, Next St Vincent Vocational | | Lologo | Lologo | Lologo |
| 718 | Uganda | Ce Kotido | Opposite Kamukuzi Division Offices Boma, Near Mbarara Preparatory School | | Mbarara | Mbarara | Mbarara |
| 719 | Uganda | Ce Kumi | Majestic Hall Soroti | | Soroti | Soroti | Soroti |
| 720 | Uganda | Ce Lira 1 | Maryland Hotel Busia | | Busia | Busia | Busia |
| 721 | Uganda | Ce Lologo | Mwana Highway Hotel Ndeeba | | Ndeeba | Kampala | Kampala |
| 722 | Uganda | Ce Lugazi | Namakwekwe Mission Road, Behind Total Fuel Station | | Mbale | Mbale | Mbale |
| 723 | Uganda | Ce Luzira | Nyanama Valley | | Nyanama | Nyanama | Nyanama |
| 724 | Uganda | Ce Main Church Naalya | Rwandika Street Opposite Uba Bank | | Fort Portal | Fort Portal | Fort Portal |
| 725 | Uganda | Ce Masaka | Sherikati Opposite Safari Hotel | | Sherikati | Juba | Juba |
| 726 | Uganda | Ce Mbale | Stanbic Bank Building Upper Floor | | Lugazi | Lugazi | Lugazi |
| 727 | Uganda | Ce Mbarara | Sun Beach Hotel Kabwohe | | Sheema | Sheema | Sheema |
| 728 | Uganda | Ce Moroto | Tororo Youth Center | | Tororo | Tororo | Tororo |
| 729 | Uganda | Ce Muyenga | I & You Health Club Along Nabweru Road, Next To The Play Ground | | Nansana | Nansana | Nansana |
| 730 | Uganda | Ce Nansana | Arumaji | | Koboko | Koboko | Koboko |
| 731 | Uganda | Ce Ndeeba | Leslana Hotel Conference Hall | | Moroto | Moroto | Moroto |
| 732 | Uk | 100-106 Westmoor Street, Charlton. Se7 8nq | | | Charlton | London | |
| 733 | Uk | All Saints Anglican Church | 542 Saints Drive, Hampton Road, Forest Gate, E7 8ax Or By Bus 542 Romford Road, E7 8af | | Forestgate | | London |
| 734 | Uk | Ashling Tara Hotel | 50 Rose Hill, Sutton Sm1 3eu | | Sutton | | Surrey |
| 735 | Uk | Bedford Mercure Hotel | 2 St Mary's Street Mk42 0ar | | Bedford | | Bedfordshire |
| 736 | Uk | Bethel Hall | Church Street Cm8 2jp | | | Witham | |
| 737 | Uk | Beverley Hall Community Centre | 71 Haydon Place, Guildford, Gu1 4nd | | | Guilford | |
| 738 | Uk | Bullbrook Community Centre | Bullbrook Row, Bracknell, Rg12 2nl | | Bracknell | | Berkshire |
| 739 | Uk | Caroline Chisholm School | Wooldale Road, Wootton, Northampton Nn4 6tp | | | Northampton | |
| 740 | Uk | Ceme Conference Centre | Marsh Way, Rainham, Rm13 8eu | | Dagenham | | Essex |
| 741 | Uk | Christ Embassy Croydon | 15 Imperial Way | | Croydon | | Surrey |
| 742 | Uk | Christ Embassy Luton | 222 High Town Road, Lu2 0dn | | Luton | | Bedfordshire |
| 743 | Uk | Courtlands Hotel Hall | 19-27 The Drive, Hove, Brighton, Bn3 3je | | Hove | | East Sussex |
| 744 | Uk | Emmanuel Baptist Church | 55 Windmill Street, Gravesend, Da12 1bb | | Gravesend | | Kent |
| 745 | Uk | Girls Guiding Headquarters | Queensway, Hemel Hempstead, Hp2 5df | | Hemel Hempstead | | Hertfordshire |
| 746 | Uk | Global Academy | The Old Vinyl Factory, 1 Record Walk, Hayes, Ub3 1dh | | | Hayes | |
| 747 | Uk | Greenacres Community Centre | Galland Street | | Greenacres | Oldham | Ol4 3eu |
| 748 | Uk | Harris Academy Rainham (Drama Studio), | Lambs Lane South, Rainham, Rm13 9xd | | | Rainham | |
| 749 | Uk | Holiday Inn Basildon | Festival Leisure Park Waterfront Walk, Basildon Ss14 3d | | | Grays | |
| 750 | Uk | Junction Church | 41-53 High Street, Eastleigh, So50 5lg | | Eastleigh | | Hampshire |
| 751 | Uk | Jurys Inn Croydon | Wellesley Road, Cr0 9xy | | Croydon | | Surrey |
| 752 | Uk | La Sporta Community Centre | Church Path, Mitcham, Cr4 3bn | | Mitcham | | London |
| 753 | Uk | Labour Party Hall  | 160 London Road, Kingston Upon Thames. Kt2 6qw | | | Kingston | |
| 754 | Uk | Lion Club Community Centre | 357 Springfield Road Cm2 6af | | | Chelmsford | |
| 755 | Uk | Phoenix Centre | Mile Cross Road, Norwich, Nr3 2ld | | | Norwich | |
| 756 | Uk | Prince Of Wales Youth Club | 23a Military Road, Ct1 1yx | | Canterbury | | Kent |
| 757 | Uk | Salvation Army | Mareton Road Mk18 1jz | | Buckingham | Buckingham | |
| 758 | Uk | Samuel Coleridge Taylor Youth Centre | 194 Selhurst Road, Se25 6xx | | South Norwood | London | |
| 759 | Uk | Screen 4 Odeon Cinema  Se16 7ll | Radcliff Road, | | Surrey Quays | London | |
| 760 | Uk | Shear House | Petersfield Avenue, Slough, Sl2 5dy | | Slough | | Berkshire |
| 761 | Uk | Shrewsbury Chapel | Shrewsbury Road | | Redhill | | Surrey |
| 762 | Uk | Skyline Suite Holiday Inn London West | 4 Portal Way, Gypsy Corner London, W3 6rt | | | London | |
| 763 | Uk | Somerford Grove Community Hall | Somerford Grove Stoke Newington Hackney, London N16. 7tl. | | Hackney | | London |
| 764 | Uk | Southampton Unity, 12 Cic 9-19 | Rose Road, Southampton. So14 6te | | | Southampton | |
| 765 | Uk | St Margaret's Institute | 30 Polstead Road Ox2 6tn | | | Oxford | |
| 766 | Uk | St Mark's Hall. | Guilford Road Gu14 6tu | | Farnborough | | |
| 767 | Uk | St Phillip Howard Primary School | Woods Avenue, Al10 8nn | | | Hatfield | |
| 768 | Uk | The Bocking Arts Theatre | 15 Bocking End, Cm7 9ae | | Braintree | | Essex |
| 769 | Uk | The Castle Theatre | 10 Castle Way, Wellingborough, Northamptonshire Nn8 1xa | | | Wellingborough | |
| 770 | Uk | The Celtic Rose Centre | 5 Guildford Road | | Colchester | Colchester | Co1 2rb |
| 771 | Uk | The Friends Meeting House | 14 West Street, Maidenhead, Sl6 1lr | | Maidenhead | | Berkshire |
| 772 | Uk | Thornhill Room, Novotel Greenwich Hotel | 173 Greenwich High Road Se10 8ja | | Greenwich | London | |
| 773 | Uk | Townley Grammar School | Townley Road | | Bexleyheath | Kent | Da6 7ab |
| 774 | Uk | Units 3 & 4 Buckingham House,  | 2nd Avenue, West Denbigh, Central Bletchley. Mk1 1ed | | | Milton Keynes | |
| 775 | Uk | Walton Court Community Centre | Unit 1, Hannon Road, Hp21 8tj  | | Aylesbury | Aylesbury | |
| 776 | Uk | West Indian Cultural Centre (The Caribbean Centre) | 9 Clarendon Road, London, N8 0dj | | London | | London |
| 777 | Uk | Wilditch Community Centre | 48 Culvert Road, Battersea.  Sw11 5bb | | Battersea | London | |
| 778 | Uk | Winterbourne Junior Girls School | Winterbourne Road, Thornton Heath Cr7 7qt | | Thornton  Heath | | London |
| 779 | Ukraine | Heroyiv Nebesnoyi | Sotni Alley, 1 | | | Kyiv | Kyiv 02000 |
| 780 | United Kingdom | (Suite 103) Jury Inn Hotel | Wellesley Road | Cr0 9xy | Croydon | London | |
| 781 | United Kingdom | 1183 Lincoln Road | Behind Lidl, Mancetter Square, Pe4 6la | | Peterborough | Peterborough | |
| 782 | United Kingdom | Bensham Community Centre, Bensham Grove | Sydney Grove, Ne8 2xd | | Gateshead | Gateshead | |
| 783 | United Kingdom | Boys' Scout Building | 248 St. Pauls Rd, Pe1 3rw | | Peterborough City Centre | Peterborough | |
| 784 | United Kingdom | Campanile Dartford Hotel | 1 Clipper Boulevard, West Crossway Business Park | Da2 6qn | Dartford | Kent | |
| 785 | United Kingdom | Christ Embassy Auditorium | 40, Hope Street, Belfast Bt12 5ee | | Belfast | Belfast | N/A |
| 786 | United Kingdom | Christ Embassy Auditorium | Unit A Dean Street. Bristol Bs2 8sf | | Bristol | Bristol | N/A |
| 787 | United Kingdom | Christ Embassy Auditorium | 45 Thames Road. Ig11 0hq | | Barking | Essex | N/A |
| 788 | United Kingdom | Christ Embassy Auditorium | Unit 8 Wych Elm, Cm20 1qp | | Harlow | Essex | N/A |
| 789 | United Kingdom | Christ Embassy Auditorium | Room 235 Pembroke Building.  Me4 4tb | | Greenwich | Kent | N/A |
| 790 | United Kingdom | Christ Embassy Auditorium | Unit 2 Standard Industrial Estate | Num. 1361 | Docklands | London | N/A |
| 791 | United Kingdom | Christ Embassy Auditorium | 11 Walmgate Road | Ub6 7lh | Perivale | London | |
| 792 | United Kingdom | Christ Embassy Auditorium | Milton Park Primary School. Po4 8et | | Portsmouth | Portsmouth | N/A |
| 793 | United Kingdom | Coventry Boys & Girls Club | 50, Whitefriars Street, Cv1 2ds | | Coventry | Coventry | |
| 794 | United Kingdom | Hilton Convention Centre |  (2nd Floor) 13,Smithfield Road Aberdeen;  | Ab24 4nr | | | Aberdeen |
| 795 | United Kingdom | Holiday Inn | The Ring Way, Preston, Pr1 3au | | Preston | Preston | |
| 796 | United Kingdom | Holiday Inn Express | Cheriton Park, Cheriton High Street | Ct18 8an | Folkestone | Kent | |
| 797 | United Kingdom | King Henry School | 196 Avenue Road | Da8 3bn | | | Erith |
| 798 | United Kingdom | Leonardo Royal Hotel, | Haymarket.1 Morrison Link,Edinburgh | Eh3 8dn | | | Edinburgh |
| 799 | United Kingdom | Meadowcroft Community Rooms, | Addison Crescent, Upper Stratton. Wiltshire. Sn2 7jt | Sn2 7jt | | | Swindon |
| 800 | United Kingdom | North Shore Academy | Community Zone. Stockton-On-Tees;  | Ts20 2ay | | | Stockton-On-Tees |
| 801 | United Kingdom | Red Rose Court: Unit 6d | Sunnyhurst Road | | Blackburn | Blackburn | |
| 802 | United Kingdom | Rochdale Fire Station, Community Room | 27 Halifax Road,  Ol16 1qp | | Rochdale | Greater Manchester | |
| 803 | United Kingdom | Syac Building, Unit 110 | 120 Wicker, S3 8jd | | Sheffield | Sheffield | |
| 804 | United Kingdom | The Barn | 1 Watford House Lane | Wd17 1jz | Watford | Watford | |
| 805 | United Kingdom | The Excellency | 2 Carlton Street, Bl2 1bp | | Bolton | Greater Manchester | |
| 806 | United Kingdom | The Howard Venue | 39 Egerton Avenue | Br8 7lc | Hextable | Swanley | |
| 807 | United Kingdom | The Rear | 41 High Street | Me10 4aw | Sittingbourne | Kent | |
| 808 | United Kingdom | The Reformed Church Hall | Hallgate, Doncaster.  | Dn1 3nr | | | Doncaster |
| 809 | United Kingdom | The Salvation Army Building | 418 Old London Road | Tn35 5bb | Hastings | Sussex | |
| 810 | United Kingdom | Tredegarville Baptist Church, | The Parade, Roath Cardiff;  | Cf24 3ad | | | Cardiff |
| 811 | United Kingdom | Tuebrook Market Building | Dorset House Tuebrook,West Derby Road. Liverpool;  | L6 4br | | | Liverpool |
| 812 | United Kingdom | Unit 1, Barrats Industrial Park | 42 Ernest Avenue | Se27 0dj | West Norwood | London | |
| 813 | United Kingdom | | 94, Manchester Road, Bl9 0th | | Bury | Greater Manchester | |
| 814 | United Kingdom | | 10 Knowsley Street, M8 8gf | | Cheetham Hill | Manchester | |
| 815 | United Kingdom | | 277 Neasden Lane,  | Nw10 1qj | | | London |
| 816 | United Kingdom | | 15 Spray Street Woolwich  | Se18 6ap | | | London |
| 817 | United Kingdom | | 14 Howard Street, Off Constitution Hill, Hockley, Birmingham,  | B19 3hn | | | Birmingham |
| 818 | United Kingdom | | 67,Rea Street ,Digbeth Birmingham  | B5 6bb | | | Birmingham City Center |
| 819 | United Kingdom | | Unit 2,7 Knutsford Way Off Bumpers Lane. Sealand Industrial Estate Chester.  | Ch1 4ns | | | Chester |
| 820 | United Kingdom | | School House Business Center.London Road,Derby | De24 8uq | | | Derby |
| 821 | United Kingdom | | 27 Cross Green Lane | Ls9 8lj | | | Leeds |
| 822 | United Kingdom | | 16 Yeoman Street, Rutland Centre. Leicester.  | Le1 1ut | | | Leicester |
| 823 | United Kingdom | | Unit 4,17 Dolphin Street, Ardwick Green Manchester.  | M12 6bg | | | Manchester |
| 824 | United Kingdom | | Condercum Road, Unit 7(Upstairs) Newcastle Upon Tyne | Ne4 8yd, | | | Newcastle |
| 825 | United Kingdom | | Station House, 1 Crocus Street, Nottingham. | Ng2 3de | | | Nottingham |
| 826 | United Kingdom | | 2, Hyson Green Community Centre, 37a Gregory Boulevard Nottingham;  | Ng7 6be | | | Nottingham |
| 827 | United Kingdom | | Village Hotel, Energy Suite-Langdon Rd. Swansea.Sa1 8qy | Sa1 8qy | | | Swansea |
| 828 | United Kingdom | | 1,Little Pountney Street Wolverhampton;  | Wv2 4jh | | | Wolverhampton |
| 829 | Usa | Chicago Lake Shore Hotel | 4900 South Lake Shore Drive | | | Chicago | Illinois |
| 830 | Usa | Christ Embassy | Tafuna Bowling Alley, Tafuna As | | | Tafuna | American Samoa |
| 831 | Usa | Christ Embassy | 1820a E. Glenwood Avenue  | | | Philadelphia | Pennsylvania |
| 832 | Usa | Christ Embassy Atlanta | 6728 Highway 85 Suite H | | | Riverdale | Georgia |
| 833 | Usa | Christ Embassy Chicago Southside | 751 E 65th Street  | | | Chicago | Illinois |
| 834 | Usa | Christ Embassy Church | 2643 Mossrock | | | San Antonio | Texas |
| 835 | Usa | Christ Embassy Columbus | 3103 N National Road  | | | Columbus | Indiana |
| 836 | Usa | Christ Embassy Dallas Central | 13657 Jupiter Rd, Suite 100  | | | Dallas | Texas |
| 837 | Usa | Christ Embassy Duluth | 270 Arnold Road Suite C | | | Lawrenceville | Georgia |
| 838 | Usa | Christ Embassy Durham | 3514 University Drive | | | Durham | North Carolina |
| 839 | Usa | Christ Embassy Hampton Roads | 1216 Granby Street, Suite 3 | | | Norfolk | Virginia |
| 840 | Usa | Christ Embassy Killeen Church | 3506 East Rancier Avenue | | | Killeen | Texas |
| 841 | Usa | Christ Embassy Laurel | 8955 Henkels Lane, Suite 505 | | Annapolis Junction | | Maryland |
| 842 | Usa | Christ Embassy Michigan | 28350 Joy Rd, | | | Livonia | Michigan |
| 843 | Usa | Christ Embassy Milwaukee | 7817 W Brown Deer Rd | | | Milwaukee | Wisconsin |
| 844 | Usa | Christ Embassy Stone Mountain | 3951 Pleasantdale Road, #203 | | | Stone Mountain | Georgia |
| 845 | Usa | Christ Embassy Waukesha | 21140 W Capitol Dr. | | | Brookfield | Wisconsin |
| 846 | Usa | Creative Space | 40 Executive Drive Suite D | | | Carmel | Indiana |
| 847 | Usa | Days Inn Hotel | 650 Baltimore Pike | | | Springfield | Pennsylvania |
| 848 | Usa | Griffin Shopping Complex | 3422-3424 Griffin Rd, Fort Lauderdale, Fl 33312 | | Na | Fort Lauderdale | Fl |
| 849 | Usa | Griffin Shopping Complex | 3422-3424 Griffin Rd | | | Fort Lauderdale | Miami |
| 850 | Usa | Hampton Inn | 769 Hammond Drive | | | Atlanta | Georgia |
| 851 | Usa | Holiday Inn | 10450 Little Brier Creek Lane | | | Raleigh | North Carolina |
| 852 | Usa | I – 225 Trade Center | 700 Billings St. Unit Q | | | Aurora | Colorado |
| 853 | Usa | Kingston Court | 2131 Kingston Court Suite 107 | | | Marietta | Georgia |
| 854 | Usa | Mountainview Library | 120 Bragaw St | | | Anchorage | Alaska |
| 855 | Usa | Quality Inn | 4783 Allentown Road | | | Camp Springs | Maryland |
| 856 | Usa | Ramada Hotel | 120 Evergreen Place | | | Orange | New Jersey |
| 857 | Usa | Salle Goma | 3695 Foothills Way | | Fortmill | Fortmill | South Carolina |
| 858 | Usa | The Clarion Hotel | 3695 Foothills Way | | Fortmill | Rockhill | South Carolina |
| 859 | Usa | The Yakubu Gowon (Former Liberation) Stadium | 2643 Mossrock | | | San Antonio | Texas |
| 860 | Usa | Waipahu Filipino Community Center | 94-428 Mokuola St. W | | | Waipahu | Hawaii |
| 861 | Usa | Wall Street  Business Park | 8906 Wall Street, Building 4, Suite 403/406 | | Travis | Austin | Texas |
| 862 | Usa | | 4111 W Oglethorpe Hwy | | | Allenhurst | Georgia |
| 863 | Usa | | 452 E 149th St, 4th Floor | | | Bronx | New York |
| 864 | Usa | | 2215 Vanderveer Place | | | Brooklyn | New York |
| 865 | Usa | | 351 Park Ave | | | East Hartford | Connecticut |
| 866 | Usa | | 42 Fair Street | | | Hackensack | New Jersey |
| 867 | Usa | | 381 Ward Ave | | | Hamilton | New Jersey |
| 868 | Usa | | 72 Bedford Terrace | | | Irvington | New Jersey |
| 869 | Usa | | 126-03 Merrick Blvd | | | Jamaica | New York |
| 870 | Usa | | 951 West Side Ave | | | Jersey City | New Jersey |
| 871 | Usa | | 162 South Fulton Ave, 2nd Fl | | | Mount Vernon | New York |
| 872 | Usa | | 116 E 124th St, Cellar Level | | | New York | New York |
| 873 | Usa | | 2000 109th Street Se, Tacoma, Wa 98444 | | | Tacoma | Washington State |
| 874 | Usa | | 20 Stahuber Ave | | | Union | New Jersey |
| 875 | Vanuatu | Vila North Primary School | Agathis | | | Port Vila | |
| 876 | | Ce Dormaa Premises | Enso Nyame Ye Street | | Dormaa | Dormaa | Bono |
TV Stations
| | | | | | |
| --- | --- | --- | --- | --- | --- |
| S/N | COUNTRY | STATION NAME | CHANNEL\FREQUENCY | STATE OR CITY | TIME (GMT +1) |
| 1 | ALBANIA | IP TV | | | Rebroadcast |
| 2 | ALBANIA | RTV ALBANIA | | | Rebroadcast |
| 3 | ALBANIA  | TIRANA IPTV BROADCASTING OPERATOR | | | Rebroadcast |
| 4 | Anguilla  | CARIBBEAN CABLE CHANNEL  | | Anguilla  | 10PM |
| 5 | Antigua & Barbuda  | CTV  | | Antigua & Barbuda  | 10PM |
| 6 | Australia | KORDIA TV AUSTRALIA | | | 11PM |
| 7 | AUSTRIA | GSS MEDIA | | | Rebroadcast |
| 8 | AUSTRIA | GSS MEDIA | | | Rebroadcast |
| 9 | Bahamas, The  | CABLE BAHAMAS TV  | | Bahamas  | 10PM |
| 10 | BALKAN | MIR TV | | | Rebroadcast |
| 11 | BALKAN TERRITORIES | A1 BALKAN TV | | | Rebroadcast |
| 12 | Barbados  | DIGICEL PLAY CHANNEL | | Barbados  | 10PM |
| 13 | Barbados  | MULTI CHOICE TV  | | Barbados  | 10PM |
| 14 | BEOGRAD SERBIA | KABLKOM D.O.O | | | Rebroadcast |
| 15 | BOSNIA | A1 BOSNIA TV | | | Rebroadcast |
| 16 | BOSNIA | ALFA TV  | | | Rebroadcast |
| 17 | BOSNIA | FACE TV | | | Rebroadcast |
| 18 | BOSNIA&HERZEGOVINA | ALVATEL | | | Rebroadcast |
| 19 | BOSNIA&HERZEGOVINA | ANEX | | | Rebroadcast |
| 20 | BOSNIA&HERZEGOVINA | ASK BH | | | Rebroadcast |
| 21 | BOSNIA&HERZEGOVINA | AVAX.NET | | | Rebroadcast |
| 22 | BOSNIA&HERZEGOVINA | BH TELCOM MOJA TV | | | Rebroadcast |
| 23 | BOSNIA&HERZEGOVINA | BH TELCOM MOJA TV | | | Rebroadcast |
| 24 | BOSNIA&HERZEGOVINA | BHB CABLE | | | Rebroadcast |
| 25 | BOSNIA&HERZEGOVINA | BOSNA TV | | | Rebroadcast |
| 26 | BOSNIA&HERZEGOVINA | CABLE TV NET | | | Rebroadcast |
| 27 | BOSNIA&HERZEGOVINA | ELNET | | | Rebroadcast |
| 28 | BOSNIA&HERZEGOVINA | ELTA KABEL | | | Rebroadcast |
| 29 | BOSNIA&HERZEGOVINA | EXENET | | | Rebroadcast |
| 30 | BOSNIA&HERZEGOVINA | KTV-EGE.BA | | | Rebroadcast |
| 31 | BOSNIA&HERZEGOVINA | LOGOSOFT | | | Rebroadcast |
| 32 | BOSNIA&HERZEGOVINA | NET RN GROUP | | | Rebroadcast |
| 33 | BOSNIA&HERZEGOVINA | TELEMACH  BIH | | | Rebroadcast |
| 34 | BOSNIA&HERZEGOVINA | TIVI.BA | | | Rebroadcast |
| 35 | BOSNIA&HERZEGOVINA | TIVI.BA | | | Rebroadcast |
| 36 | BOSNIA&HERZEGOVINA | TXTV | | | Rebroadcast |
| 37 | Burundi |  BTV | | Gitega | 10PM |
| 38 | Burundi |  RTNB ( NATIONAL TV STATION) | | Bujumbura | 10MP |
| 39 | Burundi | HERITAGE TV | | Gitega | 10PM |
| 40 | BURUNDI | HERRITAGE TV | | | Rebroadcast |
| 41 | Cameroun | Cana 2 International English | | Bamenda | |
| 42 | Canada  | BELL FIBE TV  | | Ontario And Quebec  | 10PM |
| 43 | Cayman Islands  | WESTSTAR TV  | | Cayman Islands  | 10PM |
| 44 | Ce Uganda | B24 | | | 10MP |
| 45 | Ce Uganda | BUKKEDDE2 TV | | | 10MP |
| 46 | Ce Uganda | NTV | | | 10MP |
| 47 | Ce Uganda | QPTV | | | 10MP |
| 48 | Ce Uganda | STV | | | 10MP |
| 49 | CHILE | CMB TV | | | Rebroadcast |
| 50 | CHILE | CMB TV | | | Rebroadcast |
| 51 | COLOMBIA | CMB TV | | | Rebroadcast |
| 52 | COLOMBIA | CMB TV | | | Rebroadcast |
| 53 | CROATIA | MAXTV | | | Rebroadcast |
| 54 | CROATIA | TERRAKOM | | | Rebroadcast |
| 55 | CROATIA | VIP-MEDIA | | | Rebroadcast |
| 56 | Dominica  | SAT TELECOMS CHANNEL | | Dominica  | 10PM |
| 57 | DR. Congo | CEBS TV | | | 10MP |
| 58 | DR. Congo | HERITAGE TV | | | 10MP |
| 59 | DR. Congo | KIN24 TV | | | 10MP |
| 60 | DR. Congo | LAJOIE TV | | | 10MP |
| 61 | DR. Congo | MIKUBA TV | | | 10MP |
| 62 | DR. Congo | RTVL BUNIA | | | 10MP |
| 63 | ECUADOR | CMB TV | | | Rebroadcast |
| 64 | ECUADOR | CMB TV | | | Rebroadcast |
| 65 | Estonia | TBN Baltia | | Baltia | 11PM |
| 66 | GERMANY | IPTV NET | | | Rebroadcast |
| 67 | GERMANY | PROFREE TV | | | Rebroadcast |
| 68 | Ghana | LNTV | | Nungua | 11PM |
| 69 | Global | CLOVEWORLD | IPTV\Online | Global | 10PM |
| 70 | India | LIFETV INDIA | | Kamataka | 10PM |
| 71 | India | LIFETV INDIA | | Tamilnadu | 10PM |
| 72 | India | LIFETV INDIA | | Kerala | 10PM |
| 73 | India | LIFETV INDIA | | Andrapradesh | 10PM |
| 74 | India | LIFETV INDIA | | Telengana | 10PM |
| 75 | India | LIFETV INDIA | | North India | 10PM |
| 76 | India | LIFETV INDIA | | Bombay | 10PM |
| 77 | India | LIFETV INDIA | | Oddisa | 10PM |
| 78 | India | LIFETV INDIA | | Delhi | 10PM |
| 79 | INDIA | POWER VISION TV (www.powervisiontv.com) | | | Rebroadcast |
| 80 | ITALY | MEDIA TV | | | Rebroadcast |
| 81 | Jamaica  | DIGICEL PLAY CHANNEL | | Jamaica  | 10PM |
| 82 | KOSOVO | DREAM BOX | | | Rebroadcast |
| 83 | KOSOVO | GIMELET | | | Rebroadcast |
| 84 | KOSOVO | PROGRES STRPCE | | | Rebroadcast |
| 85 | KOSOVO | RTV KOSOVA | | | Rebroadcast |
| 86 | KOSOVO | SPEED TV | | | Rebroadcast |
| 87 | KOSOVO | TIRANA IPTV BROADCASTING OPERATOR | | | Rebroadcast |
| 88 | KOSOVO | TVEHO | | | Rebroadcast |
| 89 | MACEDONIA | A1 TV MACEDONIA | | | Rebroadcast |
| 90 | Malawi | TIMES TV | | | 10PM |
| 91 | Malawi | TIMVENI TV | | | 10PM |
| 92 | Mauritius | MBC TV | | | 10MP |
| 93 | Middle East & North Africa | LOVEWORLD MENA | Nilesat 7W  | Egypt | 10PM |
| 94 | MONTENEGRO | MTEL CRNA | | | Rebroadcast |
| 95 | MONTENEGRO | W-LINK | | | Rebroadcast |
| 96 | Montserrat  | CARIBBEAN CABLE COMMUNICATIONS TV | | Montserrat  | 10PM |
| 97 | NAMIBIA | MTV NAMIBIA | | | Rebroadcast |
| 98 | NEPAL | Chanel Ace Television | | | Rebroadcast |
| 99 | Nigeria | AIT ABUJA | | Abuja | 10PM |
| 100 | Nigeria | AIT ADAMAWA | | Adamawa | 10PM |
| 101 | Nigeria | AIT AGENEBODE | | Adenebode Edo State | 10PM |
| 102 | Nigeria | AIT AKURE | | Akure | 10PM |
| 103 | Nigeria | AIT ALAGBADO LAGOS | | Lagos | 10PM |
| 104 | Nigeria | AIT ASABA | | Asaba | 10PM |
| 105 | Nigeria | AIT AWKA | | Awka | 10PM |
| 106 | Nigeria | AIT BAUCHI | | Bauchi | 10PM |
| 107 | Nigeria | AIT BENIN CITY | | Benin City | 10PM |
| 108 | Nigeria | AIT BIRIN KEBBI | | Birnin Kebbi | 10PM |
| 109 | Nigeria | AIT ENUGU | | Enugu | 10PM |
| 110 | Nigeria | AIT GOMBE | | Gombe | 10PM |
| 111 | Nigeria | AIT ILORIN | | Ilorin | 10PM |
| 112 | Nigeria | AIT INTERNATIONAL UK | | Int'L Uk (Satellite) | 10PM |
| 113 | Nigeria | AIT JOS | | Jos | 10PM |
| 114 | Nigeria | AIT KADUNA | | Kaduna | 10PM |
| 115 | Nigeria | AIT KANO | | Kano | 10PM |
| 116 | Nigeria | AIT KATSINA  | | Katsina | 10PM |
| 117 | Nigeria | AIT MAIDUGURI | | Maiduguri | 10PM |
| 118 | Nigeria | AIT MAKURDI | | Makurdi | 10PM |
| 119 | Nigeria | AIT OSOGBO | | Osogbo | 10PM |
| 120 | Nigeria | AIT OWERRI | | Owerri | 10PM |
| 121 | Nigeria | AIT PORT HARCOURT | | Port Harcourt | 10PM |
| 122 | Nigeria | AIT SOKOTO | | Sokoto | 10PM |
| 123 | Nigeria | AIT UMUAHIA | | Umuahia | 10PM |
| 124 | Nigeria | AIT YENEGOA | | Yenegoa | 10PM |
| 125 | Nigeria | AKBC TV | | Uyo | 10PM |
| 126 | Nigeria | BCOS TV | | Ibadan | 11PM |
| 127 | Nigeria | Borno Radio Television (BRTV) | | Maiduguri | |
| 128 | Nigeria | GALAXY TV | | Ibadan | 11PM |
| 129 | Nigeria | MCL TV ABA | MCL Channel 87, 91 & 77 | Abia | 10MP |
| 130 | Nigeria | MITV IBADAN | | Ibadan | 10PM |
| 131 | Nigeria | MITV LAGOS | | Lagos | 10PM |
| 132 | Nigeria | NTA 10 LAGOS | Channel 10 210. 35MHz | Lagos | 11PM  |
| 133 | Nigeria | NTA 2 CHANNEL 5 LAGOS | Channel 5, 175. 25MHz | Lagos | 11PM  |
| 134 | Nigeria | NTA ABA | | Aba | 11PM  |
| 135 | Nigeria | NTA ABAKALIKI | | Abakaliki | 11PM  |
| 136 | Nigeria | NTA ABEOKUTA | Channel 12 VHF | Abeokuta | 11PM  |
| 137 | Nigeria | NTA ADO-EKITI | | Ado Ekiti | 11PM  |
| 138 | Nigeria | NTA AKURE | Channel 11 VHF | Akure | 11PM  |
| 139 | Nigeria | NTA AKWANGA | | Akwanga | 11PM  |
| 140 | Nigeria | NTA ANKPA | | Ankpa | 11PM  |
| 141 | Nigeria | NTA ARGUNGU | | Argungu | 11PM  |
| 142 | Nigeria | NTA ASABA | | Asaba | 11PM  |
| 143 | Nigeria | NTA AUCHI | | Auchi | 11PM  |
| 144 | Nigeria | NTA AWKA | | Awka | 11PM  |
| 145 | Nigeria | NTA AYIGBA | | Ayigba | 11PM  |
| 146 | Nigeria | NTA AZARE | | Azare | 11PM  |
| 147 | Nigeria | NTA BAUCHI | Channel 5,6,9 VHF | Bauchi | 11PM  |
| 148 | Nigeria | NTA BENIN | Channel 7 VHF | Benin City | 11PM  |
| 149 | Nigeria | NTA BIDA | | Bida | 11PM  |
| 150 | Nigeria | NTA BIRNIN-GWARI | | Birnin Gwari | 11PM  |
| 151 | Nigeria | NTA BIRNIN-KEBBI | | Birnin Kebbi | 11PM  |
| 152 | Nigeria | NTA BIU | | Biu | 11PM  |
| 153 | Nigeria | NTA BRASS | | Brass | 11PM  |
| 154 | Nigeria | NTA CALABAR | Channel 9 VHF | Calaba | 11PM  |
| 155 | Nigeria | NTA CHANNEL 5 ABUJA | Channel 6, 187, 75MHz | Abuja | 11PM  |
| 156 | Nigeria | NTA DAMATURU | | Damaturu | 11PM  |
| 157 | Nigeria | NTA DAMBATA | | Dambata | 11PM  |
| 158 | Nigeria | NTA DARAZO | | Darazo | 11PM  |
| 159 | Nigeria | NTA DAURA  | | Daura | 11PM  |
| 160 | Nigeria | NTA DUTSE  | Channel 210.25MHz | Jigawa | 11PM  |
| 161 | Nigeria | NTA EKET | | Eket | 11PM  |
| 162 | Nigeria | NTA ENUGU | Channel 8 VHF | Enugu | 11PM  |
| 163 | Nigeria | NTA FUNTUA | | Funtua | 11PM  |
| 164 | Nigeria | NTA GANYE | | Ganye | 11PM  |
| 165 | Nigeria | NTA GASHUA | | Gashua | 11PM  |
| 166 | Nigeria | NTA GBOKO | | Gboko | 11PM  |
| 167 | Nigeria | NTA GEMBU | | Gembu | 11PM  |
| 168 | Nigeria | NTA GOMBE | Channel 5 | Gombe | 11PM  |
| 169 | Nigeria | NTA GUMEL | | Gumel | 11PM  |
| 170 | Nigeria | NTA GUSAU | | Gusau | 11PM  |
| 171 | Nigeria | NTA IBADAN | Channel 7VHF Band 111 | Ibadan | 11PM  |
| 172 | Nigeria | NTA IDAH | | Idah | 11PM  |
| 173 | Nigeria | NTA IJEBU-ODE | | Ijebu Ode | 11PM  |
| 174 | Nigeria | NTA IKARE | | Ikare | 11PM  |
| 175 | Nigeria | NTA IKOM | | Ikom | 11PM  |
| 176 | Nigeria | NTA ILE-IFE | | Ile Ife | 11PM  |
| 177 | Nigeria | NTA ILORIN | Channel 6VHF | Ilorin | 11PM  |
| 178 | Nigeria | NTA IMEKO | | Imeko | 11PM  |
| 179 | Nigeria | NTA IRUEKPEN | | Iruekpen | 11PM  |
| 180 | Nigeria | NTA JALINGO | Channel 6 VHF | Jalingo | 11PM  |
| 181 | Nigeria | NTA JATU | | Jatu | 11PM  |
| 182 | Nigeria | NTA JOS | Channel 7 | Jos | 11PM  |
| 183 | Nigeria | NTA K\LAMIDO | | K\Lamido | 11PM  |
| 184 | Nigeria | NTA K\NAMODA | | K\Namoda | 11PM  |
| 185 | Nigeria | NTA KABBA | | Kabba | 11PM  |
| 186 | Nigeria | NTA KADEJIA | | Kadeija | 11PM  |
| 187 | Nigeria | NTA KADUNA | | Kaduna | 11PM  |
| 188 | Nigeria | NTA KAFANCHAN | | Kafanchan | 11PM  |
| 189 | Nigeria | NTA KALTUNGO | | Kaltungo | 11PM  |
| 190 | Nigeria | NTA KANO | Channel 5 | Kano | 11PM  |
| 191 | Nigeria | NTA KATSINA | Channel 8 VHF | Katsina | 11PM  |
| 192 | Nigeria | NTA KEFFI | | Keffi | 11PM  |
| 193 | Nigeria | NTA KONTAGORA | | Kontagora | 11PM  |
| 194 | Nigeria | NTA KUMO | | Kumo | 11PM  |
| 195 | Nigeria | NTA LAFIA | | Lafia | 11PM  |
| 196 | Nigeria | NTA LOKOJA | Channel 7,8,37 | Lokoja | 11PM  |
| 197 | Nigeria | NTA MAIDUGURI | Channel 10 VHF | Maiduguri | 11PM  |
| 198 | Nigeria | NTA MAKURDI | Channel 10VHF | Makurdi | 11PM  |
| 199 | Nigeria | NTA MINNA | Channel 10VHF | Minna | 11PM  |
| 200 | Nigeria | NTA MUBI | | Mubi | 11PM  |
| 201 | Nigeria | NTA NEW BUSA | | New Busa | 11PM  |
| 202 | Nigeria | NTA NUMAN | | Numan | 11PM  |
| 203 | Nigeria | NTA OGBOMOSO | | Ogbomoso | 11PM  |
| 204 | Nigeria | NTA OGOJA | | Ogoja | 11PM  |
| 205 | Nigeria | NTA OKENE | | Okene | 11PM  |
| 206 | Nigeria | NTA OKIGWE | | Okigwe | 11PM  |
| 207 | Nigeria | NTA OKITIPUPA | | Okitipupa | 11PM  |
| 208 | Nigeria | NTA ONITSHA | | Onitsha | 11PM  |
| 209 | Nigeria | NTA OSOGBO | Channel 49 UHF | Osogbo | 11PM  |
| 210 | Nigeria | NTA OTUKPO | | Otukpo | 11PM  |
| 211 | Nigeria | NTA OWERRI | | Owerri | 11PM  |
| 212 | Nigeria | NTA PANKSHIN | | Pankshin | 11PM  |
| 213 | Nigeria | NTA PATEGI | | Pategi | 11PM  |
| 214 | Nigeria | NTA PLUS ABUJA | | Abuja | 11PM  |
| 215 | Nigeria | NTA POKISKUM | | Pokiskum | 11PM  |
| 216 | Nigeria | NTA PORT HARCOURT | Channel 10VHF | Port Harcourt | 11PM  |
| 217 | Nigeria | NTA SAPELE | | Sapele | 11PM  |
| 218 | Nigeria | NTA SHAKI | | Shaki | 11PM  |
| 219 | Nigeria | NTA SHENDAM | | Shendam | 11PM  |
| 220 | Nigeria | NTA SOKOTO | Channel 7 | Sokoto | 11PM  |
| 221 | Nigeria | NTA TAKUM | | Takum | 11PM  |
| 222 | Nigeria | NTA UMUAHIA | | Umuahia | 11PM  |
| 223 | Nigeria | NTA UYO | Channel 12 VHF | Uyo | 11PM  |
| 224 | Nigeria | NTA YENAGOA | Channel 28UHF | Yenagoa | 11PM  |
| 225 | Nigeria | NTA YOLA | Channel 8 VHF | Yola | 11PM  |
| 226 | Nigeria | NTA ZARIA | | Zaria | 11PM  |
| 227 | Nigeria | NTA ZURU | | Zuru | 11PM  |
| 228 | Nigeria | PATHWAY TV | Cable Channel | Warri | 10PM |
| 229 | Nigeria | STV ABUJA | | Abuja | 10PM |
| 230 | Nigeria | STV BAYELSA | | Bayelsa | 10PM |
| 231 | Nigeria | STV BENIN | | Benin City | 10PM |
| 232 | Nigeria | STV JOS | | Jos | 10PM |
| 233 | Nigeria | STV LAGOS | | Lagos | 10PM |
| 234 | Nigeria | STV PORT HARCOURT | | Port Harcourt | 10PM |
| 235 | Nigeria | SUPER SCREEN | UHF 45 | Lagos | 10PM |
| 236 | Nigeria | TVC | | Lagos | 10PM |
| 237 | Pakistan | ETERNAL TV | | Islamabad | 11PM |
| 238 | PAKISTAN | GBU TV | | | Rebroadcast |
| 239 | PAKISTAN | GLORY TV | | | Rebroadcast |
| 240 | PAKISTAN | HEAVEN TV | | Faisalabad | 10PM |
| 241 | Pakistan | ISAAC TV | | Lahore | 11PM |
| 242 | PAKISTAN | JTV | | | Rebroadcast |
| 243 | Pakistan | LIFE TV | | Islamabad | 11PM |
| 244 | PAKISTAN | PMC TV | | | Rebroadcast |
| 245 | RUSSIA | IVENTOS | | | Rebroadcast |
| 246 | RWANDA | ROYAL TV | | | Rebroadcast |
| 247 | RWANDA | TV 10 | | | Rebroadcast |
| 248 | Rwanda | TV1 | | | 10MP |
| 249 | RWANDA | TVR | | | Rebroadcast |
| 250 | Rwanda | VICTORY TV | | | 10MP |
| 251 | SERBIA | KBCNET | | | Rebroadcast |
| 252 | SERBIA | KDS SURCIN | | | Rebroadcast |
| 253 | SERBIA | NET TV PLUS | | | Rebroadcast |
| 254 | SERBIA | POSTANET | | | Rebroadcast |
| 255 | SERBIA | RADIJUS VEKTOR | | | Rebroadcast |
| 256 | SERBIA | TARGO TELEKOM | | | Rebroadcast |
| 257 | SERBIA  | NET TV PLUS | | | Rebroadcast |
| 258 | SOUTH AFRICA | PLATINUM TV | | | Rebroadcast |
| 259 | South Africa | SOWETO TV  | | Gauteng | 11PM |
| 260 | South Sudan | SSBC | | | 10MP |
| 261 | South Sudan | SSBC TV | | | 12AM (EST) |
| 262 | SPAIN |  AVAX-NET ABB NASA TV | | | Rebroadcast |
| 263 | SPAIN | A1 ESPANA | | | Rebroadcast |
| 264 | SPAIN | A1 EXCLUSIVE | | | Rebroadcast |
| 265 | SPAIN | A1 MEDIA TV | | | Rebroadcast |
| 266 | SPAIN | A1 WORLD | | | Rebroadcast |
| 267 | SPAIN | CANAL 5 CANARY ISLAND | | | Rebroadcast |
| 268 | SPAIN | CANAL 7 TV | | | Rebroadcast |
| 269 | SPAIN | CHANNEL 11 TV | | | Rebroadcast |
| 270 | SPAIN | IPTV OTT I MVDS PLATFORMS | | | Rebroadcast |
| 271 | SPAIN | IPTV SEYRET NET | | | Rebroadcast |
| 272 | SPAIN | LIFE TV  | | | Rebroadcast |
| 273 | SPAIN | MAG TV GMBH | | | Rebroadcast |
| 274 | Spain | TBN ESPANA | | Madrid | 11PM |
| 275 | St. Kitts & Nevis  | CARIBBEAN CABLE COMMUNICATIONS TV | | Nevis | 10PM |
| 276 | St. Kitts & Nevis  | THE CABLE TV | | St. Kitts | 10PM |
| 277 | St. Lucia  | HELEN TELEVISION / SPECTRA  | | St. Lucia  | 10PM |
| 278 | St. Maarten  | ST. MAARTEN CABLE TV  | | St. Maarten  | 10PM |
| 279 | Tanzania | CLOUD TV | | | 10MP |
| 280 | Tanzania | ITV | | | 10MP |
| 281 | Tanzania | TBC TV | | | 10MP |
| 282 | Trinidad & Tobago | DIGICEL PLAY  | | Trinidad & Tobago | 10PM |
| 283 | Trinidad & Tobago | PBN (PODIUM BROADCASTING NETWORK TV) | | Trinidad & Tobago | 10PM |
| 284 | Trinidad & Tobago | TRICO TV  | | Trinidad & Tobago | 10PM |
| 285 | TUNISIA | MEJDOO | | | Rebroadcast |
| 286 | TURKEY | NOC TURKIYE | | | Rebroadcast |
| 287 | TURKEY | NOC TURKIYE | | | Rebroadcast |
| 288 | UK | ELSHADAI TV | | | Rebroadcast |
| 289 | UK | IPTV FORYOU | | | Rebroadcast |
| 290 | USA | BALKAN TV (Internet) | | | Rebroadcast |
| 291 | USA | BOSNA TV (Internet) | | | Rebroadcast |
| 292 | Usa | CABLEVISION TV – OPTIMUM  | | Ny, Nj, Ct  | 10PM |
| 293 | ZAMBIA | NW TV | | | Rebroadcast |
| 294 | Zimbabwe | ZBC TV | | Harere | |