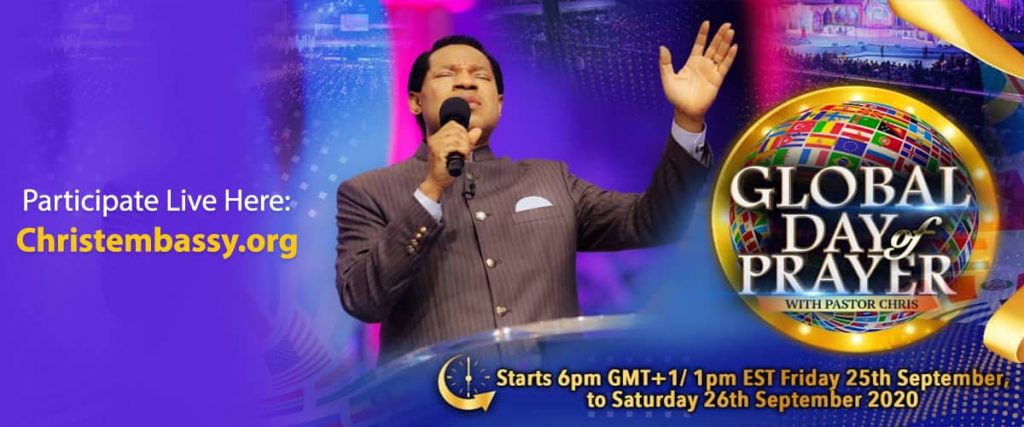 Our Prayer makes it consistent for God to do whatever he would want to do, which it was inconsistent for him to do had we not prayed.
Through our prayers, we realign the world to conform with God's master plan, and reassign the desolate heritages.
Join over 5 BILLION people from around the world to pray with Pastor Chris at the September Global Day of Prayer from 6pm GMT +1/1pm EST Friday 25th September 2020 to Saturday 26th September 2020.
It'll be streamed live to all the LoveWorld Networks and Web/Mobile platforms, and on major satellite, terrestrial, and local TV and Radio Stations around the world.
Participate through your preferred TV, Radio, mobile, or web application/ website/ social media site by making your selection through the tabs below.
God bless you!
Web/Mobile Platforms
Radio Stations
| | | | | | | | | | | |
| --- | --- | --- | --- | --- | --- | --- | --- | --- | --- | --- |
| S/N | COUNTRY | FREQUENCY/LINK | STATION FREQUENCY | CONTINENT | STATES | START TIME (GMT +1) | END TIME (GMT +1) | LANGUAGE AVAILABLE | | |
| 1 | AFGHANISTAN | RADIO LIVE | www.radiolife.pk | ASIA | | 6PM | 9PM | ENGLISH | | |
| 2 | ALBANIA | LOVEWORLD HEALTH RADIO HEALTH | cetunes.org/channel/lwrhealth | AFRICA | | 6PM | 9PM | ENGLISH | | |
| 3 | ALGERIA | LOVEWORLD RADIO 360 MIX | cetunes.org/channel/elite | AFRICA | | 6PM | 9PM | ENGLISH | | |
| 4 | AMERICA | INDIE GOSPEL RADIO | cetunes.org/channel/worshipwarrior | SOUTH AMERICA | SOUTH AMERICA | 6PM | 9PM | ENGLISH | | |
| 5 | AMERICA | WRHI RADIO | 100.1 FM | AFRICA | | RE-BROADCAST | RE-BROADCAST | | | |
| 6 | AMERICA | WMUZ DETROIT | 103.5FM | AFRICA | | RE-BROADCAST | RE-BROADCAST | | | |
| 7 | ANDORA | LOVEWORLD RADIO ANDORA | cetunes.org/channel/lwrAndora | EUROPE | | 6PM | 9PM | CATALAN | | |
| 8 | ANGOLA | LOVEWORLD RADIO ANGOLA | cetunes.org/channel/lwrAngola | AFRICA | | 6PM | 9PM | CETUNES.ORG/CHANNEL/LWRANGOLA | | |
| 9 | ANTIGUA | LOVEWORLD RADIO ANTIGUA | cetunes.org/channel/lwrAntigua | NORTH AMERICA | | 6PM | 9PM | ENGLISH | | |
| 10 | ARAB | LOVEWORLD RADIO ALBANIA | cetunes.org/channel/lwralbania | EUROPE | | 6PM | 9PM | ALBANIAN | | |
| 11 | ARGENTINA | LOVEWORLD RADIO ARGENTINA | cetunes.org/channel/lwrArgentina | SOUTH AMERICA | | 6PM | 9PM | SPANISH | | |
| 12 | ARMENIA | LOVEWORLD RADIO ARMENIA | cetunes.org/channel/lwrArmenia | ASIA | | 6PM | 9PM | ARMENIAN | | |
| 13 | AUSTRALIA | LOVEWORLD RADIO ALGERIA | cetunes.org/channel/lwrAlgeria | AFRICA | | 6PM | 9PM | ARABIC | | |
| 14 | AUSTRIA | LOVEWORLD RADIO AUSTRIA | cetunes.org/channel/lwrAustria | EUROPE | | 6PM | 9PM | CETUNES.ORG/CHANNEL/LWRAUSTRIA | | |
| 15 | AZERBIAJAN | LOVEWORLD RADIO AZERBIAJAN | cetunes.org/channel/lwrAzerbiajan | ASIA | | 6PM | 9PM | AZERBAIJANI | | |
| 16 | BAHAMAS | LOVEWORLD RADIO BAHAMAS | cetunes.org/channel/lwrBahamas | NORTH AMERICA | | 6PM | 9PM | ENGLISH | | |
| 17 | BANGLADESH | LOVEWORLD RADIO BANGLADESH | cetunes.org/channel/lwrBangladesh | ASIA | | 6PM | 9PM | BENGALI | | |
| 18 | BANGUI | LOVEWORLD RADIO BANGUI | cetunes.org/channel/lwrBangui | AFRICA | | 6PM | 9PM | CETUNES.ORG/CHANNEL/LWRBANGUI | | |
| 19 | BARBADOS | LOVEWORLD RADIO BARBADOS | cetunes.org/channel/lwrBarbados | NORTH AMERICA | | 6PM | 9PM | ENGLISH | | |
| 20 | BELARUS | LOVEWORLD RADIO BELARUS | cetunes.org/channel/lwrBelarus | EUROPE | | 6PM | 9PM | CETUNES.ORG/CHANNEL/LWRBELARUS | | |
| 21 | BELGIUM | LOVEWORLD RADIO BELGIUM | cetunes.org/channel/lwrBelgium | EUROPE | | 7PM | 9PM | CETUNES.ORG/CHANNEL/LWRBELGIUM | | |
| 22 | BELIZE | LOVEWORLD RADIO BELIZE | cetunes.org/channel/lwrBelize | NORTH AMERICA | | 6PM | 9PM | ENGLISH | | |
| 23 | BENIN | LOVEWORLD RADIO BENIN | cetunes.org/channel/lwrBenin | AFRICA | | 6PM | 9PM | CETUNES.ORG/CHANNEL/LWRBENIN | | |
| 24 | BENIN REP | LOVEWORLD RADIO ANDORRA | cetunes.org/channel/lwrAndorra | EUROPE | | 6PM | 9PM | CATALAN | | |
| 25 | BENIN REPUBLIC | SOGEMA FM | 87.5 FM | AFRICA | | 6PM | | | | |
| 26 | BENIN REPUBLIC | OCEAN FM | 88.6 FM | AFRICA | | 6PM | | | | |
| 27 | BENIN REPUBLIC | UNIVERS | 108.0 FM | AFRICA | | 6PM | | | | |
| 28 | BHUTAN | LOVEWORLD RADIO BHUTAN | cetunes.org/channel/lwrBhutan | ASIA | | 6PM | 9PM | ENGLISH | | |
| 29 | BOLIVIA | LOVEWORLD RADIO BOLIVIA | cetunes.org/channel/lwrBolivia | SOUTH AMERICA | | 6PM | 9PM | SPANISH | | |
| 30 | BOSNIA | LOVEWORLD RADIO BOSNIA | cetunes.org/channel/lwrBosnia | EUROPE | | 7PM | 9PM | BOSNIAN | | |
| 31 | BOTSWANA | LOVEWORLD RADIO ARABIC | cetunes.org/channel/lwrArabic | AFRICA | | 6PM | 9PM | ARABIC | | |
| 32 | BRAZIL | LOVEWORLD RADIO AUSTRALIA | cetunes.org/channel/lwrAustralia | AUSTRAILIA | | 6PM | 9PM | ENGLISH | | |
| 33 | BRUNEI | LOVEWORLD RADIO BRUNEI | cetunes.org/channel/lwrBrunei | ASIA | | 6PM | 9PM | MALAY | | |
| 34 | BULGARIA | LOVEWORLD RADIO BOTSWANA | cetunes.org/channel/lwrBotswana | AFRICA | | 6PM | 9PM | SETWANA/ENG | | |
| 35 | BURKINA FASO | LOVEWORLD RADIO BRAZIL | cetunes.org/channel/lwrBrazil | SOUTH AMERICA | | 6PM | 9PM | CETUNES.ORG/CHANNEL/LWRBRAZIL | | |
| 36 | BURUNDI | LOVEWORLD RADIO BROOKLYN | cetunes.org/channel/lwrBrooklyn | NORTH AMERICA | | 6PM | 9PM | ENGLISH | | |
| 37 | CALABAR | CRBC RADIO IKOM | 89.7 FM | NIGERIA | | 6PM | 9PM | ENGLISH | | |
| 38 | CALABAR | HIT FM | 95.9 FM | NIGERIA | | 6PM | 9PM | ENGLISH | | |
| 39 | CALABAR | SPARKLING FM 92.3 | 92.3 FM | NIGERIA | | 6PM | 9PM | ENGLISH | | |
| 40 | CAMBODIA | LOVEWORLD RADIO CAMBODIA | cetunes.org/channel/lwrCambodia | ASIA | | 6PM | 9PM | KHMER | | |
| 41 | CAMEROON | NKONGSAMBA FM | 96.3 FM | AFRICA | | 6PM | 9PM | ENGLISH | | |
| 42 | CAMEROON | OCITY RADIO KUMBA | 88.5 FM | AFRICA | | 6PM | 9PM | ENGLISH | | |
| 43 | CAMEROON | RADIO ESPOIR FM | 90.0 FM | AFRICA | | 6PM | 6PM | ENGLISH | | |
| 44 | CAMEROON | REVIVAL RADIO BUEA | 10.5 FM | AFRICA | YAOUNDE | 6PM | 9PM | ENGLISH | | |
| 45 | CAMEROON | TIKO COMMUNITY RADIO | 106.5 FM | AFRICA | DSCHANG | 6PM | 9PM | ENGLISH | | |
| 46 | CAMEROON | SANTA COMMUNITY RADIO | 94.3 FM | AFRICA | BUEA | 6PM | 9PM | ENGLISH | | |
| 47 | CAMEROON | RADIO TIEMENI SIANTOU | 90.5 FM | AFRICA | SANTA | 6PM | 9PM | ENGLISH | | |
| 48 | CAMEROON | BEACH FM | 97.1 FM | AFRICA | | 6PM | 9PM | ENGLISH | | |
| 49 | CAMEROON | OCEAN CITY FM | 88.5 FM | AFRICA | KUMBA | 6PM | 9PM | ENGLISH | | |
| 50 | CAMEROON | LOVEWORLD RADIO BULGARIA | cetunes.org/channel/lwrBulgaria | EUROPE | | 6PM | 9PM | BULGARIAN | | |
| 51 | CAMEROON | KUMBA FM | 85.5 FM | AFRICA | | 6PM | | | | |
| 52 | CAMEROON | RADIO BONAKANDA | 92.1 FM | AFRICA | | 6PM | | | | |
| 53 | CAMEROON | RADIO SALAAMAN FM | 98.0 FM | AFRICA | | 6PM | | | | |
| 54 | CAMEROON | MBCI | 88.0 FM 101.1 FM | AFRICA | | RE-BROADCAST | RE-BROADCAST | | | |
| 55 | CAMEROON | MADIAFRIQUE RADIO | 89.6 FM | AMERICA | | RE-BROADCAST | RE-BROADCAST | | | |
| 56 | CAMEROON | RADIO RUSH FM | 104.5 FM | AFRICA | | RE-BROADCAST | RE-BROADCAST | | | |
| 57 | CAMEROON | SANTA METEO RADIO | 103.5 FM | AFRICA | | RE-BROADCAST | RE-BROADCAST | | | |
| 58 | CANADA | TEXAS GOSPEL CANADA | cetunes.org/channel/texasgospel | NORTH AMERICA | ONTRIO | 6PM | 9PM | ENGLISH | | |
| 59 | CANADA | LOVEWORLD RADIO BURKINAFASO | cetunes.org/channel/lwrBurkinaFaso | EUROPE | | 6PM | 9PM | CETUNES.ORG/CHANNEL/LWRBURKINAFASO | | |
| 60 | CAPEVERDE | LOVEWORLD RADIO CAPEVERDE | cetunes.org/channel/lwrCapeVerde | AFRICA | | 6PM | 9PM | CETUNES.ORG/CHANNEL/LWRCAPEVERDE | | |
| 61 | CAREMEROON | GOSPEL TRUTH | 93.2 FM | AFRICA | | 6PM | 9PM | ENGLISH | | |
| 62 | CARIBBEAN | LOVEWORLD RADIO BURUNDI | cetunes.org/channel/lwrBurundi | EUROPE | | 6PM | 9PM | CETUNES.ORG/CHANNEL/LWRBURUNDI | | |
| 63 | CARIBBEAN ISLAND | GOSPEL LIVE 365 | cetunes.org/channel/gospellive365 | NORTH AMERICA | CARIBBEAN | 6PM | 9PM | ENGLISH | | |
| 64 | CARMEROON | DUMA FM | 93.0 FM | AFRICA | | 6PM | 9PM | ENGLISH | | |
| 65 | CARMEROON | DUNAMIS FM | 94. 0 FM | AFRICA | BAMENDA | 6PM | 9PM | ENGLISH | | |
| 66 | CARMEROON | ABAKWA FM | 99.0 FM | AFRICA | BAMENDA | 6PM | 9PM | ENGLISH | | |
| 67 | CARMEROON | NDEFCAM RADIO | 94.9 FM | AFRICA | BAMENDA | 6PM | 9PM | ENGLISH | | |
| 68 | CARMEROON | RADIO BONNE NOUVELLE | 88.1 FM | AFRICA | | 6PM | 9PM | ENGLISH | | |
| 69 | CARMEROON | RADIO DUNAMIS | 94.0 FM | AFRICA | | 6PM | 9PM | ENGLISH | | |
| 70 | CARMEROON | RADIO HOTCOCOA | 94.0 FM | AFRICA | BAMENDA | 6PM | 9PM | ENGLISH | | |
| 71 | CARMEROON | RADIO NKULI MAKELI | 102.4 FM | AFRICA | DOULA | 6PM | 9PM | ENGLISH | | |
| 72 | CARMEROON | TIKO RADIO | 106.5 FM | AFRICA | BAMENDA | 6PM | 9PM | ENGLISH | | |
| 73 | CARMEROON | TRUTH GOSPEL | 93.2 FM | AFRICA | BAMENDA | 6PM | 9PM | ENGLISH | | |
| 74 | CENTRAL AFRICA | LOVEWORLD RADIO CAMEROON | cetunes.org/channel/lwrCameroon | EUROPE | | 6PM | 9PM | CETUNES.ORG/CHANNEL/LWRCAMEROON | | |
| 75 | CHAD | RADIO OXYGEN | 96.3 FM | AFRICA | | 6PM | 9PM | | | |
| 76 | CHAD | RADIO ESPERANCE | | AFRICA | | 6PM | 9PM | | | |
| 77 | CHAD | RADIO VOIX DE L;EPERENCE | | AFRICA | | RE-BROADCAST | RE-BROADCAST | | | |
| 78 | CHILE | LOVEWORLD RADIO CHILE | cetunes.org/channel/lwrChile | SOUTH AMERICA | | 6PM | 9PM | SPANISH | | |
| 79 | CHINA | LOVEWORLD RADIO CARIBBEAN | cetunes.org/channel/lwrCaribbean | SOUTH AMERICA | | 6PM | 9PM | CETUNES.ORG/CHANNEL/LWRCARIBBEAN | | |
| 80 | COAL CITY | LOVEWORLD RADIO CENTRAL AFRICA | cetunes.org/channel/lwrCentral Africa | AFRICA | | 6PM | 9PM | CETUNES.ORG/CHANNEL/LWRCENTRAL AFRICA | | |
| 81 | COLOMBIA | LOVEWORLD RADIO COLOMBIA | cetunes.org/channel/lwrColombia | SOUTH AMERICA | | 6PM | 9PM | SPANISH | | |
| 82 | COMOROS | LOVEWORLD RADIO COMOROS | cetunes.org/channel/lwrComoros | AFRICA | | 6PM | 9PM | CETUNES.ORG/CHANNEL/LWRCOMOROS | | |
| 83 | CONGO DR | LOVEWORLD RADIO TAJIKISTAN | cetunes.org/channel/lwrTobago | SOUTH AMERICA | | 6PM | 9PM | CETUNES.ORG/CHANNEL/LWRTAJIKISTAN | | |
| 84 | CONGOBRAZZA | LOVEWORLD RADIO CHAD | cetunes.org/channel/lwrChad | NORTH AMERICA | | 6PM | 9PM | CETUNES.ORG/CHANNEL/LWRCHAD | | |
| 85 | COSTA RICA | LOVEWORLD RADIO COSTA RICA | cetunes.org/channel/lwrCosta Rica | NORTH AMERICA | | 6PM | 9PM | SPANISH | | |
| 86 | COTED'IVOIRE | LOVEWORLD RADIO CHINA | cetunes.org/channel/lwrChina | ASIA | | 6PM | 9PM | CETUNES.ORG/CHANNEL/LWRCHINA | | |
| 87 | CROATIA | LOVEWORLD RADIO CROATIA | cetunes.org/channel/lwrCroatia | EUROPE | | 6PM | 9PM | CETUNES.ORG/CHANNEL/LWRCROATIA | | |
| 88 | CUBA | LOVEWORLD RADIO CUBA | cetunes.org/channel/lwrCuba | NORTH AMERICA | | 6PM | 9PM | SPANISH | | |
| 89 | CYPRUS | LOVEWORLD RADIO CONGOBRAZZA | cetunes.org/channel/lwrCongoBrazza | AFRICA | | 6PM | 9PM | CETUNES.ORG/CHANNEL/LWRCONGOBRAZZA | | |
| 90 | CZETCHREPUBLIC | LOVEWORLD RADIO COTED'IVOIRE | cetunes.org/channel/lwrCoted'Ivoire | AFRICA | | 6PM | 9PM | CETUNES.ORG/CHANNEL/LWRCOTED'IVOIRE | | |
| 91 | DAKAR | UCAD FM | 94.7 | AFRICA | | RE-BROADCAST | RE-BROADCAST | | | |
| 92 | DAKAR | RADIO ATLANTIQUE FM | 106.1 | AFRICA | | RE-BROADCAST | RE-BROADCAST | | | |
| 93 | DENMARK | LOVEWORLD RADIO DENMARK | cetunes.org/channel/lwrDenmark | EUROPE | | 6PM | 9PM | CETUNES.ORG/CHANNEL/LWRDENMARK | | |
| 94 | DJIBOUTI | LOVEWORLD RADIO DJIBOUTI | cetunes.org/channel/lwrDjibouti | AFRICA | | 6PM | 9PM | CETUNES.ORG/CHANNEL/LWRDJIBOUTI | | |
| 95 | DOMINICA | LOVEWORLD RADIO DOMINICA | cetunes.org/channel/lwrDominica | NORTH AMERICA | | 6PM | 9PM | CETUNES.ORG/CHANNEL/LWRDOMINICA | | |
| 96 | DRCCONGO | LOVEWORLD RADIO DRCCONGO | cetunes.org/channel/lwrDRCCongo | AFRICA | | 6PM | 9PM | CETUNES.ORG/CHANNEL/LWRDRCCONGO | | |
| 97 | EASTTIMOR | LOVEWORLD RADIO EASTTIMOR | cetunes.org/channel/lwrEastTimor | ASIA | | 6PM | 9PM | CETUNES.ORG/CHANNEL/LWREASTTIMOR | | |
| 98 | ECUADOR | LOVEWORLD RADIO ECUADOR | cetunes.org/channel/lwrEcuador | SOUTH AMERICA | | 6pm | 9pm | SPANISH | | |
| 99 | EGYPT | RADIO LIVE | www.radiolife.pk | AFRICA | | 6PM | 9PM | ENGLISH | | |
| 100 | EGYPT | LOVEWORLD RADIO CROSS RIVER | cetunes.org/channel/lwrCross River | AFRICA | | 6PM | 9PM | ENGLISH | | |
| 101 | EL SALVADOR | LOVEWORLD RADIO EL SALVADOR | cetunes.org/channel/lwrEl Salvador | NORTH AMERICA | | 6PM | 9PM | SPANISH | | |
| 102 | EQUATORIAGUINEA | LOVEWORLD RADIO EQUATORIAGUINEA | cetunes.org/channel/lwrEquatoriaGuinea | AFRICA | | 6PM | 9PM | CETUNES.ORG/CHANNEL/LWREQUATORIAGUINEA | | |
| 103 | ESPANA | LOVEWORLD RADIO ESPANA | cetunes.org/channel/lwrEspana | EUROPE | | 6PM | 9PM | SPANISH | | |
| 104 | ESTONIA | LOVEWORLD RADIO CYPRUS | cetunes.org/channel/lwrCyprus | EUROPE | | 7PM | 9PM | TURKISH/ENG | | |
| 105 | ETHIOPIA | LOVEWORLD RADIO CZETCHREPUBLIC | cetunes.org/channel/lwrCzetchRepublic | EUROPE | | 6PM | 9PM | CETUNES.ORG/CHANNEL/LWRCZETCHREPUBLIC | | |
| 106 | EUROPE | LOVEWORLD RADIO EGYPT | cetunes.org/channel/lwrEgypt | ASIA | | 6PM | 9PM | ARABIC | | |
| 107 | FIJI ISLAND | LOVEWORLD RADIO FIJI | cetunes.org/channel/lwrFiji | PACIFICS/OCEANIA | | 6PM | 9PM | CETUNES.ORG/CHANNEL/LWRFIJI | | |
| 108 | FINLAND | LOVEWORLD RADIO ESTONIA | cetunes.org/channel/lwrEstonia | EUROPE | | 6PM | 9PM | ESTONIAN | | |
| 109 | FRANCE | LOVEWORLD RADIO ETHIOPIA | cetunes.org/channel/lwrethiopia | AFRICA | | 6PM | 9PM | AMHARIC | | |
| 110 | FRENCHGUIANA | LOVEWORLD RADIO FRENCHGUIANA | cetunes.org/channel/lwrFrenchGuiana | AFRICA | | 6PM | 9PM | CETUNES.ORG/CHANNEL/LWRFRENCHGUIANA | | |
| 111 | GABON | LOVEWORLD RADIO FINLAND | cetunes.org/channel/lwrFinland | EUROPE | | 6PM | 9PM | FINNISH | | |
| 112 | GAMBIA | BIZ FM 88.5 | 88.5 FM | AFRICA | | 6PM | 9PM | ENGLISH | | |
| 113 | GAMBIA | LOVEWORLD RADIO GAMBIA | cetunes.org/channel/lwrGambia | AFRICA | | 6PM | 9PM | CETUNES.ORG/CHANNEL/LWRGAMBIA | | |
| 114 | GEORGIA | LOVEWORLD RADIO GEORGIA | cetunes.org/channel/lwrGeorgia | EUROPE | | 6PM | 9PM | CETUNES.ORG/CHANNEL/LWRGEORGIA | | |
| 115 | GERMAN | LOVEWORLD RADIO FRANCE | cetunes.org/channel/lwrFrance | EUROPE | | 6PM | 9PM | CETUNES.ORG/CHANNEL/LWRFRANCE | | |
| 116 | GERMANY | ALL4J RADIO | ALL4J MOBILE APP | EUROPE | | 6PM | 9PM | ENGLISH | | |
| 117 | GERMANY | ALL4J RADIO (WOLFSBURG) | ALL4J MOBILE APP | EUROPE | | 6PM | 9PM | ENGLISH | | |
| 118 | GERMANY | ALL4J RADIO (DORTMUND) | ALL4J MOBILE APP | EUROPE | | 6PM | 9PM | ENGLISH | | |
| 119 | GERMANY | ALL4J RADIO (DUSSELDORF)) | ALL4J MOBILE APP | EUROPE | | 6PM | 9PM | ENGLISH | | |
| 120 | GERMANY | ALL4J RADIO (FRANKFURT) | ALL4J MOBILE APP | EUROPE | | 6PM | 9PM | ENGLISH | | |
| 121 | GERMANY | ALL4J RADIO (HAMBRUG) | ALL4J MOBILE APP | EUROPE | | 6PM | 9PM | ENGLISH | | |
| 122 | GERMANY | ALL4J RADIO (STUTTGART) | ALL4J MOBILE APP | EUROPE | | 6PM | 9PM | ENGLISH | | |
| 123 | GERMANY | ALL4J RADIO (BREMEN) | ALL4J MOBILE APP | EUROPE | | 6PM | 9PM | ENGLISH | | |
| 124 | GERMANY | ALL4J RADIO (COLOGNE) | ALL4J MOBILE APP | EUROPE | | 6PM | 9PM | ENGLISH | | |
| 125 | GHANA | BISHARA RADIO PAD FM | 97.7 FM | AFRICA | | 6PM | 9PM | ENGLISH | | |
| 126 | GHANA | FAWE FM | 105.9 FM | AFRICA | GHANA | 6PM | 9PM | ENGLISH | | |
| 127 | GHANA | HOME RADIO | 99.7 FM | AFRICA | | 6PM | 9PM | ENGLISH | | |
| 128 | GHANA | HOPE FM | 107.1 FM | AFRICA | | 6PM | 9PM | ENGLISH | | |
| 129 | GHANA | JUBILEE RADIO | 106.9 FM | AFRICA | | 6PM | 9PM | ENGLISH | | |
| 130 | GHANA | KESMI FM | 107.1 FM | AFRICA | GHANA | REBROADCAST | REBROADCAST | ENGLISH | | |
| 131 | GHANA | KUUL FM | 103.5 FM | AFRICA | GHANA | 6PM | 9PM | ENGLISH | | |
| 132 | GHANA | WEST END FM | 100.3 FM | AFRICA | | 6PM | 9PM | ENGLISH | | |
| 133 | GHANA | OKYEAME RADIO | 90.5 FM | AFRICA | | 6PM | 9PM | ENGLISH | | |
| 134 | GHANA | PAD FM | 95.1 FM | AFRICA | GHANA | 6PM | 9PM | ENGLISH | | |
| 135 | GHANA | PARAGON FM | 99.9 FM | AFRICA | GHANA | 6PM | 9PM | ENGLISH | | |
| 136 | GHANA | RADIO AHANTA | 88.9 FM | AFRICA | GHANA | 6PM | 9PM | ENGLISH | | |
| 137 | GHANA | SPRING FM | 94.7 FM | AFRICA | GHANA | REBROADCAST | REBROADCAST | ENGLISH | | |
| 138 | GHANA | SUNNY FM | 88.7 FM | AFRICA | GHANA | 6PM | 9PM | ENGLISH | | |
| 139 | GHANA | SWITCH FM | 92.3 FM | AFRICA | GHANA | 6PM | 9PM | ENGLISH | | |
| 140 | GHANA | A1 RADIO | 101.1 FM | AFRICA | GHANA | 6PM | 9PM | ENGLISH | | |
| 141 | GHANA | W FM | 97.5 FM | AFRICA | | 6PM | 8PM | ENGLISH | | |
| 142 | GHANA | TOSH FM | 103.9 FM | AFRICA | GHANA | 6PM | 9PM | ENGLISH | | |
| 143 | GHANA | MAX | 105.1 FM | AFRICA | GHANA | 6PM | 9PM | ENGLISH | | |
| 144 | GHANA | FREEDOM | 88.1 FM | AFRICA | | 6PM | 9PM | ENGLISH | | |
| 145 | GHANA | WEST END | 100.3 FM | AFRICA | | 6PM | 9PM | ENGLISH | | |
| 146 | GHANA | KINGDOM | 105.7 FM | AFRICA | | 6PM | 9PM | ENGLISH | | |
| 147 | GHANA | KULL | 103.5 FM | AFRICA | | 6PM | 9PM | ENGLISH | | |
| 148 | GHANA | CONNECT | 97.1 FM | AFRICA | | 6PM | 9PM | ENGLISH | | |
| 149 | GHANA | MAX FM | 105.1 FM | AFRICA | | 6PM | 9PM | ENGLISH | | |
| 150 | GHANA | SELA | 97.2 FM | AFRICA | | 6PM | 9PM | ENGLISH | | |
| 151 | GHANA | ACCRA | 100.5 FM | AFRICA | | 6PM | 9PM | ENGLISH | | |
| 152 | GHANA | MOONLIGHT FM | 102.9 FM | AFRICA | | 6PM | 9PM | ENGLISH | | |
| 153 | GHANA | SIKAPA FM | 100.5 FM | AFRICA | | 6PM | 9PM | ENGLISH | | |
| 154 | GHANA | ORANGE FM | 107.9 FM | AFRICA | | 6PM | 9PM | ENGLISH | | |
| 155 | GHANA | GOOD NEWS FM | 96.3 FM | AFRICA | | 6PM | 9PM | ENGLISH | | |
| 156 | GHANA | DARLING FM | 90.9 FM | AFRICA | | 6PM | 9PM | ENGLISH | | |
| 157 | GHANA | HO FM | 92.5 FM | AFRICA | | 6PM | 9PM | ENGLISH | | |
| 158 | GHANA | ADWENPA FM | 100.7 FM | AFRICA | | 6PM | 9PM | ENGLISH | | |
| 159 | GHANA | DINPA FM | 92.3 FM | AFRICA | | 6PM | 9PM | ENGLISH | | |
| 160 | GHANA | AGYENKWA FM | 105.9 FM | AFRICA | | 6PM | 9PM | ENGLISH | | |
| 161 | GHANA | K FM | 103.5 FM | AFRICA | | 6PM | 9PM | ENGLISH | | |
| 162 | GHANA | LOVEWORLD RADIO FRANCOPHONE | cetunes.org/channel/lwrFrancophone | AFRICA | | 6PM | 9PM | CETUNES.ORG/CHANNEL/LWRFRANCOPHONE | | |
| 163 | GHANA | ULTIMATE FM | 106.9 FM | AFRICA | | 7PM | 9PM | | | |
| 164 | GHANA | LOVE FM | 99.6 FM | AFRICA | | 6PM | 9PM | | | |
| 165 | GHANA | AHOBRASEYE FM | 98.5 | AFRICA | | RE-BROADCAST | RE-BROADCAST | | | |
| 166 | GHANA | DARLING FM | 90.9 | AFRICA | | RE-BROADCAST | RE-BROADCAST | | | |
| 167 | GHANA | VOLTA PREMIER | 98.1 | AFRICA | | RE-BROADCAST | RE-BROADCAST | | | |
| 168 | GHANA | RITE FM | 90.1 | AFRICA | | RE-BROADCAST | RE-BROADCAST | | | |
| 169 | GHANA | ANKOBRA FM | 101.9 | AFRICA | | RE-BROADCAST | RE-BROADCAST | | | |
| 170 | GHANA | FOX FM | 103.1 | AFRICA | | RE-BROADCAST | RE-BROADCAST | | | |
| 171 | GHANA | PARAGON FM | 99.9 | AFRICA | | RE-BROADCAST | RE-BROADCAST | | | |
| 172 | GHANA | GOODNEWS FM | 96.3 | AFRICA | | RE-BROADCAST | RE-BROADCAST | | | |
| 173 | GHANA | CLASSIC FM | 91.9 | AFRICA | | RE-BROADCAST | RE-BROADCAST | | | |
| 174 | GHANA | KINGDOM FM | 105.7 | AFRICA | | RE-BROADCAST | RE-BROADCAST | | | |
| 175 | GHANA | FREEDOM FM | 88.1 | AFRICA | | RE-BROADCAST | RE-BROADCAST | | | |
| 176 | GHANA | OKWAWU FM | 96.3 | AFRICA | | RE-BROADCAST | RE-BROADCAST | | | |
| 177 | GHANA | JUBILEE RADIO | 106.9 | AFRICA | | RE-BROADCAST | RE-BROADCAST | | | |
| 178 | GHANA | HOME RADIO | 99.7 | AFRICA | | RE-BROADCAST | RE-BROADCAST | | | |
| 179 | GHANA | OFFIE FM | 105.9 | AFRICA | | RE-BROADCAST | RE-BROADCAST | | | |
| 180 | GHANA | BISHARA RADIO | 97.7 | AFRICA | | RE-BROADCAST | RE-BROADCAST | | | |
| 181 | GHANA | PAD FM | 95.1 | AFRICA | | RE-BROADCAST | RE-BROADCAST | | | |
| 182 | GHANA | GOOD LIFE FM | 105.5 | AFRICA | | RE-BROADCAST | RE-BROADCAST | | | |
| 183 | GHANA | KINGS RADIO | 100.3 | AFRICA | | RE-BROADCAST | RE-BROADCAST | | | |
| 184 | GHANA | AGYENKWA FM TECHIMAN | 105.9 | AFRICA | | RE-BROADCAST | RE-BROADCAST | | | |
| 185 | GHANA | FREE FM TECHIMAN | 97.5 | AFRICA | | RE-BROADCAST | RE-BROADCAST | | | |
| 186 | GHANA | K FM TECHIMAN | 103.5 | AFRICA | | RE-BROADCAST | RE-BROADCAST | | | |
| 187 | GHANA | HERITAGE FM | 107.3 | AFRICA | | RE-BROADCAST | RE-BROADCAST | | | |
| 188 | GHANA | PAPASE FM | 95.7 | AFRICA | | RE-BROADCAST | RE-BROADCAST | | | |
| 189 | GLOBAL | BLUE ELITE RADIO | cetunes.org/channel/nationbuilding | AFRICA | | 6PM | 9PM | ENGLISH | | |
| 190 | GLOBAL | BLW PRAYER NETWO RK RADIO | cetunes.org/channel/prayernetwork | AFRICA | | 6PM | 9PM | ENGLISH | | |
| 191 | GLOBAL | LMAM RADIO | cetunes.org/channel/lman | AFRICA | | 6PM | 9PM | ENGLISH | | |
| 192 | GLOBAL | LOVEWORLD RADIO ZAMBIA | cetunes.org/channel/lwrZambia | AFRICA | | 6pm | 9pm | CETUNES.ORG/CHANNEL/LWRZAMBIA | | |
| 193 | GLOBAL | LOVEWORLMD RADIO VANEZUELA | cetunes.org/channel/spokenword | | | 6PM | 9PM | SPANISH | | |
| 194 | GREECE | LOVEWORLD RADIO GERMAN | cetunes.org/channel/lwrGerman | EUROPE | | 6PM | 9PM | CETUNES.ORG/CHANNEL/LWRGERMAN | | |
| 195 | GRENADA | LOVEWORLD RADIO GRENADA | cetunes.org/channel/lwrGrenada | EUROPE | | 6PM | 9PM | ENGLISH | | |
| 196 | GUADELOUPE | LOVEWORLD RADIO GUADELOUPE | cetunes.org/channel/lwrGuadeloupe | NORTH AMERICA | | 6PM | 9PM | CETUNES.ORG/CHANNEL/LWRGUADELOUPE | | |
| 197 | GUATEMALA | LOVEWORLD RADIO GHANA | cetunes.org/channel/lwrGhana | AFRICA | | 6PM | 9PM | CETUNES.ORG/CHANNEL/LWRGHANA | | |
| 198 | GUINEA | LOVEWORLD RADIO GOMBE | cetunes.org/channel/lwrGombe | AFRICA | | 6PM | 9PM | HAUSA | | |
| 199 | GUINEACONAKRY | LOVEWORLD RADIO GREECE | cetunes.org/channel/lwrGreece | EUROPE | | 6PM | 9PM | GREEK | | |
| 200 | GUYANA | LOVEWORLD RADIO GUYANA | cetunes.org/channel/lwrGuyana | SOUTH AMERICA | | 6PM | 9PM | ENGLISH | | |
| 201 | HAITI | LOVEWORLD RADIO HAITI | cetunes.org/channel/lwrHaiti | NORTH AMERICA | | 6PM | 9PM | CETUNES.ORG/CHANNEL/LWRHAITI | | |
| 202 | HONDURAS | LOVEWORLD RADIO HONDURAS | cetunes.org/channel/lwrHonduras | NORTH AMERICA | | 6PM | 9PM | SPANISH | | |
| 203 | HUNGARY | LOVEWORLD RADIO HUNGARY | cetunes.org/channel/lwrHungary | EUROPE | | 6PM | 9PM | HUNGARIAN | | |
| 204 | ICELAND | LOVEWORLD RADIO GUINEA | cetunes.org/channel/lwrGuinea | AFRICA | | 6PM | 9PM | CETUNES.ORG/CHANNEL/LWRGUINEA | | |
| 205 | INDIA | RADIO LIVE | www.radiolife.pk | ASIA | | 6PM | 9PM | ENGLISH | | |
| 206 | INDIA | LOVEWORLD RADIO GUINEACONAKRY | cetunes.org/channel/lwrGuineaConakry | AFRICA | | 6PM | 9PM | CETUNES.ORG/CHANNEL/LWRGUINEACONAKRY | | |
| 207 | INDONESIA | LOVEWORLD RADIO INDONESIA | cetunes.org/channel/lwrIndonesia | ASIA | | 6PM | 9PM | INDONESIAN | | |
| 208 | IRAN | LOVEWORLD RADIO IRAN | cetunes.org/channel/lwrIran | ASIA | | 6PM | 9PM | CETUNES.ORG/CHANNEL/LWRIRAN | | |
| 209 | IRAQ | LOVEWORLD RADIO HAUSA | cetunes.org/channel/lwrHausa | AFRICA | | 6PM | 9PM | HAUSA | | |
| 210 | IRAQ | LOVEWORLD RADIO ICELAND | cetunes.org/channel/lwrIceland | NORTH AMERICA | | 6PM | 9PM | ICELANDIC | | |
| 211 | IRELAND | LOVEWORLD RADIO INDIA | cetunes.org/channel/lwrIndia | ASIA | | 6PM | 9PM | HINDI | | |
| 212 | ISREAL | LOVEWORLD RADIO IRAQ | cetunes.org/channel/lwrIraq | ASIA | | 6pm | 9pm | ARABIC | | |
| 213 | ITALY | LOVEWORLD RADIO IRAQ | cetunes.org/channel/lwrIraq | ASIA | | 6PM | 9PM | ARABIC | | |
| 214 | IVORY COAST | RADIO LAVOIX SAINTE | 88.3 FM | AFRICA | ABIDJAN | 6PM | 9PM | ENGLISH | | |
| 215 | JAMAICA | GOSPEL FM | 91.9 FM | NORTH AMERICA | JAMAICA | 6PM | 9PM | ENGLISH | | |
| 216 | JAMAICA | LOVEWORLD RADIO IRELAND | cetunes.org/channel/lwrIreland | EUROPE | | 6PM | 9PM | CETUNES.ORG/CHANNEL/LWRIRELAND | | |
| 217 | JAPAN | LOVEWORLD RADIO ISREAL | cetunes.org/channel/lwrIsreal | ASIA | | 6PM | 9PM | HEBREW | | |
| 218 | JORDAN | LOVEWORLD RADIO ITALY | cetunes.org/channel/lwrItaly | EUROPE | | 6PM | 9PM | CETUNES.ORG/CHANNEL/LWRITALY | | |
| 219 | KAZAKHSTAN | LOVEWORLD RADIO JAMAICA | cetunes.org/channel/lwrJamaica | NORTH AMERICA | | 6PM | 9PM | JAMAICAN PATWA | | |
| 220 | KENYA | SIDA FM | | | | | | | | |
| 220 | KENYA | PAMOJA RADIO | 99.9 FM | AFRICA | | 6PM | 9PM | ENGLISH | | |
| 221 | KENYA | RADIO LAKE VICTORIA | 92.1 FM | AFRICA | VICTORIA | 6PM | 9PM | ENGLISH | | |
| 222 | KENYA | LOVEWORLD RADIO KENYA | cetunes.org/channel/lwrKenya | AFRICA | | 6PM | 9PM | CETUNES.ORG/CHANNEL/LWRKENYA | | |
| 223 | KIKONGO | LOVEWORLD RADIO KIKONGO | cetunes.org/channel/lwrKikongo | AFRICA | | 6PM | 9PM | CETUNES.ORG/CHANNEL/LWRKIKONGO | | |
| 224 | KIRIBATI | LOVEWORLD RADIO JAPAN | cetunes.org/channel/lwrJapan | ASIA | | 6PM | 9PM | JAPANESS | | |
| 225 | KIRIBATI | LOVEWORLD RADIO KIRIBATI | cetunes.org/channel/lwrKiribati | AUSTRAILIA | | 6PM | 9PM | CETUNES.ORG/CHANNEL/LWRKIRIBATI | | |
| 226 | KOREANORTH | LOVEWORLD RADIO JORDAN | cetunes.org/channel/lwrJordan | ASIA | | 6PM | 9PM | ARABIC | | |
| 227 | KOREASOUTH | LOVEWORLD RADIO KAZAKHSTAN | cetunes.org/channel/lwrKazakhstan | ASIA | | 6PM | 9PM | RUSSIAN | | |
| 228 | KOSOVO | LOVEWORLD RADIO KIRIBATI | cetunes.org/channel/lwrKiribati | AUSTRAILIA | | 6PM | 9PM | ENGLISH | | |
| 229 | KUDISTAN | LOVEWORLD RADIO KOREANORTH | cetunes.org/channel/lwrKoreaNorth | ASIA | | 6PM | 9PM | CETUNES.ORG/CHANNEL/LWRKOREANORTH | | |
| 230 | KUWAIT | RADIO LIVE | www.radiolife.ku | ASIA | | 6PM | 9PM | ENGLISH | | |
| 231 | KUWAIT | LOVEWORLD RADIO KUWAIT | cetunes.org/channel/lwrKuwait | ASIA | | 6PM | 9PM | ARABIC | | |
| 232 | KYRGYZSTAN | LOVEWORLD RADIO KOREASOUTH | cetunes.org/channel/lwrKoreaSouth | ASIA | | 6PM | 9PM | CETUNES.ORG/CHANNEL/LWRKOREASOUTH | | |
| 233 | LAOS | LOVEWORLD RADIO KOSOVO | cetunes.org/channel/lwrkosovo | EUROPE | | 6PM | 9PM | ALBANIAN | | |
| 234 | LEBANON | LOVEWORLD RADIO KUDISTAN | cetunes.org/channel/lwrKudistan | ASIA | | 6PM | 9PM | ARABIC | | |
| 235 | LESOTHO | LOVEWORLD RADIO LESOTHO | cetunes.org/channel/lwrLesotho | AFRICA | | 6PM | 9PM | ENGLISH | | |
| 236 | LESOTHO | HARVEST FM | 98.9 FM | AFRICA | | RE-BROADCAST | RE-BROADCAST | | | |
| 237 | LIBERIA | TRUTH FM | 96.1 FM | AFRICA | LIBERIA | 6PM | 9PM | ENGLISH | | |
| 238 | LIBERIA | TRUTH FM 96.1 | 96.1 FM | AFRICA | | 6PM | 9PM | ENGLISH | | |
| 239 | LIBERIA | LIBERTY RADIO | 88.1 FM | AFRICA | | 6PM | 9PM | ENGLISH | | |
| 240 | LIBERIA | LOVEWORLD RADIO KYRGYZSTAN | cetunes.org/channel/lwrKyrgyzstan | ASIA | | 6PM | 9PM | UZBEK | | |
| 241 | Liberia | RADIO BANKASOKA | 97.5 | AFRICA | | RE-BROADCAST | RE-BROADCAST | | | |
| 242 | LIBYA | RADIO LIVE | www.radiolife.pk | AFRICA | | 6PM | 9PM | ENGLISH | | |
| 243 | LIBYA | LOVEWORLD RADIO LAOS | cetunes.org/channel/lwrLaos | ASIA | | 6PM | 9PM | LAO | | |
| 244 | LIECHTENSTEIN | LOVEWORLD RADIO LEBANON | cetunes.org/channel/lwrLebanon | LEBANON | | 6PM | 9PM | ARABIC | | |
| 245 | LINGALA | LOVEWORLD RADIO LIBERIA | cetunes.org/channel/lwrLiberia | AFRICA | | 6PM | 9PM | ENGLISH | | |
| 246 | LITHUANIA | LOVEWORLD RADIO LIBYA | cetunes.org/channel/lwrLibya | AFRICA | | 6PM | 9PM | ARABIC | | |
| 247 | LUXEMBOURG | LOVEWORLD RADIO LIECHTENSTEIN | cetunes.org/channel/lwrLiechtenstein | EUROPE | | 6PM | 9PM | CETUNES.ORG/CHANNEL/LWRLIECHTENSTEIN | | |
| 248 | MACEDINIA | LOVEWORLD RADIO LINGALA | cetunes.org/channel/lwrLingala | AFRICA | | 6PM | 9PM | SWAHILI | | |
| 249 | MADAGASCAR | LOVEWORLD RADIO MADAGASCAR | cetunes.org/channel/lwrMadagascar | AFRICA | | 6PM | 9PM | CETUNES.ORG/CHANNEL/LWRMADAGASCAR | | |
| 250 | MALAWI | NKHOTAKOTA RADIO | 101.9 FM | AFRICA | MALAWI | 6PM | 9PM | ENGLISH | | |
| 251 | MALAWI | RADIO DINASOUR | 103.9 FM | AFRICA | MALAWI | 6PM | 9PM | ENGLISH | | |
| 252 | MALAWI | TIMVENI RADIO | 88.7 FM | AFRICA | | 6PM | 9PM | ENGLISH | | |
| 253 | MALAWI | RADIO DINASOUR | 95.3 FM | AFRICA | | 6PM | 9PM | ENGLISH | | |
| 254 | MALAWI | LOVEWORLD RADIO MALAWI | cetunes.org/channel/lwrMalawi | AFRICA | | 6PM | 9PM | CETUNES.ORG/CHANNEL/LWRMALAWI | | |
| 255 | MALAWI | TRANSWORLD RADIO | 91.0 FM | AFRICA | | RE-BROADCAST | RE-BROADCAST | | | |
| 256 | MALAYSIA | LOVEWORLD RADIO MALAYSIA | cetunes.org/channel/lwrMalaysia | ASIA | | 6PM | 9PM | MALAY | | |
| 257 | MALDIVES | LOVEWORLD RADIO LITHUANIA | cetunes.org/channel/lwrLithuania | EUROPE | | 6PM | 9PM | LITHUANIAN | | |
| 258 | MALI | LOVEWORLD RADIO LUXEMBOURG | cetunes.org/channel/lwrLuxembourg | EUROPE | | 6PM | 9PM | CETUNES.ORG/CHANNEL/LWRLUXEMBOURG | | |
| 259 | MALTA | LOVEWORLD RADIO MALTA | cetunes.org/channel/lwrMalta | EUROPE | | 6PM | 9PM | ENGLISH | | |
| 260 | MARSHALL ISLAND | LOVEWORLD RADIO MACEDINIA | cetunes.org/channel/lwrMacedinia | EUROPE | | 6PM | 9PM | MACEDONIAN | | |
| 261 | MARTINIQUE | LOVEWORLD RADIO MARTINIQUE | cetunes.org/channel/lwrMartinique | NORTH AMERICA | | 7PM | 9PM | CETUNES.ORG/CHANNEL/LWRMARTINIQUE | | |
| 262 | MAURITANIA | LOVEWORLD RADIO MALDIVES | cetunes.org/channel/lwrMaldives | ASIA | | 6PM | 9PM | CETUNES.ORG/CHANNEL/LWRMALDIVES | | |
| 263 | MAURITIUS | LOVEWORLD RADIO MAURITIUS | cetunes.org/channel/lwrMauritius | AFRICA | | 6PM | 9PM | CETUNES.ORG/CHANNEL/LWRMAURITIUS | | |
| 264 | MAYOTTE | LOVEWORLD RADIO MAYOTTE | cetunes.org/channel/lwrMayotte | EUROPE | | 6PM | 9PM | CETUNES.ORG/CHANNEL/LWRMAYOTTE | | |
| 265 | MEXICO | LOVEWORLD RADIO MEXICO | cetunes.org/channel/lwrMexico | NORTH AMERICA | | 6PM | 9PM | SPANISH | | |
| 266 | MICRONESIA | LOVEWORLD RADIO MICRONESIA | cetunes.org/channel/lwrMicronesia | AUSTRAILIA | | 6PM | 9PM | ENGLISH | | |
| 267 | MOLDOVA | LOVEWORLD RADIO MARSHALLISLAND | cetunes.org/channel/lwrMarshallIsland | AUSTRAILIA | | 6PM | 9PM | CETUNES.ORG/CHANNEL/LWRMARSHALLISLAND | | |
| 268 | MONACO | LOVEWORLD RADIO MONACO | cetunes.org/channel/lwrMonaco | AUSTRAILIA | | 7PM | 9PM | SPANISH | | |
| 269 | MONGOLIA | LOVEWORLD RADIO MAURITANIA | cetunes.org/channel/lwrMauritania | AFRICA | | 6PM | 9PM | ARABIC | | |
| 270 | MONTENEGRO | LOVEWORLD RADIO MINNA | cetunes.org/channel/lwrMinna | AFRICA | | 6PM | 9PM | HAUSA | | |
| 271 | MOROCCO | LOVEWORLD RADIO MOLDOVA | cetunes.org/channel/lwrMoldova | EUROPE | | 6PM | 9PM | MOLDOVAN | | |
| 272 | MOZAMBIQUE | LOVEWORLD RADIO MONGOLIA | cetunes.org/channel/lwrMongolia | ASIA | | 7PM | 9PM | CETUNES.ORG/CHANNEL/LWRMONGOLIA | | |
| 273 | MYANMAR | LOVEWORLD RADIO MONTENEGRO | cetunes.org/channel/lwrmontenegro | EUROPE | | 6PM | 9PM | ALBANIAN | | |
| 274 | NAMIBIA | NBC RADIO | 91.7 FM | AFRICA | NAMIBIA | 6PM | 9PM | ENGLISH | | |
| 275 | NAMIBIA | LOVEWORLD RADIO NAMIBIA | cetunes.org/channel/lwrNamibia | AFRICA | | 6PM | 9PM | ENGLISH | | |
| 276 | NAMIBIA | MDANTSANE | 89.5 FM | AFRICA | | RE-BROADCAST | RE-BROADCAST | | | |
| 277 | NAMIBIA | NATIONAL FM | | AFRICA | | RE-BROADCAST | RE-BROADCAST | | | |
| 278 | NAMIBIA | KATI FM | | AFRICA | | RE-BROADCAST | RE-BROADCAST | | | |
| 279 | NAMIBIA | OMURARI FM | | AFRICA | | RE-BROADCAST | RE-BROADCAST | | | |
| 280 | NAMIBIA | KAISAMES FM | | AFRICA | | RE-BROADCAST | RE-BROADCAST | | | |
| 281 | NAURU | LOVEWORLD RADIO MOROCCO | cetunes.org/channel/lwrMorocco | AFRICA | | 6PM | 9PM | ARABIC | | |
| 282 | NEATHERLANDS | KUKURA FM | | AFRICA | | RE-BROADCAST | RE-BROADCAST | | | |
| 283 | NETHERLANDS | LOVEWORLD RADIO MOZAMBIQUE | cetunes.org/channel/lwrMozambique | AFRICA | | 6PM | 9PM | CETUNES.ORG/CHANNEL/LWRMOZAMBIQUE | | |
| 284 | NEW GUINEA | TOUCH MEDIA LIMITED | 94.7 FM | AFRICA | | 6pm | 9pm | ENGLISH | | |
| 285 | NEW ZEALAND | LOVEWORLD RADIO NEW ZEALAND | cetunes.org/channel/lwrNew Zealand | AUSTRAILIA | | 6PM | 9PM | ENGLISH | | |
| 286 | NIGERIA | ABS ONITSHA | 85.5 FM | AFRICA | ONITSHA | 6PM | 9PM | ENGLISH | | |
| 287 | NIGERIA | AJILETE FM | 92.1 FM | AFRICA | OGBOMOSHO | 7PM | 9PM | ENGLISH | | |
| 288 | NIGERIA | ATLANTIC FM | 104.5 FM | AFRICA | UYO_AKWA IBOM | 6PM | 9PM | ENGLISH | | |
| 289 | NIGERIA | BLAZE FM | 91.5 FM | AFRICA | ORLU | 6PM | 9PM | ENGLISH | | |
| 290 | NIGERIA | CANAAN PARADISE | 95.9 FM | AFRICA | CALABAR | 6PM | 9PM | ENGLISH | | |
| 291 | NIGERIA | CITY RADIO | 89.7 FM | AFRICA | ONITSHA | 6PM | 9PM | ENGLISH | | |
| 292 | NIGERIA | COMFORT FM | 95.1 FM | AFRICA | UYO_AKWA IBOM | 6PM | 9PM | ENGLISH | | |
| 293 | NIGERIA | COOL FM | 96.9 FM | AFRICA | ONITSHA | 6PM | 9PM | ENGLISH | | |
| 294 | NIGERIA | CORRECT FM | 97.3 FM | AFRICA | CALABAR | 6PM | 9PM | ENGLISH | | |
| 295 | NIGERIA | CREEK FM | 106.5 FM | AFRICA | YENAGOA | 6PM | 9PM | ENGLISH | | |
| 296 | NIGERIA | CROSS RIVER RADIO | 92.6 FM | AFRICA | CALABAR | 6PM | 9PM | ENGLISH | | |
| 297 | NIGERIA | D-STARS FM | cetunes.org/channel/dstars | AFRICA | LAGOS | 6PM | 9PM | ENGLISH | | |
| 298 | NIGERIA | FAD FM | 93.1 FM | AFRICA | CALABAR | 6PM | 9PM | ENGLISH | | |
| 299 | NIGERIA | GIFTFM | 104.5 FM | AFRICA | JALINGO | 6PM | 9PM | ENGLISH | | |
| 300 | NIGERIA | GLOBE FM | 98.5 FM | AFRICA | YOLA | 6PM | 9PM | ENGLISH | | |
| 301 | NIGERIA | HARMONY FM | 103.5 FM | AFRICA | IDOFIAN | 6PM | 9PM | ENGLISH | | |
| 302 | NIGERIA | HEARTLAND FM | 100.5 FM | AFRICA | OWERRI | 6PM | 9PM | ENGLISH | | |
| 303 | NIGERIA | HERITAGE FM | 104.9 FM | AFRICA | EKET | 6PM | 9PM | ENGLISH | | |
| 304 | NIGERIA | HIGHLAND FM | 101.5 FM | AFRICA | JOS | 6PM | 9PM | ENGLISH | | |
| 305 | NIGERIA | INSPIRATION FM UYO | 105.9 FM | AFRICA | UYO_AKWA IBOM | 6PM | 9PM | ENGLISH | | |
| 306 | NIGERIA | INVICTA FM | 98.9 FM | AFRICA | KADUNA | 6PM | 9PM | ENGLISH | | |
| 307 | NIGERIA | JEWEL FM | 103.5 FM | AFRICA | GOMBE | 6PM | 9PM | ENGLISH | | |
| 308 | NIGERIA | KINGS RADIO | www.kingsradio.org | AFRICA | NIGERIA | 6PM | 9PM | ENGLISH | | |
| 309 | NIGERIA | KU FM | 92.7 FM | AFRICA | BENIN | 6PM | 9PM | ENGLISH | | |
| 310 | NIGERIA | LIGHT HOUSE FM | 101.5 FM | AFRICA | MAIDUGURI | 6PM | 9PM | ENGLISH | | |
| 311 | NIGERIA | LION FM | 91.1 FM | AFRICA | ENUGU 1 | 6PM | 9PM | ENGLISH | | |
| 312 | NIGERIA | LOVE FM | 104.5 FM | AFRICA | ABUJA | 6PM | 9PM | ENGLISH | | |
| 313 | NIGERIA | NAIJA FM | 92.7 FM | AFRICA | | 6PM | 9PM | ENGLISH | | |
| 314 | NIGERIA | ODENIGBO FM | 99.1 FM | AFRICA | ONITSHA | 6PM | 9PM | ENGLISH | | |
| 315 | NIGERIA | OJINBA FM | 106.1 FM | AFRICA | ORLU | 6PM | 9PM | ENGLISH | | |
| 316 | NIGERIA | PARADISE FM | 105.5 FM | AFRICA | CALABAR | 6PM | 9PM | ENGLISH | | |
| 317 | NIGERIA | PEACE FM | 102.5 FM | AFRICA | MAIDUGURI | 6PM | 9PM | ENGLISH | | |
| 318 | NIGERIA | PROGRESS FM | 97.3 FM | AFRICA | ADO-EKITI | 6PM | 9PM | ENGLISH | | |
| 319 | NIGERIA | ROCKSIDE FM | 88.9 FM | AFRICA | KADUNA | 6PM | 9PM | ENGLISH | | |
| 320 | NIGERIA | SUNCITY FM | 101.9 FM | AFRICA | ONDO | 6PM | 9PM | ENGLISH | | |
| 321 | NIGERIA | ALBARKA | 89.9 FM | AFRICA | ILORIN | 6PM | 9PM | ENGLISH | | |
| 322 | NIGERIA | URBAN FM | 94.5 FM | AFRICA | ENUGU 1 | 6PM | 9PM | ENGLISH | | |
| 323 | NIGERIA | WIG RADIO | www.wigradio.com | AFRICA | LAGOS | 6PM | 9PM | ENGLISH | | |
| 324 | NIGERIA | RHYTHM FM | 93.7 FM | AFRICA | JOS | 6PM | 9PM | ENGLISH | | |
| 325 | NIGERIA | SPEED FM | 96.9 FM | AFRICA | BENIN CITY | 6PM | 9PM | ENGLISH | | |
| 326 | NIGERIA | GOTEL RADIO | 91.1 FM | AFRICA | YOLA | 6PM | 9PM | ENGLISH | | |
| 327 | NIGERIA | ALHERI RADIO | 98.9 FM | NIGERIA | KADUNA | 6PM | 9PM | ENGLISH | | |
| 328 | NIGERIA | AYOBA FM | 97.7 FM | NIGERIA | EKITI | 6PM | 9PM | ENGLISH | | |
| 329 | NIGERIA | BISHOP CHIKANCY COMEDY FM | cetunes.org/channel/nationbuilding | NIGERIA | | 6PM | 9PM | ENGLISH | | |
| 330 | NIGERIA | BLUE ELITE RADIO | cetunes.org/channel/nationbuilding | NIGERIA | | 6PM | 9PM | ENGLISH | | |
| 331 | NIGERIA | BLW PRAYER NETWORK RADIO | cetunes.org/channel/prayernetwork | NIGERIA | | 6PM | 9PM | ENGLISH | | |
| 332 | NIGERIA | BORNO RADIO | 90.7 FM | NIGERIA | | 6PM | 9PM | ENGLISH | | |
| 333 | NIGERIA | BRONZE FM | 101.5 FM | NIGERIA | EDO_BENIN | 6PM | 9PM | ENGLISH | | |
| 334 | NIGERIA | CHARITY FM | 104.4 FM | NIGERIA | ASABA | 6PM | 8PM | ENGLISH | | |
| 335 | NIGERIA | RADIO ONE | 104.3 FM | NIGERIA | LAGOS | 6PM | 9PM | ENGLISH | | |
| 336 | NIGERIA | COAL CITY FM | 92.9 FM | NIGERIA | ENUGU | 6PM | 9PM | ENGLISH | | |
| 337 | NIGERIA | COMPANION FM | 104.5 FM | NIGERIA | KATSINA | REBROADCAST | REBROADCAST | ENGLISH | | |
| 338 | NIGERIA | CROWN FM | 89.9 FM | NIGERIA | WARRI | 6PM | 9PM | ENGLISH | | |
| 339 | NIGERIA | EBS FM | 95.7 FM | NIGERIA | EDO_BENIN | 6PM | 9PM | ENGLISH | | |
| 340 | NIGERIA | EQULITY FM | 92.9 FM | NIGERIA | BIRNIN KEBBI | 6PM | 9PM | ENGLISH | | |
| 341 | NIGERIA | HARVEST FM | 103.5 FM | NIGERIA | MAKURDI | RE-BROADCAST | 9PM | ENGLISH | | |
| 342 | NIGERIA | HORIZON FM | 100.5 FM | NIGERIA | DUTSE | RE-BROADCAST | RE-BROADCAST | ENGLISH | | |
| 343 | NIGERIA | INSPIRATION FM EKET | 105.9 FM | NIGERIA | EKET | 6PM | 9PM | ENGLISH | | |
| 344 | NIGERIA | ISM RADIO NETWORK | cetunes.org/channel/ismradionetwork | NIGERIA | | 6PM | 9PM | ENGLISH | | |
| 345 | NIGERIA | PACESETTER FM | 89.7 FM | NIGERIA | UMUAHIA | 6PM | 9PM | ENGLISH | | |
| 346 | NIGERIA | PARAMOUNT FM | 94.5 FM | NIGERIA | ABEOKUTA | 6PM | 9PM | ENGLISH | | |
| 347 | NIGERIA | PASSION FM | 94.5 FM | NIGERIA | UYO_AKWA IBOM | 6PM | 9PM | ENGLISH | | |
| 348 | NIGERIA | PEOPLES' FM | 93.1 FM | NIGERIA | BAYELSA | 6PM | 9PM | ENGLISH | | |
| | | | | | | | | | | |
| --- | --- | --- | --- | --- | --- | --- | --- | --- | --- | --- |
| 349 | NIGERIA | PLANET FM | 101.1 FM | NIGERIA | UYO_AKWA IBOM | 6PM | 9PM | ENGLISH | | |
| 350 | NIGERIA | POSITIVE FM | 102.5 FM | NIGERIA | AKURE | 6PM | 9PM | ENGLISH | | |
| 351 | NIGERIA | PRECIOUS FM | 102.5 FM | NIGERIA | LAFIA | 6PM | 9PM | ENGLISH | | |
| 352 | NIGERIA | PREMIER FM | 93.5 FM | NIGERIA | IBADAN | 6PM | 9PM | ENGLISH | | |
| 353 | NIGERIA | PRIDE FM | 103.5 FM | NIGERIA | GUSAU | 6PM | 9PM | ENGLISH | | |
| 354 | NIGERIA | PRIME FM | 101.5 FM | NIGERIA | LOKOJA | 6PM | 9PM | ENGLISH | | |
| 355 | NIGERIA | PURITY FM | 102.5 FM | NIGERIA | AWKA | 6PM | 9PM | ENGLISH | | |
| 356 | NIGERIA | PYRAMIND FM | 103.5 FM | NIGERIA | KANO | 6PM | 9PM | ENGLISH | | |
| 357 | NIGERIA | QUEEN AMINA FM | 102.3 FM | NIGERIA | ZARIA | 6PM | 9PM | ENGLISH | | |
| 358 | NIGERIA | QUEST FM | 93.1 FM | NIGERIA | UGHELLI | 6PM | 9PM | ENGLISH | | |
| 359 | NIGERIA | ROYAL FM | 95.1 FM | NIGERIA | SOKOTO | 6PM | 9PM | ENGLISH | | |
| 360 | NIGERIA | SAPIENTIA | 95.3 FM | NIGERIA | ONITSHA | 6PM | 9PM | ENGLISH | | |
| 361 | NIGERIA | SOLID FM | 90.5 FM | NIGERIA | BIDA | 6PM | 9PM | ENGLISH | | |
| 362 | NIGERIA | SUNSHINE FM | 88.1 FM | NIGERIA | DAMATURU | 6PM | 9PM | ENGLISH | | |
| 363 | NIGERIA | SUPREME FM | 96.1 FM | NIGERIA | KADUNA | 6PM | 9PM | ENGLISH | | |
| 364 | NIGERIA | TREASURE FM | 98.5 FM | NIGERIA | PORTHARCOURT | 6PM | 9PM | ENGLISH | | |
| 365 | NIGERIA | UNITY FM | 101.5 FM | NIGERIA | ABAKALIKI | 6PM | 9PM | ENGLISH | | |
| 366 | NIGERIA | WORSHIP CULTURE RADIO | cetunes.org/channel/wcradio | NIGERIA | | 6PM | 9PM | ENGLISH | | |
| 367 | NIGERIA | XCEL FM | 106.9 FM | NIGERIA | UYO_AKWA IBOM | 6PM | 9PM | ENGLISH | | |
| 368 | NIGERIA | RAYPOWER FM | 106.5 FM | AFRICA | KANO | 6PM | 9PM | ENGLISH | | |
| 369 | NIGERIA | RAYPOWER FM | 95.5 FM | AFRICA | KEBBI | 6PM | 9PM | ENGLISH | | |
| 370 | NIGERIA | RAYPOWER FM | 99.0 FM | AFRICA | ILORIN | 6PM | 9PM | ENGLISH | | |
| 371 | NIGERIA | RAYPOWER FM | 100.5 FM | AFRICA | OSHOGBO | 6PM | 9PM | ENGLISH | | |
| 372 | NIGERIA | RAYPOWER FM | 97.3 FM | AFRICA | GOMBE | 6PM | 9PM | ENGLISH | | |
| 373 | NIGERIA | RAYPOWER FM | 106.5 FM | AFRICA | KADUNA | 6PM | 9PM | ENGLISH | | |
| 374 | NIGERIA | RAYPOWER FM NETWORK | 100.5 FM | AFRICA | LAGOS | 6PM | 9PM | ENGLISH | | |
| 375 | NIGERIA | RAYPOWER FM NETWORK | 105.5 FM | AFRICA | BENIN | 6PM | 9PM | ENGLISH | | |
| 376 | NIGERIA | RAYPOWER FM NETWORK | 100.5 FM | AFRICA | ABUJA | 6PM | 9PM | ENGLISH | | |
| 377 | NIGERIA | RAYPOWER FM NETWORK | 96.1 FM | AFRICA | AKURE | 6PM | 9PM | ENGLISH | | |
| 378 | NIGERIA | RAYPOWER FM NETWORK | 100.5 FM | AFRICA | AGENEBODE | 6PM | 9PM | ENGLISH | | |
| 379 | NIGERIA | RAYPOWER FM NETWORK | 105.5 FM | AFRICA | AWKA | 6PM | 9PM | ENGLISH | | |
| 380 | NIGERIA | RAYPOWER FM NETWORK | 100.5 FM | AFRICA | PORTHARCOURT | 6PM | 9PM | ENGLISH | | |
| 381 | NIGERIA | RAYPOWER FM NETWORK | 102.5 FM | AFRICA | YENAGOA | 6PM | 9PM | ENGLISH | | |
| 382 | NIGERIA | RAYPOWER FM NETWORK | 105.5 FM | AFRICA | ASABA | 7PM | 9PM | ENGLISH | | |
| 383 | NIGERIA | RAYPOWER FM NETWORK | 105.5 FM | AFRICA | UMUAHIA | 6PM | 9PM | ENGLISH | | |
| 384 | NIGERIA | RAYPOWER FM NETWORK | 105.5 FM | AFRICA | SOKOTO | 6PM | 9PM | ENGLISH | | |
| 385 | NIGERIA | RAYPOWER FM NETWORK | 95.7 FM | AFRICA | BAUCHI | 6PM | 9PM | ENGLISH | | |
| 386 | NIGERIA | RAYPOWER FM NETWORK | 105.5 FM | AFRICA | OWERRI | 7PM | 9PM | | | |
| 387 | NIGERIA | RAYPOWER FM NETWORK | 105.5 FM | AFRICA | JOS | 7PM | 9PM | | | |
| 388 | NIGERIA | RAYPOWER FM NETWORK | 105.5 FM | AFRICA | MAIDUGURI | 6PM | 9PM | ENGLISH | | |
| 389 | NIGERIA | RAYPOWER FM NETWORK | 105.5 FM | AFRICA | OWERRI | 7PM | 9PM | | | |
| 390 | NIGERIA | RAYPOWER FM NETWORK | 100.5 FM | AFRICA | ENUGU 1 | 6PM | 9PM | ENGLISH | | |
| 391 | NIGERIA | RAYPOWER FM NETWORK | 106.5 Fm | AFRICA | KASTINA | 6PM | 9PM | ENGLISH | | |
| 392 | NIGERIA | RAYPOWER FM NETWORK | 100.5 FM | AFRICA | MARURDI | 6PM | 9PM | ENGLISH | | |
| 393 | NIGERIA | LOVEWORLD RADIO VENEZUELA | cetunes.org/channel/lwrVenezuela | SOUTH AMERICA | | 6PM | 9PM | SPANISH | | |
| 394 | NIGERIA | LOVEWORLD RADIO COAL CITY | cetunes.org/channel/lwrCoal City | NORTH AMERICA | | 6PM | 9PM | ENGLISH | | |
| 395 | NIGERIA | LOVEWORLD RADIO GABON | cetunes.org/channel/lwrGabon | AFRICA | | 6PM | 9PM | CETUNES.ORG/CHANNEL/LWRGABON | | |
| 396 | NIGERIA | LOVEWORLD RADIO GUATEMALA | cetunes.org/channel/lwrGuatemala | NORTH AMERICA | | 6PM | 9PM | SPANISH | | |
| 397 | NIGERIA | LOVEWORLD RADIO MALI | cetunes.org/channel/lwrMali | AFRICA | | 7PM | 9PM | CETUNES.ORG/CHANNEL/LWRMALI | | |
| 398 | NIGERIA | LOVEWORLD RADIO MYANMAR | cetunes.org/channel/lwrMyanmar | ASIA | | 6PM | 9PM | BURMESE | | |
| 399 | NIGERIA | LOVEWORLD RADIO TURKMENISTAN | cetunes.org/channel/lwrUghelli | AFRICA | | 6PM | 9PM | RUSSIAN | | |
| 400 | NIGERIA | LOVEWORLD RADIO YEMEN | cetunes.org/channel/nationbuilding | | | 6PM | 9PM | ARABIC | | |
| 401 | NIGERIA | LOVEWORLD RADIO ZIMBABWE | cetunes.org/channel/lambano | | | 6PM | 9PM | SHONA | | |
| 402 | NIGERIA | VISION FM | 104.1 FM | AFRICA | UMUAHIA | 6PM | 9PM | | | |
| 403 | NIGERIA | LOVE FM | 99.9 FM | AFRICA | UMUAHIA | 6PM | 9PM | | | |
| 404 | NIGERIA | FLO FM | 94.9 FM | AFRICA | UMUAHIA | 6PM | 9PM | | | |
| 405 | NIGERIA | COMFORT FM | 95.1 | AFRICA | | RE-BROADCAST | RE-BROADCAST | | | |
| 406 | NIGERIA | BUZZ FM | 89.7 | AFRICA | | RE-BROADCAST | RE-BROADCAST | | | |
| 407 | NIGERIA | QUEST FM | 93.1 | AFRICA | | RE-BROADCAST | RE-BROADCAST | | | |
| 408 | NIGERIA | HARVEST FM | 103.5 | AFRICA | | RE-BROADCAST | RE-BROADCAST | | | |
| 409 | NIGERIA | SOBI FM | 101.9 | AFRICA | | RE-BROADCAST | RE-BROADCAST | | | |
| 410 | NIGERIA | PEACE FM | 102.5 | AFRICA | | RE-BROADCAST | RE-BROADCAST | | | |
| 411 | NIGERIA | HERITAGE FM | 104.9 | AFRICA | | RE-BROADCAST | RE-BROADCAST | | | |
| 412 | NIGERIA | VISION FM | 92.1 | AFRICA | | RE-BROADCAST | RE-BROADCAST | | | |
| 413 | NIGERIA | ROCKSIDE FM | 89.9 FM | AFRICA | | RE-BROADCAST | RE-BROADCAST | | | |
| 414 | NIGERIA | BLAIZE FM | 91.5 | AFRICA | | RE-BROADCAST | RE-BROADCAST | | | |
| 415 | NIGERIA | VISION FM | 92.5 | AFRICA | | RE-BROADCAST | RE-BROADCAST | | | |
| 416 | NIGERIA | MARADI FM | 88.7 | AFRICA | | RE-BROADCAST | RE-BROADCAST | | | |
| 417 | NIGERIA | ZULU FM | 92.8 | AFRICA | | RE-BROADCAST | RE-BROADCAST | | | |
| 418 | NIGERIA | LOVE FM | 104.5 | AFRICA | | RE-BROADCAST | RE-BROADCAST | | | |
| 419 | NIGERIA | WAZOBIA FM | 94.1 FM | AFRICA | | RE-BROADCAST | RE-BROADCAST | | | |
| 420 | NIGERIA | SOLID FM | | AFRICA | | RE-BROADCAST | RE-BROADCAST | | | |
| 421 | NIGERIA | GOLDFM | 99.1 FM | AFRICA | ILESHA | 6PM | 9PM | ENGLISH | | |
| 422 | NIGERIA | NIGERIA INFO | 92.3 FM | NIGERIA | PH | 6PM | 9PM | ENGLISH | | |
| 423 | NIGERIA | SUPER FM | 96.3 FM | NIGERIA | IJEBU ODE | 6PM | 9PM | ENGLISH | | |
| 424 | NIGERREPUBLIC | LOVEWORLD RADIO NAURU | cetunes.org/channel/lwrNauru | AUSTRAILIA | | 6PM | 9PM | CETUNES.ORG/CHANNEL/LWRNAURU | | |
| 425 | NORWAY | LOVEWORLD RADIO NETHERLANDS | cetunes.org/channel/lwrNetherlands | EUROPE | | 6PM | 9PM | CETUNES.ORG/CHANNEL/LWRNETHERLANDS | | |
| 426 | OMAN | RADIO LIVE | www.radiolife.pk | ASIA | | 6PM | 9PM | ENGLISH | | |
| 427 | OMAN | LOVEWORLD RADIO NIGERDELTA | cetunes.org/channel/lwrNigerDelta | AFRICA | | 6PM | 9PM | CETUNES.ORG/CHANNEL/LWRNIGERDELTA | | |
| 428 | PACIFIC'S | LOVEWORLD RADIO NIGERREPUBLIC | cetunes.org/channel/lwrNigerRepublic | AFRICA | | 6PM | 9PM | CETUNES.ORG/CHANNEL/LWRNIGERREPUBLIC | | |
| 429 | PAKISTAN | RADIO LIFE PAKISTIAN | www.radiolife.pk | ASIA | PAKISTAN | 6PM | 6PM | ENGLISH | | |
| 430 | PAKISTAN | RADIO LIVE | www.radiolife.pk | ASIA | | 6PM | 9PM | ENGLISH | | |
| 431 | PAKISTAN | LOVEWORLD RADIO NORWAY | cetunes.org/channel/lwrNorway | EUROPE | | 6PM | 9PM | CETUNES.ORG/CHANNEL/LWRNORWAY | | |
| 432 | PALAU | LOVEWORLD RADIO OMAN | cetunes.org/channel/lwrOman | ASIA | | 6PM | 9PM | ARABIC | | |
| 433 | PALESTINIAN | LOVEWORLD RADIO PACIFIC'S | cetunes.org/channel/lwrPacific'S | ASIA | | 6PM | 9PM | TONGA | | |
| 434 | PANAMA | LOVEWORLD RADIO PANAMA | cetunes.org/channel/lwrPanama | NORTH AMERICA | | 6PM | 9PM | SPANISH | | |
| 435 | PAPUA | LOVEWORLD RADIO PAKISTAN | cetunes.org/channel/lwrpakistan | ASIA | | 6PM | 9PM | URDU | | |
| 436 | PAPUA GUINEA | LOVEWORLD RADIO PALAU | cetunes.org/channel/lwrPalau | AUSTRAILIA | | 6PM | 9PM | CETUNES.ORG/CHANNEL/LWRPALAU | | |
| 437 | PARAGUY | LOVEWORLD RADIO PARAGUY | cetunes.org/channel/lwrParaguy | SOUTH AMERICA | | 6PM | 9PM | SPANISH | | |
| 438 | PERU | LOVEWORLD RADIO PERU | cetunes.org/channel/lwrPeru | SOUTH AMERICA | | 6PM | 9PM | SPANISH | | |
| 439 | PHILIPINES | LOVEWORLD RADIO PALESTINIAN | cetunes.org/channel/lwrPalestinian | ASIA | | 6PM | 9PM | ARABIC | | |
| 440 | POLAND | LOVEWORLD RADIO PAPUA | cetunes.org/channel/lwrPapua | AUSTRAILIA | | 6pm | 9pm | CETUNES.ORG/CHANNEL/LWRPAPUA | | |
| 441 | PORTUGAL | LOVEWORLD RADIO PAPUA GUINEA | cetunes.org/channel/lwrPapua Guinea | ASIA | | 6PM | 9PM | ENGLISH | | |
| 442 | QATAR | LOVEWORLD RADIO PHILIPINES | cetunes.org/channel/lwrPhilipines | ASIA | | 6PM | 9PM | ENGLISH | | |
| 443 | RADIO CHAD | LOVEWORLD RADIO CANADA | cetunes.org/channel/lwrCanada | EUROPE | | 6PM | 9PM | ENGLISH | | |
| 444 | REUNION | LOVEWORLD RADIO POLAND | cetunes.org/channel/lwrPoland | EUROPE | | 6PM | 9PM | CETUNES.ORG/CHANNEL/LWRPOLAND | | |
| 445 | RUSSIA | LOVEWORLD RADIO PORTUGAL | cetunes.org/channel/lwrPortugal | EUROPE | | 6PM | 9PM | CETUNES.ORG/CHANNEL/LWRPORTUGAL | | |
| 446 | RWANDA | UMUCYO FM | https://onlineradiobox.com/rw/umucyo | AFRICA | | 6PM | 9PM | ENGLISH | | |
| 447 | RWANDA | LOVEWORLD RADIO RWANDA | cetunes.org/channel/lwrRwanda | AFRICA | | 6PM | 9PM | CETUNES.ORG/CHANNEL/LWRRWANDA | | |
| 448 | SAINT PIERRE | LOVEWORLD RADIO SAINT PIERRE | cetunes.org/channel/lwrSaint Pierre | NORTH AMERICA | | 6PM | 9PM | CETUNES.ORG/CHANNEL/LWRSAINT PIERRE | | |
| 449 | SAMOA | LOVEWORLD RADIO QATAR | cetunes.org/channel/lwrQatar | ASIA | | 6PM | 9PM | ARABIC | | |
| 450 | SANMARINO | LOVEWORLD RADIO QATAR | cetunes.org/channel/lwrReunion | AFRICA | | 6PM | 9PM | ARABIC | | |
| 451 | SAOTOME | LOVEWORLD RADIO REUNION | cetunes.org/channel/lwrRussia | EUROPE | | 6PM | 9PM | CETUNES.ORG/CHANNEL/LWRREUNION | | |
| 452 | SAUDI ARABIA | LOVEWORLD RADIO RUSSIA | cetunes.org/channel/lwrSaintPierre | NORTH AMERICA | | 6PM | 9PM | RUSSIAN | | |
| 453 | SENEGAL | LOVEWORLD RADIO SAINTPIERRE | cetunes.org/channel/lwrSamoa | AUSTRAILIA | | 6PM | 9PM | CETUNES.ORG/CHANNEL/LWRSAINTPIERRE | | |
| 454 | SERBIA | LOVEWORLD RADIO SAMOA | cetunes.org/channel/lwrSanMarino | EUROPE | | 6PM | 9PM | CETUNES.ORG/CHANNEL/LWRSAMOA | | |
| 455 | SERIALEON | LOVEWORLD RADIO SANMARINO | cetunes.org/channel/lwrSaoTome | AFRICA | | 6PM | 9PM | CETUNES.ORG/CHANNEL/LWRSANMARINO | | |
| 456 | SIERRA LEONE | AYV RADIO | 101.6 FM | AFRICA | SIERRA LEONE | 6PM | 9PM | ENGLISH | | |
| 457 | SIERRA LEONE | CITIZENS RADIO | 103.7 FM | AFRICA | SIERRA LEONE | 6PM | 9PM | ENGLISH | | |
| 458 | SIERRA LEONE | EASTERN FM | 96.5 FM | AFRICA | KONO | 6PM | 9PM | ENGLISH | | |
| 459 | SIERRA LEONE | FOP RADIO | 89.6 FM | AFRICA | MOYAMBA | 6PM | 9PM | ENGLISH | | |
| 460 | SIERRA LEONE | KISS RADIO | 104 FM | AFRICA | SIERRA LEONE | 6PM | 9PM | ENGLISH | | |
| 461 | SIERRA LEONE | RADIO VOH | 99.9 FM | AFRICA | SIERRA LEONE | 6PM | 9PM | ENGLISH | | |
| 462 | SIERRA LEONE | SMILE RADIO | 89.9 FM | AFRICA | SIERRA LEONE | 6PM | 9PM | ENGLISH | | |
| 463 | SIERRA LEONE | STARLINE RADIO | 98.5 FM | AFRICA | SIERRA LEONE | 6PM | 9PM | ENGLISH | | |
| 464 | SIERRA LEONE | TUNAC RADIO | 98.1 FM | AFRICA | SIERRA LEONE | 6PM | 9PM | ENGLISH | | |
| 465 | SIERRA LEONE | RADIO CAPITAL | 103.3 FM | AFRICA | | 6PM | 9PM | ENGLISH | | |
| 466 | SIERRA LEONE | VOICE OF GRACE | 88.5 FM | AFRICA | | 6PM | 9PM | ENGLISH | | |
| 467 | SIERRA LEONE | TUMAC RADIO | 89.3 FM | AFRICA | | 6PM | 9PM | ENGLISH | | |
| 468 | SIERRA LEONE | KALLEONE RADIO | 105.7 FM | AFRICA | | 6PM | 9PM | ENGLISH | | |
| 469 | SIERRA LEONE | SLBC RADIO | 94.0 FM | AFRICA | MAGBRUKA | 6PM | 9PM | ENGLISH | | |
| 470 | SIERRA LEONE | SLBC RADIO | 88.0 FM | AFRICA | MAKENI | 6PM | 9PM | ENGLISH | | |
| 471 | SIERRA LEONE | SHALOM RADIO | 98.5 FM | AFRICA | | 6PM | 9PM | ENGLISH | | |
| 472 | SIERRA LEONE | RADIO MODCAR | 94.8 FM | AFRICA | | 6pm | 9pm | ENGLISH | | |
| 473 | SIERRA LEONE | BBN RADIO | 93.0 FM | AFRICA | | 6PM | 9PM | ENGLISH | | |
| 474 | SIERRA LEONE | ZCAMI RADIO | 96.9 FM | AFRICA | | 6PM | 9PM | ENGLISH | | |
| 475 | SIERRA LEONE | RADIO KOLENTEN | 90.5 FM | AFRICA | | 6PM | 9PM | ENGLISH | | |
| 476 | SIERRA LEONE | LUNSAR RADIO | 96.1 FM | AFRICA | | 6PM | 9PM | ENGLISH | | |
| 477 | SIERRA LEONE | FOP RADIO | 89.5 FM | AFRICA | | 6PM | 9PM | ENGLISH | | |
| 478 | SIERRA LEONE | VOICE OF KONO | 98.0 FM | AFRICA | | 6PM | 9PM | ENGLISH | | |
| 479 | SIERRA LEONE | EASTERN RADIO KONO | 96.5 FM | AFRICA | | 6PM | 9PM | ENGLISH | | |
| 480 | SIERRA LEONE | EASTERN RADIO KENEMA | 101.9 FM | AFRICA | | 6PM | 9PM | ENGLISH | | |
| 481 | SIERRA LEONE | EASTERN RADIO KAILAHUN | 95.6 FM | AFRICA | | 6PM | 9PM | ENGLISH | | |
| 482 | SIERRE LONE | LOVEWORLD RADIO SAOTOME | cetunes.org/channel/lwrSaudi Arabia | ASIA | | 6PM | 9PM | CETUNES.ORG/CHANNEL/LWRSAOTOME | | |
| 483 | SINGAPORE | LOVEWORLD RADIO SAUDI ARABIA | cetunes.org/channel/lwrSenegal | AFRICA | | 6PM | 9PM | ARABIC | | |
| 484 | SLOVAKIA | LOVEWORLD RADIO SENEGAL | cetunes.org/channel/lwrSerbia | EUROPE | | 6PM | 9PM | CETUNES.ORG/CHANNEL/LWRSENEGAL | | |
| 485 | SLOVENIA | LOVEWORLD RADIO SERBIA | cetunes.org/channel/lwrSierre Lone | AFRICA | | 6PM | 9PM | CETUNES.ORG/CHANNEL/LWRSERBIA | | |
| 486 | SOLOMONS ISLANDS | LOVEWORLD RADIO SERIALEON | cetunes.org/channel/lwrSingapore | ASIA | | 6PM | 9PM | ENGLISH | | |
| 487 | SOMALIA | LOVEWORLD RADIO SIERRE LONE | cetunes.org/channel/lwrSlovakia | EUROPE | | 6PM | 9PM | ENGLISH | | |
| 488 | SOUTH AFRICA | ALEX FM | 89.1 FM | AFRICA | | 6PM | 9PM | ENGLISH | | |
| 489 | SOUTH AFRICA | BONAJALA | 90.6 FM | AFRICA | | 6PM | 9PM | ENGLISH | | |
| 490 | SOUTH AFRICA | CIVIC FM | www.civicfm.com | AFRICA | SOUTH AFRICA | 6PM | 9PM | ENGLISH | | |
| 491 | SOUTH AFRICA | COSMO FM | 90.5 FM | AFRICA | | 6PM | 9PM | ENGLISH | | |
| 492 | SOUTH AFRICA | MDANYSANE FM | 89.5 FM | AFRICA | | 6PM | 9PM | ENGLISH | | |
| 493 | SOUTH AFRICA | MOTION SENSE | www.motionsensehd.com | AFRICA | | 6PM | 6PM | ENGLISH | | |
| 494 | SOUTH AFRICA | MUSINA FM | 104.0 FM | AFRICA | | 6PM | 9PM | ENGLISH | | |
| 495 | SOUTH AFRICA | PE FM | 87.6 FM | AFRICA | SOUTH AFRICA | 6PM | 9PM | ENGLISH | | |
| 496 | SOUTH AFRICA | REHOBOTH RADIO | www.mfjrehobothp.co.za | AFRICA | | 6PM | 9PM | ENGLISH | | |
| 497 | SOUTH AFRICA | RADIO YEMBA DSCHANG FRÉQUENCE | 98.0 FM | AFRICA | SOUTH AFRICA | 6PM | 9PM | ENGLISH | | |
| 498 | SOUTH AFRICA | AFRICA VIBE RADIO | 94.7 FM | AFRICA | | 6PM | 9PM | ENGLISH | | |
| 499 | SOUTH AFRICA | KOFIFI FM | 97.2 FM | AFRICA | | 6PM | 9PM | ENGLISH | | |
| 500 | SOUTH AFRICA | RADIO MAFISA 93.4 | 93.4 FM | AFRICA | | 6PM | 9PM | ENGLISH | | |
| 501 | SOUTH AFRICA | LOVEWORLD RADIO SINGAPORE | cetunes.org/channel/lwrSlovenia | EUROPE | | 6PM | 9PM | CETUNES.ORG/CHANNEL/LWRSINGAPORE | | |
| 502 | SOUTH AFRICA | LOVEWORLD RADIO STMARTIN | cetunes.org/channel/lwrSudan | AFRICA | | 6PM | 9PM | CETUNES.ORG/CHANNEL/LWRSTMARTIN | | |
| 503 | SOUTH AFRICA | AGAPE FM | 107.0 FM | AFRICA | | 6PM | 9PM | | | |
| 504 | SOUTH AFRICA | BONAJALA FM | 90.6 FM | AFRICA | | 6PM | 9PM | | | |
| 505 | SOUTH AFRICA | RADIO BRASSA | | AFRICA | | RE-BROADCAST | RE-BROADCAST | | | |
| 506 | SOUTH AMERICA | WRHI RADIO | https://tunein.com/radio/WRHI-1340-s22407/ | AMERICA | CALIFORNIA | 6PM | 9PM | | | |
| 507 | SOUTH SUDAN | CITY FM JUBA1 | 88.4 FM | AFRICA | SOUTH SUDAN | 6PM | 9PM | ENGLISH | | |
| 508 | SOUTH SUDAN | FAVOUR FM | 96.3 FM | AFRICA | | 7PM | 9PM | ENGLISH | | |
| 509 | SOUTH SUDAN | JUBA1 FM | 87.9 FM | AFRICA | | 6PM | 9PM | ENGLISH | | |
| 510 | SOUTH SUDAN | CAPITAL FM | 89.0 FM | AFRICA | JUBA | 6PM | 9PM | ENGLISH | | |
| 511 | SOUTH SUDAN | FAVOUR FM | 96.3 FM | AFRICA | JUBA | 6PM | 9PM | ENGLISH | | |
| 512 | SOUTH SUDAN | LOVEWORLD RADIO SOUTHSUDAN | cetunes.org/channel/lwrSouthSudan | AFRICA | | 6PM | 9PM | CETUNES.ORG/CHANNEL/LWRSOUTHSUDAN | | |
| 513 | SPAIN | LOVEWORLD RADIO SLOVAKIA | cetunes.org/channel/lwrSolomonsIslands | EUROPE | | 6PM | 9PM | SLOVAK | | |
| 514 | SRILANKA | LOVEWORLD RADIO SLOVENIA | cetunes.org/channel/lwrSomalia | AFRICA | | 6PM | 9PM | CETUNES.ORG/CHANNEL/LWRSLOVENIA | | |
| 515 | ST KITTS | LOVEWORLD RADIO SOLOMONSISLANDS | cetunes.org/channel/lwrSpain | EUROPE | | 6PM | 9PM | CETUNES.ORG/CHANNEL/LWRSOLOMONSISLANDS | | |
| 516 | ST LUCIA | LOVEWORLD RADIO ST LUCIA | cetunes.org/channel/lwrSt Lucia | NORTH AMERICA | | 6PM | 9PM | ENGLISH | | |
| 517 | STBARTHELEMY | LOVEWORLD RADIO STBARTHELEMY | cetunes.org/channel/lwrStBarthelemy | NORTH AMERICA | | 6PM | 9PM | CETUNES.ORG/CHANNEL/LWRSTBARTHELEMY | | |
| 518 | STMARTIN | LOVEWORLD RADIO SOMALIA | cetunes.org/channel/lwrSrilanka | ASIA | | 6PM | 9PM | ARABIC | | |
| 519 | STVINCENT | LOVEWORLD RADIO SPAIN | cetunes.org/channel/lwrSt Kitts | NORTH AMERICA | | 6PM | 9PM | SPANISH | | |
| 520 | SUDAN | LOVEWORLD RADIO SRILANKA | cetunes.org/channel/lwrStMartin | NORTH AMERICA | | 6PM | 9PM | CETUNES.ORG/CHANNEL/LWRSRILANKA | | |
| 521 | SURINAME | LOVEWORLD RADIO ST KITTS | cetunes.org/channel/lwrStVincent | NORTH AMERICA | | 7PM | 9PM | CETUNES.ORG/CHANNEL/LWRST KITTS | | |
| 522 | SWAZILAND | LOVEWORLD RADIO SWAZILAND | cetunes.org/channel/lwrSwaziland | AFRICA | | 6PM | 9PM | ENGLISH | | |
| 523 | SWEDEN | STOCKHOLM NÄRRADIO | 95.3 FM | AFRICA | | 6PM | 9PM | ENGLISH | | |
| 524 | SWITZERLAND | LOVEWORLD RADIO STVINCENT | cetunes.org/channel/lwrSuriname | SOUTH AMERICA | | 6PM | 9PM | CETUNES.ORG/CHANNEL/LWRSTVINCENT | | |
| 525 | SYCHELLES | LOVEWORLD RADIO SUDAN | cetunes.org/channel/lwrSwahili | AFRICA | | 6PM | 9PM | ARABIC | | |
| 526 | SYRIA | RADIO LIVE | www.radiolife.pk | ASIA | | 6PM | 9PM | ENGLISH | | |
| 527 | SYRIA | LOVEWORLD RADIO SURINAME | cetunes.org/channel/lwrSwiss | EUROPE | | 6PM | 9PM | CETUNES.ORG/CHANNEL/LWRSURINAME | | |
| 528 | SYRIA | LOVEWORLD RADIO SWAHILI | cetunes.org/channel/lwrSychelles | AFRICA | | 7PM | 9PM | SWAHILI | | |
| 529 | TAIWAN | LOVEWORLD RADIO SWISS | cetunes.org/channel/lwrSyria | ASIA | | 6PM | 9PM | SWISS | | |
| 530 | TAJIKISTAN | LOVEWORLD RADIO SYCHELLES | cetunes.org/channel/lwrTaiwan | ASIA | | 6PM | 9PM | SYCHELLES/ENG | | |
| 531 | TAJIKISTAN | LOVEWORLD RADIO SYRIA | cetunes.org/channel/lwrTajikistan | ASIA | | 6PM | 9PM | ARABIC | | |
| 532 | TANZAIA | EAST AFRICA RADIO | 88.1 FM | AFRICA | | 6PM | 9PM | ENGLISH | | |
| 533 | TANZAIA | MEGA FM | 92.9 FM | AFRICA | | 6PM | 9PM | ENGLISH | | |
| 534 | TANZANIA | LOVEWORLD RADIO TANZANIA | cetunes.org/channel/lwrTanzania | AFRICA | | 6PM | 9PM | SWAHILI | | |
| 535 | TEXAS | LOVEWORLD RADIO SYRIA | cetunes.org/channel/lwrTajikistan | ASIA | | 6PM | 9PM | ARABIC | | |
| 536 | THAILAND | LOVEWORLD RADIO TAIWAN | cetunes.org/channel/lwrTexas | NORTH AMERICA | | 6PM | 9PM | CETUNES.ORG/CHANNEL/LWRTAIWAN | | |
| 537 | TOBAGO | LOVEWORLD RADIO TAJIKISTAN | cetunes.org/channel/lwrThailand | ASIA | | 6PM | 9PM | ARABIC | | |
| 538 | TOGO | RADIO CRYSTAL | http://togo-fm.com/newplayer/allplayer.php?r=2 | AFRICA | TOGO | 6PM | 9PM | ENGLISH | | |
| 539 | TOGO | LOVEWORLD RADIO EUROPE | cetunes.org/channel/lwrEurope | EUROPE | | 7PM | 9PM | CETUNES.ORG/CHANNEL/LWREUROPE | | |
| 540 | TOGO | RADIO ZION | 94.3 FM | AFRICA | | 6PM | 9PM | | | |
| 541 | TOGO | BÉ MARKET | | AFRICA | | RE-BROADCAST | RE-BROADCAST | | | |
| 542 | TOGO | CACAVELI MARKET | | AFRICA | | RE-BROADCAST | RE-BROADCAST | | | |
| 543 | TONGA | LEO MOTU'ONGA OFA – TONGA | cetunes.org/channel/tonga | ASIA | | 6PM | 9PM | ENGLISH | | |
| 544 | TRINIDAS & TOBAGO | ISAAC FM | 99.5 FM | AFRICA | | RE-BROADCAST | RE-BROADCAST | | | |
| 545 | TURKEY | LOVEWORLD RADIO TEXAS | cetunes.org/channel/lwrTurkey | ASIA | | 6PM | 9PM | ENGLISH | | |
| 546 | TURKMENISTAN | LOVEWORLD RADIO THAILAND | cetunes.org/channel/lwrTurkmenistan | ASIA | | 6PM | 9PM | CETUNES.ORG/CHANNEL/LWRTHAILAND | | |
| 547 | UAE | LOVEWORLD RADIO TOBAGO | cetunes.org/channel/lwrUae | ASIA | | 6PM | 9PM | CETUNES.ORG/CHANNEL/LWRTOBAGO | | |
| 548 | UGANDA | BIG FM | 97.6 FM | AFRICA | | 6PM | 9PM | ENGLISH | | |
| 549 | UGANDA | DWANWA | 102.9 FM | AFRICA | UGANDA | 6PM | 9PM | ENGLISH | | |
| 550 | UGANDA | ELGON RADIO | 1O1.4 FM | AFRICA | UGANDA | 6PM | 9PM | ENGLISH | | |
| 551 | UGANDA | ELSHAMA FM | 87.5 FM | AFRICA | UGANDA | 6PM | 9PM | ENGLISH | | |
| 552 | UGANDA | ETOP | 99.4 FM | AFRICA | | 6PM | 9PM | ENGLISH | | |
| 553 | UGANDA | HUNTER FM | 1050 FM | AFRICA | | 6PM | 9PM | ENGLISH | | |
| 554 | UGANDA | IBANDA FM | 87.7 FM | AFRICA | UGANDA | 6PM | 9PM | ENGLISH | | |
| 555 | UGANDA | JUICE FM | 103.4 FM | AFRICA | UGANDA | REBROADCAST | REBROADCAST | ENGLISH | | |
| 556 | UGANDA | KIDANDA FM | 103.2 FM | AFRICA | | 6PM | 9PM | ENGLISH | | |
| 557 | UGANDA | KIRYANDONGO FM | www.kfm.com | AFRICA | | 6PM | 9PM | ENGLISH | | |
| 558 | UGANDA | KISORO FM | 91.1 FM | AFRICA | | 6PM | 9PM | ENGLISH | | |
| 559 | UGANDA | KRC | 106.5 FM | AFRICA | UGANDA | 6PM | 9PM | ENGLISH | | |
| 560 | UGANDA | SERERE FM | 108.0 FM | AFRICA | UGANDA | 6PM | 9PM | ENGLISH | | |
| 561 | UGANDA | SHINE FM | 95.1 FM | AFRICA | | 6PM | 9PM | ENGLISH | | |
| 562 | UGANDA | SMART FM | 100.2 FM | AFRICA | | 6PM | 9PM | ENGLISH | | |
| 563 | UGANDA | SPEAK FM | 100.3 FM | AFRICA | GULU | 6PM | 9PM | ENGLISH | | |
| 564 | UGANDA | SPIRIT FM | 96.6 FM | AFRICA | | 6PM | 9PM | ENGLISH | | |
| 565 | UGANDA | TBS FM | 98.6 FM | AFRICA | UGANDA | 6PM | 9PM | ENGLISH | | |
| 566 | UGANDA | TRINITY FM | 96.7 FM | AFRICA | UGANDA | REBROADCAST | REBROADCAST | ENGLISH | | |
| 567 | UGANDA | VCC FM | 103.6 FM | AFRICA | | 6PM | RE-BROADCAST | ENGLISH | | |
| 568 | UGANDA | IMPACT FM | 98.5 FM | AFRICA | | 6PM | 9PM | ENGLISH | | |
| 569 | UGANDA | VOICE OF TORO | 89.1 FM | AFRICA | | 6PM | 9PM | ENGLISH | | |
| 570 | UGANDA | ELGON FM | 101.4 FM | AFRICA | | RE-BROADCAST | RE-BROADCAST | ENGLISH | | |
| 571 | UGANDA | WESTEND FM | 90.2 FM | AFRICA | GHANA | 6PM | 9PM | ENGLISH | | |
| 572 | UGANDA | TBS FM | 87.6 FM | AFRICA | GHANA | 6PM | 9PM | ENGLISH | | |
| 573 | UGANDA | WOT ONLINE RADIO | www.wotonline101.com | AFRICA | | 6PM | 9PM | ENGLISH | | |
| 574 | UGANDA | ACCESS FM | 96.3 FM | AFRICA | | 6PM | 9PM | ENGLISH | | |
| 575 | UGANDA | JOGO FM | 93.8 FM | AFRICA | | 6PM | 9PM | ENGLISH | | |
| 576 | UGANDA | ROCK MAMBO | 106.8 FM | AFRICA | | 6PM | 9PM | ENGLISH | | |
| 577 | UGANDA | FAVOR FM | 104.1 FM | AFRICA | | 6PM | 9PM | ENGLISH | | |
| 578 | UGANDA | VOICE OF SERERE FM | 89.9 FM | AFRICA | | 6PM | 9PM | ENGLISH | | |
| 579 | UGANDA | HIT FM 88.9 | 88.9 FM | AFRICA | | 6PM | 9PM | ENGLISH | | |
| 580 | UGANDA | KIBANDA FM | 103.2 FM | AFRICA | | 6PM | 9PM | ENGLISH | | |
| 581 | UGANDA | LOVEWORLD RADIO TURKEY | cetunes.org/channel/lwrUganda | AFRICA | | 6PM | 9PM | TURKISH | | |
| 582 | UGANDA | KIRA FM | 88.8 | AFRICA | | RE-BROADCAST | RE-BROADCAST | | | |
| 583 | UGANDA | CONTINENTAL FM | 94.7 | AFRICA | | RE-BROADCAST | RE-BROADCAST | | | |
| 584 | UGANDA | SPIRIT FM | 96.6 | AFRICA | | RE-BROADCAST | RE-BROADCAST | | | |
| 585 | UGANDA | ETOP | 99.4 | AFRICA | | RE-BROADCAST | RE-BROADCAST | | | |
| 586 | UGANDA | FAMILY RADIO | 88.1 | AFRICA | | RE-BROADCAST | RE-BROADCAST | | | |
| 587 | UGANDA | YOFOCHM | 100.2 | AFRICA | | RE-BROADCAST | RE-BROADCAST | | | |
| 588 | UGANDA | VOICE OF TORO | 101.0- | AFRICA | | RE-BROADCAST | RE-BROADCAST | | | |
| 589 | UK | TKN RADIO | 94.9 FM | EUROPE | LONDON | 6PM | 9PM | ENGLISH | | |
| 590 | UK | LOVEWORLD RADIO UAE | cetunes.org/channel/lwrUk | EUROPE | | 6PM | 9PM | ARABIC | | |
| 591 | UKRAINE | LOVEWORLD RADIO UGANDA | cetunes.org/channel/lwrUkraine | ASIA | | 6PM | 9PM | ENGLISH | | |
| 592 | UKRAINE | RADIO KIEV | 98.0 FM | EUROPE | | REBROADCAST | REBROADCAST | ENGLISH | | |
| 593 | UNITED KINGDOM | KINGDOM RADIO | kingdomradio.org | EUROPE | LONDON | 6PM | 9PM | ENGLISH | | |
| 594 | UNITED KINGDOM | TRIUMPHANT RADIO | cetunes.org/channel/triumphantradio | EUROPE | LONDON | 6PM | 9PM | ENGLISH | | |
| 595 | UNITED STATES | VICTORY RADIO | cetunes.org/channel/victoryradio | AMERICA | UNITED STATES | 6PM | 9PM | ENGLISH | | |
| 596 | UNITED STATES | WORSHIP WARRIOR | cetunes.org/channel/worshipwarrior | AMERICA | UNITED STATES | 6PM | 9PM | ENGLISH | | |
| 597 | USA | WMUZ FM | 103.5 FM | NORTH AMERICA | USA | 6PM | 9PM | ENGLISH | | |
| 598 | USA | WAEC 360 | love860.com | NORTH AMERICA | ATLANTA | 6PM | 9PM | ENGLISH | | |
| 599 | USA | LOVEWORLD RADIO BENIN REP | cetunes.org/channel/lwrBenin Rep | AFRICA | | 6PM | 9PM | CETUNES.ORG/CHANNEL/LWRBENIN REP | | |
| 600 | USA | LOVEWORLD RADIO UGHELLI | cetunes.org/channel/lwrUsa | EUROPE | | 6pm | 9pm | CETUNES.ORG/CHANNEL/LWRUGHELLI | | |
| 601 | UZBEKISTAN | LOVEWORLD RADIO UK | cetunes.org/channel/lwrUzbekistan | ASIA | | 6PM | 9PM | ENGLISH | | |
| 602 | UZBEKISTAN | LOVEWORLD RADIO UKRAINE | cetunes.org/channel/lwrUzbekistan | ASIA | | 6PM | 9PM | UKRAINIAN | | |
| 603 | VANEZUELA | LOVEWORLD RADIO WESTERN SAHARA | cetunes.org/channel/lwrVanezuela | SOUTH AMERICA | | 6PM | 9PM | ARABIC | | |
| 604 | VANUATU | LOVEWORLD RADIO USA | cetunes.org/channel/lwrVanuatu | AUSTRAILIA | | 6PM | 9PM | ENGLISH | | |
| 605 | WARRI | LOVEWORLD RADIO UZBEKISTAN | cetunes.org/channel/lwrWarri | AFRICA | | 6PM | 9PM | ARABIC | | |
| 606 | WESTERN SAHARA | LOVEWORLD RADIO UZBEKISTAN | cetunes.org/channel/lwrWestern Sahara | AFRICA | | 6PM | 9PM | UZBEK | | |
| 607 | YEMEN | LOVEWORLD RADIO VANUATU | cetunes.org/channel/lwrYemen | ASIA | | 6PM | 9PM | CETUNES.ORG/CHANNEL/LWRVANUATU | | |
| 608 | ZAMBIA | CHOMA FM RADIO | 95.1 FM | AFRICA | ZAMBIA | 6PM | 9PM | ENGLISH | | |
| 609 | ZAMBIA | JOY FM | 92.1 FM | AFRICA | | 6PM | 9PM | ENGLISH | | |
| 610 | ZAMBIA | KAPIRI | 91.3 FM | AFRICA | ZAMBIA | 6PM | 9PM | ENGLISH | | |
| 611 | ZAMBIA | KITWE | 87.7 FM | AFRICA | ZAMBIA | 6PM | 9PM | ENGLISH | | |
| 612 | ZAMBIA | RADIO CHIMWEMWE | 91.7 FM | AFRICA | ZAMBIA | 6PM | 9PM | ENGLISH | | |
| 613 | ZAMBIA | SMOOTH FM | 90.1 FM | AFRICA | ZAMBIA | 6PM | 9PM | ENGLISH | | |
| 614 | ZAMBIA | SOLWEZI RADIO | 89.7 FM | AFRICA | SOLWEZI CITY | 6PM | 9PM | ENGLISH | | |
| 615 | ZAMBIA | KOMBONI RADIO | 94.9 FM | AFRICA | | 6PM | 9PM | ENGLISH | | |
| 616 | ZAMBIA | HONE FM | 94.1 FM | AFRICA | | 6PM | 9PM | ENGLISH | | |
| 617 | ZAMBIA | QFM | 89.10 FM | AFRICA | | 6PM | 9PM | ENGLISH | | |
| 618 | ZAMBIA | UNITED RADIO | 92.9 FM | AFRICA | | 6PM | 9PM | ENGLISH | | |
| 619 | ZAMBIA | ONE LOVE RADIO | 104.10 FM | AFRICA | | 6PM | 9PM | ENGLISH | | |
| 620 | ZAMBIA | KNC RADIO | 90.3 FM | AFRICA | | 6PM | 9PM | ENGLISH | | |
| 621 | ZAMBIA | CHETTE RADIO | 89.9 FM | AFRICA | | 6PM | 9PM | ENGLISH | | |
| 622 | ZAMBIA | LOVEWORLD RADIO UK | cetunes.org/channel/lwrUK | EUROPE | | 6PM | 9PM | CETUNES.ORG/CHANNEL/LWRUK | | |
| 623 | ZAMBIA | POWER FM | 87.9 FM | AFRICA | KABWE | 6PM | 9PM | | | |
| 624 | ZAMBIA | SKY FM | 95.1 FM | AFRICA | MONZE | 6PM | 9PM | | | |
| 625 | ZAMBIA | BREEZE FM CHIPATA | 99.6 FM | AFRICA | CHIPATA | 6PM | 9PM | | | |
| 626 | ZAMBIA | FEEL FREE RADIO | 90.9 FM | AFRICA | CHIPATA | 7PM | 9PM | | | |
| 627 | ZAMBIA | MAFKEN RADIO | 97.7 FM | AFRICA | MUFLIRA | 6PM | 9PM | | | |
| 628 | ZAMBIA | MOSIOTUNYA RADIO | 106.1 FM | AFRICA | LIVINGSTONE | 6PM | 9PM | | | |
| 629 | ZAMBIA | POWER FM | 91.3 FM | AFRICA | LUSAKA | 6PM | 9PM | | | |
| 630 | ZIMBABWE | LOVEWORLD RADIO WARRI | cetunes.org/channel/lwrZimbabwe | AFRICA | | 6PM | 9PM | CETUNES.ORG/CHANNEL/LWRWARRI | | |
| 631 | | IZWI LETHEMBA | 93.8 FM | AFRICA | | 6PM | 9PM | | | |
TV Stations
| | | | | | |
| --- | --- | --- | --- | --- | --- |
| S/N | COUNTRY | STATION NAME | CONTINENT | STATE OR CITY | TIME (GMT +1) |
| 1 | ALBANIA | IP TV | EUROPE | | Rebroadcast |
| 2 | ALBANIA | RTV ALBANIA | EUROPE | | Rebroadcast |
| 3 | ALBANIA | TIRANA IPTV BROADCASTING OPERATOR | EUROPE | | Rebroadcast |
| 4 | Anguilla | CARIBBEAN CABLE CHANNEL | NORTH AMERICA | Anguilla | 6 – 9PM |
| 5 | Antigua & Barbuda | CTV | NORTH AMERICA | Antigua & Barbuda | 6 – 9PM |
| 6 | ARGENTINA | LIFETV ROKU TV ARGENTINA | SOUTH AMERICA | | 6 – 9PM |
| 7 | Australia | LIFETV BEE IPTV AUSTRALIA | PACIFIC\OCEANIA | | 6 – 9PM |
| 8 | AUSTRALIA | Loveworld Queensland | PACIFIC\OCEANIA | | 6 – 9PM |
| 9 | AUSTRALIA | Loveworld Queensland Australia | PACIFIC\OCEANIA | | 6 – 9PM |
| 10 | AUSTRALIA | LW Queensland | PACIFIC\OCEANIA | | 6 – 9PM |
| 11 | AUSTRALIA | QUEENSLAND TV | PACIFIC\OCEANIA | | 6 – 9PM |
| 12 | AUSTRALIA | Loveworld Queensland Australia | PACIFIC\OCEANIA | | Rebroadcast |
| 13 | AUSTRALIA | PERTH TV AUSTRALIA | PACIFIC\OCEANIA | | Rebroadcast |
| 14 | AUSTRIA | LIFETV LYCA TV AUSTRIA | EUROPE | | 6 – 9PM |
| 15 | AUSTRIA | LIFETV ZAAP TV AUSTRIA | EUROPE | | 6 – 9PM |
| 16 | AUSTRIA | GSS MEDIA | EUROPE | | Rebroadcast |
| 17 | Bahamas, The | CABLE BAHAMAS TV | NORTH AMERICA | Bahamas | 6 – 9PM |
| 18 | BAHRAIN | LIFETV BEE IPTV BAHRAIN | ASIA | | 6 – 9PM |
| 19 | BALKAN | MIR TV | EUROPE | | Rebroadcast |
| 20 | BALKAN TERRITORIES | A1 BALKAN TV | EUROPE | | Rebroadcast |
| 21 | BANGLADESH | LIFETV BEE IPTV BANGLADESH | ASIA | | 6 – 9PM |
| 22 | Barbados | DIGICEL PLAY CHANNEL | NORTH AMERICA | Barbados | 6 – 9PM |
| 23 | Barbados | MULTI CHOICE TV | NORTH AMERICA | Barbados | 6 – 9PM |
| 24 | BELGIUM | LIFETV LYCA TV BELGIUM | EUROPE | | 6 – 9PM |
| 25 | BELGIUM | LIFETV ZAAP TV BELGIUM | EUROPE | | 6 – 9PM |
| 26 | benin rep | etv benin rep | Africa | | 6 – 9PM |
| 27 | benin rep | EVANGELIQUE TV | Africa | | 6 – 9PM |
| 28 | BEOGRAD SERBIA | KABLKOM D.O.O | EUROPE | | Rebroadcast |
| 29 | BHUTAN | LIFETV BEE IPTV BHUTAN | ASIA | | 6 – 9PM |
| 30 | BHUTAN | LIFETV LYCA TV BHUTAN | ASIA | | 6 – 9PM |
| 31 | BOSNIA | A1 BOSNIA TV | EUROPE | | Rebroadcast |
| 32 | BOSNIA | ALFA TV | EUROPE | | Rebroadcast |
| 33 | BOSNIA | FACE TV | EUROPE | | Rebroadcast |
| 34 | BOSNIA&HERZEGOVINA | ALVATEL | EUROPE | | Rebroadcast |
| 35 | BOSNIA&HERZEGOVINA | ANEX | EUROPE | | Rebroadcast |
| 36 | BOSNIA&HERZEGOVINA | ASK BH | EUROPE | | Rebroadcast |
| 37 | BOSNIA&HERZEGOVINA | AVAX.NET | EUROPE | | Rebroadcast |
| 38 | BOSNIA&HERZEGOVINA | BH TELCOM MOJA TV | EUROPE | | Rebroadcast |
| 39 | BOSNIA&HERZEGOVINA | BHB CABLE | EUROPE | | Rebroadcast |
| 40 | BOSNIA&HERZEGOVINA | BOSNA TV | EUROPE | | Rebroadcast |
| 41 | BOSNIA&HERZEGOVINA | CABLE TV NET | EUROPE | | Rebroadcast |
| 42 | BOSNIA&HERZEGOVINA | ELNET | EUROPE | | Rebroadcast |
| 43 | BOSNIA&HERZEGOVINA | ELTA KABEL | EUROPE | | Rebroadcast |
| 44 | BOSNIA&HERZEGOVINA | EXENET | EUROPE | | Rebroadcast |
| 45 | BOSNIA&HERZEGOVINA | KTV-EGE.BA | EUROPE | | Rebroadcast |
| 46 | BOSNIA&HERZEGOVINA | LOGOSOFT | EUROPE | | Rebroadcast |
| 47 | BOSNIA&HERZEGOVINA | NET RN GROUP | EUROPE | | Rebroadcast |
| 48 | BOSNIA&HERZEGOVINA | TELEMACH BIH | EUROPE | | Rebroadcast |
| 49 | BOSNIA&HERZEGOVINA | TIVI.BA | EUROPE | | Rebroadcast |
| 50 | BOSNIA&HERZEGOVINA | TXTV | EUROPE | | Rebroadcast |
| 51 | BRUNEI | LIFETV BEE IPTV BRUNEI | ASIA | | 6 – 9PM |
| 52 | BURMA | LIFETV BEE IPTV BURMA | ASIA | | 6 – 9PM |
| 53 | BURMA | LIFETV LYCA TV BURMA | ASIA | | 6 – 9PM |
| 54 | BURUNDI | HTV | AFRICA | | |
| 54 | Canada | BELL FIBE TV | NORTH AMERICA | Ontario And Quebec | 6 – 9PM |
| 55 | CANADA | LIFETV LYCA TV CANADA | NORTH AMERICA | | 6 – 9PM |
| 56 | CANADA | LIFETV ROKU TV CANADA | NORTH AMERICA | | 6 – 9PM |
| 57 | CARIBBEAN ISLAND | NEW HOPE TV | NORTH AMERICA | | 6 – 9PM |
| 58 | Cayman Islands | WESTSTAR TV | NORTH AMERICA | Cayman Islands | 6 – 9PM |
| 59 | CENTRAL EUROPE | LIFETV ZAAP TV EUROPE | EUROPE | | 6 – 9PM |
| 60 | CHILE | CMB TV | SOUTH AMERICA | | Rebroadcast |
| 61 | CHILI | LIFETV ROKU TV CHILI | SOUTH AMERICA | | 6 – 9PM |
| 62 | COLOMBIA | LIFETV ROKU TV COLOMBA | SOUTH AMERICA | | 6 – 9PM |
| 63 | COLOMBIA | CMB TV | SOUTH AMERICA | | Rebroadcast |
| 64 | COSTA RICA | LIFETV ROKU TV COSTA RIC | SOUTH AMERICA | | 6 – 9PM |
| 65 | CROATIA | MAXTV | EUROPE | | Rebroadcast |
| 66 | CROATIA | TERRAKOM | EUROPE | | Rebroadcast |
| 67 | CROATIA | VIP-MEDIA | EUROPE | | Rebroadcast |
| 68 | DENMARK | LIFETV LYCA TV DENMARK | EUROPE | | 6 – 9PM |
| 69 | Dominica | SAT TELECOMS CHANNEL | NORTH AMERICA | Dominica | 6 – 9PM |
| 70 | ECUADOR | CMB TV | SOUTH AMERICA | | Rebroadcast |
| 71 | EGYPT | LOVEWORLD MENA | ASIA | | 6 – 9PM |
| 72 | EL SALAVADOUR | LIFETV ROKU TV EL SALVADOR | SOUTH AMERICA | | 6 – 9PM |
| 73 | ETHIOPIA | GOSPEL TV | AFRICA | | |
| 73 | FIJI | MAI TV | f | | 6 – 9PM |
| 74 | FINLAND | LIFETV LYCA TV FINLAND | EUROPE | | 6 – 9PM |
| 75 | FRANCE | LIFETV LYCA TV FRANCE | EUROPE | | 6 – 9PM |
| 76 | FRANCE | LIFETV ZAAP TV FRANCE | EUROPE | | 6 – 9PM |
| 77 | Gabon | Bethel TV | Africa | | 6 – 9PM |
| 78 | GERMANY | LIFETV LYCA TV GERMANY | EUROPE | | 6 – 9PM |
| 79 | GERMANY | LIFETV ZAAP TV GERMANY | EUROPE | | 6 – 9PM |
| 80 | GERMANY | IPTV NET | EUROPE | | Rebroadcast |
| 81 | GERMANY | PROFREE TV | EUROPE | | Rebroadcast |
| 82 | GREAT BRITAIN | LIFETV ZAAP TV BRITAIN | EUROPE | | 6 – 9PM |
| 83 | GREECE | LIFETV LYCA TV GREECE | EUROPE | | 6 – 9PM |
| 84 | GUATEMALA | LIFETV ROKU TV GUATEMALA | SOUTH AMERICA | | 6 – 9PM |
| 85 | HONDURA | LIFETV ROKU TV HONDURA | SOUTH AMERICA | | 6 – 9PM |
| 86 | HONGKONG | LIFETV LYCA TV HONGKONG | ASIA | | 6 – 9PM |
| 87 | India | Eternal Life TV Network started on Intelsat 20: 12682 V | Asia | | 6 – 9PM |
| 88 | INDIA | LIFETV BEE IPTV INDIA | ASIA | | 6 – 9PM |
| 89 | India | LIFETV KARNATAKA | ASIA | Karnataka State | 6 – 9PM |
| 90 | India | LIFETV TAMILNADU | ASIA | Tamilnadu Province | 6 – 9PM |
| 91 | India | LIFETV KERALA | ASIA | Kerala State | 6 – 9PM |
| 92 | India | LIFETV ANDRAPRADESH | ASIA | Andrapradesh | 6 – 9PM |
| 93 | India | LIFETV TELENGANA | ASIA | Telengana | 6 – 9PM |
| 94 | India | LIFETV INDIA | ASIA | North India | 6 – 9PM |
| 95 | India | LIFETV MUMBAI | ASIA | Bombay Mumbai | 6 – 9PM |
| 96 | India | LIFETV ODDISA | ASIA | Oddisa | 6 – 9PM |
| 97 | India | LIFETV DELHI | ASIA | Delhi | 6 – 9PM |
| 98 | India | LIFETV JAIPUR | ASIA | Jaipur | 6 – 9PM |
| 99 | India | LIFETV AGRA | ASIA | Agra | 6 – 9PM |
| 100 | INDIA | LIFETV LYCA TV INDIA | ASIA | | 6 – 9PM |
| 101 | INDIA | LIFETV REAL TV INDIA | ASIA | | 6 – 9PM |
| 102 | INDIA | LIFETV ROKU TV INDIA | ASIA | | 6 – 9PM |
| 103 | INDIA | LIFETV TAMILIN IPTV INDIA | ASIA | | 6 – 9PM |
| 104 | INDIA | LIFETV THY WILL IPTV INDIA | ASIA | | 6 – 9PM |
| 105 | INDIA | LIFETV YOYO IPTV INDIA | ASIA | | 6 – 9PM |
| 106 | INDIA | LIFETV ZAAP TV INDIA | ASIA | | 6 – 9PM |
| 107 | india | Platinum TV, India | Asia | | 6 – 9PM |
| 108 | India | TNI India | Asia | | 6 – 9PM |
| 109 | india | ASARE TV | ASIA | | 6 – 9PM |
| 110 | india | Channel 316 | Asia | | 6 – 9PM |
| 111 | india | DAJIWORLD TV | ASIA | | 6 – 9PM |
| 112 | india | HARVEST TV | ASIA | | 6 – 9PM |
| 113 | india | HOPE CHANNEL CHRISTIAN TV | ASIA | | 6 – 9PM |
| 114 | india | LifeTV | Asia | | 6 – 9PM |
| 115 | india | LifeTV Plus | Asia | | 6 – 9PM |
| 116 | india | NEW HOPE TV | ASIA | | 6 – 9PM |
| 117 | india | SHALOM TELEVISION | ASIA | | 6 – 9PM |
| 118 | INDIA | THOOLIKA | ASIA | | 6 – 9PM |
| 118 | INDIA | JOY TV | ASIA | | |
| 119 | INDIA | BIBLE TV | ASIA | | |
| 119 | IRELAND | LIFETV LYCA TV IRELAND | EUROPE | | 6 – 9PM |
| 120 | ITALY | LIFETV LYCA TV ITALY | EUROPE | | 6 – 9PM |
| 121 | ITALY | LIFETV ZAAP TV ITALY | EUROPE | | 6 – 9PM |
| 122 | ITALY | PAROLE DI VITA (CHRISTIAN TV ITALY) | EUROPE | | 6 – 9PM |
| 123 | ITALY | MEDIA TV | EUROPE | | Rebroadcast |
| 124 | ITALY | TCI | EUROPE | | |
| 124 | Jamaica | Jamaica Gosple TV | S America | | 6 – 9PM |
| 125 | Jamaica | Jamaica Gosple TV | S America | | 6 – 9PM |
| 126 | Jamaica | Love TV Jamaica | North America | | 6 – 9PM |
| 127 | JAMAICA | JAMAICA TV | NORTH AMERICA | | 6 – 9PM |
| 128 | Jamaica | JGTV Jamaica | NORTH AMERICA | | 6 – 9PM |
| 129 | Jamaica | MTM Jamaica | NORTH AMERICA | | 6 – 9PM |
| 130 | JAMAICA | READY TV | NORTH AMERICA | | 6 – 9PM |
| 131 | JAPAN | LIFETV LYCA TV JAPAN | ASIA | | 6 – 9PM |
| 132 | Kenya | DTV Kenya | Africa | | 6 – 9PM |
| 133 | Kenya | Global Athletes for peace(webtv) | Africa | | 6 – 9PM |
| 134 | Kenya | Kingdom TV Kenya | Africa | | 6 – 9PM |
| 135 | Kenya | UTV Kenya | Africa | | 6 – 9PM |
| 136 | KOSOVO | DREAM BOX | EUROPE | | Rebroadcast |
| 137 | KOSOVO | GIMELET | EUROPE | | Rebroadcast |
| 138 | KOSOVO | PROGRES STRPCE | EUROPE | | Rebroadcast |
| 139 | KOSOVO | RTV KOSOVA | EUROPE | | Rebroadcast |
| 140 | KOSOVO | SPEED TV | EUROPE | | Rebroadcast |
| 141 | KOSOVO | TIRANA IPTV BROADCASTING OPERATOR | EUROPE | | Rebroadcast |
| 142 | KOSOVO | TVEHO | EUROPE | | Rebroadcast |
| 143 | MACEDONIA | A1 TV MACEDONIA | EUROPE | | Rebroadcast |
| 144 | malawi | ssbc tv malawi | Africa | | 6 – 9PM |
| 145 | MALAYSIA | LIFETV BEE IPTV MALAYSIA | ASIA | | 6 – 9PM |
| 146 | MALYSIA | LIFETV LYCA TV MALYSIA | ASIA | | 6 – 9PM |
| 147 | MONTENEGRO | MTEL CRNA | EUROPE | | Rebroadcast |
| 148 | MONTENEGRO | W-LINK | EUROPE | | Rebroadcast |
| 149 | Montserrat | CARIBBEAN CABLE COMMUNICATIONS TV | NORTH AMERICA | Montserrat | 6 – 9PM |
| 150 | NAMIBIA | NBC Namibia | Africa | | 6 – 9PM |
| 151 | NEPAL | LIFETV BEE IPTV NEPAL | ASIA | | 6 – 9PM |
| 152 | NEPAL | LIFETV LYCA TV NEPAL | ASIA | | 6 – 9PM |
| 153 | NETHERLAND | LIFETV LYCA TV NETHERLAND | EUROPE | | 6 – 9PM |
| 154 | NETHERLAND | LIFETV ZAAP TV NETHERLAND | EUROPE | | 6 – 9PM |
| 155 | NEW ZEALAND | LIFETV BEE IPTV NEWZEALAND | PACIFIC\OCENIA | | 6 – 9PM |
| 156 | NEW ZEALAND | OPPNA KANALEN | PACIFIC\OCEANIA | | Rebroadcast |
| 157 | NEWZEALAND | LIFETV LYCA TV NEWZELAND | PACIFIC\OCEANIA | | 6 – 9PM |
| 158 | NICARAGUE | LIFETV ROKU TV NICARAGUE | SOUTH AMERICA | | 6 – 9PM |
| 159 | Nigeria | ABS Abakaliki | Africa | | 6 – 9PM |
| 160 | NIGERIA | AIT ABUJA | NIGERIA | ABUJA | 6 – 9PM |
| 161 | Nigeria | BCA Umuahia | Africa | | 6 – 9PM |
| 162 | NIGERIA | BRTV MAIDUGURI | NIGERIA | | 6 – 9PM |
| 163 | Nigeria | BRTV MAIDUGURI | Africa | | 6 – 9PM |
| 164 | NIGERIA | CRBC CALABAR | NIGERIA | | 6 – 9PM |
| 165 | NIGERIA | EBBS ENUGU | NIGERIA | | 6 – 9PM |
| 166 | NIGERIA | EBS ONITSHA | NIGERIA | | 6 – 9PM |
| 167 | Nigeria | EBS TV Benin | Africa | | 6 – 9PM |
| 168 | NIGERIA | GALAXY TV AKURE | NIGERIA | AKURE | 6 – 9PM |
| 169 | NIGERIA | GALAXY TV IBADAN | NIGERIA | IBADAN | 6 – 9PM |
| 170 | NIGERIA | GALAXY TV LAGOS | NIGERIA | LAGOS | 6 – 9PM |
| 171 | Nigeria | HSM TV Jos | Africa | | 6 – 9PM |
| 172 | NIGERIA | ITV ABUJA | NIGERIA | | 6 – 9PM |
| 173 | Nigeria | ITV Benin | Africa | | 6 – 9PM |
| 174 | NIGERIA | LTV | NIGERIA | LAGOS | 6 – 9PM |
| 175 | Nigeria | MITV | NIGERIA | Lagos | 6 – 9PM |
| 176 | Nigeria | NTA 2 CHANNEL 5 | NIGERIA | Lagos | 6 – 9PM |
| 177 | Nigeria | NTA Abakaliki | Africa | | 6 – 9PM |
| 178 | Nigeria | NTA Gombe | Africa | | 6 – 9PM |
| 179 | Nigeria | NTA Jalingo | Africa | | 6 – 9PM |
| 180 | Nigeria | NTA Umuahia | Africa | | 6 – 9PM |
| 181 | Nigeria | Paradise TV Zambia | Africa | | 6 – 9PM |
| 182 | Nigeria | Pathway TV | Africa | | 6 – 9PM |
| 183 | NIGERIA | RSTV PORT HARCOURT | NIGERIA | | Rebroadcast |
| 184 | Nigeria | STV ABUJA | NIGERIA | Abuja | 6 – 9PM |
| 185 | Nigeria | STV BAYELSA | NIGERIA | Bayelsa | 6 – 9PM |
| 186 | Nigeria | STV BENIN | NIGERIA | Benin City | 6 – 9PM |
| 187 | Nigeria | STV JOS | NIGERIA | Jos | 6 – 9PM |
| 188 | Nigeria | STV LAGOS | NIGERIA | Lagos | 6 – 9PM |
| 189 | Nigeria | STV PORT HARCOURT | NIGERIA | Port Harcourt | 6 – 9PM |
| 190 | Nigeria | TSBS Gembu | Africa | Gembu | 6 – 9PM |
| 191 | Nigeria | TSBS Jalingo | Africa | Jalingo | 6 – 9PM |
| 192 | Nigeria | TTV Taraba | Africa | | 6 – 9PM |
| 193 | NIGERIA | WAZOBIA MAX TV LAGOS | AFRICA | LAGOS | |
| 194 | Nigeria | PRTV Jos | Africa | | Rebroadcast |
| 195 | NIGERIA | BCA UMUAHIA | NIGERIA | | Rebroadcast |
| 196 | NIGERIA | BIRNIN KEBBI | NIGERIA | | Rebroadcast |
| 197 | NIGERIA | BRTV | NIGERIA | | Rebroadcast |
| 198 | NIGERIA | CRBC CALABAR | NIGERIA | | Rebroadcast |
| 199 | NIGERIA | DRTV WARRI | NIGERIA | | Rebroadcast |
| 200 | NIGERIA | HI_IMPACT TV LAGOS | NIGERIA | | Rebroadcast |
| 201 | NIGERIA | ITV ( INDEPENDENT TELEVISION), ABUJA | NIGERIA | | Rebroadcast |
| 202 | NIGERIA | OSBC OSOGBO | NIGERIA | | Rebroadcast |
| 203 | NIGERIA | OSRC AKURE | NIGERIA | | Rebroadcast |
| 204 | NIGERIA | PRTV, Jos | NIGERIA | | Rebroadcast |
| 205 | NIGERIA | RSTV PORT HARCOURT | NIGERIA | | Rebroadcast |
| 206 | NIGERIA | SLBC | NIGERIA | | Rebroadcast |
| 207 | NIGERIA | NTA ABA | NIGERIA | | Rebroadcast |
| 208 | NIGERIA | NTA ABEOKUTA | NIGERIA | | Rebroadcast |
| 209 | NIGERIA | NTA ADO-EKITI | NIGERIA | | Rebroadcast |
| 210 | NIGERIA | NTA AKURE | NIGERIA | | Rebroadcast |
| 211 | NIGERIA | NTA AKWANGA | NIGERIA | | Rebroadcast |
| 212 | NIGERIA | NTA ANKPA | NIGERIA | | Rebroadcast |
| 213 | NIGERIA | NTA ANYIGBA | NIGERIA | | Rebroadcast |
| 214 | NIGERIA | NTA ARGUNGU | NIGERIA | | Rebroadcast |
| 215 | NIGERIA | NTA ASABA | NIGERIA | | Rebroadcast |
| 216 | NIGERIA | NTA AUCHI | NIGERIA | | Rebroadcast |
| 217 | NIGERIA | NTA AWKA | NIGERIA | | Rebroadcast |
| 218 | NIGERIA | NTA AZARE | NIGERIA | | Rebroadcast |
| 219 | NIGERIA | NTA BAUCHI | NIGERIA | | Rebroadcast |
| 220 | NIGERIA | NTA BENIN | NIGERIA | | Rebroadcast |
| 221 | NIGERIA | NTA BIDA | NIGERIA | | Rebroadcast |
| 222 | NIGERIA | NTA BIRNIN-GWARI | NIGERIA | | Rebroadcast |
| 223 | NIGERIA | NTA BIRNIN-KEBBI | NIGERIA | | Rebroadcast |
| 224 | NIGERIA | NTA BIU | NIGERIA | | Rebroadcast |
| 225 | NIGERIA | NTA BRASS | NIGERIA | | Rebroadcast |
| 226 | NIGERIA | NTA CHANNEL 5 ABUJA | NIGERIA | | Rebroadcast |
| 227 | NIGERIA | NTA DAMATURU | NIGERIA | | Rebroadcast |
| 228 | NIGERIA | NTA DAMBATA | NIGERIA | | Rebroadcast |
| 229 | NIGERIA | NTA DARAZO | NIGERIA | | Rebroadcast |
| 230 | NIGERIA | NTA DAURA | NIGERIA | | Rebroadcast |
| 231 | NIGERIA | NTA DUTSE | NIGERIA | | Rebroadcast |
| 232 | NIGERIA | NTA EKET | NIGERIA | | Rebroadcast |
| 233 | NIGERIA | NTA ENUGU | NIGERIA | | Rebroadcast |
| 234 | NIGERIA | NTA FUNTUA | NIGERIA | | Rebroadcast |
| 235 | NIGERIA | NTA GANYE | NIGERIA | | Rebroadcast |
| 236 | NIGERIA | NTA GASHUA | NIGERIA | | Rebroadcast |
| 237 | NIGERIA | NTA GBOKO | NIGERIA | | Rebroadcast |
| 238 | NIGERIA | NTA GEMBU | NIGERIA | | Rebroadcast |
| 239 | NIGERIA | NTA GOMBE | NIGERIA | | Rebroadcast |
| 240 | NIGERIA | NTA GUMEL | NIGERIA | | Rebroadcast |
| 241 | NIGERIA | NTA GUSAU | NIGERIA | | Rebroadcast |
| 242 | NIGERIA | NTA IBADAN | NIGERIA | | Rebroadcast |
| 243 | NIGERIA | NTA IDAH | NIGERIA | | Rebroadcast |
| 244 | NIGERIA | NTA IJEBU-ODE | NIGERIA | | Rebroadcast |
| 245 | NIGERIA | NTA IKARE | NIGERIA | | Rebroadcast |
| 246 | NIGERIA | NTA IKOM | NIGERIA | | Rebroadcast |
| 247 | NIGERIA | NTA ILE-IFE | NIGERIA | | Rebroadcast |
| 248 | NIGERIA | NTA ILORIN | NIGERIA | | Rebroadcast |
| 249 | NIGERIA | NTA IMEKO | NIGERIA | | Rebroadcast |
| 250 | NIGERIA | NTA IRUEKPEN | NIGERIA | | Rebroadcast |
| 251 | NIGERIA | NTA JALINGO | NIGERIA | | Rebroadcast |
| 252 | NIGERIA | NTA JATU | NIGERIA | | Rebroadcast |
| 253 | NIGERIA | NTA JOS | NIGERIA | | Rebroadcast |
| 254 | NIGERIA | NTA K\NAMODA | NIGERIA | | Rebroadcast |
| 255 | NIGERIA | NTA KABBA | NIGERIA | | Rebroadcast |
| 256 | NIGERIA | NTA KADEJIA | NIGERIA | | Rebroadcast |
| 257 | NIGERIA | NTA KADUNA | NIGERIA | | Rebroadcast |
| 258 | NIGERIA | NTA KAFANCHAN | NIGERIA | | Rebroadcast |
| 259 | NIGERIA | NTA KALTUNGO | NIGERIA | | Rebroadcast |
| 260 | NIGERIA | NTA KANO | NIGERIA | | Rebroadcast |
| 261 | NIGERIA | NTA KATSINA | NIGERIA | | Rebroadcast |
| 262 | NIGERIA | NTA KEFFI | NIGERIA | | Rebroadcast |
| 263 | NIGERIA | NTA KONTAGORA | NIGERIA | | Rebroadcast |
| 264 | NIGERIA | NTA KUMO | NIGERIA | | Rebroadcast |
| 265 | NIGERIA | NTA LAFIA | NIGERIA | | Rebroadcast |
| 266 | NIGERIA | NTA LOKOJA | NIGERIA | | Rebroadcast |
| 267 | NIGERIA | NTA MAIDUGURI | NIGERIA | | Rebroadcast |
| 268 | NIGERIA | NTA MAKURDI | NIGERIA | | Rebroadcast |
| 269 | NIGERIA | NTA MINNA | NIGERIA | | Rebroadcast |
| 270 | NIGERIA | NTA MUBI | NIGERIA | | Rebroadcast |
| 271 | NIGERIA | NTA NEW BUSA | NIGERIA | | Rebroadcast |
| 272 | NIGERIA | NTA NUMAN | NIGERIA | | Rebroadcast |
| 273 | NIGERIA | NTA OGBOMOSO | NIGERIA | | Rebroadcast |
| 274 | NIGERIA | NTA OGOJA | NIGERIA | | Rebroadcast |
| 275 | NIGERIA | NTA OKENE | NIGERIA | | Rebroadcast |
| 276 | NIGERIA | NTA OKIGWE | NIGERIA | | Rebroadcast |
| 277 | NIGERIA | NTA OKITIPUPA | NIGERIA | | Rebroadcast |
| 278 | NIGERIA | NTA ONITSHA | NIGERIA | | Rebroadcast |
| 279 | NIGERIA | NTA OSOGBO | NIGERIA | | Rebroadcast |
| 280 | NIGERIA | NTA OTUKPO | NIGERIA | | Rebroadcast |
| 281 | NIGERIA | NTA OWERRI | NIGERIA | | Rebroadcast |
| 282 | NIGERIA | NTA OYO | NIGERIA | | Rebroadcast |
| 283 | NIGERIA | NTA PANKSHIN | NIGERIA | | Rebroadcast |
| 284 | NIGERIA | NTA PATEGI | NIGERIA | | Rebroadcast |
| 285 | NIGERIA | NTA POKISKUM | NIGERIA | | Rebroadcast |
| 286 | NIGERIA | NTA PORT HARCOURT | NIGERIA | | Rebroadcast |
| 287 | NIGERIA | NTA SAPELE | NIGERIA | | Rebroadcast |
| 288 | NIGERIA | NTA SHAKI | NIGERIA | | Rebroadcast |
| 289 | NIGERIA | NTA SHENDAM | NIGERIA | | Rebroadcast |
| 290 | NIGERIA | NTA SOKOTO | NIGERIA | | Rebroadcast |
| 291 | NIGERIA | NTA TAKUM | NIGERIA | | Rebroadcast |
| 292 | NIGERIA | NTA UMUAHIA | NIGERIA | | Rebroadcast |
| 293 | NIGERIA | NTA UYO | NIGERIA | | Rebroadcast |
| 294 | NIGERIA | NTA YENAGOA | NIGERIA | | Rebroadcast |
| 295 | NIGERIA | NTA YOLA | NIGERIA | | Rebroadcast |
| 296 | NIGERIA | NTA ZARIA | NIGERIA | | Rebroadcast |
| 297 | NIGERIA | NTA ZURU | NIGERIA | | Rebroadcast |
| 298 | NORWAY | LIFETV LYCA TV NORWAY | EUROPE | | 6 – 9PM |
| 299 | ONLINE\WEB TV | LOVEWORLD CASA | NIGERIA | | 6 – 9PM |
| 300 | ONLINE\WEB TV | LOVEWORLD EURO | NIGERIA | | 6 – 9PM |
| 301 | ONLINE\WEB TV | LOVEWORLD PACIFIC | NIGERIA | | 6 – 9PM |
| 302 | PANAMA | LIFETV ROKU TV PANAMA | NORTH AMERICA | | 6 – 9PM |
| 303 | PERU | LIFETV ROKU TV PERU | SOUTH AMERICA | | 6 – 9PM |
| 304 | PHILIPPINES | LIFETV BEE IPTV PHILIPPINES | ASIA | | 6 – 9PM |
| 305 | PHILIPPINES | LIFETV LYCA TV PHILIPPINES | ASIA | | 6 – 9PM |
| 306 | PORTUGAL | LIFETV ZAAP TV PORTUGAL | EUROPE | | 6 – 9PM |
| 307 | PORTUGUAL | LIFETV LYCA TV PORTUGAL | EUROPE | | 6 – 9PM |
| 308 | RUSSIA | LIFETV ZAAP TV RUSSIA | EUROPE | | 6 – 9PM |
| 309 | RUSSIA | IVENTOS | EUROPE | | Rebroadcast |
| 310 | Rwanda | Victory TV | Africa | | 6 – 9PM |
| 311 | SA | Cape town tv | Africa | | 6 – 9PM |
| 312 | SCANDINAVIA | LIFETV ZAAP TV SCANDINAVIA | EUROPE | | 6 – 9PM |
| 313 | SERBIA | KBCNET | EUROPE | | Rebroadcast |
| 314 | SERBIA | KDS SURCIN | EUROPE | | Rebroadcast |
| 315 | SERBIA | NET TV PLUS | EUROPE | | Rebroadcast |
| 316 | SERBIA | POSTANET | EUROPE | | Rebroadcast |
| 317 | SERBIA | RADIJUS VEKTOR | EUROPE | | Rebroadcast |
| 318 | SERBIA | TARGO TELEKOM | EUROPE | | Rebroadcast |
| 319 | SERBIA | TIVI.BA | EUROPE | | Rebroadcast |
| 320 | Seychelles | CABLE TV or Telesesel Seychelles | Africa | | 6 – 9PM |
| 321 | Sierra leone | SLBC Sierra leone | Africa | | 6 – 9PM |
| 322 | SINGAPORE | LIFETV BEE IPTV SINGAPORE | ASIA | | 6 – 9PM |
| 323 | SINGAPORE | LIFETV LYCA TV SINGAPORE | ASIA | | 6 – 9PM |
| 324 | SPAIN | LIFETV LYCA TV SPAIN | EUROPE | | 6 – 9PM |
| 325 | SPAIN | LIFETV ZAAP TV SPAIN | EUROPE | | 6 – 9PM |
| 326 | SPAIN | LIFETV ZAAP TV SPAIN | EUROPE | | 6 – 9PM |
| 327 | SPAIN | A1 ESPANA | EUROPE | | Rebroadcast |
| 328 | SPAIN | A1 EXCLUSIVE | EUROPE | | Rebroadcast |
| 329 | SPAIN | A1 MEDIA TV | EUROPE | | Rebroadcast |
| 330 | SPAIN | A1 WORLD | EUROPE | | Rebroadcast |
| 331 | SPAIN | AVAX-NET ABB NASA TV | EUROPE | | Rebroadcast |
| 332 | SPAIN | CANAL 5 CANARY ISLAND | EUROPE | | Rebroadcast |
| 333 | SPAIN | CANAL 7 TV | EUROPE | | Rebroadcast |
| 334 | SPAIN | CHANNEL 11 TV | EUROPE | | Rebroadcast |
| 335 | SPAIN | IPTV OTT I MVDS PLATFORMS | EUROPE | | Rebroadcast |
| 336 | SPAIN | IPTV SEYRET NET | EUROPE | | Rebroadcast |
| 337 | SPAIN | LIFE TV | EUROPE | | Rebroadcast |
| 338 | SPAIN | MAG TV GMBH | EUROPE | | Rebroadcast |
| 339 | Spain | TBN ESPANA | EUROPE | | Rebroadcast |
| 340 | SRI LANKA | LIFETV BEE IPTV SRI LANKA | ASIA | | 6 – 9PM |
| 341 | SRI LANKA | LIFETV LYCA TV SRI LANKA | ASIA | | 6 – 9PM |
| 342 | St. Kitts & Nevis | CARIBBEAN CABLE COMMUNICATIONS TV | NORTH AMERICA | Nevis | 6 – 9PM |
| 343 | St. Kitts & Nevis | THE CABLE TV | NORTH AMERICA | St. Kitts | 6 – 9PM |
| 344 | St. Lucia | HELEN TELEVISION / SPECTRA | NORTH AMERICA | St. Lucia | 6 – 9PM |
| 345 | St. Maarten | ST. MAARTEN CABLE TV | NORTH AMERICA | St. Maarten | 6 – 9PM |
| 346 | SURINAME | UBC TV NETWORK | SOUTH AMERICA | | 6 – 9PM |
| 347 | suriname | UBC TV Suriname | Asia | | 6 – 9PM |
| 348 | SWEDEN | LIFETV LYCA TV SWEDEN | EUROPE | | 6 – 9PM |
| 349 | SWEDEN | OPPNAKANALA SWEDEN | EUROPE | | 6 – 9PM |
| 350 | SWEDEN | PALMIERS TV KOLWEZI | EUROPE | | Rebroadcast |
| 351 | SWITHERLAND | LIFETV LYCA TV SWITHERLAND | EUROPE | | 6 – 9PM |
| 352 | TONGA | Tonga Broadcasting Television | PACIFIC\OCEANIA | | Rebroadcast |
| 353 | TONGA | TONGA BROADCATING TV | PACIFIC\OCEANIA | | 6 – 9PM |
| 354 | Trinidad & Tobago | DIGICEL PLAY | NORTH AMERICA | Trinidad & Tobago | 6 – 9PM |
| 355 | Trinidad & Tobago | PBN (PODIUM BROADCASTING NETWORK TV) | NORTH AMERICA | Trinidad & Tobago | 6 – 9PM |
| 356 | Trinidad & Tobago | TRICO TV | NORTH AMERICA | Trinidad & Tobago | 6 – 9PM |
| 357 | TRINIDAD AND TOBACO | CCNT TV | NORTH AMERICA | | Rebroadcast |
| 358 | TRINIDAD AND TOBACO | PODIUM BROADCASTING NETWORK TV | NORTH AMERICA | | Rebroadcast |
| 359 | TURKEY | NOC TURKIYE | EUROPE | | Rebroadcast |
| 360 | UAE | LIFETV LYCA TV UAE | ASIA | | 6 – 9PM |
| 361 | Uganda | spirit tv | Africa | | 6 – 9PM |
| 362 | UK | ELSHADAI TV | EUROPE | | Rebroadcast |
| 363 | UK | FAITH TV | EUROPE | | Rebroadcast |
| 364 | UK | IPTV FORYOU | EUROPE | | Rebroadcast |
| 365 | UKRAINE | NOVY TV | EUROPE | KIEV | 6 – 9PM |
| 366 | UNITED KINGDOM | LIFETV LYCA TV UNITED KINGDOM | EUROPE | | 6 – 9PM |
| 367 | UNITED STATES | LIFETV LYCA TV UNITED STATES | NORTH AMERICA | | 6 – 9PM |
| 368 | UNITED STATES | LIFETV ROKU TV UNITED STATES | NORTH AMERICA | | 6 – 9PM |
| 369 | USA | BALKAN TV (Internet) | NORTH AMERICA | | Rebroadcast |
| 370 | USA | BOSNA TV (Internet) | NORTH AMERICA | | Rebroadcast |
| 371 | Usa | CABLEVISION TV – OPTIMUM | NORTH AMERICA | Ny, Nj, Ct | 6 – 9PM |
| 372 | | 360 Africa TV South Sudan | Africa | | 6 – 9PM |
| 373 | | BIG J TV INDIA | Asia | | 6 – 9PM |
| 374 | | Broadcasting Corporation (NBC)Namibia | Africa | | 6 – 9PM |
| 375 | | Bulldog Shopping Network | Asia | | 6 – 9PM |
| 376 | | DOT Tv | | | 6 – 9PM |
| 377 | | EEENetwork | Asia | | 6 – 9PM |
| 378 | | EM TV NEW GUINEA | Africa | | 6 – 9PM |
| 379 | | Eternal Life TV Network started on Apstar 7: 3780 V | Asia | | 6 – 9PM |
| 380 | | Eternal Life TV Network started on AsiaSat 7: 3675 V | Asia | | 6 – 9PM |
| 381 | | EVOIPTV (Malta) | Asia | | 6 – 9PM |
| 382 | | Faith TV, UK 1 | Europe | | 6 – 9PM |
| 383 | | Gotel TV | Africa | | 6 – 9PM |
| 384 | | Heavenly Feast TV | Asia | | 6 – 9PM |
| 385 | | Help TV | Africa | | 6 – 9PM |
| 386 | | HolyGod TV France | Europe | | 6 – 9PM |
| 387 | | Impact Tv, India | Asia | | 6 – 9PM |
| 388 | | Isaac TV Pakistan | Asia | | 6 – 9PM |
| 389 | | KILPZOO WEB CHANNEL INDIA | Asia | | 6 – 9PM |
| 390 | | Kirubai tv India | Asia | | 6 – 9PM |
| 391 | | LW Asia | Africa | | 6 – 9PM |
| 392 | | LW Casa | Africa | | 6 – 9PM |
| 393 | | LW Euro | Africa | | 6 – 9PM |
| 394 | | LW Mena | Africa | | 6 – 9PM |
| 395 | | LW Pacifics | Africa | | 6 – 9PM |
| 396 | | Mai Tv Fiji | Asia | | 6 – 9PM |
| 397 | | Mana TV South India | Asia | | 6 – 9PM |
| 398 | | MTM JAMAICA | South America | | 6 – 9PM |
| 399 | | NBS TV ABUJA | | | 6 – 9PM |
| 400 | | NDTV Bayelsa | Africa | | 6 – 9PM |
| 401 | | New Hope tv India | Asia | | 6 – 9PM |
| 402 | | Power Vision Tv | Asia | | 6 – 9PM |
| 403 | | Rapture Broadcasting Network, BAHRAIN | Asia | | 6 – 9PM |
| 404 | | S1 TV on Hotbird 13C | Asia | | 6 – 9PM |
| 405 | | Shubhsandesh TV India | Asia | | 6 – 9PM |
| 406 | | SUPER SCREEN | Africa | | 6 – 9PM |
| 407 | | SWEDEN- Stockholm | Europe | | 6 – 9PM |
| 408 | | TCI ITALY | Europe | | 6 – 9PM |
| 409 | | TeleZüri on Hotbird 13c | Asia | | 6 – 9PM |
| 410 | | Toheed Gospel international (Pakistan) | Asia | | 6 – 9PM |
| 411 | | TV 25 on Hotbird 13c | Asia | | 6 – 9PM |
| 412 | | TV7 on Eutelsat 7 West A | Asia | | 6 – 9PM |
| 413 | | EQUITY TV KEBBI | Africa | | Rebroadcast |
| 414 | | HOLY GOD TV | | | |
| 415 | | BENIE TV | | | |