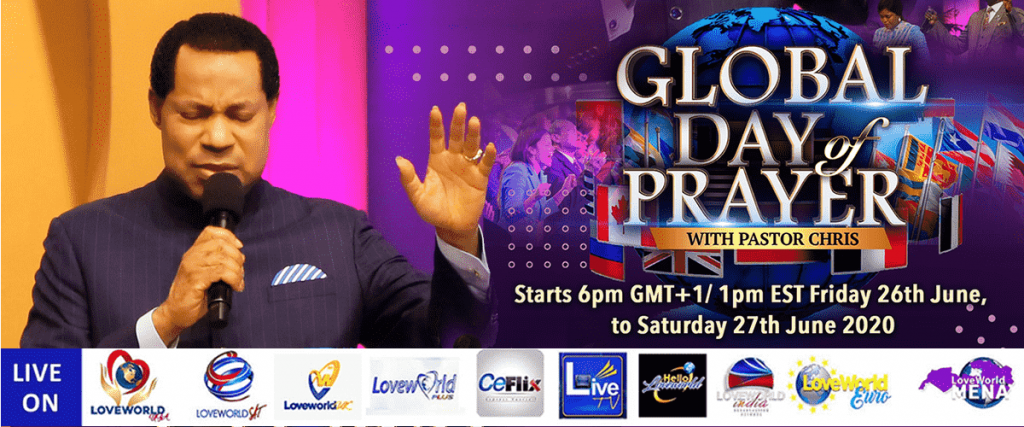 It's time to establish the earth, and celebrate the Name of the Lord in the Nations of the World. Jesus is depending on you to win for your city, state, and country. We have angels attending to us, waiting to take action, and as we Pray and make Decrees, they'll move into our cities, states, and nations and make changes.
It's time to take action, as you join forces with the Man of God Pastor Chris at the Global Day of Prayer from Friday 26th June 2020, by 6 pm GMT +1 to Saturday 27th June 2020.
It'll be streamed live to all the LoveWorld Networks and Web/Mobile platforms.
Participate through your preferred TV, Radio, mobile, or web application/ website/ social media site by making your selection through the tabs below.
God bless you!
Web/Mobile Platforms
Radio Stations
| | | | | | | |
| --- | --- | --- | --- | --- | --- | --- |
| S\N | COUNTRY | NAME OF RADIO STATION | CONTINENT | STATES | START TIME (GMT +1) | END TIME (GMT +1) |
| 1 | AFGHANISTAN | LOVEWORLD RADIO AFGHANISTAN | ASIA | | 6PM | 9PM |
| 2 | AFGHANISTAN | RADIO LIVE | ASIA | | 6PM | 9PM |
| 3 | ALBANIA | LOVEWORLD RADIO ALBANIA | EUROPE | | 6PM | 9PM |
| 4 | ALGERIA | LOVEWORLD RADIO ALGERIA | AFRICA | | 6PM | 9PM |
| 5 | ANGOLA | LOVEWORLD RADIO ANGOLA | AFRICA | | 6PM | 9PM |
| 6 | ARMENIA | LOVEWORLD RADIO ARMENIA | EUROPE | | 6PM | 9PM |
| 7 | AUSTRIA | LOVEWORLD RADIO AUSTRIA | EUROPE | | 6PM | 9PM |
| 8 | AZERBIAJAN | LOVEWORLD RADIO AZERBIAJAN | EUROPE | | 6PM | 9PM |
| 9 | BANGLADESH | LOVEWORLD RADIO BANGLADESH | ASIA | | 6PM | 9PM |
| 10 | BANGUI | LOVEWORLD RADIO BANGUI | ASIA | | 6PM | 9PM |
| 11 | BELARUS | LOVEWORLD RADIO BELARUS | EUROPE | | 6PM | 9PM |
| 12 | BELGIUM | LOVEWORLD RADIO BELGIUM | EUROPE | | 6PM | 9PM |
| 13 | BELIZE | LOVEWORLD BELIZE | ASIA | | 6PM | 9PM |
| 14 | BENIN REPUBLIC | LOVEWORLD RADIO BENIN REPUBLIC | AFRICA | | 6PM | 9PM |
| 15 | BHUTAN | LOVEWORLD RADIO BHUTAN | ASIA | | 6PM | 9PM |
| 16 | BOLIVIA | LOVEWORLD RADIO BOLIVIA | ASIA | | 6PM | 9PM |
| 17 | BOSNIA | LOVEWORLD RADIO BOSNIA AND HERZEGOVINA | EUROPE | | 6PM | 9PM |
| 18 | BOTSWANA | LOVEWORLD RADIO BOTSWANA | AFRICA | | 6PM | 9PM |
| 19 | BULGARIA | LOVEWORLD RADIO BULGARIA | EUROPE | | 6PM | 9PM |
| 20 | BURKINA FASO | LOVEWORLD RADIO BURKINA FASO | AFRICA | | 6PM | 9PM |
| 21 | BURUNDI | LOVEWORLD RADIO BURUNDI | AFRICA | | 6PM | 9PM |
| 22 | CALABAR | CRBC RADIO IKOM | NIGERIA | | 6PM | 9PM |
| 23 | CALABAR | HIT FM 95.9 | NIGERIA | | 6PM | 9PM |
| 24 | CAMEROON | MBCI | AFRICA | | 6PM | 9PM |
| 25 | CAMEROON | NKONGSAMBA FM | AFRICA | | 6PM | 9PM |
| 26 | CAMEROON | OCITY RADIO KUMBA | AFRICA | | 6PM | 9PM |
| 27 | CAMEROON | RADIO RUSH FM | AFRICA | | 6PM | 6PM |
| 28 | CAMEROON | SANTA METEO RADIO | AFRICA | | 6PM | 9PM |
| 29 | CAMEROUN | LOVEWORLD RADIO CAMEROON | AFRICA | | 6PM | 9PM |
| 30 | CAPE VERDE | LOVEWORLD RADIO CAPE VERDE | AFRICA | | 6PM | 9PM |
| 31 | CAREMEROON | GOSPEL TRUTH | AFRICA | | 6PM | 9PM |
| 32 | CARMEROON | DUMA FM | AFRICA | | 6PM | 9PM |
| 33 | CARMEROON | DUNAMIS FM | AFRICA | BAMENDA | 6PM | 9PM |
| 34 | CARMEROON | MEDIAFRIQUE BUEA | AFRICA | BAMENDA | 6PM | 9PM |
| 35 | CARMEROON | NDEFCAM RADIO | AFRICA | BAMENDA | 6PM | 9PM |
| 36 | CARMEROON | RADIO BONNE NOUVELLE | AFRICA | | 6PM | 9PM |
| 37 | CARMEROON | RADIO DUNAMIS | AFRICA | | 6PM | 9PM |
| 38 | CARMEROON | RADIO ELLF' FM | AFRICA | DOULA | 6PM | 9PM |
| 39 | CARMEROON | RADIO HOTCOCOA | AFRICA | BAMENDA | 6PM | 9PM |
| 40 | CARMEROON | RADIO VIE NOUVELLE | AFRICA | DOULA | 6PM | 9PM |
| 41 | CARMEROON | RBN FM | AFRICA | DOULA | 6PM | 9PM |
| 42 | CENTRAL AFRICAN REPUBLIC | LOVEWORLD RADIO CENTRAL AFRICA2 | AFRICA | | 6PM | 9PM |
| 43 | CHAD | LOVEWORLD RADIO CHAD | AFRICA | | 6PM | 9PM |
| 44 | CHAD | RADIO OXYGENE | AFRICA | | 6PM | 9PM |
| 45 | CHINA | LOVEWORLD RADIO CHINA | ASIA | | 6PM | 9PM |
| 46 | COMOROS | LOVEWORLD RADIO COMOROS | ASIA | | 6PM | 9PM |
| 47 | CONGO | LOVEWORLD RADIO DRC CONGO | AFRICA | | 6PM | 9PM |
| 48 | CONGO | LOVEWORLD RADIO LINGALA | AFRICA | | 6PM | 9PM |
| 49 | CONGO | LOVEWORLD RADIO TSHILUBA | AFRICA | | 6PM | 9PM |
| 50 | CONGO DR | LOVEWORLD RADIO KIKONGO | AFRICA | | 6PM | 9PM |
| 51 | CONGO REPUBLIC | LOVEWORLD RADIO CONGO BRAZZA | AFRICA | | 6PM | 9PM |
| 52 | COTE D'IVOIRE | LOVEWORLD RADIO COTE D'IVOIRE | AFRICA | | 6PM | 9PM |
| 53 | CROATIA | LOVEWORLD RADIO CROATIA | EUROPE | | 6PM | 9PM |
| 54 | CROSS RIVER | LOVEWORLD RADIO CROSS RIVER | NIGERIA | | 6PM | 9PM |
| 55 | CYPRUS | LOVEWORLD RADIO CYPRUS | EUROPE | | 6PM | 9PM |
| 56 | DENMARK | LOVEWORLD RADIO DENMARK | EUROPE | | 6PM | 9PM |
| 57 | DJIBOUTI | LOVEWORLD RADIO DJIBOUTI | AFRICA | | 6PM | 9PM |
| 58 | EAST AFRICA | LOVEWORLD RADIO SWAHILI | AFRICA | | 6PM | 9PM |
| 59 | EGYPT | LOVEWORLD RADIO EGYPT | AFRICA | | 6PM | 9PM |
| 60 | EGYPT | RADIO LIVE | AFRICA | | 6PM | 9PM |
| 61 | EQUITORIA GUINEA | LOVEWORLD RADIO EQUATORIAL GUINEA | AFRICA | | 6PM | 9PM |
| 62 | ESTONIA | LOVEWORLD RADIO ESTONIA | EUROPE | | 6PM | 9PM |
| 63 | ETHIOPIAS | LOVEWORLD RADIO ETHIOPIA | AFRICA | | 6PM | 9PM |
| 64 | FIJI | LOVEWORLD RADIO FIJI | ASIA | | 6PM | 9PM |
| 65 | FINLAND | LOVEWORLD RADIO FINLAND | EUROPE | | 6PM | 9PM |
| 66 | FRANCE | LOVEWORLD RADIO FRANCE | EUROPE | | 6PM | 9PM |
| 67 | FRANCO AFRICA | LOVEWORLD RADIO FRANCOPHONE | AFRICA | | 6PM | 9PM |
| 68 | GABON | LOVEWORLD RADIO GABON | AFRICA | | 6PM | 9PM |
| 69 | GAMBIA | LOVEWORLD RADIO GAMBIA | AFRICA | | 6PM | 9PM |
| 70 | GAMBIA | WESTCOAST RADIO | AFRICA | | 6PM | 9PM |
| 71 | GEORGIA | LOVEWORLD RADIO GEORGIA | ASIA | | 6PM | 9PM |
| 72 | GERMANY | ALL4J RADIO | EUROPE | | 6PM | 9PM |
| 73 | GERMANY | ALL4J RADIO (WOLFSBURG) | EUROPE | | 6PM | 9PM |
| 74 | GERMANY | ALL4J RADIO (DORTMUND) | EUROPE | | 6PM | 9PM |
| 75 | GERMANY | ALL4J RADIO (DUSSELDORF)) | EUROPE | | 6PM | 9PM |
| 76 | GERMANY | ALL4J RADIO (FRANKFURT) | EUROPE | | 6PM | 9PM |
| 77 | GERMANY | ALL4J RADIO (HAMBRUG) | EUROPE | | 6PM | 9PM |
| 78 | GERMANY | ALL4J RADIO (STUTTGART) | EUROPE | | 6PM | 9PM |
| 79 | GERMANY | ALL4J RADIO (BREMEN) | EUROPE | | 6PM | 9PM |
| 80 | GERMANY | ALL4J RADIO (COLOGNE) | EUROPE | | 6PM | 9PM |
| 81 | GERMANY | LOVEWORLD RADIO GERMAN | EUROPE | | 6PM | 9PM |
| 82 | GHANA | AKYEMAN FM | AFRICA | | 6PM | 9PM |
| 83 | GHANA | ANKOBRA FM, FOX FM, PARAGON FM | AFRICA | | 6PM | 6PM |
| 84 | GHANA | BISHARA RADIO PAD FM | AFRICA | | 6PM | 9PM |
| 85 | GHANA | CLASSIC FM | AFRICA | | 6PM | 9PM |
| 86 | GHANA | CONNECT FM | AFRICA | | 6PM | 9PM |
| 87 | GHANA | DARLING FM | AFRICA | | 6PM | 9PM |
| 88 | GHANA | DINPA AHANTA | AFRICA | | 7PM | 9PM |
| 89 | GHANA | FREEDOM FM | AFRICA | | 6PM | 9PM |
| 90 | GHANA | GOOD LIFE FM | AFRICA | | 6PM | 9PM |
| 91 | GHANA | GOODNEWS FM | AFRICA | | 6PM | 9M001 |
| 92 | GHANA | HOME RADIO | AFRICA | | 6PM | 9PM |
| 93 | GHANA | HOPE FM | AFRICA | | 6PM | 9PM |
| 94 | GHANA | JUBILEE RADIO | AFRICA | | 6PM | 9PM |
| 95 | GHANA | KINGDOM FM | AFRICA | | 6PM | 9PM |
| 96 | GHANA | KUUL FM | AFRICA | | 6PM | 9PM |
| 97 | GHANA | LOVEWORLD RADIO GHANA | AFRICA | | 6PM | 9PM |
| 98 | GHANA | MOONLIGHT FM | AFRICA | | 6PM | 9PM |
| 99 | GHANA | OFFIE FM | AFRICA | | 6PM | 9PM |
| 100 | GHANA | OKWAWU FM | AFRICA | | 6PM | 9PM |
| 101 | GHANA | OKYEAME RADIO | AFRICA | | 6PM | 9PM |
| 102 | GHANA | RITE FM | AFRICA | | 6PM | 9PM |
| 103 | GHANA | TOP RADIO | AFRICA | | 6PM | 8PM |
| 104 | GHANA | TOUCH FM | AFRICA | | 6PM | 9PM |
| 105 | GHANA | VOLTA PREMIER FM | AFRICA | | 6PM | 9PM |
| 106 | GHANA | WFM RADIO | AFRICA | | 6PM | 9PM |
| 107 | GLOBAL | LOVEWORLD INTERNET RADIO | NIGERIA | ONLINE | 6PM | 9PM |
| 108 | GOMBE | LOVEWORLD RADIO GOMBE | NIGERIA | | 6PM | 9PM |
| 109 | GREECE | LOVEWORLD RADIO GREECE | EUROPE | | 6PM | 9PM |
| 110 | GUINEA BISSAU | LOVEWORLD GUINEA BISSAU | AFRICA | | 6PM | 9PM |
| 111 | GUINEA BISSAU | LOVEWORLD HEALTH RADIO | AFRICA | | 6PM | 9PM |
| 112 | GUINEA CONAKRY | LOVEWORLD RADIO GUINEA CONAKRY | AFRICA | | 6PM | 9PM |
| 113 | HUNGARY | LOVEWORLD RADIO HUNGARY | EUROPE | | 6PM | 9PM |
| 114 | ICELAND | LOVEWORLD RADIO ICELAND | EUROPE | | 6PM | 9PM |
| 115 | INDIA | LOVEWORLD RADIO INDIA | ASIA | | 6PM | 9PM |
| 116 | INDIA | RADIO LIVE | ASIA | | 6PM | 9PM |
| 117 | INDONESIA | LOVEWORLD RADIO INDONESIA | ASIA | | 6PM | 9PM |
| 118 | IRAN | LOVEWORLD RADIO IRAN | ASIA | | 6PM | 9PM |
| 119 | IRAQ | LOVEWORLD RADIO IRAQ | ASIA | | 6PM | 9PM |
| 120 | IRELAND | LOVEWORLD RADIO IRELAND | EUROPE | | 6PM | 9PM |
| 121 | ISRAEL | LOVEWORLD RADIO ISRAEL | ASIA | | 6PM | 9PM |
| 122 | ITALY | LOVEWORLD RADIO ITALY | EUROPE | | 6PM | 9PM |
| 123 | JAPAN | LOVEWORLD RADIO JAPAN | ASIA | | 6PM | 9PM |
| 124 | JORDAN | LOVEWORLD RADIO JORDAN | ASIA | | 6PM | 9PM |
| 125 | KAZAKHSTAN | LOVEWORLD RADIO KAZAKHSTAN | ASIA | | 6PM | 9PM |
| 126 | KENYA | LOVEWORLD RADIO KENYA | AFRICA | | 6PM | 9PM |
| 127 | KENYA | PAMOJA RADIO | AFRICA | | 6PM | 9PM |
| 128 | KOSOVO | LOVEWORLD RADIO KOSOVO | EUROPE | | 6PM | 9PM |
| 129 | KOSOVO | LOVEWORLD RADIO KOSOVO | EUROPE | | 6PM | 9PM |
| 130 | KURDISTAN | LOVEWORLD RADIO KURDISTAN | ASIA | | 6PM | 9PM |
| 131 | KUWAIT | LOVEWORLD RADIO KUWAIT | ASIA | | 6PM | 9PM |
| 132 | KUWAIT | RADIO LIVE | ASIA | | 6PM | 9PM |
| 133 | KYRGYZSTAN | LOVEWORLD RADIO KYRGYZSTAN | ASIA | | 6PM | 9PM |
| 134 | LAOS | LOVEWORLD RADIO LAOS | ASIA | | 6PM | 9PM |
| 135 | LATVIA | LOVEWORLD RADIO LATVIA | EUROPE | | 6PM | 9PM |
| 136 | LEBANON | LOVEWORLD RADIO LEBANON | ASIA | | 6PM | 9PM |
| 137 | LESOTHO | LOVEWORLD RADIO LESOTHO | AFRICA | | 6PM | 9PM |
| 138 | LIBERIA | LOVEWORLD RADIO LIBERIA | AFRICA | | 6PM | 9PM |
| 139 | LIBYA | LOVEWORLD RADIO LIBYA | AFRICA | | 6PM | 9PM |
| 140 | LIBYA | RADIO LIVE | AFRICA | | 6PM | 9PM |
| 141 | LIECHTENSTEIN | LOVEWORLD RADIO LIECHTENSTEIN | EUROPE | | 6PM | 9PM |
| 142 | LITHUANIA | LOVEWORLD RADIO LITHUANIA | EUROPE | | 6PM | 9PM |
| 143 | LUXEMBOURG | LOVEWORLD RADIO LUXEMBOURG | EUROPE | | 6PM | 9PM |
| 144 | MACEDONIA | LOVEWORLD RADIO MACEDONIA | EUROPE | | 6PM | 9PM |
| 145 | MADAGASCAR | LOVEWORLD RADIO MADAGASCAR | AFRICA | | 6PM | 9PM |
| 146 | MALAWI | LOVEWORLD RADIO MALAWI | AFRICA | | 6PM | 9PM |
| 147 | MALAWI | TEVENI RADIO | AFRICA | | 6PM | 9PM |
| 148 | MALAYSIA | LOVEWORLD RADIO MALAYSIA | ASIA | | 6PM | 9PM |
| 149 | MALDIVES | LOVEWORLD RADIO MALDIVES | ASIA | | 6PM | 9PM |
| 150 | MALI | LOVEWORLD RADIO MALI | AFRICA | | 6PM | 9PM |
| 151 | MALTA | LOVEWORLD RADIO MALTA | EUROPE | | 6PM | 9PM |
| 152 | MARSHALL ISLAND | LOVEWORLD RADIO MARSHALL ISLAND | EUROPE | | 6PM | 9PM |
| 153 | MAURITANIA | LOVEWORLD RADIO MAURITANIA | AFRICA | | 6PM | 9PM |
| 154 | MAURITIUS | LOVEWORLD RADIO MAURITIUS | AFRICA | | 6PM | 9PM |
| 155 | MAYOTTE ISLAND FRANCE | LOVEWORLD RADIO MAYOTTE | EUROPE | | 6PM | 9PM |
| 156 | MICRONESIA | LOVEWORLD RADIO MICRONESIA | ASIA | | 6PM | 9PM |
| 157 | MOLDOVA | LOVEWORLD RADIO MOLDOVA | EUROPE | | 6PM | 9PM |
| 158 | MONACO SPAIN | LOVEWORLD RADIO MONACO | EUROPE | | 6PM | 9PM |
| 159 | MONGOLIA | LOVEWORLD RADIO MONGOLIA | ASIA | | 6PM | 9PM |
| 160 | MONTENEGRO | LOVEWORLD RADIO MONTENEGRO | EUROPE | | 6PM | 9PM |
| 161 | MOROCCO | LOVEWORLD RADIO MOROCCO | AFRICA | | 6PM | 9PM |
| 162 | MOZAMBIQUE | LOVEWORLD RADIO MOZAMBIQUE | AFRICA | | 6PM | 9PM |
| 163 | MYANMAR | LOVEWORLD RADIO MYANMAR | ASIA | | 6PM | 9PM |
| 164 | NAMIBIA | LOVEWORLD RADIO NAMIBIA | AFRICA | | 6PM | 9PM |
| 165 | NAURU | LOVEWORLD RADIO NAURU | ASIA | | 6PM | 9PM |
| 166 | NETHERLAND | LOVEWORLD RADIO NETHERLAND | EUROPE | | 6PM | 9PM |
| 167 | NEW GUINEA | IN TOUCH MEDIA LIMITED | AFRICA | | 6pm | 9pm |
| 168 | NIGER | LOVEWORLD RADIO NIGER | AFRICA | | 6PM | 9PM |
| 169 | NIGERIA | ABS ONITSHA | NIGERIA | ONITSHA | 6PM | 9PM |
| 170 | NIGERIA | AMEN RADIO | NIGERIA | | 6PM | 9PM |
| 171 | NIGERIA | ATLANTIC FM | NIGERIA | UYO_AKWA IBOM | 6PM | 9PM |
| 172 | NIGERIA | AYOBA FM | NIGERIA | EKITI | 6PM | 9PM |
| 173 | Nigeria | Bishop Chikancy Comedy FM | NIGERIA | | 6PM | 9PM |
| 174 | Nigeria | Blue Elite Radio | NIGERIA | | 6PM | 9PM |
| 175 | Nigeria | BLW Prayer Network Radio | NIGERIA | | 6PM | 9PM |
| 176 | NIGERIA | BORNO RADIO | NIGERIA | | 6PM | 9PM |
| 177 | NIGERIA | BRIDGE FM | NIGERIA | ASABA | 6PM | 9PM |
| 178 | NIGERIA | BRILLA FM | NIGERIA | ONITSHA | 6PM | 9PM |
| 179 | NIGERIA | BRONZE FM | NIGERIA | EDO_BENIN | 6PM | 9PM |
| 180 | NIGERIA | BUZZ FM | NIGERIA | | RE-BROADCAST | RE-BROADCAST |
| 181 | NIGERIA | CHARITY FM | NIGERIA | ASABA | 6PM | 9PM |
| 182 | NIGERIA | CHOICE FM | NIGERIA | LAGOS | 6PM | 9PM |
| 183 | NIGERIA | CITY FM | NIGERIA | | 6PM | 9PM |
| 184 | NIGERIA | COAL CITY FM | NIGERIA | ENUGU | 6PM | 9PM |
| 185 | NIGERIA | COMFORT FM | NIGERIA | UYO_AKWA IBOM | RE-BROADCAST | RE-BROADCAST |
| 186 | NIGERIA | COMPANION FM | NIGERIA | KATSINA | 6PM | 9PM |
| 187 | NIGERIA | COOL FM | NIGERIA | ABUJA | 6PM | 9PM |
| 188 | NIGERIA | CREEK FM | NIGERIA | YENAGOA | 6PM | 9PM |
| 189 | NIGERIA | CROWN FM | NIGERIA | WARRI | 6PM | 9PM |
| 190 | NIGERIA | EBS FM | NIGERIA | EDO_BENIN | 8PM | 9PM |
| 191 | NIGERIA | EQULITY FM | NIGERIA | BIRNIN KEBBI | 6PM | 9PM |
| 192 | NIGERIA | GARDEN CITY 89.9 | NIGERIA | PH | 6PM | 9PM |
| 193 | NIGERIA | GIFTFM | NIGERIA | JALINGO | 6PM | 9PM |
| 194 | NIGERIA | GLOBE FM | NIGERIA | YOLA | 6PM | 9PM |
| 195 | NIGERIA | GLORY FM | NIGERIA | BAYELSA | 6PM | 9PM |
| 196 | NIGERIA | GOSPEL MINDS RADIO | NIGERIA | | 6PM | 9PM |
| 197 | NIGERIA | GOSPEL NAIJIA | NIGERIA | | 6PM | 9PM |
| 198 | NIGERIA | GOSPTRAINMENT | NIGERIA | | 6PM | 9PM |
| 199 | NIGERIA | HARMONY FM | NIGERIA | IDOFIAN | 6PM | 9PM |
| 200 | NIGERIA | HARVEST FM | NIGERIA | MAKURDI | 6PM | 9PM |
| 201 | NIGERIA | HEARTLAND FM | NIGERIA | OWERRI | 6PM | 9PM |
| 202 | NIGERIA | HIGHLAND FM | NIGERIA | JOS | 6PM | 9PM |
| 203 | NIGERIA | HORIZON FM | NIGERIA | DUTSE | 6PM | 9PM |
| 204 | NIGERIA | INSPIRATION EKET | NIGERIA | EKET | 6PM | 9PM |
| 205 | NIGERIA | ISM RADIO NETWORK | NIGERIA | | 6PM | 9PM |
| 206 | NIGERIA | JEWEL FM | NIGERIA | GOMBE | 6PM | 9PM |
| 207 | NIGERIA | KAPITAL FM | NIGERIA | ABUJA | 6PM | 9PM |
| 208 | NIGERIA | KISS FM | NIGERIA | ABUJA | 6PM | 9PM |
| 209 | NIGERIA | LIGHT HOUSE FM | NIGERIA | MAIDUGURI | 6PM | 9PM |
| 210 | NIGERIA | LOVE FM | NIGERIA | ABUJA | 6PM | 9PM |
| 211 | NIGERIA | LOVEWORLD RADIO COAL CITY | NIGERIA | | 6PM | 9PM |
| 212 | NIGERIA | LOVEWORLD RADIO HAUSA | NIGERIA | | 6PM | 9PM |
| 213 | NIGERIA | LOVEWORLD RADIO MINNA | NIGERIA | | 6PM | 9PM |
| 214 | NIGERIA | LOVEWORLD RADIO NIGER DELTA | NIGERIA | | 6PM | 9PM |
| 215 | NIGERIA | LOVEWORLD RADIO UGHELLI | NIGERIA | | 6PM | 9PM |
| 216 | NIGERIA | LOVEWORLD RADIO WARRI | NIGERIA | | 6PM | 9PM |
| 217 | NIGERIA | RAYPOWER ADAMAWA | NIGERIA | ADAMAWA | 6PM | 8PM |
| 218 | NIGERIA | RAYPOWER AKURE | NIGERIA | AKURE | | |
| 219 | NIGERIA | RAYPOWER FM ABUJA | NIGERIA | ABUJA | | |
| 220 | NIGERIA | RAYPOWER FM BAYELSA | NIGERIA | BAYELSA | | |
| 221 | NIGERIA | RAYPOWER FM BENIN | NIGERIA | BENIN | | |
| 222 | NIGERIA | RAYPOWER FM KADUNA | NIGERIA | KADUNA | | |
| 223 | NIGERIA | RAYPOWER FM KANO | NIGERIA | KANO | | |
| 224 | NIGERIA | RAYPOWER FM LAGOS | NIGERIA | LAGOS | | |
| 225 | NIGERIA | RAYPOWER FM OYO | NIGERIA | OYO | | |
| 226 | NIGERIA | RAYPOWER FM PH | NIGERIA | PH | | |
| 227 | NIGERIA | RAYPOWER GOMBE | NIGERIA | GOMBE | | |
| 228 | NIGERIA | RAYPOWER KATSINA | NIGERIA | KATSINA | | |
| 229 | NIGERIA | RAYPOWER OSOGBO | NIGERIA | OSOGBO | | |
| 230 | NIGERIA | RAYPOWER YOBE | NIGERIA | YOBE | | |
| 231 | NIGERIA | GOLDFM | NIGERIA | ILESHA | 6PM | 9PM |
| 232 | NORTH KOREA | LOVEWORLD RADIO KOREA NORTH | ASIA | | 6PM | 9PM |
| 233 | NORWAY | LOVEWORLD RADIO NORWAY | EUROPE | | 6PM | 9PM |
| 234 | OMAN | LOVEWORLD RADIO OMAN | ASIA | | 6PM | 9PM |
| 235 | OMAN | RADIO LIVE | ASIA | | 6PM | 9PM |
| 236 | ONLINE | LOVEWORLD 360 MIX | NIGERIA | ONLINE | 6PM | 9PM |
| 237 | PAKISTAN | LOVEWORLD RADIO PAKISTAN | ASIA | | 6PM | 9PM |
| 238 | PAKISTAN | RADIO LIVE | ASIA | | 6PM | 9PM |
| 239 | PALAU | LOVEWORLD RADIO PALAU | ASIA | | 6PM | 9PM |
| 240 | PAPUA NEW GUINEA | LOVEWORLD RADIO PAPUA NEW GUINEA | ASIA | | 6PM | 9PM |
| 241 | PHILIPPINES | LOVEWORLD RADIO PHILIPPINES | ASIA | | 6PM | 9PM |
| 242 | POLAND | LOVEWORLD RADIO POLAND | EUROPE | | 6PM | 9PM |
| 243 | PORTUGAL | LOVEWORLD RADIO PORTUGAL | EUROPE | | 6PM | 9PM |
| 244 | QUATAR | LOVEWORLD RADIO QATAR | ASIA | | 6PM | 9PM |
| 245 | QUATAR | LOVEWORLD RADIO REUNION | ASIA | | 6PM | 9PM |
| 246 | RUSSIA | LOVEWORLD RADIO RUSSIA | EUROPE | | 6PM | 9PM |
| 247 | RWANDA | LOVEWORLD RADIO RWANDA | AFRICA | | 6PM | 9PM |
| 248 | RWANDA | RWANDA FM | AFRICA | | 6PM | 9PM |
| 249 | RWANDA | UMUCYO FM | AFRICA | | 6PM | 9PM |
| 250 | SAMOA | LOVEWORLD RADIO SAMOA | ASIA | | 6PM | 9PM |
| 251 | SAO TOME & PRINCIPE | LOVEWORLD RADIO SAO TOME AND PRINCIPE | AFRICA | | 6PM | 9PM |
| 252 | SAUDI ARABIA | LOVEWORLD SAUDI ARABIA | ASIA | | 6PM | 9PM |
| 253 | SENEGAL | LOVEWORLD SENEGAL | AFRICA | | 6PM | 9PM |
| 254 | SERBIA | LOVEWORLD RADIO SERBIA | EUROPE | | 6PM | 9PM |
| 255 | SEYCHELLES | LOVEWORLD RADIO SEYCHELLES | AFRICA | | 6PM | 9PM |
| 256 | SIBERIA | LOVEWORLD RADIO SIBERIA | EUROPE | | 6PM | 9PM |
| 257 | SIERRA LEONE | AYV RADIO | AFRICA | SIERRA LEONE | 6PM | 9PM |
| 258 | SIERRA LEONE | BBN RADIO | AFRICA | SIERRA LEONE | 6PM | 9PM |
| 259 | SIERRA LEONE | CITIZENS RADIO | AFRICA | SIERRA LEONE | 6PM | 9PM |
| 260 | SIERRA LEONE | KISS RADIO | AFRICA | SIERRA LEONE | 6PM | 9PM |
| 261 | SIERRA LEONE | NEW SONG RADIO | AFRICA | SIERRA LEONE | 6PM | 9PM |
| 262 | SIERRA LEONE | RADIO MANKENEH | AFRICA | SIERRA LEONE | 6PM | 9PM |
| 263 | SIERRA LEONE | SLBC RADIO | AFRICA | SIERRA LEONE | 6PM | 9PM |
| 264 | SIERRA LEONE | SMILE RADIO | AFRICA | SIERRA LEONE | 6PM | 9PM |
| 265 | SIERRA LEONE | TUNAC RADIO | AFRICA | SIERRA LEONE | 6PM | 9PM |
| 266 | SIERRA LEONE | VOICE OF FAITH RADIO | AFRICA | SIERRA LEONE | 6PM | 9PM |
| 267 | SINGAPORE | LOVEWORLD RADIO SINGAPORE | ASIA | | 6PM | 9PM |
| 268 | SLOVAKIA | LOVEWORLD RADIO SLOVAKIA | EUROPE | | 6PM | 9PM |
| 269 | SOMALIA | LOVEWORLD RADIO SOMALIA | AFRICA | | 6PM | 9PM |
| 270 | SOUTH AFRICA | ALEX FM | AFRICA | | 6PM | 9PM |
| 271 | SOUTH AFRICA | BONAJALA | AFRICA | | 6PM | 9PM |
| 272 | SOUTH AFRICA | COSMO FM | AFRICA | | 6PM | 9PM |
| 273 | SOUTH AFRICA | MDANYSANE FM | AFRICA | | 6PM | 9PM |
| 274 | SOUTH AFRICA | MUSINA FM | AFRICA | | 6PM | 9PM |
| 275 | SOUTH AFRICA | PORT ELIZABETH FM | AFRICA | | 6PM | 9PM |
| 276 | SOUTH AFRICA | REVIVAL FM | AFRICA | SOUTH AFRICA | 6PM | 9PM |
| 277 | SOUTH AFRICA | WESTSIDE FM | AFRICA | | 6PM | 9PM |
| 278 | SOUTH SUDAN | CITY FM JUBA1 | AFRICA | SOUTH SUDAN | 6PM | 9PM |
| 279 | SOUTH SUDAN | FAVOUR FM | AFRICA | | 7PM | 9PM |
| 280 | SOUTH SUDAN | JUBA1 FM | AFRICA | | 6PM | 9PM |
| 281 | SOUTH SUDAN | LOVEWORLD RADIO SOUTH SUDAN | AFRICA | | 6PM | 9PM |
| 282 | SOUTH SUDAN | SAMA FM | AFRICA | SOUTH SUDAN | 6PM | 9PM |
| 283 | SPAIN | LOVEWORLD RADIO ESPANA | EUROPE | | 6PM | 9PM |
| 284 | SPAIN | LOVEWORLD RADIO SPAIN | EUROPE | | 6PM | 9PM |
| 285 | SRILANKA | LOVEWORLD RADIO SRILANKA | ASIA | | 6PM | 9PM |
| 286 | SUDAN | LOVEWORLD RADIO SUDAN | AFRICA | | 6PM | 9PM |
| 287 | SURINAME | LOVEWORLD RADIO SURINAME | ASIA | | 6PM | 9PM |
| 288 | SWAZILAND | LOVEWORLD RADIO SWAZILAND | AFRICA | | 6PM | 9PM |
| 289 | SWAZILAND | LOVEWORLD RADIO SWISS | AFRICA | | 6PM | 9PM |
| 290 | SYRIA | LOVEWORLD RADIO SYRIA | ASIA | | 6PM | 9PM |
| 291 | SYRIA | RADIO LIVE | ASIA | | 6PM | 9PM |
| 292 | TAIWAN | LOVEWORLD RADIO TAIWAN | ASIA | | 6PM | 9PM |
| 293 | TAJIKISTAN | LOVEWORLD RADIO TAJIKISTAN | ASIA | | 6PM | 9PM |
| 294 | TANZAIA | EAST AFRICA RADIO | AFRICA | | 6PM | 9PM |
| 295 | TANZAIA | LOVEWORLD RADIO TANZANIA | AFRICA | | 6PM | 9PM |
| 296 | THAILAND | LOVEWORLD RADIO THAILAND | ASIA | | 6PM | 9PM |
| 297 | TIMOR | LOVEWORLD EAST TIMOR | ASIA | | 6PM | 9PM |
| 298 | TOGO | FREQUENCY 1 | AFRICA | | 6PM | 9PM |
| 299 | TONGA | Leo Motu'Onga Ofa – Tonga | ASIA | | 6PM | 9PM |
| 300 | TONGA | LOVEWORLD RADIO TONGA | ASIA | | 6PM | 9PM |
| 301 | TURKEY | LOVEWORLD RADIO TURKEY | ASIA | | 6PM | 9PM |
| 302 | TURKMENISTAN | LOVEWORLD RADIO TURKMENISTAN | ASIA | | 6PM | 9PM |
| 303 | UAE | LOVEWORLD RADIO UNITED ARAB EMIRATES | ASIA | | 6PM | 9PM |
| 304 | UGANDA | 11 FM | AFRICA | | 6pPM | 9PM |
| 305 | UGANDA | ACCES FM | AFRICA | | 6PM | 9PM |
| 306 | UGANDA | AXIS FM | AFRICA | UGANDA | 6PM | 9PM |
| 307 | UGANDA | BEAT FM | AFRICA | | 6PM | 9PM |
| 308 | UGANDA | BIG FM | AFRICA | | 6PM | 9PM |
| 309 | UGANDA | CONTINENTAL FM | AFRICA | | 6PM | 6PM |
| 310 | UGANDA | DAUDA FM | AFRICA | UGANDA | 6PM | 9PM |
| 311 | UGANDA | EJJAZ | AFRICA | | 7PM | 9PM |
| 312 | UGANDA | ELGO FM | AFRICA | | 6PM | 9PM |
| 313 | UGANDA | ELGON RADIO | AFRICA | UGANDA | 6PM | 9PM |
| 314 | UGANDA | ETOP | AFRICA | | 6PM | 9PM |
| 315 | UGANDA | FAITH FM | AFRICA | UGANDA | 6PM | 9PM |
| 316 | UGANDA | FAMILY RADIO | AFRICA | | 6PM | 9PM |
| 317 | UGANDA | FAVOR FM | AFRICA | | 7PM | 9PM |
| 318 | UGANDA | GRACE FM | AFRICA | UGANDA | 6PM | 9PM |
| 319 | UGANDA | HUNTER FM | AFRICA | | 6PM | 9PM |
| 320 | UGANDA | IMPACT FM | AFRICA | | 6PM | 9PM |
| 321 | UGANDA | JOGO FM | AFRICA | UGANDA | 6PM | 9PM |
| 322 | UGANDA | KIDANDA FM | AFRICA | | 6PM | 9PM |
| 323 | UGANDA | KIRA FM | AFRICA | | 6pm | 9pm |
| 324 | UGANDA | KIRYANDONGO FM | AFRICA | | 6PM | 9PM |
| 325 | UGANDA | KISORO | AFRICA | | 6PM | 9PM |
| 326 | UGANDA | KTR FM | AFRICA | UGANDA | 6PM | 9PM |
| 327 | UGANDA | LOVEWORLD RADIO UGANDA | AFRICA | | 6PM | 9PM |
| 328 | UGANDA | SHINE FM | AFRICA | | 6PM | 9PM |
| 329 | UGANDA | SMART FM | AFRICA | | 6PM | 9PM |
| 330 | UGANDA | SOUL TUNES | AFRICA | | 6PM | 9PM |
| 331 | UGANDA | SPEAK FM | AFRICA | GULU | 6PM | 9PM |
| 332 | UGANDA | SPIRIT FM | AFRICA | | 6PM | 9PM |
| 333 | UGANDA | TBS FM | AFRICA | UGANDA | 6PM | 9PM |
| 334 | UGANDA | VCC FM | AFRICA | | 6PM | 9PM |
| 335 | UGANDA | VOICE OF KABWEHO RADIO | AFRICA | | 6PM | 9PM |
| 336 | UGANDA | VOICE OF TORO | AFRICA | | 6PM | 9PM |
| 337 | UGANDA | WOT ONLINE RADIO | AFRICA | | 6PM | 9PM |
| 338 | UGANDA | YOFOCHM | AFRICA | | 6PM | 9PM |
| 339 | UK | LOVEWORLD RADIO UK | EUROPE | | 6PM | 9PM |
| 340 | UKRAINE | LOVEWORLD RADIO UKRAINE | EUROPE | | 6PM | 9PM |
| 341 | UKRAINE | RADIO KIEV | EUROPE | | 6PM | 9PM |
| 342 | UNITED KINGDOM | RADIO LIVE | EUROPE | | 6PM | 9PM |
| 343 | UNITED KINGDOM | TRIUMPHANT RADIO | EUROPE | | 6PM | 9PM |
| 344 | VIETNAM | LOVEWORLD RADIO VIETNAM | ASIA | | 6PM | 9PM |
| 345 | WESTERN SAHARA | LOVEWORLD WESTERN SAHARA | AFRICA | | 6PM | 9PM |
| 346 | YEMEN | LOVEWORLD RADIO YEMEN | ASIA | | 6PM | 9PM |
| 347 | ZAMBIA | JOY FM | AFRICA | | 6PM | 9PM |
| 348 | ZAMBIA | LOVEWORLD RADIO ZAMBIA | AFRICA | | 6PM | 9PM |
| 349 | ZAMBIA | SOLWEZI RADIO | AFRICA | SOLWEZI CITY | 6PM | 9PM |
| 350 | ZIMBABWE | LOVEWORLD RADIO ZIMBABWE | AFRICA | | 6PM | 9PM |
| 351 | ZIMBABWE | RADIO ZIMBABWE | AFRICA | | 6PM | 9MP |
TV Stations
| | | | | | |
| --- | --- | --- | --- | --- | --- |
| S/N | COUNTRY | STATION NAME | CONTINENT | STATE OR CITY | TIME (GMT +1) |
| 1 | SUB SAHARA AFRICA | LOVEWORLD PLUS | https://www.loveworldplus.tv | Eutelsat 16A/16'E, Frequency: 12564, | |
| 2 | EUROPE AND AFRICA | LOVEWORLD SAT | https://www.loveworldsat.org/ | Intelsat 20, Frequency: 12562 H, 12602 V | |
| 3 | EUROPE | LOVEWORLD UK | https://loveworlduk.org/ | Astra 2G, Frequency: 11671 H | |
| 4 | NORTH AMERICA | LOVEWORLD USA | https://www.loveworldusa.org/ | SES 1, Frequency 3900 H | |
| 5 | INDIA | LOVEWORLD INDIA | Loveworld Broadcasting Network channel 693 on Airtel DTH India | Loveworld Broadcasting Network channel 693 on Airtel DTH India | |
| 6 | ASIA | LOVEWORLD ASIA | http://cloveworld.org/tv?id=5a098fdb0c4105wjug1qiet7v | | |
| 7 | CENTRAL AMERICA AND SOUTH AMERICA | LOVEWORLD CASA | http://cloveworld.org/tv?id=5a099019dcdbax4kpil9ujrzy | | |
| 8 | EUROPE | LOVEWORLD EURO | http://cloveworld.org/?tv=5a098ffad71f9cy8g5uns1x70 | | |
| 9 | MIDDLE EAST AND NORTH AFRICA | LOVEWORLD MENA | http://cloveworld.org/tv?id=5a098fa91c8281ilmu6n7dvfg | | |
| 10 | PACIFICS | LOVEWORLD PACIFICS | http://cloveworld.org/tv?id=5a382af71148549pde562zf0y | | |
| | | | | | |
| 11 | ALBANIA | IP TV | EUROPE | | Rebroadcast |
| 12 | ALBANIA | RTV ALBANIA | EUROPE | | Rebroadcast |
| 13 | ALBANIA | TIRANA IPTV BROADCASTING OPERATOR | EUROPE | | Rebroadcast |
| 14 | Anguilla | CARIBBEAN CABLE CHANNEL | NORTH AMERICA | Anguilla | 6 – 9PM |
| 15 | Antigua & Barbuda | CTV | NORTH AMERICA | Antigua & Barbuda | 6 – 9PM |
| 16 | ARGENTINA | ROKU TV | SOUTH AMERICA | | 6 – 9PM |
| 17 | AUSTRALIA | Loveworld Queensland Australia | PACIFIC\OCEANIA | | 6 – 9PM |
| 18 | AUSTRALIA | QUEENSLAND TV | PACIFIC\OCEANIA | | 6 – 9PM |
| 19 | AUSTRALIA | PERTH TV AUSTRALIA | PACIFIC\OCEANIA | | Rebroadcast |
| 20 | AUSTRALIA | PERTH TV AUSTRALIA | PACIFIC\OCEANIA | | Rebroadcast |
| 21 | AUSTRALIA | QUEENSLAND TV | PACIFIC\OCEANIA | | Rebroadcast |
| 22 | AUSTRIA | LYCA TV | EUROPE | | 6 – 9PM |
| 23 | AUSTRIA | ZAAP TV | EUROPE | | 6 – 9PM |
| 24 | AUSTRIA | GSS MEDIA | EUROPE | | Rebroadcast |
| 25 | AUSTRIA | GSS MEDIA | EUROPE | | Rebroadcast |
| 26 | Bahamas, The | CABLE BAHAMAS TV | NORTH AMERICA | Bahamas | 6 – 9PM |
| 27 | BAHRAIN | BEE IPTV | ASIA | | 6 – 9PM |
| 28 | BAHRAIN | RAPTURE BROADCASTING NETWORK | ASIA | | Rebroadcast |
| 29 | Bahrain | Rapture Broadcasting Network | ASIA | | 6 – 9PM |
| 30 | BALKAN | MIR TV | EUROPE | | Rebroadcast |
| 31 | BALKAN TERRITORIES | A1 BALKAN TV | EUROPE | | Rebroadcast |
| 32 | BANGALEDESH | BEE IPTV | ASIA | | 6 – 9PM |
| 33 | Barbados | DIGICEL PLAY CHANNEL | NORTH AMERICA | Barbados | 6 – 9PM |
| 34 | Barbados | MULTI CHOICE TV | NORTH AMERICA | Barbados | 6 – 9PM |
| 35 | BELGIUM | LYCA TV | EUROPE | | 6 – 9PM |
| 36 | BELGIUM | ZAAP TV | EUROPE | | 6 – 9PM |
| 37 | BENIN REP | ETV BENIN REP | AFRICA | | 6 – 9PM |
| 38 | BENIN REPUBLIC | EVANGELIQUE TV. BENIN REPUBLIC | AFRICA | | Rebroadcast |
| 39 | BEOGRAD SERBIA | KABLKOM D.O.O | EUROPE | | Rebroadcast |
| 40 | BHUTAN | BEE IPTV | ASIA | | 6 – 9PM |
| 41 | BHUTAN | LYCA TV | ASIA | | 6 – 9PM |
| 42 | BOSNIA | A1 BOSNIA TV | EUROPE | | Rebroadcast |
| 43 | BOSNIA | ALFA TV | EUROPE | | Rebroadcast |
| 44 | BOSNIA | FACE TV | EUROPE | | Rebroadcast |
| 45 | BOSNIA&HERZEGOVINA | ALVATEL | EUROPE | | Rebroadcast |
| 46 | BOSNIA&HERZEGOVINA | ANEX | EUROPE | | Rebroadcast |
| 47 | BOSNIA&HERZEGOVINA | ASK BH | EUROPE | | Rebroadcast |
| 48 | BOSNIA&HERZEGOVINA | AVAX.NET | EUROPE | | Rebroadcast |
| 49 | BOSNIA&HERZEGOVINA | BH TELCOM MOJA TV | EUROPE | | Rebroadcast |
| 50 | BOSNIA&HERZEGOVINA | BH TELCOM MOJA TV | EUROPE | | Rebroadcast |
| 51 | BOSNIA&HERZEGOVINA | BHB CABLE | EUROPE | | Rebroadcast |
| 52 | BOSNIA&HERZEGOVINA | BOSNA TV | EUROPE | | Rebroadcast |
| 53 | BOSNIA&HERZEGOVINA | CABLE TV NET | EUROPE | | Rebroadcast |
| 54 | BOSNIA&HERZEGOVINA | ELNET | EUROPE | | Rebroadcast |
| 55 | BOSNIA&HERZEGOVINA | ELTA KABEL | EUROPE | | Rebroadcast |
| 56 | BOSNIA&HERZEGOVINA | EXENET | EUROPE | | Rebroadcast |
| 57 | BOSNIA&HERZEGOVINA | KTV-EGE.BA | EUROPE | | Rebroadcast |
| 58 | BOSNIA&HERZEGOVINA | LOGOSOFT | EUROPE | | Rebroadcast |
| 59 | BOSNIA&HERZEGOVINA | NET RN GROUP | EUROPE | | Rebroadcast |
| 60 | BOSNIA&HERZEGOVINA | TELEMACH BIH | EUROPE | | Rebroadcast |
| 61 | BOSNIA&HERZEGOVINA | TIVI.BA | EUROPE | | Rebroadcast |
| 62 | BOSNIA&HERZEGOVINA | TIVI.BA | EUROPE | | Rebroadcast |
| 63 | BOSNIA&HERZEGOVINA | TXTV | EUROPE | | Rebroadcast |
| 64 | BRUNEI | BEE IPTV | ASIA | | 6 – 9PM |
| 65 | BURMA | BEE IPTV | ASIA | | 6 – 9PM |
| 66 | BURMA | LYCA TV | ASIA | | 6 – 9PM |
| 67 | BURUNDI | HERRITAGE TV | AFRICA | | Rebroadcast |
| 68 | CAMERON | MY GOSPEL TV | AFRICA | | 6 – 9PM |
| 69 | CAMEROUN | CANAL 2 ENGLISH INTERNATIONAL | AFRICA | BAMENDA | Rebroadcast |
| 70 | CAMEROUN | CE BUEA HI TV | AFRICA | BUEA | Rebroadcast |
| 71 | CAMEROUN | HITV | AFRICA | | Rebroadcast |
| 72 | CANADA | ROKU TV | NORTH AMERICA | | 6 – 9PM |
| 73 | Canada (Ontario And Quebec) | BELL FIBE TV | NORTH AMERICA | Ontario And Quebec | 6 – 9PM |
| 74 | CARIBBEAN ISLAND | NEW HOPE TV | NORTH AMERICA | | 6 – 9PM |
| 75 | Cayman Islands | WESTSTAR TV | NORTH AMERICA | Cayman Islands | 6 – 9PM |
| 76 | CENTRAL EUROPE | ZAAP TV | EUROPE | | 6 – 9PM |
| 77 | CHILE | CMB TV | SOUTH AMERICA | | Rebroadcast |
| 78 | CHILE | CMB TV | SOUTH AMERICA | | Rebroadcast |
| 79 | CHILE | CMB TV | SOUTH AMERICA | | Rebroadcast |
| 80 | CHILI | ROKU TV | SOUTH AMERICA | | 6 – 9PM |
| 81 | COLOMBIA | ROKU TV | SOUTH AMERICA | | 6 – 9PM |
| 82 | COLOMBIA | CMB TV | SOUTH AMERICA | | Rebroadcast |
| 83 | COLOMBIA | CMB TV | SOUTH AMERICA | | Rebroadcast |
| 84 | CONGO | ANTENNEA TV | AFRICA | | Rebroadcast |
| 85 | CONGO | DRTV | AFRICA | | Rebroadcast |
| 86 | CONGO | MALAIKA TV. KATANGA PROVINCE | AFRICA | | Rebroadcast |
| 87 | CONGO | PALMIERS TV KOLWEZI | AFRICA | | Rebroadcast |
| 88 | CONGO | RTB TV. BOMA PROVINCE | AFRICA | | Rebroadcast |
| 89 | CONGO | RTNC TV. | AFRICA | | Rebroadcast |
| 90 | CONGO | RTVL BUNIA | AFRICA | | Rebroadcast |
| 91 | COSTA RICA | ROKU TV | SOUTH AMERICA | | 6 – 9PM |
| 92 | CROATIA | MAXTV | EUROPE | | Rebroadcast |
| 93 | CROATIA | TERRAKOM | EUROPE | | Rebroadcast |
| 94 | CROATIA | VIP-MEDIA | EUROPE | | Rebroadcast |
| 95 | DENMARK | LYCA TV | EUROPE | | 6 – 9PM |
| 96 | Dominica | SAT TELECOMS CHANNEL | NORTH AMERICA | Dominica | 6 – 9PM |
| 97 | ECUADOR | CMB TV | SOUTH AMERICA | | Rebroadcast |
| 98 | ECUADOR | CMB TV | SOUTH AMERICA | | Rebroadcast |
| 99 | EGYPT | LOVEWORLD MENA | ASIA | | 6 – 9PM |
| 100 | EL SALAVADOUR | ROKU TV | SOUTH AMERICA | | 6 – 9PM |
| 101 | FIJI | MAI TV | PACIFIC\OCEANIA | | 6 – 9PM |
| 102 | FINLAND | LYCA TV | EUROPE | | 6 – 9PM |
| 103 | FRANCE | HOLYGOD TV | EUROPE | | 6 – 9PM |
| 104 | FRANCE | LYCA TV | EUROPE | | 6 – 9PM |
| 105 | FRANCE | ZAAP TV | EUROPE | | 6 – 9PM |
| 106 | GABON | BETHEL GABON | AFRICA | | 6 – 9PM |
| 107 | GABON | BETHEL Gabon | AFRICA | | Rebroadcast |
| 108 | GERMANY | LYCA TV | EUROPE | | 6 – 9PM |
| 109 | GERMANY | ZAAP TV | EUROPE | | 6 – 9PM |
| 110 | GERMANY | IPTV NET | EUROPE | | Rebroadcast |
| 111 | GERMANY | PROFREE TV | EUROPE | | Rebroadcast |
| 112 | GREAT BRITAIN | ZAAP TV | EUROPE | | 6 – 9PM |
| 113 | GREECE | LYCA TV | EUROPE | | 6 – 9PM |
| 114 | GUATEMALA | ROKU TV | SOUTH AMERICA | | 6 – 9PM |
| 115 | HONDURA | ROKU TV | SOUTH AMERICA | | 6 – 9PM |
| 116 | HONGKONG | LYCA TV | ASIA | | 6 – 9PM |
| 117 | INDIA | Amazon fire stick | ASIA | | 6 – 9PM |
| 118 | INDIA | BEE IPTV | ASIA | | 6 – 9PM |
| 119 | INDIA | CHANNEL 316 | ASIA | | 6 – 9PM |
| 120 | INDIA | CHRISTIAN IPTV | ASIA | | 6 – 9PM |
| 121 | INDIA | EL SHADDIAH TV | ASIA | | 6 – 9PM |
| 122 | INDIA | INIGO IPTV | ASIA | | 6 – 9PM |
| 123 | India | LIFETV INDIA | ASIA | Karnataka State | 6 – 9PM |
| 124 | India | LIFETV INDIA | ASIA | Tamilnadu Province | 6 – 9PM |
| 125 | India | LIFETV INDIA | ASIA | Kerala State | 6 – 9PM |
| 126 | India | LIFETV INDIA | ASIA | Andrapradesh | 6 – 9PM |
| 127 | India | LIFETV INDIA | ASIA | Telengana | 6 – 9PM |
| 128 | India | LIFETV INDIA | ASIA | North India | 6 – 9PM |
| 129 | India | LIFETV INDIA | ASIA | Bombay Mumbai | 6 – 9PM |
| 130 | India | LIFETV INDIA | ASIA | Oddisa | 6 – 9PM |
| 131 | India | LIFETV INDIA | ASIA | Delhi | 6 – 9PM |
| 132 | India | LIFETV INDIA | ASIA | Jaipur | 6 – 9PM |
| 133 | India | LIFETV INDIA | ASIA | Agra | 6 – 9PM |
| 134 | INDIA | LIFETV PLUS | ASIA | | 6 – 9PM |
| 135 | INDIA | LYCA MOBILE APP | ASIA | | 6 – 9PM |
| 136 | INDIA | LYCA TV | ASIA | | 6 – 9PM |
| 137 | INDIA | MI IPTV (NORTH INDIA) | ASIA | | 6 – 9PM |
| 138 | India | Nm tv | ASIA | | 6 – 9PM |
| 139 | INDIA | REAL TV | ASIA | | 6 – 9PM |
| 140 | INDIA | ROKU | ASIA | | 6 – 9PM |
| 141 | india | Rophe tv | ASIA | | 6 – 9PM |
| 142 | India | Shubhsandesh TV | ASIA | | 6 – 9PM |
| 143 | INDIA | TAMILIN IPTV | ASIA | | 6 – 9PM |
| 144 | INDIA | THY WILL IPTV | ASIA | | 6 – 9PM |
| 145 | INDIA | YOYO IPTV | ASIA | | 6 – 9PM |
| 146 | INDIA | ZAAP TV | ASIA | | 6 – 9PM |
| 147 | INDIA | ZBS | ASIA | | 6 – 9PM |
| 148 | INDIA | GOSPEL TV | ASIA | | Re-broadcast |
| 149 | INDIA | MANA TV | ASIA | | Rebroadcast |
| 150 | INDIA | PLATINUM TV | ASIA | | Rebroadcast |
| 151 | INDIA | POWER VISION | ASIA | | Rebroadcast |
| 152 | INDIA | POWER VISION TV (www.powervisiontv.com) | ASIA | | Rebroadcast |
| 153 | INDIA | POWER VISION TV (www.powervisiontv.com) | ASIA | | Rebroadcast |
| 154 | INDIA | BIG J TV | ASIA | | 6 – 9PM |
| 155 | INDIA | DAJIWORLD | ASIA | | 6 – 9PM |
| 156 | INDIA | IMPACT TV | ASIA | | 6 – 9PM |
| 157 | India | KILPZOO WEB CHANNEL INDIA | ASIA | | 6 – 9PM |
| 158 | India | Mana TV | ASIA | | 6 – 9PM |
| 159 | INDIA | PLATINUM TV | ASIA | | 6 – 9PM |
| 160 | IRELAND | LYCA TV | EUROPE | | 6 – 9PM |
| 161 | ITALY | LYCA TV | EUROPE | | 6 – 9PM |
| 162 | ITALY | PARLE DI VITA (CHRISTIAN TV ITALY) | EUROPE | | 6 – 9PM |
| 163 | ITALY | ZAAP TV | EUROPE | | 6 – 9PM |
| 164 | ITALY | MEDIA TV | EUROPE | | Rebroadcast |
| 165 | JAMAICA | JAMAICA TV | NORTH AMERICA | | Rebroadcast |
| 166 | Jamaica | DIGICEL PLAY CHANNEL | NORTH AMERICA | Jamaica | 6 – 9PM |
| 167 | JAMAICA | JAMAICA TV | NORTH AMERICA | | 6 – 9PM |
| 168 | Jamaica | MTM Jamaica | North America | | 6 – 9PM |
| 169 | JAMAICA | READY TV | NORTH AMERICA | | 6 – 9PM |
| 170 | JAPAN | LYCA TV | ASIA | | 6 – 9PM |
| 171 | KOSOVO | DREAM BOX | EUROPE | | Rebroadcast |
| 172 | KOSOVO | GIMELET | EUROPE | | Rebroadcast |
| 173 | KOSOVO | PROGRES STRPCE | EUROPE | | Rebroadcast |
| 174 | KOSOVO | RTV KOSOVA | EUROPE | | Rebroadcast |
| 175 | KOSOVO | SPEED TV | EUROPE | | Rebroadcast |
| 176 | KOSOVO | TIRANA IPTV BROADCASTING OPERATOR | EUROPE | | Rebroadcast |
| 177 | KOSOVO | TVEHO | EUROPE | | Rebroadcast |
| 178 | MACEDONIA | A1 TV MACEDONIA | EUROPE | | Rebroadcast |
| 179 | MALAWI | SSBC TV MALAWI | AFRICA | | 6 – 9PM |
| 180 | MALAWI | MALAWI SOUTH CFC TV | AFRICA | | Rebroadcast |
| 181 | MALAWI | MBS TV | AFRICA | | Rebroadcast |
| 182 | MALAWI | ZODIAC TV | AFRICA | | Rebroadcast |
| 183 | MALAWI NORTH | LOSO TV | AFRICA | | Rebroadcast |
| 184 | MALAWI SOUTH | CFC TV | AFRICA | | Rebroadcast |
| 185 | MALAWI SOUTH | MBS | AFRICA | | Rebroadcast |
| 186 | MALAYSIA | BEE IPTV | ASIA | | 6 – 9PM |
| 187 | MALYSIA | LYCA TV | ASIA | | 6 – 9PM |
| 188 | MONTENEGRO | MTEL CRNA | EUROPE | | Rebroadcast |
| 189 | MONTENEGRO | W-LINK | EUROPE | | Rebroadcast |
| 190 | Montserrat | CARIBBEAN CABLE COMMUNICATIONS TV | NORTH AMERICA | Montserrat | 6 – 9PM |
| 191 | NAMIBIA | MTV NAMIBIA | AFRICA | | Rebroadcast |
| 192 | NEPAL | BEE IPTV | ASIA | | 6 – 9PM |
| 193 | NEPAL | LYCA TV | ASIA | | 6 – 9PM |
| 194 | NEPAL | Chanel Ace Television | ASIA | | Rebroadcast |
| 195 | NEPAL | Chanel Ace Television | ASIA | | Rebroadcast |
| 196 | NETHERLAND | LYCA TV | EUROPE | | 6 – 9PM |
| 197 | NETHERLAND | ZAAP TV | EUROPE | | 6 – 9PM |
| 198 | NEW ZEALAND | OPPNA KANALEN | PACIFIC\OCEANIA | | Rebroadcast |
| 199 | NEW ZEALAND | OPPNA KANALEN | PACIFIC\OCEANIA | | Rebroadcast |
| 200 | NICARAGUE | ROKU TV | SOUTH AMERICA | | 6 – 9PM |
| 201 | Nigeria | AIT ABUJA | NIGERIA | ABUJA | 7 – 9pm |
| 202 | Nigeria | AIT ADAMAWA | NIGERIA | ADAMAWA | 7 – 9pm |
| 203 | Nigeria | AIT AKURE | NIGERIA | AKURE | 7 – 9pm |
| 204 | Nigeria | AIT BAYELSA | NIGERIA | BAYELSA | 7 – 9pm |
| 205 | Nigeria | AIT BENIN | NIGERIA | Benin City | 7 – 9pm |
| 206 | Nigeria | AIT GOMBE | NIGERIA | GOMBE | 7 – 9pm |
| 207 | Nigeria | AIT KADUNA | NIGERIA | KADUNA | 7 – 9pm |
| 208 | Nigeria | AIT KANO | NIGERIA | KANO | 7 – 9pm |
| 209 | Nigeria | AIT KATSINA | NIGERIA | KATSINA | 7 – 9pm |
| 210 | Nigeria | AIT Lagos | NIGERIA | LAGOS | 7 – 9pm |
| 211 | Nigeria | AIT OSOGBO | NIGERIA | OSOGBO | 7 – 9pm |
| 212 | Nigeria | AIT OYO | NIGERIA | OYO | 7 – 9pm |
| 213 | Nigeria | AIT PH | NIGERIA | Port Harcourt | 7 – 9pm |
| 214 | Nigeria | AIT YOBE | NIGERIA | YOBE | 7 – 9pm |
| 215 | NIGERIA | CRBC CALABAR | NIGERIA | | 6 – 9PM |
| 216 | NIGERIA | GALAXY TV | NIGERIA | LAGOS | 7 – 9PM |
| 217 | NIGERIA | GALAXY TV | NIGERIA | IBADAN | 7 – 9PM |
| 218 | NIGERIA | GALAXY TV | NIGERIA | AKURE | 7 – 9PM |
| 219 | NIGERIA | LOVEWORLD ASIA | NIGERIA | | 6 – 9PM |
| 220 | NIGERIA | LTV | NIGERIA | LAGOS | 6 – 9PM |
| 221 | NIGERIA | MITV | NIGERIA | LAGOS | 6 – 9PM |
| 222 | NIGERIA | NDTV BAYELSA | NIGERIA | | 6 – 9PM |
| 223 | NIGERIA | NTA 2 CHANNEL 5 | NIGERIA | LAGOS | 6 – 9PM |
| 224 | NIGERIA | NTA CALABAR | NIGERIA | | 6 – 9PM |
| 225 | NIGERIA | PATHWAY TV | NIGERIA | WARRI, ASABA & BENIN | 6 – 9PM |
| 226 | NIGERIA | RSTV PH | NIGERIA | | 6 – 9PM |
| 227 | Nigeria | STV ABUJA | NIGERIA | Abuja | 6 – 9PM |
| 228 | Nigeria | STV BAYELSA | NIGERIA | Bayelsa | 6 – 9PM |
| 229 | Nigeria | STV BENIN | NIGERIA | Benin City | 6 – 9PM |
| 230 | Nigeria | STV JOS | NIGERIA | Jos | 6 – 9PM |
| 231 | Nigeria | STV LAGOS | NIGERIA | Lagos | 6 – 9PM |
| 232 | Nigeria | STV PORT HARCOURT | NIGERIA | Port Harcourt | 6 – 9PM |
| 233 | NIGERIA | TARABA TV | NIGERIA | | 6 – 9PM |
| 234 | NORWAY | LYCA TV | EUROPE | | 6 – 9PM |
| 235 | NUNGUA GHANA | SLBC TV CHANNEL 27 | AFRICA | | 6 – 9PM |
| 236 | ONLINE\WEB TV | LOVEWORLD CASA | NIGERIA | | 6 – 9PM |
| 237 | ONLINE\WEB TV | LOVEWORLD PACIFIC | NIGERIA | | 6 – 9PM |
| 238 | Pakistan | ETERNAL LIFE TV | ASIA | ISLAMABAD | 6 – 9PM |
| 239 | PAKISTAN | HEAVEN TV | ASIA | LAHORE | 6 – 9PM |
| 240 | PAKISTAN | ISAAC TV | ASIA | LAHORE | 6 – 9PM |
| 241 | PAKISTAN | TOHEED GOSPEL TV INTERNATIONAL | ASIA | LAHORE | 6 – 9PM |
| 242 | PAKISTAN | GBU TV | ASIA | | Rebroadcast |
| 243 | PAKISTAN | GLORY TV | ASIA | | Rebroadcast |
| 244 | PAKISTAN | JTV | ASIA | | Rebroadcast |
| 245 | PAKISTAN | JTV | ASIA | | Rebroadcast |
| 246 | PAKISTAN | PMC TV | ASIA | | Rebroadcast |
| 247 | PAKISTAN | PMC TV | ASIA | | Rebroadcast |
| 248 | PANAMA | ROKU TV | NORTH AMERICA | | 6 – 9PM |
| 249 | PAPUA | EMTV | NORTH AMERICA | | Rebroadcast |
| 250 | PERU | ROKU TV | SOUTH AMERICA | | 6 – 9PM |
| 251 | PHILIPPINES | BEE IPTV | ASIA | | 6 – 9PM |
| 252 | PHILIPPINES | LYCA TV | ASIA | | 6 – 9PM |
| 253 | PORTUGAL | ZAAP TV | EUROPE | | 6 – 9PM |
| 254 | PORTUGUAL | LYCA TV | EUROPE | | 6 – 9PM |
| 255 | QUINNEA CONACARY | EM TV | AFRICA | | Rebroadcast |
| 256 | RUSSIA | ZAAP TV | EUROPE | | 6 – 9PM |
| 257 | RUSSIA | IVENTOS | EUROPE | | Rebroadcast |
| 258 | RWANDA | VICTORY TV | AFRICA | | 6 – 9PM |
| 259 | RWANDA | ROYAL TV | AFRICA | | Rebroadcast |
| 260 | RWANDA | RWANDA TV 7 | AFRICA | | Rebroadcast |
| 261 | RWANDA | TV 10 | AFRICA | | Rebroadcast |
| 262 | RWANDA | TVR | AFRICA | | Rebroadcast |
| 263 | SCANDINAVIA | ZAAP TV | EUROPE | | 6 – 9PM |
| 264 | SENEGAL | AFRICA 7 | AFRICA | | Rebroadcast |
| 265 | SENEGAL | RDV | AFRICA | | Rebroadcast |
| 266 | SERBIA | KBCNET | EUROPE | | Rebroadcast |
| 267 | SERBIA | KDS SURCIN | EUROPE | | Rebroadcast |
| 268 | SERBIA | NET TV PLUS | EUROPE | | Rebroadcast |
| 269 | SERBIA | POSTANET | EUROPE | | Rebroadcast |
| 270 | SERBIA | RADIJUS VEKTOR | EUROPE | | Rebroadcast |
| 271 | SERBIA | TARGO TELEKOM | EUROPE | | Rebroadcast |
| 272 | SERBIA | NET TV PLUS | EUROPE | | Rebroadcast |
| 273 | SEYCHELLES | CABLE TV | AFRICA | | Rebroadcast |
| 274 | SIERRA LEONE | SLBC TV | AFRICA | | 6 – 9PM |
| 275 | SINGAPORE | BEE IPTV | ASIA | | 6 – 9PM |
| 276 | SINGAPORE | LYCA TV | ASIA | | 6 – 9PM |
| 277 | SOUTH AFRICA | PLATINUM TV | AFRICA | | Rebroadcast |
| 278 | SOUTH SUDAN | 360 AFRICA TV | AFRICA | | Rebroadcast |
| 279 | SPAIN | LYCA TV | EUROPE | | 6 – 9PM |
| 280 | SPAIN | ZAAP TV | EUROPE | | 6 – 9PM |
| 281 | SPAIN | A1 ESPANA | EUROPE | | Rebroadcast |
| 282 | SPAIN | A1 EXCLUSIVE | EUROPE | | Rebroadcast |
| 283 | SPAIN | A1 MEDIA TV | EUROPE | | Rebroadcast |
| 284 | SPAIN | A1 WORLD | EUROPE | | Rebroadcast |
| 285 | SPAIN | AVAX-NET ABB NASA TV | EUROPE | | Rebroadcast |
| 286 | SPAIN | CANAL 5 CANARY ISLAND | EUROPE | | Rebroadcast |
| 287 | SPAIN | CANAL 7 TV | EUROPE | | Rebroadcast |
| 288 | SPAIN | CHANNEL 11 TV | EUROPE | | Rebroadcast |
| 289 | SPAIN | IPTV OTT I MVDS PLATFORMS | EUROPE | | Rebroadcast |
| 290 | SPAIN | IPTV SEYRET NET | EUROPE | | Rebroadcast |
| 291 | SPAIN | LIFE TV | EUROPE | | Rebroadcast |
| 292 | SPAIN | MAG TV GMBH | EUROPE | | Rebroadcast |
| 293 | Spain | TBN ESPANA | EUROPE | Madrid | Rebroadcast |
| 294 | SRI LANKA | BEE IPTV | ASIA | | 6 – 9PM |
| 295 | SRI LANKA | LYCA TV | ASIA | | 6 – 9PM |
| 296 | SRI LANKA | KILPZOO WEB CHANNEL INDIA | ASIA | | Rebroadcast |
| 297 | St. Kitts & Nevis | CARIBBEAN CABLE COMMUNICATIONS TV | NORTH AMERICA | Nevis | 6 – 9PM |
| 298 | St. Kitts & Nevis | THE CABLE TV | NORTH AMERICA | St. Kitts | 6 – 9PM |
| 299 | St. Lucia | HELEN TELEVISION / SPECTRA | NORTH AMERICA | St. Lucia | 6 – 9PM |
| 300 | St. Maarten | ST. MAARTEN CABLE TV | NORTH AMERICA | St. Maarten | 6 – 9PM |
| 301 | SURINAME | UBC TV | ASIA | | 6 – 9PM |
| 302 | SWEDEN | LYCA TV | EUROPE | | 6 – 9PM |
| 303 | SWEDEN | OPPNAKANALA SWEDEN | EUROPE | | 6 – 9PM |
| 304 | SWEDEN | PALMIERS TV KOLWEZI | EUROPE | | Rebroadcast |
| 305 | SWITHERLAND | LYCA TV | EUROPE | | 6 – 9PM |
| 306 | SYCHELLES | CABLE TV SYCHELLES | AFRICA | | Rebroadcast |
| 307 | TONGA | TUNGA BROADCASTING TV | ASIA | | Rebroadcast |
| 308 | TONGA | TUNGA BROADCASTING TV | ASIA | | Rebroadcast |
| 309 | Tonga | TBC | ASIA | | 6 – 9PM |
| 310 | TONGA | TONGA BROADCATING TV | PACIFIC\OCEANIA | | 6 – 9PM |
| 311 | Trinidad & Tobago | DIGICEL PLAY | NORTH AMERICA | Trinidad & Tobago | 6 – 9PM |
| 312 | Trinidad & Tobago | PBN (PODIUM BROADCASTING NETWORK TV) | NORTH AMERICA | Trinidad & Tobago | 6 – 9PM |
| 313 | Trinidad & Tobago | TRICO TV | NORTH AMERICA | Trinidad & Tobago | 6 – 9PM |
| 314 | TRINIDAD AND TOBACO | CCNT TV | NORTH AMERICA | | Rebroadcast |
| 315 | TRINIDAD AND TOBACO | CCNT TV | NORTH AMERICA | | Rebroadcast |
| 316 | TRINIDAD AND TOBACO | PODIUM BROADCASTING NETWORK TV | NORTH AMERICA | | Rebroadcast |
| 317 | TRINIDAD AND TOBACO | PODIUM BROADCASTING NETWORK TV | NORTH AMERICA | | Rebroadcast |
| 318 | TUNISIA | MEJDOO | AFRICA | | Rebroadcast |
| 319 | TURKEY | NOC TURKIYE | EUROPE | | Rebroadcast |
| 320 | TURKEY | NOC TURKIYE | EUROPE | | Rebroadcast |
| 321 | UAE | LYCA TV | ASIA | | 6 – 9PM |
| 322 | UGANDA | SPIRIT TV | AFRICA | | 6 – 9PM |
| 323 | UK | ELSHADAI TV | EUROPE | | Rebroadcast |
| 324 | UK | FAITH TV | EUROPE | | Rebroadcast |
| 325 | UK | IPTV FORYOU | EUROPE | | Rebroadcast |
| 326 | Uk | FAITH TV2 UK | EUROPE | | 6 – 9PM |
| 327 | Ukraine | LOVEWORLD EURO | EUROPE | | 6 – 9PM |
| 328 | UKRAINE | NOVY TV | EUROPE | KIEV | 6 – 9PM |
| 329 | UNITED KINGDOM | LYCA TV | EUROPE | | 6 – 9PM |
| 330 | UNITED STATES | ROKU TV | NORTH AMERICA | | 6 – 9PM |
| 331 | USA | BALKAN TV (Internet) | NORTH AMERICA | | Rebroadcast |
| 332 | USA | BOSNA TV (Internet) | NORTH AMERICA | | Rebroadcast |
| 333 | Usa: Ny, Nj, Ct | CABLEVISION TV – OPTIMUM | NORTH AMERICA | Ny, Nj, Ct | 6 – 9PM |
| 334 | ZAMBIA | MUVI TV | AFRICA | | 6 – 9PM |
| 335 | ZAMBIA | ZNBC ZAMBIA | AFRICA | | 6 – 9PM |
| 336 | ZAMBIA | NW TV | AFRICA | | Rebroadcast |