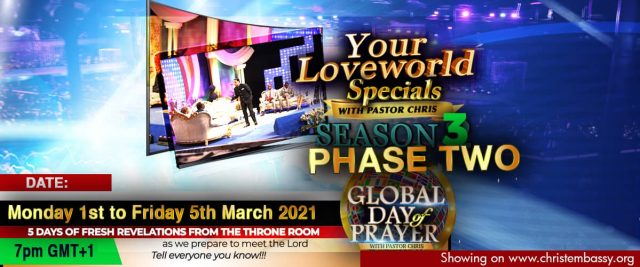 6 DAYS TO GO
Get set to receive concise guidance, direction, and the Inspiration you require for your next and higher level at Your Loveworld Specials Season 3 Phase 2 with Pastor Chris from Monday 1st to Friday 5th March 2021 at 7:00 pm GMT +1, 2:00 pm EST daily.
It'll be an avalanche of the Word and the miraculous as we join our Dear Man of God along with billions around the world for this historic program.
*Write your expectations for the program
*Spend time in prayer for the program
*Invite everyone you know and get them to attend the program *Participate live on this platform, through our Loveworld Network Stations, Live TV, and Ceflix Apps.
Please follow and like us: