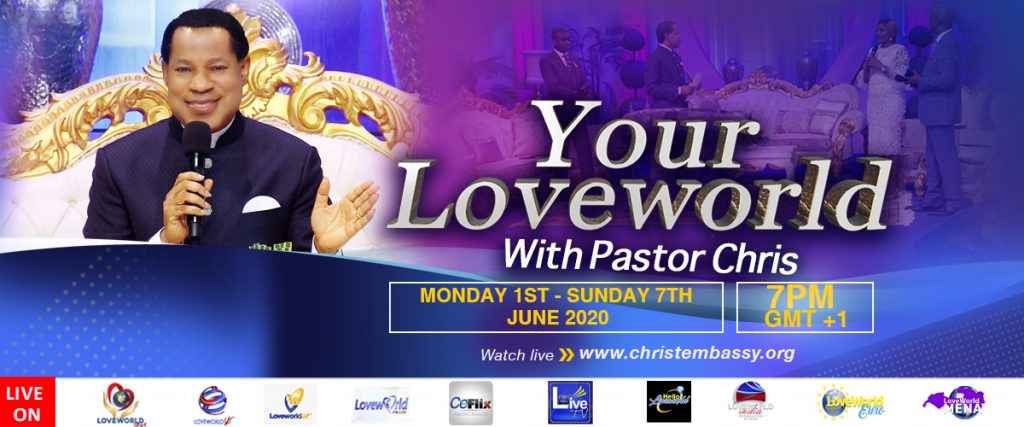 It's another phase in the Spirit; a special week of feasting on the Word of God.
Get ready to be metamorphosed from one level of glory to another as you join our Man of God, Pastor Chris for Your Loveworld, from Monday 1st June to Sunday 7th June 2020. Don't miss it.
It'll be streamed live to all the LoveWorld Networks and Web/Mobile platforms.
Participate through your preferred TV, Radio, mobile, or web application/ website/ social media site by making your selection through the tabs below.
God bless you!
Web/Mobile Platforms
Radio Stations
| | | | | | |
| --- | --- | --- | --- | --- | --- |
| SN | COUNTRY | NAME OF RADIO STATION | CONTINENT | STATES | START TIME (GMT +1) |
| 1 | AFGHANISTAN | LOVEWORLD RADIO AFGHANISTAN | ASIA | | 6 – 8pm |
| 2 | AFGHANISTAN | RADIO LIVE | ASIA | | 6 – 8pm |
| 3 | ALBANIA | LOVEWORLD RADIO ALBANIA | EUROPE | | 6 – 8pm |
| 4 | ALGERIA | LOVEWORLD RADIO ALGERIA | AFRICA | | 6 – 8pm |
| 5 | ANDORRA | LOVEWORLD RADIO ANDORRA | NORTH AMERICA | | 6 – 8pm |
| 6 | ANGOLA | LOVEWORLD RADIO ANGOLA | AFRICA | | 6 – 8pm |
| 7 | ANTIGUA | LOVEWORLD RADIO ANTIGUA | NORTH AMERICA | | 6 – 8pm |
| 8 | ARGENTINA | LOVEWORLD RADIO ARGENTINA | SOUTH AMERICA | | 6 – 8pm |
| 9 | ARMENIA | LOVEWORLD RADIO ARMENIA | EUROPE | | 6 – 8pm |
| 10 | AUSTRALIA | LOVEWORLD RADIO AUSTRALIA | PACIFICOCEANIA | | 6 – 8pm |
| 11 | AUSTRALIA | LOVEWORLD RADIO PACIFIC'S | PACIFICOCEANIA | | 6 – 8pm |
| 12 | AUSTRALIA | RADIO LIVE | PACIFICOCEANIA | | 6 – 8pm |
| 13 | AUSTRIA | LOVEWORLD RADIO AUSTRIA | EUROPE | | 6 – 8pm |
| 14 | AZERBIAJAN | LOVEWORLD RADIO AZERBIAJAN | EUROPE | | 6 – 8pm |
| 15 | BAHAMAS | LOVEWORLD RADIO BAHAMAS | NORTH AMERICA | | 6 – 8pm |
| 16 | BANGLADESH | LOVEWORLD RADIO BANGLADESH | ASIA | | 6 – 8pm |
| 17 | BANGUI | LOVEWORLD RADIO BANGUI | ASIA | | 6 – 8pm |
| 18 | BARBADOS | LOVEWORLD RADIO BARBADOS | NORTH AMERICA | | 6 – 8pm |
| 19 | BELARUS | LOVEWORLD RADIO BELARUS | EUROPE | | 6 – 8pm |
| 20 | BELGIUM | LOVEWORLD RADIO BELGIUM | EUROPE | | 6 – 8pm |
| 21 | BELIZE | LOVEWORLD BELIZE | ASIA | | 6 – 8pm |
| 22 | BENIN REPUBLIC | LOVEWORLD RADIO BENIN REPUBLIC | AFRICA | | 6 – 8pm |
| 23 | BHUTAN | LOVEWORLD RADIO BHUTAN | ASIA | | 6 – 8pm |
| 24 | BOLIVIA | LOVEWORLD RADIO BOLIVIA | ASIA | | 6 – 8pm |
| 25 | BOSNIA | LOVEWORLD RADIO BOSNIA AND HERZEGOVINA | EUROPE | | 6 – 8pm |
| 26 | BOTSWANA | LOVEWORLD RADIO BOTSWANA | AFRICA | | 6 – 8pm |
| 27 | BRAZIL | LOVEWORLD RADIO BRAZIL | SOUTH AMERICA | | 6 – 8pm |
| 28 | BULGARIA | LOVEWORLD RADIO BULGARIA | EUROPE | | 6 – 8pm |
| 29 | BURKINA FASO | LOVEWORLD RADIO BURKINA FASO | AFRICA | | 6 – 8pm |
| 30 | BURUNDI | LOVEWORLD RADIO BURUNDI | AFRICA | | 6 – 8pm |
| 31 | Burundi | Destiny FM | | | |
| 32 | CAMBODIA | LOVEWORLD RADIO CAMBODIA | SOUTH AMERICA | | 6 – 8pm |
| 33 | CAMEROON | RADIO RUSH FM | AFRICA | | RE-BROADCAST |
| 34 | CAMEROON | SANTA METEO RADIO | AFRICA | | RE-BROADCAST |
| 35 | Cameroon | ABAKWA FM 99.0MHZ | | | |
| 36 | Cameroon | NDEFCAM RADIO 94.9MHZ | | | |
| 37 | Cameroon | RADIO YEMBA DSCHANG FRÉQUENCE 98.0 ET 88.4 | | | |
| 38 | Cameroon | SANTA COMMUNITY RADIO FM 95.3MHZ | | | |
| 39 | Cameroon | Wum community Radio FM 99.9MHz | | | |
| 40 | Cameroon | RADIO TIEMENI SIANTOU 90.5 RTS- YAOUNDE CAMEROON | | | |
| 41 | Cameroon | HOT COCO FM 94.0MHZ | | | |
| 42 | Cameroon | DUNAMIS RADIO DOUALA | | | |
| 43 | Cameroon | TRUTH GOSPEL RADIO FM 93.2MHZ | | | |
| 44 | CAMEROUN | LOVEWORLD RADIO CAMEROON | AFRICA | | 6 – 8pm |
| 45 | CAMEROUN | RADIO BONNE NOUVELLE 99.6FM | AFRICA | | 6 – 8PM |
| 46 | CANADA | LOVEWORLD RADIO CANADA | NORTH AMERICA | | 6 – 8pm |
| 47 | CAPE VERDE | LOVEWORLD RADIO CAPE VERDE | AFRICA | | 6 – 8pm |
| 48 | CAREMEROON | GOSPEL TRUTH | AFRICA | | RE-BROADCAST |
| 49 | CARIBBEAN ISLAND | LOVEWORLD RADIO CARIBBEAN | NORTH AMERICA | | 6 – 8pm |
| 50 | CARMEROON | ABAKWA RADIO | AFRICA | BAMENDA | RE-BROADCAST |
| 51 | CARMEROON | DUNAMIS FM | AFRICA | BAMENDA | RE-BROADCAST |
| 52 | CENTRAL AFRICAN REPUBLIC | LOVEWORLD RADIO CENTRAL AFRICA2 | AFRICA | | 6 – 8pm |
| 53 | CHAD | LOVEWORLD RADIO CHAD | AFRICA | | 6 – 8pm |
| 54 | CHILE | LOVEWORLD RADIO CHILE | SOUTH AMERICA | | 6 – 8pm |
| 55 | CHINA | LOVEWORLD RADIO CHINA | ASIA | | 6 – 8pm |
| 56 | COLOMBIA | LOVEWORLD RADIO COLOMBIA | SOUTH AMERICA | | 6 – 8pm |
| 57 | COMOROS | LOVEWORLD RADIO COMOROS | ASIA | | 6 – 8pm |
| 58 | CONGO | LOVEWORLD RADIO DRC CONGO | AFRICA | | 6 – 8pm |
| 59 | CONGO | LOVEWORLD RADIO LINGALA | AFRICA | | 6 – 8pm |
| 60 | CONGO | LOVEWORLD RADIO TSHILUBA | AFRICA | | 6 – 8pm |
| 61 | CONGO DR | LOVEWORLD RADIO KIKONGO | AFRICA | | 6 – 8pm |
| 62 | CONGO REPUBLIC | LOVEWORLD RADIO CONGO BRAZZA | AFRICA | | 6 – 8pm |
| 63 | COSTA RICA | LOVEWORLD RADIO COSTA RICA | SOUTH AMERICA | | 6 – 8pm |
| 64 | Cote D'Ivoire | Atlantique Fm 106.1 | | | |
| 65 | COTE D'IVOIRE | LOVEWORLD RADIO COTE D'IVOIRE | AFRICA | | 6 – 8pm |
| 66 | CROATIA | LOVEWORLD RADIO CROATIA | EUROPE | | 6 – 8pm |
| 67 | CROSS RIVER | LOVEWORLD RADIO CROSS RIVER | NIGERIA | | 6 – 8pm |
| 68 | CUBA | LOVEWORLD RADIO CUBA | NORTH AMERICA | | 6 – 8pm |
| 69 | CYPRUS | LOVEWORLD RADIO CYPRUS | EUROPE | | 6 – 8pm |
| 70 | DENMARK | LOVEWORLD RADIO DENMARK | EUROPE | | 6 – 8pm |
| 71 | DJIBOUTI | LOVEWORLD RADIO DJIBOUTI | AFRICA | | 6 – 8pm |
| 72 | DOMINICA | LOVEWORLD RADIO DOMINICA | NORTH AMERICA | | 6 – 8pm |
| 73 | EAST AFRICA | LOVEWORLD RADIO SWAHILI | AFRICA | | 6 – 8pm |
| 74 | ECUADOR | LOVEWORLD RADIO ECUADOR | SOUTH AMERICA | | 6 – 8pm |
| 75 | EGYPT | LOVEWORLD RADIO EGYPT | AFRICA | | 6 – 8pm |
| 76 | EGYPT | RADIO LIVE | AFRICA | | 6 – 8pm |
| 77 | EL SALVADOR | LOVEWORLD RADIO EL SALVADOR | SOUTH AMERICA | | 6 – 8pm |
| 78 | EQUITORIA GUINEA | LOVEWORLD RADIO EQUATORIAL GUINEA | AFRICA | | 6 – 8pm |
| 79 | ESTONIA | LOVEWORLD RADIO ESTONIA | EUROPE | | 6 – 8pm |
| 80 | ETHIOPIAS | LOVEWORLD RADIO ETHIOPIA | AFRICA | | 6 – 8pm |
| 81 | FIJI | LOVEWORLD RADIO FIJI | ASIA | | 6 – 8pm |
| 82 | FINLAND | LOVEWORLD RADIO FINLAND | EUROPE | | 6 – 8pm |
| 83 | FRANCE | LOVEWORLD RADIO FRANCE | EUROPE | | 6 – 8pm |
| 84 | FRANCO AFRICA | LOVEWORLD RADIO FRANCOPHONE | AFRICA | | 6 – 8pm |
| 85 | GABON | LOVEWORLD RADIO GABON | AFRICA | | 6 – 8pm |
| 86 | GAMBIA | LOVEWORLD RADIO GAMBIA | AFRICA | | 6 – 8pm |
| 87 | GEORGIA | LOVEWORLD RADIO GEORGIA | ASIA | | 6 – 8pm |
| 88 | GERMANY | ALL4J RADIO | EUROPE | | 6 – 8pm |
| 89 | GERMANY | ALL4J RADIO (WOLFSBURG) | EUROPE | | 6 – 8pm |
| 90 | GERMANY | ALL4J RADIO (DORTMUND) | EUROPE | | 6 – 8pm |
| 91 | GERMANY | ALL4J RADIO (DUSSELDORF)) | EUROPE | | 6 – 8pm |
| 92 | GERMANY | ALL4J RADIO (FRANKFURT) | EUROPE | | 6 – 8pm |
| 93 | GERMANY | ALL4J RADIO (HAMBRUG) | EUROPE | | 6 – 8pm |
| 94 | GERMANY | ALL4J RADIO (STUTTGART) | EUROPE | | 6 – 8pm |
| 95 | GERMANY | ALL4J RADIO (BREMEN) | EUROPE | | 6 – 8pm |
| 96 | GERMANY | ALL4J RADIO (COLOGNE) | EUROPE | | 6 – 8pm |
| 97 | GERMANY | LOVEWORLD RADIO GERMAN | EUROPE | | 6 – 8pm |
| 98 | Germany | All4j Radio | | | |
| 99 | GHANA | 123 FM | AFRICA | NUNGUA | 6 – 8pm |
| 100 | GHANA | A1 RADIO | AFRICA | GHANA | 6 – 8pm |
| 101 | GHANA | ACCRA 100.5 FM | AFRICA | | 6 – 8PM |
| 102 | GHANA | ADWENPA FM 100.7 | AFRICA | | 6 – 8PM |
| 103 | GHANA | BISHARA FM | AFRICA | | 6 – 8PM |
| 104 | GHANA | CONNECT FM 97.1 | AFRICA | | 6 – 8PM |
| 105 | GHANA | COOL FM HO | AFRICA | NUNGUA | 6 – 8PM |
| 106 | GHANA | DARLING FM 90.9 | AFRICA | | 6 – 8PM |
| 107 | GHANA | DINPA FM 91.3 | AFRICA | | 6 – 8PM |
| 108 | GHANA | FREEDOM FM 88.1 | AFRICA | | 6 – 8PM |
| 109 | GHANA | GOOD NEWS FM 96.3 | AFRICA | | 6 – 8PM |
| 110 | GHANA | HO FM 92.5 | AFRICA | | 6 – 8PM |
| 111 | GHANA | HOME RADIO 99.7 FM | AFRICA | | 6 – 8PM |
| 112 | GHANA | JUBILEE RADIO 106.9 FM | AFRICA | | 6 – 8PM |
| 113 | GHANA | KINGDOM FM 105.7 | AFRICA | | 6 – 8PM |
| 114 | GHANA | KUUL FM | AFRICA | | 6 – 8pm |
| 115 | GHANA | KUUL FM 103.5 | AFRICA | | 6 – 8PM |
| 116 | GHANA | LOVEWORLD RADIO GHANA | AFRICA | | 6 – 8pm |
| 117 | GHANA | MAX FM 105.1 | AFRICA | | 6 – 8PM |
| 118 | GHANA | MOONLIGHT 102.9 FM | AFRICA | | 6 – 8PM |
| 119 | GHANA | OKWAWU FM 96.3 | AFRICA | | 6 – 8PM |
| 120 | GHANA | ORANGE FM 107.9 | AFRICA | | 6 – 8PM |
| 121 | GHANA | SIKAPA FM 100.5 | AFRICA | | 6 – 8PM |
| 122 | GHANA | TEMALE RADIO | AFRICA | GHANA | 6 – 8pm |
| 123 | GHANA | TOSH FM 103.9 | AFRICA | | 6 – 8PM |
| 124 | GHANA | W FM 97.5 | AFRICA | | 6 – 8PM |
| 125 | GHANA | WEST END 100.0 FM | AFRICA | | 6 – 8PM |
| 126 | GHANA | WFM RADIO | AFRICA | | 6 – 8pm |
| 127 | GHANA | ABC FM | AFRICA | NUNGUA | RE-BROADCAST |
| 128 | GHANA | AHORTOR FM | AFRICA | NUNGUA | RE-BROADCAST |
| 129 | GHANA | ASAHAIMAN RADIO | AFRICA | NUNGUA | RE-BROADCAST |
| 130 | GHANA | DENYIGBA FM | AFRICA | NUNGUA | RE-BROADCAST |
| 131 | GHANA | DESTINY RADIO | AFRICA | NUNGUA | RE-BROADCAST |
| 132 | GHANA | EASTERN FM | AFRICA | NUNGUA | RE-BROADCAST |
| 133 | GHANA | GOODLIFE FM | AFRICA | GHANA | RE-BROADCAST |
| 134 | GHANA | HOPE FM | AFRICA | | RE-BROADCAST |
| 135 | GHANA | KASAPA FM | AFRICA | NUNGUA | RE-BROADCAST |
| 136 | GHANA | KFM KPASS | AFRICA | NUNGUA | RE-BROADCAST |
| 137 | GHANA | OMAN FM | AFRICA | NUNGUA | RE-BROADCAST |
| 138 | GHANA | PARAGON FM | AFRICA | GHANA | RE-BROADCAST |
| 139 | GHANA | RADIO ONE | AFRICA | NUNGUA | RE-BROADCAST |
| 140 | GHANA | RITE FM | AFRICA | | RE-BROADCAST |
| 141 | GHANA | SWISS FM | AFRICA | NUNGUA | RE-BROADCAST |
| 142 | GHANA | VICTORY FM | AFRICA | NUNGUA | RE-BROADCAST |
| 143 | GLOBAL | LOVEWORLD INTERNET RADIO | NIGERIA | ONLINE | 6 – 8pm |
| 144 | GOMBE | LOVEWORLD RADIO GOMBE | NIGERIA | | 6 – 8pm |
| 145 | GREECE | LOVEWORLD RADIO GREECE | EUROPE | | 6 – 8pm |
| 146 | GRENADA | LOVEWORLD RADIO GRENADA | NORTH AMERICA | | 6 – 8pm |
| 147 | GUADELOUPE | LOVEWORLD RADIO GUADELOUPE | SOUTH AMERICA | | 6 – 8pm |
| 148 | GUATEMALA | LOVEWORLD RADIO GUATEMALA | SOUTH AMERICA | | 6 – 8pm |
| 149 | GUIANA | LOVEWORLD RADIO FRENCH GUIANA | SOUTH AMERICA | | 6 – 8pm |
| 150 | GUINEA BISSAU | LOVEWORLD GUINEA BISSAU | AFRICA | | 6 – 8pm |
| 151 | GUINEA BISSAU | LOVEWORLD HEALTH RADIO | AFRICA | | 6 – 8pm |
| 152 | GUINEA CONAKRY | LOVEWORLD RADIO GUINEA CONAKRY | AFRICA | | 6 – 8pm |
| 153 | GUYANA | LOVEWORLD RADIO GUYANA | SOUTH AMERICA | | 6 – 8pm |
| 154 | HAITI | LOVEWORLD RADIO HAITI | NORTH AMERICA | | 6 – 8pm |
| 155 | HONDURAS | LOVEWORLD RADIO HONDURAS | SOUTH AMERICA | | 6 – 8pm |
| 156 | HUNGARY | LOVEWORLD RADIO HUNGARY | EUROPE | | 6 – 8pm |
| 157 | ICELAND | LOVEWORLD RADIO ICELAND | EUROPE | | 6 – 8pm |
| 158 | INDIA | LOVEWORLD RADIO INDIA | ASIA | | 6 – 8pm |
| 159 | INDIA | RADIO LIVE | ASIA | | 6 – 8pm |
| 160 | INDONESIA | LOVEWORLD RADIO INDONESIA | ASIA | | 6 – 8pm |
| 161 | Indonesia* | Radio Suara Elshadday Lutra 90.4 FM. | | | |
| 162 | IRAN | LOVEWORLD RADIO IRAN | ASIA | | 6 – 8pm |
| 163 | IRAQ | LOVEWORLD RADIO IRAQ | ASIA | | 6 – 8pm |
| 164 | IRELAND | LOVEWORLD RADIO IRELAND | EUROPE | | 6 – 8pm |
| 165 | ISRAEL | LOVEWORLD RADIO ISRAEL | ASIA | | 6 – 8pm |
| 166 | ITALY | LOVEWORLD RADIO ITALY | EUROPE | | 6 – 8pm |
| 167 | Italy | LoveWorld Radio | | | |
| 168 | Italy | Radio fede italia | | | |
| 169 | JAMAICA | YAH SOLUTION | NORTH AMERICA | | 6 – 8pm |
| 170 | JAMAICA | GOSPEL FM | NORTH AMERICA | | 6 – 8pm |
| 171 | JAMAICA | LOVEWORLD RADIO JAMAICA | NORTH AMERICA | | 6 – 8pm |
| 172 | JAPAN | LOVEWORLD RADIO JAPAN | ASIA | | 6 – 8pm |
| 173 | JORDAN | LOVEWORLD RADIO JORDAN | ASIA | | 6 – 8pm |
| 174 | KAZAKHSTAN | LOVEWORLD RADIO KAZAKHSTAN | ASIA | | 6 – 8pm |
| 175 | KENYA | LOVEWORLD RADIO KENYA | AFRICA | | 6 – 8pm |
| 176 | KIRIBATI | LOVEWORLD RADIO KIRIBATI | PACIFICOCEANIA | | 6 – 8pm |
| 177 | KOSOVO | LOVEWORLD RADIO KOSOVO | EUROPE | | 6 – 8pm |
| 178 | KOSOVO | LOVEWORLD RADIO KOSOVO | EUROPE | | 6 – 8pm |
| 179 | KURDISTAN | LOVEWORLD RADIO KURDISTAN | ASIA | | 6 – 8pm |
| 180 | KUWAIT | LOVEWORLD RADIO KUWAIT | ASIA | | 6 – 8pm |
| 181 | KUWAIT | RADIO LIVE | ASIA | | 6 – 8pm |
| 182 | KYRGYZSTAN | LOVEWORLD RADIO KYRGYZSTAN | ASIA | | 6 – 8pm |
| 183 | LAOS | LOVEWORLD RADIO LAOS | ASIA | | 6 – 8pm |
| 184 | LATVIA | LOVEWORLD RADIO LATVIA | EUROPE | | 6 – 8pm |
| 185 | LEBANON | LOVEWORLD RADIO LEBANON | ASIA | | 6 – 8pm |
| 186 | LESOTHO | LOVEWORLD RADIO LESOTHO | AFRICA | | 6 – 8pm |
| 187 | LIBERIA | LOVEWORLD RADIO LIBERIA | AFRICA | | 6 – 8pm |
| 188 | LIBYA | LOVEWORLD RADIO LIBYA | AFRICA | | 6 – 8pm |
| 189 | LIBYA | RADIO LIVE | AFRICA | | 6 – 8pm |
| 190 | LIECHTENSTEIN | LOVEWORLD RADIO LIECHTENSTEIN | EUROPE | | 6 – 8pm |
| 191 | LITHUANIA | LOVEWORLD RADIO LITHUANIA | EUROPE | | 6 – 8pm |
| 192 | LUXEMBOURG | LOVEWORLD RADIO LUXEMBOURG | EUROPE | | 6 – 8pm |
| 193 | MACEDONIA | LOVEWORLD RADIO MACEDONIA | EUROPE | | 6 – 8pm |
| 194 | MADAGASCAR | LOVEWORLD RADIO MADAGASCAR | AFRICA | | 6 – 8pm |
| 195 | MALAWI | LOVEWORLD RADIO MALAWI | AFRICA | | 6 – 8pm |
| 196 | Malawi | CFC Radio: Blantyre | | | |
| 197 | Malawi | Timveni Radio | | | |
| 198 | MALAYSIA | LOVEWORLD MALAYSIA | ASIA | | 6 – 8pm |
| 199 | MALAYSIA | LOVEWORLD RADIO MALAYSIA | ASIA | | 6 – 8pm |
| 200 | MALDIVES | LOVEWORLD RADIO MALDIVES | ASIA | | 6 – 8pm |
| 201 | MALI | LOVEWORLD RADIO MALI | AFRICA | | 6 – 8pm |
| 202 | MALTA | LOVEWORLD RADIO MALTA | EUROPE | | 6 – 8pm |
| 203 | MARSHALL ISLAND | LOVEWORLD RADIO MARSHALL ISLAND | EUROPE | | 6 – 8pm |
| 204 | MARTINIQUE | LOVEWORLD RADIO MARTINIQUE CHI | NORTH AMERICA | | 6 – 8pm |
| 205 | MAURITANIA | LOVEWORLD RADIO MAURITANIA | AFRICA | | 6 – 8pm |
| 206 | MAURITIUS | LOVEWORLD RADIO MAURITIUS | AFRICA | | 6 – 8pm |
| 207 | MAYOTTE ISLAND FRANCE | LOVEWORLD RADIO MAYOTTE | EUROPE | | 6 – 8pm |
| 208 | MEXICO | LOVEWORLD RADIO MEXICO | NORTH AMERICA | | 6 – 8pm |
| 209 | MICRONESIA | LOVEWORLD RADIO MICRONESIA | ASIA | | 6 – 8pm |
| 210 | MOLDOVA | LOVEWORLD RADIO MOLDOVA | EUROPE | | 6 – 8pm |
| 211 | MONACO SPAIN | LOVEWORLD RADIO MONACO | EUROPE | | 6 – 8pm |
| 212 | MONGOLIA | LOVEWORLD RADIO MONGOLIA | ASIA | | 6 – 8pm |
| 213 | MONTENEGRO | LOVEWORLD RADIO MONTENEGRO | EUROPE | | 6 – 8pm |
| 214 | MOROCCO | LOVEWORLD RADIO MOROCCO | AFRICA | | 6 – 8pm |
| 215 | MOZAMBIQUE | LOVEWORLD RADIO MOZAMBIQUE | AFRICA | | 6 – 8pm |
| 216 | MYANMAR | LOVEWORLD RADIO MYANMAR | ASIA | | 6 – 8pm |
| 217 | NAMIBIA | LOVEWORLD RADIO NAMIBIA | AFRICA | | 6 – 8pm |
| 218 | NAMIBIA | NBC RADIO | AFRICA | NAMIBIA | RE-BROADCAST |
| 219 | NAURU | LOVEWORLD RADIO NAURU | ASIA | | 6 – 8pm |
| 220 | NETHERLAND | LOVEWORLD RADIO NETHERLAND | EUROPE | | 6 – 8pm |
| 221 | NEW GUINEA | IN TOUCH MEDIA LIMITED | AFRICA | | RE-BROADCAST |
| 222 | NEW ZEALAND | LOVEWORLD RADIO NEW ZEALAND | PACIFICOCEANIA | | 6 – 8pm |
| 223 | Nicaragua, Spain, Peru, Colombia, Argentina, Mexico, USA, Brazil, Dominican Republic, Scotland, Puerto Rico and Honduras | Honduras Radio Station and Facebook | | | |
| 224 | NIGER | LOVEWORLD RADIO NIGER | AFRICA | | 6 – 8pm |
| 225 | NIGERIA | COMFORT FM | AFRICA | UYO_AKWA IBOM | 6 – 8pm |
| 226 | NIGERIA | HERITAGE FM | AFRICA | EKET | 6 – 8pm |
| 227 | NIGERIA | KINGS RADIO | AFRICA | NIGERIA | 6 – 8pm |
| 228 | NIGERIA | ATLANTIC FM UYO | NIGERIA | | 6 – 7pm |
| 229 | NIGERIA | BRONZE FM BENIN CITY | NIGERIA | | 6 – 7pm |
| 230 | NIGERIA | CHARITY FM ASABA | NIGERIA | | 6 – 7pm |
| 231 | NIGERIA | CHOICE FM LAGOS 103.5 | NIGERIA | | 6 – 7pm |
| 232 | NIGERIA | COAL CITY FM ENUGU | NIGERIA | | 6 – 7pm |
| 233 | NIGERIA | COMPANION FM KATSINA | NIGERIA | | 6 – 7pm |
| 234 | NIGERIA | CREEK FM YENAGOA | NIGERIA | | 6 – 7pm |
| 235 | NIGERIA | EQUITY FM BIRNIN-KEBBI | NIGERIA | | 6 – 7pm |
| 236 | NIGERIA | GIFT FM JALINGO | NIGERIA | | 6 – 7pm |
| 237 | NIGERIA | GLOBE FM BAUCHI | NIGERIA | | 6 – 7pm |
| 238 | NIGERIA | GOLD FM ILESHA | NIGERIA | | 6 – 7pm |
| 239 | NIGERIA | HARMONY FM IDOFIAN | NIGERIA | | 6 – 7pm |
| 240 | NIGERIA | HARVEST FM MAKURDI | NIGERIA | | 6 – 7pm |
| 241 | NIGERIA | HEARTLAND FM OWERRI | NIGERIA | | 6 – 7pm |
| 242 | NIGERIA | HIGHLAND FM JOS | NIGERIA | | 6 – 7pm |
| 243 | NIGERIA | HORIZON FM DUTSE | NIGERIA | | 6 – 7pm |
| 244 | NIGERIA | JEWEL FM GOMBE | NIGERIA | | 6 – 7pm |
| 245 | NIGERIA | KAPITAL FM ABUJA 92.9 | NIGERIA | | 6 – 7pm |
| 246 | NIGERIA | LIGHT HOUSE FM YOLA | NIGERIA | | 6 – 7pm |
| 247 | NIGERIA | METRO FM IKOYI | NIGERIA | | 6 – 7pm |
| 248 | NIGERIA | PACESETTER FM UMUAHIA | NIGERIA | | 6 – 7pm |
| 249 | NIGERIA | PARADISE FM CALABAR | NIGERIA | | 6 – 7pm |
TV Stations