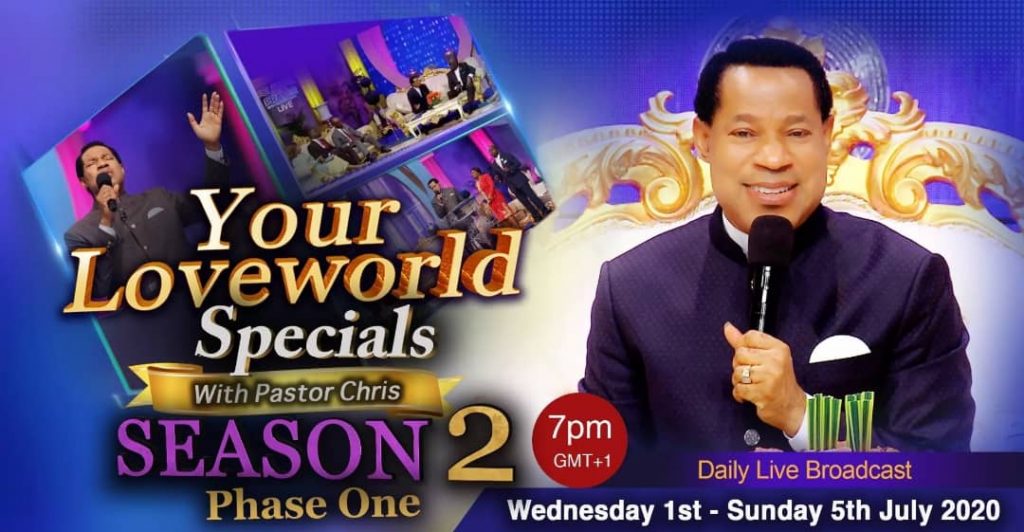 It's time to help God's people, Inspire them, Guide them, Pray for them, Pray with them, and the Church of Jesus Christ will be built.
Join Pastor Chris for a glorious celebration of the word at Your Loveworld Season 2 Phase 1 Day 5, on Sunday 5th July 2020 at 7pm GMT +1, 2pm Eastern.
It'll be streamed live to all the LoveWorld Networks and Web/Mobile platforms, and on major satellite, terrestrial, and local TV and Radio Stations around the world.
Participate through your preferred TV, Radio, mobile, or web application/ website/ social media site by making your selection through the tabs below.
God bless you!
Web/Mobile Platforms
Radio Stations


Untitled Document
| | | | | | | |
| --- | --- | --- | --- | --- | --- | --- |
| S\N | COUNTRY | NAME OF RADIO STATION | CONTINENT | STATES | START TIME (GMT +1) | END TIME (GMT +1) |
| 1 | AFGHANISTAN | LOVEWORLD RADIO AFGHANISTAN | ASIA | | 6PM | 9PM |
| 2 | AFGHANISTAN | RADIO LIVE | ASIA | | 6PM | 9PM |
| 3 | ALBANIA | LOVEWORLD RADIO ALBANIA | EUROPE | | 6PM | 9PM |
| 4 | ALGERIA | LOVEWORLD RADIO ALGERIA | AFRICA | | 6PM | 9PM |
| 5 | ANDORRA | LOVEWORLD RADIO ANDORRA | NORTH AMERICA | | 6PM | 9PM |
| 6 | ANGOLA | LOVEWORLD RADIO ANGOLA | AFRICA | | 6PM | 9PM |
| 7 | ANTIGUA | LOVEWORLD RADIO ANTIGUA | NORTH AMERICA | | 6PM | 9PM |
| 8 | ARGENTINA | LOVEWORLD RADIO ARGENTINA | SOUTH AMERICA | | 6PM | 9PM |
| 9 | ARMENIA | LOVEWORLD RADIO ARMENIA | EUROPE | | 6PM | 9PM |
| 10 | AUSTRALIA | LOVEWORLD RADIO AUSTRALIA | PACIFIC\OCEANIA | | 6PM | 9PM |
| 11 | AUSTRALIA | LOVEWORLD RADIO PACIFIC'S | PACIFIC\OCEANIA | | 6PM | 9PM |
| 12 | AUSTRALIA | RADIO LIVE | PACIFIC\OCEANIA | | 6PM | 9PM |
| 13 | AUSTRIA | LOVEWORLD RADIO AUSTRIA | EUROPE | | 6PM | 9PM |
| 14 | AZERBIAJAN | LOVEWORLD RADIO AZERBIAJAN | EUROPE | | 6PM | 9PM |
| 15 | BAHAMAS | LOVEWORLD RADIO BAHAMAS | NORTH AMERICA | | 6PM | 9PM |
| 16 | BANGLADESH | LOVEWORLD RADIO BANGLADESH | ASIA | | 6PM | 9PM |
| 17 | BANGUI | LOVEWORLD RADIO BANGUI | ASIA | | 6PM | 9PM |
| 18 | BARBADOS | LOVEWORLD RADIO BARBADOS | NORTH AMERICA | | 6PM | 9PM |
| 19 | BELARUS | LOVEWORLD RADIO BELARUS | EUROPE | | 6PM | 9PM |
| 20 | BELGIUM | LOVEWORLD RADIO BELGIUM | EUROPE | | 6PM | 9PM |
| 21 | BELIZE | LOVEWORLD BELIZE | ASIA | | 6PM | 9PM |
| 22 | BENIN REPUBLIC | LOVEWORLD RADIO BENIN REPUBLIC | AFRICA | | 6PM | 9PM |
| 23 | BHUTAN | LOVEWORLD RADIO BHUTAN | ASIA | | 6PM | 9PM |
| 24 | BOLIVIA | LOVEWORLD RADIO BOLIVIA | ASIA | | 6PM | 9PM |
| 25 | BOSNIA | LOVEWORLD RADIO BOSNIA AND HERZEGOVINA | EUROPE | | 6PM | 9PM |
| 26 | BOTSWANA | LOVEWORLD RADIO BOTSWANA | AFRICA | | 6PM | 9PM |
| 27 | BRAZIL | LOVEWORLD RADIO BRAZIL | SOUTH AMERICA | | 6PM | 9PM |
| 28 | BULGARIA | LOVEWORLD RADIO BULGARIA | EUROPE | | 6PM | 9PM |
| 29 | BURKINA FASO | LOVEWORLD RADIO BURKINA FASO | AFRICA | | 6PM | 9PM |
| 30 | BURUNDI | LOVEWORLD RADIO BURUNDI | AFRICA | | 6PM | 9PM |
| 31 | CALABAR | CRBC RADIO IKOM | NIGERIA | | 6PM | 9PM |
| 32 | CAMBODIA | LOVEWORLD RADIO CAMBODIA | SOUTH AMERICA | | 6PM | 9PM |
| 33 | CAMEROON | NKONGSAMBA FM | AFRICA | | 6PM | 9PM |
| 34 | CAMEROON | OCITY RADIO KUMBA | AFRICA | | 6PM | 9PM |
| 35 | CAMEROON | WUM COMMUNITY RADIO | AFRICA | WUM | 6PM | 9PM |
| 36 | CAMEROUN | LOVEWORLD RADIO CAMEROON | AFRICA | | 6PM | 9PM |
| 37 | CANADA | LOVEWORLD RADIO CANADA | NORTH AMERICA | | 6PM | 9PM |
| 38 | CANADA | TEXAS GOSPEL CANADA | NORTH AMERICA | ONTRIO | 6PM | 9PM |
| 39 | CAPE VERDE | LOVEWORLD RADIO CAPE VERDE | AFRICA | | 6PM | 9PM |
| 40 | CAREMEROON | GOSPEL TRUTH | AFRICA | | 6PM | 9PM |
| 41 | CARIBBEAN ISLAND | GOSPEL LIVE 365 | NORTH AMERICA | CARIBBEAN IS | 6PM | 9PM |
| 42 | CARIBBEAN ISLAND | LOVEWORLD RADIO CARIBBEAN | NORTH AMERICA | | 6PM | 9PM |
| 43 | CARMEROON | ABAKWA RADIO | AFRICA | BAMENDA | 6PM | 9PM |
| 44 | CARMEROON | DUNAMIS FM | AFRICA | BAMENDA | 6PM | 9PM |
| 45 | CARMEROON | MEDIAFRIQUE BUEA | AFRICA | BAMENDA | 6PM | 9PM |
| 46 | CARMEROON | NDEFCAM RADIO | AFRICA | BAMENDA | 6PM | 9PM |
| 47 | CARMEROON | RADIO BONNE NOUVELLE | AFRICA | | 6PM | 9PM |
| 48 | CE BROOKLYN | SPOKEN WORDS | CE BROOKLYN | CE BROOKLYN | 6PM | 9PM |
| 49 | CENTRAL AFRICAN REPUBLIC | LOVEWORLD RADIO CENTRAL AFRICA2 | AFRICA | | 6PM | 9PM |
| 50 | CHAD | LOVEWORLD RADIO CHAD | AFRICA | | 6PM | 9PM |
| 51 | CHILE | LOVEWORLD RADIO CHILE | SOUTH AMERICA | | 6PM | 9PM |
| 52 | CHINA | LOVEWORLD RADIO CHINA | ASIA | | 6PM | 9PM |
| 53 | COLOMBIA | LOVEWORLD RADIO COLOMBIA | SOUTH AMERICA | | 6PM | 9PM |
| 54 | COMOROS | LOVEWORLD RADIO COMOROS | ASIA | | 6PM | 9PM |
| 55 | CONGO | LOVEWORLD RADIO DRC CONGO | AFRICA | | 6PM | 9PM |
| 56 | CONGO | LOVEWORLD RADIO LINGALA | AFRICA | | 6PM | 9PM |
| 57 | CONGO | LOVEWORLD RADIO TSHILUBA | AFRICA | | 6PM | 9PM |
| 58 | CONGO DR | LOVEWORLD RADIO KIKONGO | AFRICA | | 6PM | 9PM |
| 59 | CONGO REPUBLIC | LOVEWORLD RADIO CONGO BRAZZA | AFRICA | | 6PM | 9PM |
| 60 | COSTA RICA | LOVEWORLD RADIO COSTA RICA | SOUTH AMERICA | | 6PM | 9PM |
| 61 | COTE D'IVOIRE | LOVEWORLD RADIO COTE D'IVOIRE | AFRICA | | 6PM | 9PM |
| 62 | CROATIA | LOVEWORLD RADIO CROATIA | EUROPE | | 6PM | 9PM |
| 63 | CROSS RIVER | LOVEWORLD RADIO CROSS RIVER | NIGERIA | | 6PM | 9PM |
| 64 | CUBA | LOVEWORLD RADIO CUBA | NORTH AMERICA | | 6PM | 9PM |
| 65 | CYPRUS | LOVEWORLD RADIO CYPRUS | EUROPE | | 6PM | 9PM |
| 66 | DENMARK | LOVEWORLD RADIO DENMARK | EUROPE | | 6PM | 9PM |
| 67 | DJIBOUTI | LOVEWORLD RADIO DJIBOUTI | AFRICA | | 6PM | 9PM |
| 68 | DOMINICA | LOVEWORLD RADIO DOMINICA | NORTH AMERICA | | 6PM | 9PM |
| 69 | EAST AFRICA | LOVEWORLD RADIO SWAHILI | AFRICA | | 6PM | 9PM |
| 70 | ECUADOR | LOVEWORLD RADIO ECUADOR | SOUTH AMERICA | | 6PM | 9PM |
| 71 | EGYPT | LOVEWORLD RADIO EGYPT | AFRICA | | 6PM | 9PM |
| 72 | EGYPT | RADIO LIVE | AFRICA | | 6PM | 9PM |
| 73 | EL SALVADOR | LOVEWORLD RADIO EL SALVADOR | SOUTH AMERICA | | 6PM | 9PM |
| 74 | EQUITORIA GUINEA | LOVEWORLD RADIO EQUATORIAL GUINEA | AFRICA | | 6PM | 9PM |
| 75 | ESTONIA | LOVEWORLD RADIO ESTONIA | EUROPE | | 6PM | 9PM |
| 76 | ETHIOPIAS | LOVEWORLD RADIO ETHIOPIA | AFRICA | | 6PM | 9PM |
| 77 | FIJI | LOVEWORLD RADIO FIJI | ASIA | | 6PM | 9PM |
| 78 | FINLAND | LOVEWORLD RADIO FINLAND | EUROPE | | 6PM | 9PM |
| 79 | FRANCE | LOVEWORLD RADIO FRANCE | EUROPE | | 6PM | 9PM |
| 80 | FRANCO AFRICA | LOVEWORLD RADIO FRANCOPHONE | AFRICA | | 6PM | 9PM |
| 81 | GABON | LOVEWORLD RADIO GABON | AFRICA | | 6PM | 9PM |
| 82 | GAMBIA | LOVEWORLD RADIO GAMBIA | AFRICA | | 6PM | 9PM |
| 83 | GEORGIA | LOVEWORLD RADIO GEORGIA | ASIA | | 6PM | 9PM |
| 84 | GERMANY | ALL4J RADIO | EUROPE | | 6PM | 9PM |
| 85 | GERMANY | ALL4J RADIO (WOLFSBURG) | EUROPE | | 6PM | 9PM |
| 86 | GERMANY | ALL4J RADIO (DORTMUND) | EUROPE | | 6PM | 9PM |
| 87 | GERMANY | ALL4J RADIO (DUSSELDORF)) | EUROPE | | 6PM | 9PM |
| 88 | GERMANY | ALL4J RADIO (FRANKFURT) | EUROPE | | 6PM | 9PM |
| 89 | GERMANY | ALL4J RADIO (HAMBRUG) | EUROPE | | 6PM | 9PM |
| 90 | GERMANY | ALL4J RADIO (STUTTGART) | EUROPE | | 6PM | 9PM |
| 91 | GERMANY | ALL4J RADIO (BREMEN) | EUROPE | | 6PM | 9PM |
| 92 | GERMANY | ALL4J RADIO (COLOGNE) | EUROPE | | 6PM | 9PM |
| 93 | GERMANY | LOVEWORLD RADIO GERMAN | EUROPE | | 6PM | 9PM |
| 94 | GHANA | BENYA FM | AFRICA | NUNGUA | REBROADCAST | REBROADCAST |
| 95 | GHANA | BEYOND FM | AFRICA | GHANA | REBROADCAST | REBROADCAST |
| 96 | GHANA | BISHARA RADIO PAD FM | AFRICA | | 6PM | 9PM |
| 97 | GHANA | DELA FM | AFRICA | NUNGUA | REBROADCAST | REBROADCAST |
| 98 | GHANA | DESTINY RADIO | AFRICA | NUNGUA | 6PM | 9PM |
| 99 | GHANA | EASTERN FM | AFRICA | NUNGUA | 6PM | 9PM |
| 100 | GHANA | GREEN FM | AFRICA | GHANA | REBROADCAST | REBROADCAST |
| 101 | GHANA | HOPE FM | AFRICA | | 6PM | 9PM |
| 102 | GHANA | JERRYSON FM | AFRICA | GHANA | REBROADCAST | REBROADCAST |
| 103 | GHANA | KESMI FM | AFRICA | GHANA | REBROADCAST | REBROADCAST |
| 104 | GHANA | KUUL FM | AFRICA | GHANA | 6PM | 9PM |
| 105 | GHANA | LOVEWORLD RADIO GHANA | AFRICA | | 6PM | 9PM |
| 106 | GLOBAL | LOVEWORLD INTERNET RADIO | NIGERIA | ONLINE | 6PM | 9PM |
| 107 | GOMBE | LOVEWORLD RADIO GOMBE | NIGERIA | | 6PM | 9PM |
| 108 | GREECE | LOVEWORLD RADIO GREECE | EUROPE | | 6PM | 9PM |
| 109 | GRENADA | LOVEWORLD RADIO GRENADA | NORTH AMERICA | | 6PM | 9PM |
| 110 | GUADELOUPE | LOVEWORLD RADIO GUADELOUPE | SOUTH AMERICA | | 6PM | 9PM |
| 111 | GUATEMALA | LOVEWORLD RADIO GUATEMALA | SOUTH AMERICA | | 6PM | 9PM |
| 112 | GUIANA | LOVEWORLD RADIO FRENCH GUIANA | SOUTH AMERICA | | 6PM | 9PM |
| 113 | GUINEA BISSAU | LOVEWORLD GUINEA BISSAU | AFRICA | | 6PM | 9PM |
| 114 | GUINEA BISSAU | LOVEWORLD HEALTH RADIO | AFRICA | | 6PM | 9PM |
| 115 | GUINEA CONAKRY | LOVEWORLD RADIO GUINEA CONAKRY | AFRICA | | 6PM | 9PM |
| 116 | GUYANA | LOVEWORLD RADIO GUYANA | SOUTH AMERICA | | 6PM | 9PM |
| 117 | HAITI | LOVEWORLD RADIO HAITI | NORTH AMERICA | | 6PM | 9PM |
| 118 | HONDURAS | LOVEWORLD RADIO HONDURAS | SOUTH AMERICA | | 6PM | 9PM |
| 119 | HUNGARY | LOVEWORLD RADIO HUNGARY | EUROPE | | 6PM | 9PM |
| 120 | ICELAND | LOVEWORLD RADIO ICELAND | EUROPE | | 6PM | 9PM |
| 121 | INDIA | LOVEWORLD RADIO INDIA | ASIA | | 6PM | 9PM |
| 122 | INDIA | RADIO LIVE | ASIA | | 6PM | 9PM |
| 123 | INDONESIA | LOVEWORLD RADIO INDONESIA | ASIA | | 6PM | 9PM |
| 124 | IRAN | LOVEWORLD RADIO IRAN | ASIA | | 6PM | 9PM |
| 125 | IRAQ | LOVEWORLD RADIO IRAQ | ASIA | | 6PM | 9PM |
| 126 | IRELAND | LOVEWORLD RADIO IRELAND | EUROPE | | 6PM | 9PM |
| 127 | ISRAEL | LOVEWORLD RADIO ISRAEL | ASIA | | 6PM | 9PM |
| 128 | ITALY | LOVEWORLD RADIO ITALY | EUROPE | | 6PM | 9PM |
| 129 | JAMAICA | GOSPEL FM | NORTH AMERICA | JAMAICA | 6PM | 9PM |
| 130 | JAMAICA | LOVEWORLD RADIO JAMAICA | NORTH AMERICA | | 6PM | 9PM |
| 131 | JAMAICA | YAH SOLUTION | NORTH AMERICA | | 6PM | 9PM |
| 132 | JAPAN | LOVEWORLD RADIO JAPAN | ASIA | | 6PM | 9PM |
| 133 | JORDAN | LOVEWORLD RADIO JORDAN | ASIA | | 6PM | 9PM |
| 134 | KAZAKHSTAN | LOVEWORLD RADIO KAZAKHSTAN | ASIA | | 6PM | 9PM |
| 135 | KENYA | LOVEWORLD RADIO KENYA | AFRICA | | 6PM | 9PM |
| 136 | KIRIBATI | LOVEWORLD RADIO KIRIBATI | PACIFIC\OCEANIA | | 6PM | 9PM |
| 137 | KOSOVO | LOVEWORLD RADIO KOSOVO | EUROPE | | 6PM | 9PM |
| 138 | KOSOVO | LOVEWORLD RADIO KOSOVO | EUROPE | | 6PM | 9PM |
| 139 | KURDISTAN | LOVEWORLD RADIO KURDISTAN | ASIA | | 6PM | 9PM |
| 140 | KUWAIT | LOVEWORLD RADIO KUWAIT | ASIA | | 6PM | 9PM |
| 141 | KUWAIT | RADIO LIVE | ASIA | | 6PM | 9PM |
| 142 | KYRGYZSTAN | LOVEWORLD RADIO KYRGYZSTAN | ASIA | | 6PM | 9PM |
| 143 | LAOS | LOVEWORLD RADIO LAOS | ASIA | | 6PM | 9PM |
| 144 | LATVIA | LOVEWORLD RADIO LATVIA | EUROPE | | 6PM | 9PM |
| 145 | LEBANON | LOVEWORLD RADIO LEBANON | ASIA | | 6PM | 9PM |
| 146 | LESOTHO | LOVEWORLD RADIO LESOTHO | AFRICA | | 6PM | 9PM |
| 147 | LIBERIA | LOVEWORLD RADIO LIBERIA | AFRICA | | 6PM | 9PM |
| 148 | LIBYA | LOVEWORLD RADIO LIBYA | AFRICA | | 6PM | 9PM |
| 149 | LIBYA | RADIO LIVE | AFRICA | | 6PM | 9PM |
| 150 | LIECHTENSTEIN | LOVEWORLD RADIO LIECHTENSTEIN | EUROPE | | 6PM | 9PM |
| 151 | LITHUANIA | LOVEWORLD RADIO LITHUANIA | EUROPE | | 6PM | 9PM |
| 152 | LUXEMBOURG | LOVEWORLD RADIO LUXEMBOURG | EUROPE | | 6PM | 9PM |
| 153 | MACEDONIA | LOVEWORLD RADIO MACEDONIA | EUROPE | | 6PM | 9PM |
| 154 | MADAGASCAR | LOVEWORLD RADIO MADAGASCAR | AFRICA | | 6PM | 9PM |
| 155 | MALAWI | LOVEWORLD RADIO MALAWI | AFRICA | | 6PM | 9PM |
| 156 | MALAWI | RADIO DINASOUR | AFRICA | MALAWI | 6PM | 9PM |
| 157 | MALAYSIA | LOVEWORLD MALAYSIA | ASIA | | 6PM | 9PM |
| 158 | MALAYSIA | LOVEWORLD RADIO MALAYSIA | ASIA | | 6PM | 9PM |
| 159 | MALDIVES | LOVEWORLD RADIO MALDIVES | ASIA | | 6PM | 9PM |
| 160 | MALI | LOVEWORLD RADIO MALI | AFRICA | | 6PM | 9PM |
| 161 | MALTA | LOVEWORLD RADIO MALTA | EUROPE | | 6PM | 9PM |
| 162 | MARSHALL ISLAND | LOVEWORLD RADIO MARSHALL ISLAND | EUROPE | | 6PM | 9PM |
| 163 | MARTINIQUE | LOVEWORLD RADIO MARTINIQUE CHI | NORTH AMERICA | | 6PM | 9PM |
| 164 | MAURITANIA | LOVEWORLD RADIO MAURITANIA | AFRICA | | 6PM | 9PM |
| 165 | MAURITIUS | LOVEWORLD RADIO MAURITIUS | AFRICA | | 6PM | 9PM |
| 166 | MAYOTTE ISLAND FRANCE | LOVEWORLD RADIO MAYOTTE | EUROPE | | 6PM | 9PM |
| 167 | MEXICO | LOVEWORLD RADIO MEXICO | NORTH AMERICA | | 6PM | 9PM |
| 168 | MICRONESIA | LOVEWORLD RADIO MICRONESIA | ASIA | | 6PM | 9PM |
| 169 | MOLDOVA | LOVEWORLD RADIO MOLDOVA | EUROPE | | 6PM | 9PM |
| 170 | MONACO SPAIN | LOVEWORLD RADIO MONACO | EUROPE | | 6PM | 9PM |
| 171 | MONGOLIA | LOVEWORLD RADIO MONGOLIA | ASIA | | 6PM | 9PM |
| 172 | MONTENEGRO | LOVEWORLD RADIO MONTENEGRO | EUROPE | | 6PM | 9PM |
| 173 | MOROCCO | LOVEWORLD RADIO MOROCCO | AFRICA | | 6PM | 9PM |
| 174 | MOZAMBIQUE | LOVEWORLD RADIO MOZAMBIQUE | AFRICA | | 6PM | 9PM |
| 175 | MYANMAR | LOVEWORLD RADIO MYANMAR | ASIA | | 6PM | 9PM |
| 176 | NAMIBIA | LOVEWORLD RADIO NAMIBIA | AFRICA | | 6PM | 9PM |
| 177 | NAMIBIA | NBC RADIO | AFRICA | NAMIBIA | 6PM | 9PM |
| 178 | NAURU | LOVEWORLD RADIO NAURU | ASIA | | 6PM | 9PM |
| 179 | NETHERLAND | LOVEWORLD RADIO NETHERLAND | EUROPE | | 6PM | 9PM |
| 180 | NEW GUINEA | IN TOUCH MEDIA LIMITED | AFRICA | | 6pm | 9pm |
| 181 | NEW ZEALAND | LOVEWORLD RADIO NEW ZEALAND | PACIFIC\OCEANIA | | 6PM | 9PM |
| 182 | NIGER | LOVEWORLD RADIO NIGER | AFRICA | | 6PM | 9PM |
| 183 | NIGERIA | AJILETE FM | AFRICA | OGBOMOSHO | 7PM | 9PM |
| 184 | NIGERIA | AYOBA FM | NIGERIA | EKITI | 6PM | 9PM |
| 185 | NIGERIA | BISHOP CHIKANCY COMEDY FM | NIGERIA | | 6PM | 9PM |
| 186 | NIGERIA | BLAZE FM | AFRICA | ORLU | 6PM | 9PM |
| 187 | NIGERIA | BLUE ELITE RADIO | NIGERIA | | 6PM | 9PM |
| 188 | NIGERIA | BLW PRAYER NETWORK RADIO | NIGERIA | | 6PM | 9PM |
| 189 | NIGERIA | CANAAN PARADISE | AFRICA | CALABAR | 6PM | 9PM |
| 190 | NIGERIA | COMFORT FM | AFRICA | UYO_AKWA IBOM | 6PM | 9PM |
| 191 | NIGERIA | CROWN FM | NIGERIA | WARRI | 6PM | 9PM |
| 192 | NIGERIA | D-STARS FM | AFRICA | LAGOS | 6PM | 9PM |
| 193 | NIGERIA | EQULITY FM | NIGERIA | BIRNIN KEBBI | 6PM | 9PM |
| 194 | NIGERIA | GOSPEL MINDS RADIO | NIGERIA | | 6PM | 9PM |
| 195 | NIGERIA | GOSPEL NAIJIA | NIGERIA | | 6PM | 9PM |
| 196 | NIGERIA | GOSPTRAINMENT | NIGERIA | | 6PM | 9PM |
| 197 | NIGERIA | HARVEST FM | NIGERIA | MAKURDI | 6PM | 9PM |
| 198 | NIGERIA | HERITAGE FM | AFRICA | EKET | 6PM | 9PM |
| 199 | NIGERIA | HIGHLAND FM | AFRICA | JOS | 6PM | 9PM |
| 200 | NIGERIA | INSPIRATION FM EKET | NIGERIA | EKET | 6PM | 9PM |
| 201 | NIGERIA | INSPIRATION FM UYO | AFRICA | UYO_AKWA IBOM | 6PM | 9PM |
| 202 | NIGERIA | INVICTA FM | AFRICA | KADUNA | 6PM | 9PM |
| 203 | NIGERIA | ISM RADIO NETWORK | NIGERIA | | 6PM | 9PM |
| 204 | NIGERIA | KINGS RADIO | NIGERIA | LAGOS | 7PM | 9PM |
| 205 | NIGERIA | KISS FM | NIGERIA | ABUJA | 6PM | 9PM |
| 206 | NIGERIA | KU FM | AFRICA | BENIN | 6PM | 9PM |
| 207 | NIGERIA | LION FM | AFRICA | ENUGU 1 | 6PM | 9PM |
| 208 | NIGERIA | LOVE FM | NIGERIA | ABUJA | 6PM | 9PM |
| 209 | NIGERIA | LOVEWORLD RADIO COAL CITY | NIGERIA | | 6PM | 9PM |
| 210 | NIGERIA | LOVEWORLD RADIO HAUSA | NIGERIA | | 6PM | 9PM |
| 211 | NIGERIA | LOVEWORLD RADIO MINNA | NIGERIA | | 6PM | 9PM |
| 212 | NIGERIA | LOVEWORLD RADIO NIGER DELTA | NIGERIA | | 6PM | 9PM |
| 213 | NIGERIA | LOVEWORLD RADIO UGHELLI | NIGERIA | | 6PM | 9PM |
| 214 | NIGERIA | LOVEWORLD RADIO WARRI | NIGERIA | | 6PM | 9PM |
| 215 | NIGERIA | ODENIGBO FM | AFRICA | ONITSHA | 6PM | 9PM |
| 216 | NIGERIA | OJINBA FM | AFRICA | ORLU | 6PM | 9PM |
| 217 | NIGERIA | PLANET FM | NIGERIA | UYO_AKWA IBOM | 6PM | 9PM |
| 218 | NIGERIA | POSITIVE FM | NIGERIA | AKURE | 6PM | 9PM |
| 219 | NIGERIA | PRECIOUS FM | NIGERIA | LAFIA | 6PM | 9PM |
| 220 | NIGERIA | PREMIER FM | NIGERIA | IBADAN | 6PM | 9PM |
| 221 | NIGERIA | RADIO LIVE | NIGERIA | | 6PM | 9PM |
| 222 | NIGERIA | SUNCITY FM | AFRICA | ONDO | 6PM | 9PM |
| 223 | NIGERIA | WIG RADIO | AFRICA | LAGOS | 6PM | 9PM |
| 224 | NIGERIA | WORSHIP CULTURE RADIO | NIGERIA | | 6PM | 9PM |
| 225 | NIGERIA | XCEL FM | NIGERIA | UYO_AKWA IBOM | 6PM | 9PM |
| 226 | NIGERIA | SUPER FM | NIGERIA | IJEBU ODE | 6PM | 9PM |
| 227 | NORTH AMERICA | WRHI RADIO | AMERICA | SOUTH CALROLINA | 6PM | 9PM |
| 228 | NORTH KOREA | LOVEWORLD RADIO KOREA NORTH | ASIA | | 6PM | 9PM |
| 229 | NORWAY | LOVEWORLD RADIO NORWAY | EUROPE | | 6PM | 9PM |
| 230 | OMAN | LOVEWORLD RADIO OMAN | ASIA | | 6PM | 9PM |
| 231 | OMAN | RADIO LIVE | ASIA | | 6PM | 9PM |
| 232 | ONLINE | LOVEWORLD 360 MIX | NIGERIA | ONLINE | 6PM | 9PM |
| 233 | PAKISTAN | RADIO LIFE PAKISTIAN | ASIA | PAKISTAN | 6PM | 9PM |
| 234 | PAKISTAN | LOVEWORLD RADIO PAKISTAN | ASIA | | 6PM | 9PM |
| 235 | PAKISTAN | RADIO LIVE | ASIA | | 6PM | 9PM |
| 236 | PALAU | LOVEWORLD RADIO PALAU | ASIA | | 6PM | 9PM |
| 237 | PANAMA | LOVEWORLD RADIO PANAMA | SOUTH AMERICA | | 6PM | 9PM |
| 238 | PAPUA NEW GUINEA | LOVEWORLD RADIO PAPUA NEW GUINEA | ASIA | | 6PM | 9PM |
| 239 | PARAGUAY | LOVEWORLD RADIO PARAGUAY | SOUTH AMERICA | | 6PM | 9PM |
| 240 | PERU | LOVEWORLD RADIO PERU | SOUTH AMERICA | | 6PM | 9PM |
| 241 | PHILIPPINES | LOVEWORLD RADIO PHILIPPINES | ASIA | | 6PM | 9PM |
| 242 | POLAND | LOVEWORLD RADIO POLAND | EUROPE | | 6PM | 9PM |
| 243 | PORTUGAL | LOVEWORLD RADIO PORTUGAL | EUROPE | | 6PM | 9PM |
| 244 | QUATAR | LOVEWORLD RADIO QATAR | ASIA | | 6PM | 9PM |
| 245 | QUATAR | LOVEWORLD RADIO REUNION | ASIA | | 6PM | 9PM |
| 246 | RUSSIA | LOVEWORLD RADIO RUSSIA | EUROPE | | 6PM | 9PM |
| 247 | RWANDA | LOVEWORLD RADIO RWANDA | AFRICA | | 6PM | 9PM |
| 248 | SAINT PIERRE & MIQUELON | LOVEWORLD RADIO SAINT PIERRE AND MIQUELON | NORTH AMERICA | | 6PM | 9PM |
| 249 | SAMOA | LOVEWORLD RADIO SAMOA | ASIA | | 6PM | 9PM |
| 250 | SAN MARINO | LOVEWORLD RADIO SAN MARINO | SOUTH AMERICA | | 6PM | 9PM |
| 251 | SAO TOME & PRINCIPE | LOVEWORLD RADIO SAO TOME AND PRINCIPE | AFRICA | | 6PM | 9PM |
| 252 | SAUDI ARABIA | LOVEWORLD SAUDI ARABIA | ASIA | | 6PM | 9PM |
| 253 | SENEGAL | LOVEWORLD SENEGAL | AFRICA | | 6PM | 9PM |
| 254 | SERBIA | LOVEWORLD RADIO SERBIA | EUROPE | | 6PM | 9PM |
| 255 | SEYCHELLES | LOVEWORLD RADIO SEYCHELLES | AFRICA | | 6PM | 9PM |
| 256 | SIBERIA | LOVEWORLD RADIO SIBERIA | EUROPE | | 6PM | 9PM |
| 257 | SIERRA LEONE | AYV RADIO | AFRICA | SIERRA LEONE | 6PM | 9PM |
| 258 | SIERRA LEONE | BBN RADIO | AFRICA | SIERRA LEONE | 6PM | 9PM |
| 259 | SIERRA LEONE | CITIZENS RADIO | AFRICA | SIERRA LEONE | 6PM | 9PM |
| 260 | SIERRA LEONE | EASTERN FM | AFRICA | KAILAHUN | 6PM | 9PM |
| 261 | SIERRA LEONE | EASTERN FM | AFRICA | KENEMA | 6PM | 9PM |
| 262 | SIERRA LEONE | EASTERN FM | AFRICA | KONO | 6PM | 9PM |
| 263 | SIERRA LEONE | FOP RADIO | AFRICA | MOYAMBA | 6PM | 9PM |
| 264 | SIERRA LEONE | KISS RADIO | AFRICA | SIERRA LEONE | 6PM | 9PM |
| 265 | SIERRA LEONE | LUNSAR | AFRICA | PORT LOKO | 6PM | 9PM |
| 266 | SINGAPORE | LOVEWORLD RADIO SINGAPORE | ASIA | | 6PM | 9PM |
| 267 | SLOVAKIA | LOVEWORLD RADIO SLOVAKIA | EUROPE | | 6PM | 9PM |
| 268 | SOLOMON ISLANDS | LOVEWORLD RADIO SOLOMONS ISLANDS | PACIFIC\OCEANIA | | 6PM | 9PM |
| 269 | SOMALIA | LOVEWORLD RADIO SOMALIA | AFRICA | | 6PM | 9PM |
| 270 | SOUTH AFRICA | ALEX FM | AFRICA | | 6PM | 9PM |
| 271 | SOUTH AFRICA | BONAJALA | AFRICA | | 6PM | 9PM |
| 272 | SOUTH AFRICA | CIVIC FM | AFRICA | SOUTH AFRICA | 6PM | 9PM |
| 273 | SOUTH AFRICA | IZWI LETHEMBA | AFRICA | | 6PM | 9PM |
| 274 | SOUTH AFRICA | MDANYSANE FM | AFRICA | | 6PM | 9PM |
| 275 | SOUTH AFRICA | MOTION SENSE | AFRICA | | 6PM | 6PM |
| 276 | SOUTH AFRICA | PORT ELIZABETH FM | AFRICA | | 6PM | 9PM |
| 277 | SOUTH AFRICA | REHOBOTH RADIO | AFRICA | | 6PM | 9PM |
| 278 | SOUTH AFRICA | REVIVAL FM | AFRICA | SOUTH AFRICA | 6PM | 9PM |
| 279 | SOUTH AMERICA | INDIE GOSPEL RADIO | AMERICA | SOUTH AMERICA | 6PM | 9PM |
| 280 | SOUTH SUDAN | FAVOUR FM | AFRICA | | 7PM | 9PM |
| 281 | SOUTH SUDAN | LOVEWORLD RADIO SOUTH SUDAN | AFRICA | | 6PM | 9PM |
| 282 | SPAIN | LOVEWORLD RADIO ESPANA | EUROPE | | 6PM | 9PM |
| 283 | SPAIN | LOVEWORLD RADIO SPAIN | EUROPE | | 6PM | 9PM |
| 284 | SRILANKA | LOVEWORLD RADIO SRILANKA | ASIA | | 6PM | 9PM |
| 285 | ST BARTHELEMY | LOVEWORLD RADIO ST BARTHELEMY | NORTH AMERICA | | 6PM | 9PM |
| 286 | ST KITTS | LOVEWORLD RADIO ST KITTS | NORTH AMERICA | | 6PM | 9PM |
| 287 | ST LUCIA | LOVEWORLD RADIO ST LUCIA | NORTH AMERICA | | 6PM | 9PM |
| 288 | ST VINCENT | LOVEWORLD RADIO ST VINCENT | NORTH AMERICA | | 6PM | 9PM |
| 289 | SUDAN | LOVEWORLD RADIO SUDAN | AFRICA | | 6PM | 9PM |
| 290 | SURINAME | LOVEWORLD RADIO SURINAME | ASIA | | 6PM | 9PM |
| 291 | SWAZILAND | LOVEWORLD RADIO SWAZILAND | AFRICA | | 6PM | 9PM |
| 292 | SWAZILAND | LOVEWORLD RADIO SWISS | AFRICA | | 6PM | 9PM |
| 293 | SYRIA | KUIA BUE RADIO | ASIA | SYRIA | 6PM | 9PM |
| 294 | SYRIA | LOVEWORLD RADIO SYRIA | ASIA | | 6PM | 9PM |
| 295 | SYRIA | RADIO LIVE | ASIA | | 6PM | 9PM |
| 296 | TAIWAN | LOVEWORLD RADIO TAIWAN | ASIA | | 6PM | 9PM |
| 297 | TAJIKISTAN | LOVEWORLD RADIO TAJIKISTAN | ASIA | | 6PM | 9PM |
| 298 | TANZAIA | EAST AFRICA RADIO | AFRICA | | 6PM | 9PM |
| 299 | TANZAIA | LOVEWORLD RADIO TANZANIA | AFRICA | | 6PM | 9PM |
| 300 | THAILAND | LOVEWORLD RADIO THAILAND | ASIA | | 6PM | 9PM |
| 301 | TIMOR | LOVEWORLD EAST TIMOR | ASIA | | 6PM | 9PM |
| 302 | TONGA | LEO MOTU'ONGA OFA – TONGA | ASIA | | 6PM | 9PM |
| 303 | TONGA | LOVEWORLD RADIO TONGA | ASIA | | 6PM | 9PM |
| 304 | TRINIDAD & TOBAGO | ISAAC FM | ASIA | TRINIDAD & TOBAGO | REBROADCAST | REBROADCAST |
| 305 | TRINIDAD & TOBAGO | LOVEWORLD RADIO TRINIDAD & TOBAGO | NORTH AMERICA | | 6PM | 9PM |
| 306 | TURKEY | LOVEWORLD RADIO TURKEY | ASIA | | 6PM | 9PM |
| 307 | TURKMENISTAN | LOVEWORLD RADIO TURKMENISTAN | ASIA | | 6PM | 9PM |
| 308 | UAE | LOVEWORLD RADIO UNITED ARAB EMIRATES | ASIA | | 6PM | 9PM |
| 309 | UGANDA | BEAT FM | AFRICA | | 6PM | 9PM |
| 310 | UGANDA | EJJAZ | AFRICA | | 7PM | 9PM |
| 311 | UGANDA | ELGON RADIO | AFRICA | UGANDA | 6PM | 9PM |
| 312 | UGANDA | ELSHAMA FM | AFRICA | UGANDA | 6PM | 9PM |
| 313 | UGANDA | IBANDA FM | AFRICA | UGANDA | 6PM | 9PM |
| 314 | UGANDA | JUICE FM | AFRICA | UGANDA | REBROADCAST | REBROADCAST |
| 315 | UGANDA | LOVEWORLD RADIO UGANDA | AFRICA | | 6PM | 9PM |
| 316 | UGANDA | SOUL TUNES | AFRICA | | 6PM | 9PM |
| 317 | UGANDA | SPEAK FM | AFRICA | GULU | 6PM | 9PM |
| 318 | UGANDA | WOT ONLINE RADIO | AFRICA | | 6PM | 9PM |
| 319 | UGANDA | YOFOCHM | AFRICA | | 6PM | 9PM |
| 320 | UK | LOVEWORLD RADIO UK | EUROPE | | 6PM | 9PM |
| 321 | UKRAINE | LOVEWORLD RADIO UKRAINE | EUROPE | | 6PM | 9PM |
| 322 | UNITED KINGDOM | GRACE RADIO | EUROPE | LONDON | 6PM | 9PM |
| 323 | UNITED KINGDOM | LOVEWORLD MANCHESTER | EUROPE | MANCHESTER | 6PM | 9PM |
| 324 | UNITED KINGDOM | LOVEWORLD RADIO MANCHESTER | EUROPE | MANCHESTER | 6PM | 9PM |
| 325 | UNITED KINGDOM | RADIO ATTITUDE | EUROPE | LONDON | 6PM | 9PM |
| 326 | UNITED KINGDOM | RADIO LIVE | EUROPE | | 6PM | 9PM |
| 327 | UNITED KINGDOM | TRIUMPHANT RADIO | EUROPE | | 6PM | 9PM |
| 328 | UNITED STATES | GRAM RADIO | AMERICA | UNITED STATES | 6PM | 9PM |
| 329 | UNITED STATES | WORSHIP WARRIOR | AMERICA | UNITED STATES | 6PM | 9PM |
| 330 | USA | ALL4J RADIO | NORTH AMERICA | | 6PM | 9PM |
| 331 | USA | ALL4J RADIO (SIEGNEL) | NORTH AMERICA | | 6PM | 9PM |
| 332 | USA | LOVEWORLD RADIO BROOKLYN | NORTH AMERICA | | 6PM | 9PM |
| 333 | USA | LOVEWORLD RADIO BRUNEI | NORTH AMERICA | | 6PM | 9PM |
| 334 | USA | LOVEWORLD RADIO TEXAS | NORTH AMERICA | | 6PM | 9PM |
| 335 | USA | LOVEWORLD RADIO USA | NORTH AMERICA | | 6PM | 9PM |
| 336 | USA | LOVEWORLD RADIO UZBEKISTAN | NORTH AMERICA | | 6PM | 9PM |
| 337 | USA | RADIO LIVE | NORTH AMERICA | | 6PM | 9PM |
| 338 | USA | WMUZ FM | NORTH AMERICA | USA | 6PM | 9PM |
| 339 | VANUATU REPUBLIC | LOVEWORLD RADIO VANUATU | PACIFIC\OCEANIA | | 6PM | 9PM |
| 340 | VENEZUELA | LOVEWORLD RADIO VENEZUELA | SOUTH AMERICA | | 6PM | 9PM |
| 341 | VIETNAM | LOVEWORLD RADIO VIETNAM | ASIA | | 6PM | 9PM |
| 342 | WESTERN SAHARA | LOVEWORLD WESTERN SAHARA | AFRICA | | 6PM | 9PM |
| 343 | YEMEN | LOVEWORLD RADIO YEMEN | ASIA | | 6PM | 9PM |
| 344 | ZAMBIA | CHOMA FM RADIO | AFRICA | ZAMBIA | 6PM | 9PM |
| 345 | ZAMBIA | JOY FM | AFRICA | | 6PM | 9PM |
| 346 | ZAMBIA | LIVINGSTON | AFRICA | ZAMBIA | 6PM | 9PM |
| 347 | ZAMBIA | LOVEWORLD RADIO ZAMBIA | AFRICA | | 6PM | 9PM |
| 348 | ZAMBIA | LUSAKA FM | AFRICA | ZAMBIA | 6PM | 9PM |
| 349 | ZAMBIA | RADIO CHIMWEMWE | AFRICA | ZAMBIA | 6PM | 9PM |
| 350 | ZAMBIA | SOLWEZI RADIO | AFRICA | SOLWEZI CITY | 6PM | 9PM |
| 351 | ZIMBABWE | LOVEWORLD RADIO ZIMBABWE | AFRICA | | 6PM | 9PM |
TV Stations


Untitled Document
| | | | | | | | |
| --- | --- | --- | --- | --- | --- | --- | --- |
| S/N | COUNTRY | STATION NAME | CONTINENT | STATE OR CITY | TIME (GMT +1) | | |
| 1 | SUB SAHARA AFRICA | LOVEWORLD PLUS | https://www.loveworldplus.tv | Eutelsat 16A/16'E, Frequency: 12564, | | | |
| 2 | EUROPE AND AFRICA | LOVEWORLD SAT | https://www.loveworldsat.org/ | Intelsat 20, Frequency: 12562 H, 12602 V | | | |
| 3 | EUROPE | LOVEWORLD UK | https://loveworlduk.org/ | Astra 2G, Frequency: 11671 H | | | |
| 4 | NORTH AMERICA | LOVEWORLD USA | https://www.loveworldusa.org/ | SES 1, Frequency 3900 H | | | |
| 5 | INDIA | LOVEWORLD INDIA | Loveworld Broadcasting Network channel 693 on Airtel DTH India | Loveworld Broadcasting Network channel 693 on Airtel DTH India | | | |
| 6 | ASIA | LOVEWORLD ASIA | http://cloveworld.org/tv?id=5a098fdb0c4105wjug1qiet7v | | | | |
| 7 | CENTRAL AMERICA AND SOUTH AMERICA | LOVEWORLD CASA | http://cloveworld.org/tv?id=5a099019dcdbax4kpil9ujrzy | | | | |
| 8 | EUROPE | LOVEWORLD EURO | http://cloveworld.org/?tv=5a098ffad71f9cy8g5uns1x70 | | | | |
| 9 | MIDDLE EAST AND NORTH AFRICA | LOVEWORLD MENA | http://cloveworld.org/tv?id=5a098fa91c8281ilmu6n7dvfg | | | | |
| 10 | PACIFICS | LOVEWORLD PACIFICS | http://cloveworld.org/tv?id=5a382af71148549pde562zf0y | | | | |
| | | | | | | | |
| 11 | Anguilla | CARIBBEAN CABLE CHANNEL | NORTH AMERICA | Anguilla | 7 – 9pm | | |
| 12 | Antigua & Barbuda | CTV | NORTH AMERICA | Antigua & Barbuda | 7 – 9pm | | |
| 13 | AUSTRALIA | Loveworld Queensland Australia | PACIFIC\OCEANIA | | 7 – 9pm | | |
| 14 | AUSTRALIA | Queensland tv | PACIFIC\OCEANIA | | 7 – 9pm | | |
| 15 | Bahamas, The | CABLE BAHAMAS TV | NORTH AMERICA | Bahamas | 7 – 9pm | | |
| 16 | bahrain | Rapture Broadcasting Network, BAHRAIN | Asia | | 7 – 9pm | | |
| 17 | bangalore | Tv Bangalore | Asia | | 7 – 9pm | | |
| 18 | Barbados | DIGICEL PLAY CHANNEL | NORTH AMERICA | Barbados | 7 – 9pm | | |
| 19 | Barbados | MULTI CHOICE TV | NORTH AMERICA | Barbados | 7 – 9pm | | |
| 20 | benin rep | etv benin rep | Africa | | rebroadcast | | |
| 21 | CARIBBEAN ISLAND | NEW HOPE TV | NORTH AMERICA | | 7 – 9pm | | |
| 22 | Cayman Islands | WESTSTAR TV | NORTH AMERICA | Cayman Islands | 7 – 9pm | | |
| 23 | Dominica | SAT TELECOMS CHANNEL | NORTH AMERICA | Dominica | 7 – 9pm | | |
| 24 | EGYPT | LOVEWORLD MENA | ASIA | | 7 – 9pm | | |
| 25 | fiji | Mai Tv Fiji | | | 7 – 9pm | | |
| 26 | france | HolyGod TV France | Europe | | 7 – 9pm | | |
| 27 | gabon | bethel gabon | Africa | | rebroadcast | | |
| 28 | guinea | EM TV NEW GUINEA | | | 7 – 9pm | | |
| 29 | India | LIFETV INDIA | ASIA | Agra | 7 – 9pm | | |
| 30 | India | LIFETV INDIA | ASIA | Andrapradesh | 7 – 9pm | | |
| 31 | India | LIFETV INDIA | ASIA | Bombay Mumbai | 7 – 9pm | | |
| 32 | India | LIFETV INDIA | ASIA | Delhi | 7 – 9pm | | |
| 33 | India | LIFETV INDIA | ASIA | Jaipur | 7 – 9pm | | |
| 34 | India | LIFETV INDIA | ASIA | Karnataka State | 7 – 9pm | | |
| 35 | India | LIFETV INDIA | ASIA | Kerala State | 7 – 9pm | | |
| 36 | India | LIFETV INDIA | ASIA | North India | 7 – 9pm | | |
| 37 | India | LIFETV INDIA | ASIA | Oddisa | 7 – 9pm | | |
| 38 | India | LIFETV INDIA | ASIA | Tamilnadu Province | 7 – 9pm | | |
| 39 | India | LIFETV INDIA | ASIA | Telengana | 7 – 9pm | | |
| 40 | INDIA | CHANNEL 316 | ASIA | | 7 – 9pm | | |
| 41 | INDIA | CHRISTIAN IPTV | ASIA | | 7 – 9pm | | |
| 42 | india | Headlines Tripura Tv channel | asia | | 7 – 9pm | | |
| 43 | india | Heavenly Feast | asia | | 7 – 9pm | | |
| 44 | india | KILPZOO WEB CHANNEL INDIA | asia | | 7 – 9pm | | |
| 45 | INDIA | LIFETV PLUS | ASIA | | 7 – 9pm | | |
| 46 | india | Mana TV South India | Asia | | 7 – 9pm | | |
| 47 | india | Platinum TV, India | Asia | | 7 – 9pm | | |
| 48 | india | Power Vision Tv | asia | | 7 – 9pm | | |
| 49 | india | big j tv | Asia | | 7 – 9pm | | |
| 50 | india | dajiworld | Asia | | 7 – 9pm | | |
| 51 | india | impact tv | Asia | | 7 – 9pm | | |
| 52 | india | Platinum TV | Asia | | 7 – 9pm | | |
| 53 | india | Shubhsandesh TV | Asia | | 7 – 9pm | | |
| 54 | italy | Paroledivita Tv | Europe | | 7 – 9pm | | |
| 55 | italy | TCI ITALY | Europe | | 7 – 9pm | | |
| 56 | Jamaica | DIGICEL PLAY CHANNEL | NORTH AMERICA | Jamaica | 7 – 9pm | | |
| 57 | JAMAICA | JAMAICA TV | NORTH AMERICA | | 7 – 9pm | | |
| 58 | jamaica | Jamaica TV | NORTH AMERICA | | 7 – 9pm | | |
| 59 | Jamaica | JGTV Jamaica | NORTH AMERICA | | 7 – 9pm | | |
| 60 | Jamaica | MTM Jamaica | North America | | 7 – 9pm | | |
| 61 | malawi | ssbc tv malawi | Africa | | rebroadcast | | |
| 62 | malta | EVOIPTV (Malta) | asia | | 7 – 9pm | | |
| 63 | Montserrat | CARIBBEAN CABLE COMMUNICATIONS TV | NORTH AMERICA | Montserrat | 7 – 9pm | | |
| 64 | namibia | Broadcasting Corporation (NBC)Namibia | Africa | | 7 – 9pm | | |
| 65 | Nigeria | STV ABUJA | NIGERIA | Abuja | 7 – 9pm | | |
| 66 | Nigeria | STV BAYELSA | NIGERIA | Bayelsa | 7 – 9pm | | |
| 67 | Nigeria | STV BENIN | NIGERIA | Benin City | 7 – 9pm | | |
| 68 | Nigeria | STV JOS | NIGERIA | Jos | 7 – 9pm | | |
| 69 | Nigeria | STV LAGOS | NIGERIA | Lagos | 7 – 9pm | | |
| 70 | Nigeria | STV PORT HARCOURT | NIGERIA | Port Harcourt | 7 – 9pm | | |
| 71 | NIGERIA | PATHWAY TV | NIGERIA | WARRI, ASABA & BENIN | 7 – 9pm | | |
| 72 | NIGERIA | LOVEWORLD ASIA | NIGERIA | | 7 – 9pm | | |
| 73 | Nigeria | super screen | Africa | | 7 – 9pm | | |
| 74 | Nigeria | ABS, ONITSHA | Africa | | rebroadcast | | |
| 75 | Nigeria | AIT BAYSELSA STATE | Africa | | rebroadcast | | |
| 76 | Nigeria | ait kaduna | Africa | | rebroadcast | | |
| 77 | Nigeria | AIT KANO | Africa | | rebroadcast | | |
| 78 | Nigeria | AIT PH | Africa | | rebroadcast | | |
| 79 | Nigeria | CRBC CALABA | Africa | | rebroadcast | | |
| 80 | Nigeria | ebs benin | Africa | | rebroadcast | | |
| 81 | Nigeria | EBS ENUGU | Africa | | rebroadcast | | |
| 82 | Nigeria | EQUITY TV KEBBI | Africa | | rebroadcast | | |
| 83 | Nigeria | itv abuja | Africa | | rebroadcast | | |
| 84 | Nigeria | NDTV Bayelsa | Africa | | rebroadcast | | |
| 85 | Nigeria | NTA ABA | Africa | | rebroadcast | | |
| 86 | Nigeria | NTA ABUJA | Africa | | rebroadcast | | |
| 87 | Nigeria | NTA CALABA | Africa | | rebroadcast | | |
| 88 | Nigeria | NTA IBADAN | Africa | | rebroadcast | | |
| 89 | Nigeria | NTA JOS | Africa | | rebroadcast | | |
| 90 | Nigeria | nta kaduna | Africa | | rebroadcast | | |
| 91 | Nigeria | NTA KASTINA | Africa | | rebroadcast | | |
| 92 | Nigeria | NTA KEBBI | Africa | | rebroadcast | | |
| 93 | Nigeria | NTA KEFFI | Africa | | rebroadcast | | |
| 94 | Nigeria | nta maiduguri | Africa | | rebroadcast | | |
| 95 | Nigeria | NTA PORT HARCOURT | Africa | | rebroadcast | | |
| 96 | Nigeria | NTA SOKOTO | Africa | | rebroadcast | | |
| 97 | Nigeria | prtv jos | Africa | | rebroadcast | | |
| 98 | Nigeria | RSTV, Port Harcourt | Africa | | rebroadcast | | |
| 99 | Nigeria | WAZOBIA MAX PH | Africa | | rebroadcast | | |
| 100 | ONLINE\WEB TV | LOVEWORLD CASA | NIGERIA | | 7 – 9pm | | |
| 101 | ONLINE\WEB TV | LOVEWORLD PACIFIC | NIGERIA | | 7 – 9pm | | |
| 102 | Pakistan | ETERNAL LIFE TV | ASIA | ISLAMABAD | 7 – 9pm | | |
| 103 | PAKISTAN | HEAVEN TV | ASIA | LAHORE | 7 – 9pm | | |
| 104 | PAKISTAN | ISAAC TV | ASIA | LAHORE | 7 – 9pm | | |
| 105 | PAKISTAN | TOHEED GOSPEL TV INTERNATIONAL | ASIA | LAHORE | 7 – 9pm | | |
| 106 | Sierra leone | SLBC Sierra leone | Africa | | 7 – 9pm | | |
| 107 | south sudan | 360 Africa TV South Sudan | Africa | | 7 – 9pm | | |
| 108 | south sudan | SSBC South Sudan (ISM) | Africa | | 7 – 9pm | | |
| 109 | St. Kitts & Nevis | CARIBBEAN CABLE COMMUNICATIONS TV | NORTH AMERICA | Nevis | 7 – 9pm | | |
| 110 | St. Lucia | HELEN TELEVISION / SPECTRA | NORTH AMERICA | St. Lucia | 7 – 9pm | | |
| 111 | suriname | UBC TV | Asia | | 7 – 9pm | | |
| 112 | sweden | oppnakanala sweden | Europe | | rebroadcast | | |
| 113 | tonga | tonga broadcating tv | PACIFIC\OCEANIA | | 7 – 9pm | | |
| 114 | Trinidad & Tobago | DIGICEL PLAY | NORTH AMERICA | Trinidad & Tobago | 7 – 9pm | | |
| 115 | Trinidad & Tobago | PBN (PODIUM BROADCASTING NETWORK TV) | NORTH AMERICA | Trinidad & Tobago | 7 – 9pm | | |
| 116 | Trinidad & Tobago | TRICO TV | NORTH AMERICA | Trinidad & Tobago | 7 – 9pm | | |
| 117 | tv | VICTORY TV | Asia | | 7 – 9pm | | |
| 118 | Uganda | spirit tv | Africa | | 7 – 9pm | | |
| 119 | Ukraine | LOVEWORLD EURO | EUROPE | | 7 – 9pm | | |
| 120 | Usa: Ny, Nj, Ct | CABLEVISION TV – OPTIMUM | NORTH AMERICA | Ny, Nj, Ct | 7 – 9pm | | |