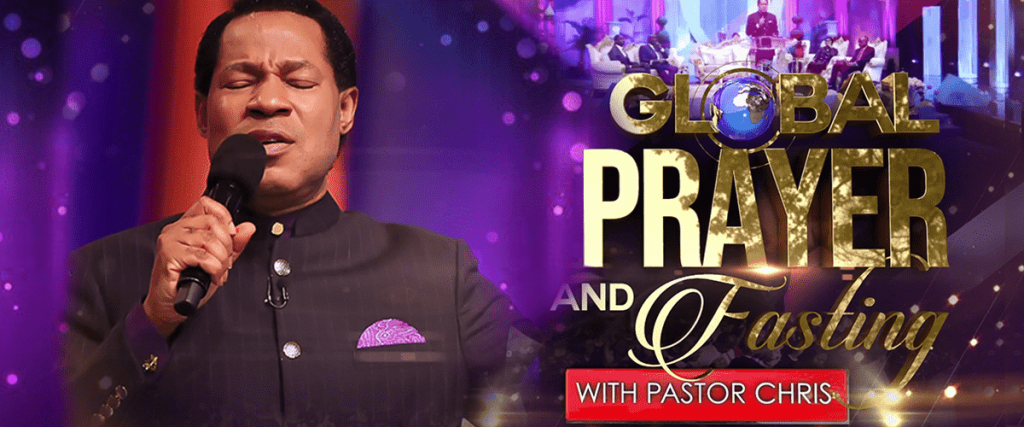 From Monday, May 11th to Wednesday, May 13th, Christians from around the world will join the man of God, Reverend (Dr.) Chris Oyakhilome, for a special 3-day Global Prayer and Fasting program. Pastor Chris made the solemn call for prayers at phase 5 of the special 'Your Loveworld' series. These are special seasons in the Spirit. Don't miss it.
It'll be streamed live to all the LoveWorld Networks and Web/Mobile platforms.
Participate through your preferred TV, Radio, mobile, or web application/ website/ social media site by making your selection through the tabs below.
God bless you!
Web/Mobile Platforms
Radio Stations
| | | | | | |
| --- | --- | --- | --- | --- | --- |
| S\N | COUNTRY | NAME OF RADIO STATION | CONTINENT | STATES | START TIME (GMT +1) |
| 1 | AFGHANISTAN | LOVEWORLD RADIO AFGHANISTAN | ASIA | | 7 – 9PM |
| 2 | AFGHANISTAN | RADIO LIVE | ASIA | | 7 – 9PM |
| 3 | ALBANIA | LOVEWORLD RADIO ALBANIA | EUROPE | | 7 – 9PM |
| 4 | ALGERIA | LOVEWORLD RADIO ALGERIA | AFRICA | | 7 – 9PM |
| 5 | ANDORRA | LOVEWORLD RADIO ANDORRA | NORTH AMERICA | | 7 – 9PM |
| 6 | ANGOLA | LOVEWORLD RADIO ANGOLA | AFRICA | | 7 – 9PM |
| 7 | ANTIGUA | LOVEWORLD RADIO ANTIGUA | NORTH AMERICA | | 7 – 9PM |
| 8 | ARGENTINA | LOVEWORLD RADIO ARGENTINA | SOUTH AMERICA | | 7 – 9PM |
| 9 | ARMENIA | LOVEWORLD RADIO ARMENIA | EUROPE | | 7 – 9PM |
| 10 | AUSTRALIA | LOVEWORLD RADIO AUSTRALIA | PACIFIC\OCEANIA | | 7 – 9PM |
| 11 | AUSTRALIA | LOVEWORLD RADIO PACIFIC'S | PACIFIC\OCEANIA | | 7 – 9PM |
| 12 | AUSTRALIA | RADIO LIVE | PACIFIC\OCEANIA | | 7 – 9PM |
| 13 | AUSTRIA | LOVEWORLD RADIO AUSTRIA | EUROPE | | 7 – 9PM |
| 14 | AZERBIAJAN | LOVEWORLD RADIO AZERBIAJAN | EUROPE | | 7 – 9PM |
| 15 | BAHAMAS | LOVEWORLD RADIO BAHAMAS | NORTH AMERICA | | 7 – 9PM |
| 16 | BANGLADESH | LOVEWORLD RADIO BANGLADESH | ASIA | | 7 – 9PM |
| 17 | BANGUI | LOVEWORLD RADIO BANGUI | ASIA | | 7 – 9PM |
| 18 | BARBADOS | LOVEWORLD RADIO BARBADOS | NORTH AMERICA | | 7 – 9PM |
| 19 | BELARUS | LOVEWORLD RADIO BELARUS | EUROPE | | 7 – 9PM |
| 20 | BELGIUM | LOVEWORLD RADIO BELGIUM | EUROPE | | 7 – 9PM |
| 21 | BELIZE | LOVEWORLD BELIZE | ASIA | | 7 – 9PM |
| 22 | BENIN REPUBLIC | LOVEWORLD RADIO BENIN REPUBLIC | AFRICA | | 7 – 9PM |
| 23 | BHUTAN | LOVEWORLD RADIO BHUTAN | ASIA | | 7 – 9PM |
| 24 | BOLIVIA | LOVEWORLD RADIO BOLIVIA | ASIA | | 7 – 9PM |
| 25 | BOSNIA | LOVEWORLD RADIO BOSNIA AND HERZEGOVINA | EUROPE | | 7 – 9PM |
| 26 | BOTSWANA | LOVEWORLD RADIO BOTSWANA | AFRICA | | 7 – 9PM |
| 27 | BRAZIL | LOVEWORLD RADIO BRAZIL | SOUTH AMERICA | | 7 – 9PM |
| 28 | BULGARIA | LOVEWORLD RADIO BULGARIA | EUROPE | | 7 – 9PM |
| 29 | BURKINA FASO | LOVEWORLD RADIO BURKINA FASO | AFRICA | | 7 – 9PM |
| 30 | BURUNDI | LOVEWORLD RADIO BURUNDI | AFRICA | | 7 – 9PM |
| 31 | CAMBODIA | LOVEWORLD RADIO CAMBODIA | SOUTH AMERICA | | 7 – 9PM |
| 32 | CAMEROUN | LOVEWORLD RADIO CAMEROON | AFRICA | | 7 – 9PM |
| 33 | CANADA | LOVEWORLD RADIO CANADA | NORTH AMERICA | | 7 – 9PM |
| 34 | CAPE VERDE | LOVEWORLD RADIO CAPE VERDE | AFRICA | | 7 – 9PM |
| 35 | CAREMEROON | GOSPEL TRUTH | AFRICA | LIVE | 7 – 9PM |
| 36 | CARIBBEAN ISLAND | LOVEWORLD RADIO CARIBBEAN | NORTH AMERICA | | 7 – 9PM |
| 37 | CENTRAL AFRICAN REPUBLIC | LOVEWORLD RADIO CENTRAL AFRICA2 | AFRICA | | 7 – 9PM |
| 38 | CHAD | LOVEWORLD RADIO CHAD | AFRICA | | 7 – 9PM |
| 39 | CHILE | LOVEWORLD RADIO CHILE | SOUTH AMERICA | | 7 – 9PM |
| 40 | CHINA | LOVEWORLD RADIO CHINA | ASIA | | 7 – 9PM |
| 41 | COLOMBIA | LOVEWORLD RADIO COLOMBIA | SOUTH AMERICA | | 7 – 9PM |
| 42 | COMOROS | LOVEWORLD RADIO COMOROS | ASIA | | 7 – 9PM |
| 43 | CONGO | LOVEWORLD RADIO LINGALA | AFRICA | | 7 – 9PM |
| 44 | CONGO | LOVEWORLD RADIO TSHILUBA | AFRICA | | 7 – 9PM |
| 45 | CONGO DR | LOVEWORLD RADIO KIKONGO | AFRICA | | 7 – 9PM |
| 46 | CONGO DRC | LOVEWORLD RADIO DRC CONGO | AFRICA | | 7 – 9PM |
| 47 | CONGO REPUBLIC | LOVEWORLD RADIO CONGO BRAZZA | AFRICA | | 7 – 9PM |
| 48 | COSTA RICA | LOVEWORLD RADIO COSTA RICA | SOUTH AMERICA | | 7 – 9PM |
| 49 | COTE D'IVOIRE | LOVEWORLD RADIO COTE D'IVOIRE | AFRICA | | 7 – 9PM |
| 50 | CROATIA | LOVEWORLD RADIO CROATIA | EUROPE | | 7 – 9PM |
| 51 | CROSS RIVER | LOVEWORLD RADIO CROSS RIVER | NIGERIA | | 7 – 9PM |
| 52 | CUBA | LOVEWORLD RADIO CUBA | NORTH AMERICA | | 7 – 9PM |
| 53 | CYPRUS | LOVEWORLD RADIO CYPRUS | EUROPE | | 7 – 9PM |
| 54 | DENMARK | LOVEWORLD RADIO DENMARK | EUROPE | | 7 – 9PM |
| 55 | DJIBOUTI | LOVEWORLD RADIO DJIBOUTI | AFRICA | | 7 – 9PM |
| 56 | DOMINICA | LOVEWORLD RADIO DOMINICA | NORTH AMERICA | | 7 – 9PM |
| 57 | ECUADOR | LOVEWORLD RADIO ECUADOR | SOUTH AMERICA | | 7 – 9PM |
| 58 | EGYPT | LOVEWORLD RADIO EGYPT | AFRICA | | 7 – 9PM |
| 59 | EGYPT | RADIO LIVE | AFRICA | | 7 – 9PM |
| 60 | EL SALVADOR | LOVEWORLD RADIO EL SALVADOR | SOUTH AMERICA | | 7 – 9PM |
| 61 | EQUITORIA GUINEA | LOVEWORLD RADIO EQUATORIAL GUINEA | AFRICA | | 7 – 9PM |
| 62 | ESTONIA | LOVEWORLD RADIO ESTONIA | EUROPE | | 7 – 9PM |
| 63 | ETHIOPIAS | LOVEWORLD RADIO ETHIOPIA | AFRICA | | 7 – 9PM |
| 64 | FIJI | LOVEWORLD RADIO FIJI | ASIA | | 7 – 9PM |
| 65 | FINLAND | LOVEWORLD RADIO FINLAND | EUROPE | | 7 – 9PM |
| 66 | FRANCE | LOVEWORLD RADIO FRANCE | EUROPE | | 7 – 9PM |
| 67 | FRANCO AFRICA | LOVEWORLD RADIO FRANCOPHONE | AFRICA | | 7 – 9PM |
| 68 | GABON | LOVEWORLD RADIO GABON | AFRICA | | 7 – 9PM |
| 69 | GAMBIA | LOVEWORLD RADIO GAMBIA | AFRICA | | 7 – 9PM |
| 70 | GEORGIA | LOVEWORLD RADIO GEORGIA | ASIA | | 7 – 9PM |
| 71 | GERMANY | ALL4J RADIO | EUROPE | | 7 – 9PM |
| 72 | GERMANY | ALL4J RADIO (WOLFSBURG) | EUROPE | | 7 – 9PM |
| 73 | GERMANY | ALL4J RADIO (DORTMUND) | EUROPE | | 7 – 9PM |
| 74 | GERMANY | ALL4J RADIO (DUSSELDORF)) | EUROPE | | 7 – 9PM |
| 75 | GERMANY | ALL4J RADIO (FRANKFURT) | EUROPE | | 7 – 9PM |
| 76 | GERMANY | ALL4J RADIO (HAMBRUG) | EUROPE | | 7 – 9PM |
| 77 | GERMANY | ALL4J RADIO (STUTTGART) | EUROPE | | 7 – 9PM |
| 78 | GERMANY | ALL4J RADIO (BREMEN) | EUROPE | | 7 – 9PM |
| 79 | GERMANY | ALL4J RADIO (COLOGNE) | EUROPE | | 7 – 9PM |
| 80 | GERMANY | LOVEWORLD RADIO GERMAN | EUROPE | | 7 – 9PM |
| 81 | GHANA | LOVEWORLD RADIO GHANA | AFRICA | | 7 – 9PM |
| 82 | GLOBAL | LOVEWORLD INTERNET RADIO | NIGERIA | | 7 – 9PM |
| 83 | GOMBE | LOVEWORLD RADIO GOMBE | NIGERIA | | 7 – 9PM |
| 84 | GREECE | LOVEWORLD RADIO GREECE | EUROPE | | 7 – 9PM |
| 85 | GRENADA | LOVEWORLD RADIO GRENADA | NORTH AMERICA | | 7 – 9PM |
| 86 | GUADELOUPE | LOVEWORLD RADIO GUADELOUPE | SOUTH AMERICA | | 7 – 9PM |
| 87 | GUATEMALA | LOVEWORLD RADIO GUATEMALA | SOUTH AMERICA | | 7 – 9PM |
| 88 | GUIANA | LOVEWORLD RADIO FRENCH GUIANA | SOUTH AMERICA | | 7 – 9PM |
| 89 | GUINEA BISSAU | LOVEWORLD GUINEA BISSAU | AFRICA | | 7 – 9PM |
| 90 | GUINEA CONAKRY | LOVEWORLD RADIO GUINEA CONAKRY | AFRICA | | 7 – 9PM |
| 91 | GUYANA | LOVEWORLD RADIO GUYANA | SOUTH AMERICA | | 7 – 9PM |
| 92 | HAITI | LOVEWORLD RADIO HAITI | NORTH AMERICA | | 7 – 9PM |
| 93 | HONDURAS | LOVEWORLD RADIO HONDURAS | SOUTH AMERICA | | 7 – 9PM |
| 94 | HUNGARY | LOVEWORLD RADIO HUNGARY | EUROPE | | 7 – 9PM |
| 95 | ICELAND | LOVEWORLD RADIO ICELAND | EUROPE | | 7 – 9PM |
| 96 | INDIA | LOVEWORLD RADIO INDIA | ASIA | | 7 – 9PM |
| 97 | INDIA | RADIO LIVE | ASIA | | 7 – 9PM |
| 98 | INDONESIA | LOVEWORLD RADIO INDONESIA | ASIA | | 7 – 9PM |
| 99 | IRAN | LOVEWORLD RADIO IRAN | ASIA | | 7 – 9PM |
| 100 | IRAQ | LOVEWORLD RADIO IRAQ | ASIA | | 7 – 9PM |
| 101 | IRELAND | LOVEWORLD RADIO IRELAND | EUROPE | | 7 – 9PM |
| 102 | ISRAEL | LOVEWORLD RADIO ISRAEL | ASIA | | 7 – 9PM |
| 103 | ITALY | LOVEWORLD RADIO ITALY | EUROPE | | 7 – 9PM |
| 104 | JAMAICA | YAH SOLUTION | NORTH AMERICA | | 7 – 9PM |
| 105 | JAMAICA | GOSPEL FM | NORTH AMERICA | LIVE | 7 – 9PM |
| 106 | JAMAICA | LOVEWORLD RADIO JAMAICA | NORTH AMERICA | | 7 – 9PM |
| 107 | JAPAN | LOVEWORLD RADIO JAPAN | ASIA | | 7 – 9PM |
| 108 | JORDAN | LOVEWORLD RADIO JORDAN | ASIA | | 7 – 9PM |
| 109 | KAZAKHSTAN | LOVEWORLD RADIO KAZAKHSTAN | ASIA | | 7 – 9PM |
| 110 | KENYA | LOVEWORLD RADIO KENYA | AFRICA | | 7 – 9PM |
| 111 | KIRIBATI | LOVEWORLD RADIO KIRIBATI | PACIFIC\OCEANIA | | 7 – 9PM |
| 112 | KOSOVO | LOVEWORLD RADIO KOSOVO | EUROPE | | 7 – 9PM |
| 113 | KOSOVO | LOVEWORLD RADIO KOSOVO | EUROPE | | 7 – 9PM |
| 114 | KURDISTAN | LOVEWORLD RADIO KURDISTAN | ASIA | | 7 – 9PM |
| 115 | KUWAIT | LOVEWORLD RADIO KUWAIT | ASIA | | 7 – 9PM |
| 116 | KUWAIT | RADIO LIVE | ASIA | | 7 – 9PM |
| 117 | KYRGYZSTAN | LOVEWORLD RADIO KYRGYZSTAN | ASIA | | 7 – 9PM |
| 118 | LAOS | LOVEWORLD RADIO LAOS | ASIA | | 7 – 9PM |
| 119 | LATVIA | LOVEWORLD RADIO LATVIA | EUROPE | | 7 – 9PM |
| 120 | LEBANON | LOVEWORLD RADIO LEBANON | ASIA | | 7 – 9PM |
| 121 | LESOTHO | LOVEWORLD RADIO LESOTHO | AFRICA | | 7 – 9PM |
| 122 | LIBERIA | LOVEWORLD RADIO LIBERIA | AFRICA | | 7 – 9PM |
| 123 | LIBYA | LOVEWORLD RADIO LIBYA | AFRICA | | 7 – 9PM |
| 124 | LIBYA | RADIO LIVE | AFRICA | | 7 – 9PM |
| 125 | LIECHTENSTEIN | LOVEWORLD RADIO LIECHTENSTEIN | EUROPE | | 7 – 9PM |
| 126 | LITHUANIA | LOVEWORLD RADIO LITHUANIA | EUROPE | | 7 – 9PM |
| 127 | LUXEMBOURG | LOVEWORLD RADIO LUXEMBOURG | EUROPE | | 7 – 9PM |
| 128 | MACEDONIA | LOVEWORLD RADIO MACEDONIA | EUROPE | | 7 – 9PM |
| 129 | MADAGASCAR | LOVEWORLD RADIO MADAGASCAR | AFRICA | | 7 – 9PM |
| 130 | MALAWI | LOVEWORLD RADIO MALAWI | AFRICA | | 7 – 9PM |
| 131 | MALAYSIA | LOVEWORLD MALAYSIA | ASIA | | 7 – 9PM |
| 132 | MALAYSIA | LOVEWORLD RADIO MALAYSIA | ASIA | | 7 – 9PM |
| 133 | MALDIVES | LOVEWORLD RADIO MALDIVES | ASIA | | 7 – 9PM |
| 134 | MALI | LOVEWORLD RADIO MALI | AFRICA | | 7 – 9PM |
| 135 | MALTA | LOVEWORLD RADIO MALTA | EUROPE | | 7 – 9PM |
| 136 | MARSHALL ISLAND | LOVEWORLD RADIO MARSHALL ISLAND | EUROPE | | 7 – 9PM |
| 137 | MARTINIQUE | LOVEWORLD RADIO MARTINIQUE CHI | NORTH AMERICA | | 7 – 9PM |
| 138 | MAURITANIA | LOVEWORLD RADIO MAURITANIA | AFRICA | | 7 – 9PM |
| 139 | MAURITIUS | LOVEWORLD RADIO MAURITIUS | AFRICA | | 7 – 9PM |
| 140 | MAYOTTE ISLAND FRANCE | LOVEWORLD RADIO MAYOTTE | EUROPE | | 7 – 9PM |
| 141 | MEXICO | LOVEWORLD RADIO MEXICO | NORTH AMERICA | | 7 – 9PM |
| 142 | MICRONESIA | LOVEWORLD RADIO MICRONESIA | ASIA | | 7 – 9PM |
| 143 | MOLDOVA | LOVEWORLD RADIO MOLDOVA | EUROPE | | 7 – 9PM |
| 144 | MONACO SPAIN | LOVEWORLD RADIO MONACO | EUROPE | | 7 – 9PM |
| 145 | MONGOLIA | LOVEWORLD RADIO MONGOLIA | ASIA | | 7 – 9PM |
| 146 | MONTENEGRO | LOVEWORLD RADIO MONTENEGRO | EUROPE | | 7 – 9PM |
| 147 | MOROCCO | LOVEWORLD RADIO MOROCCO | AFRICA | | 7 – 9PM |
| 148 | MOZAMBIQUE | LOVEWORLD RADIO MOZAMBIQUE | AFRICA | | 7 – 9PM |
| 149 | MYANMAR | LOVEWORLD RADIO MYANMAR | ASIA | | 7 – 9PM |
| 150 | NAMIBIA | LOVEWORLD RADIO NAMIBIA | AFRICA | | 7 – 9PM |
| 151 | NAURU | LOVEWORLD RADIO NAURU | ASIA | | 7 – 9PM |
| 152 | NETHERLAND | LOVEWORLD RADIO NETHERLAND | EUROPE | | 7 – 9PM |
| 153 | NEW ZEALAND | LOVEWORLD RADIO NEW ZEALAND | PACIFIC\OCEANIA | | 7 – 9PM |
| 154 | NIGER | LOVEWORLD RADIO NIGER | AFRICA | | 7 – 9PM |
| 155 | NIGERIA | LION FM | AFRICA | ENUGU 1 | 7 – 9PM |
| 156 | NIGERIA | URBAN FM | AFRICA | ENUGU 1 | 7 – 9PM |
| 157 | NIGERIA | AMEN RADIO | NIGERIA | LIVE | 7 – 9PM |
| 158 | Nigeria | BISHOP CHIKANCY COMEDY FM | NIGERIA | LIVE | 7 – 9PM |
| 159 | Nigeria | BLUE ELITE RADIO | NIGERIA | LIVE | 7 – 9PM |
| 160 | Nigeria | BLW PRAYER NETWORK RADIO | NIGERIA | LIVE | 7 – 9PM |
| 161 | NIGERIA | GOSPEL MINDS RADIO | NIGERIA | LIVE | 7 – 9PM |
| 162 | NIGERIA | GOSPEL NAIJIA | NIGERIA | LIVE | 7 – 9PM |
| 163 | NIGERIA | GOSPTRAINMENT | NIGERIA | LIVE | 7 – 9PM |
| 164 | NIGERIA | ISM RADIO NETWORK | NIGERIA | LIVE | 7 – 9PM |
| 165 | NIGERIA | LOVEWORLD 360 MIX | NIGERIA | | 7 – 9PM |
| 166 | NIGERIA | LOVEWORLD RADIO COAL CITY | NIGERIA | | 7 – 9PM |
| 167 | NIGERIA | LOVEWORLD RADIO HAUSA | NIGERIA | | 7 – 9PM |
| 168 | NIGERIA | LOVEWORLD RADIO MINNA | NIGERIA | | 7 – 9PM |
| 169 | NIGERIA | LOVEWORLD RADIO NIGER DELTA | NIGERIA | | 7 – 9PM |
| 170 | NIGERIA | LOVEWORLD RADIO UGHELLI | NIGERIA | | 7 – 9PM |
| 171 | NIGERIA | LOVEWORLD RADIO WARRI | NIGERIA | | 7 – 9PM |
| 172 | NIGERIA | ROYAL FM | NIGERIA | SOKOTO | 7 – 9PM |
| 173 | NIGERIA | WORSHIP CULTURE RADIO | NIGERIA | | 7 – 9PM |
| 174 | NIGERIA | SUPER FM | NIGERIA | IJEBU ODE | 7 – 9PM |
| 175 | NORTH KOREA | LOVEWORLD RADIO KOREA NORTH | ASIA | | 7 – 9PM |
| 176 | NORWAY | LOVEWORLD RADIO NORWAY | EUROPE | | 7 – 9PM |
| 177 | OMAN | LOVEWORLD RADIO OMAN | ASIA | | 7 – 9PM |
| 178 | OMAN | RADIO LIVE | ASIA | | 7 – 9PM |
| 179 | PAKISTAN | LOVEWORLD RADIO PAKISTAN | ASIA | | 7 – 9PM |
| 180 | PAKISTAN | RADIO LIVE | ASIA | | 7 – 9PM |
| 181 | PALAU | LOVEWORLD RADIO PALAU | ASIA | | 7 – 9PM |
| 182 | PANAMA | LOVEWORLD RADIO PANAMA | SOUTH AMERICA | | 7 – 9PM |
| 183 | PAPUA NEW GUINEA | LOVEWORLD RADIO PAPUA NEW GUINEA | ASIA | | 7 – 9PM |
| 184 | PARAGUAY | LOVEWORLD RADIO PARAGUAY | SOUTH AMERICA | | 7 – 9PM |
| 185 | PERU | LOVEWORLD RADIO PERU | SOUTH AMERICA | | 7 – 9PM |
| 186 | PHILIPPINES | LOVEWORLD RADIO PHILIPPINES | ASIA | | 7 – 9PM |
| 187 | POLAND | LOVEWORLD RADIO POLAND | EUROPE | | 7 – 9PM |
| 188 | PORTUGAL | LOVEWORLD RADIO PORTUGAL | EUROPE | | 7 – 9PM |
| 189 | QUATAR | LOVEWORLD RADIO QATAR | ASIA | | 7 – 9PM |
| 190 | QUATAR | LOVEWORLD RADIO REUNION | ASIA | | 7 – 9PM |
| 191 | RUSSIA | LOVEWORLD RADIO RUSSIA | EUROPE | | 7 – 9PM |
| 192 | RWANDA | LOVEWORLD RADIO RWANDA | AFRICA | | 7 – 9PM |
| 193 | SAINT PIERRE & MIQUELON | LOVEWORLD RADIO SAINT PIERRE AND MIQUELON | NORTH AMERICA | | 7 – 9PM |
| 194 | SAMOA | LOVEWORLD RADIO SAMOA | ASIA | | 7 – 9PM |
| 195 | SAN MARINO | LOVEWORLD RADIO SAN MARINO | SOUTH AMERICA | | 7 – 9PM |
| 196 | SAO TOME & PRINCIPE | LOVEWORLD RADIO SAO TOME AND PRINCIPE | AFRICA | | 7 – 9PM |
| 197 | SAUDI ARABIA | LOVEWORLD SAUDI ARABIA | ASIA | | 7 – 9PM |
| 198 | SENEGAL | LOVEWORLD SENEGAL | AFRICA | | 7 – 9PM |
| 199 | SEYCHELLES | LOVEWORLD RADIO SEYCHELLES | AFRICA | | 7 – 9PM |
| 200 | SIBERIA | LOVEWORLD RADIO SIBERIA | EUROPE | | 7 – 9PM |
| 201 | SIERRA LEONE | AYV RADIO | AFRICA | SIERRA LEONE | 7 – 9PM |
| 202 | SIERRA LEONE | BBN RADIO | AFRICA | SIERRA LEONE | 7 – 9PM |
| 203 | SIERRA LEONE | CITIZENS RADIO | AFRICA | SIERRA LEONE | 7 – 9PM |
| 204 | SIERRA LEONE | KISS RADIO | AFRICA | SIERRA LEONE | 7 – 9PM |
| 205 | SIERRA LEONE | NEW SONG RADIO | AFRICA | SIERRA LEONE | 7 – 9PM |
| 206 | SIERRA LEONE | RADIO VOH | AFRICA | SIERRA LEONE | 7 – 9PM |
| 207 | SIERRA LEONE | SLBC RADIO | AFRICA | SIERRA LEONE | 7 – 9PM |
| 208 | SIERRA LEONE | SMILE RADIO | AFRICA | SIERRA LEONE | 7 – 9PM |
| 209 | SIERRA LEONE | STARLINE RADIO | AFRICA | SIERRA LEONE | 7 – 9PM |
| 210 | SIERRA LEONE | TUNAC RADIO | AFRICA | SIERRA LEONE | 7 – 9PM |
| 211 | SIERRA LEONE | VOICE OF FAITH RADIO | AFRICA | SIERRA LEONE | 7 – 9PM |
| 212 | SINGAPORE | LOVEWORLD RADIO SINGAPORE | ASIA | | 7 – 9PM |
| 213 | SLOVAKIA | LOVEWORLD RADIO SLOVAKIA | EUROPE | | 7 – 9PM |
| 214 | SOLOMON ISLANDS | LOVEWORLD RADIO SOLOMONS ISLANDS | PACIFIC\OCEANIA | | 7 – 9PM |
| 215 | SOMALIA | LOVEWORLD RADIO SOMALIA | AFRICA | | 7 – 9PM |
| 216 | SOUTH SUDAN | LOVEWORLD RADIO SOUTH SUDAN | AFRICA | | 7 – 9PM |
| 217 | SPAIN | LOVEWORLD RADIO ESPANA | EUROPE | | 7 – 9PM |
| 218 | SPAIN | LOVEWORLD RADIO SPAIN | EUROPE | | 7 – 9PM |
| 219 | SRILANKA | LOVEWORLD RADIO SRILANKA | ASIA | | 7 – 9PM |
| 220 | ST BARTHELEMY | LOVEWORLD RADIO ST BARTHELEMY | NORTH AMERICA | | 7 – 9PM |
| 221 | ST KITTS | LOVEWORLD RADIO ST KITTS | NORTH AMERICA | | 7 – 9PM |
| 222 | ST LUCIA | LOVEWORLD RADIO ST LUCIA | NORTH AMERICA | | 7 – 9PM |
| 223 | ST VINCENT | LOVEWORLD RADIO ST VINCENT | NORTH AMERICA | | 7 – 9PM |
| 224 | SUDAN | LOVEWORLD RADIO SUDAN | AFRICA | | 7 – 9PM |
| 225 | SURINAME | LOVEWORLD RADIO SURINAME | ASIA | | 7 – 9PM |
| 226 | SWAZILAND | LOVEWORLD RADIO SWAZILAND | AFRICA | | 7 – 9PM |
| 227 | SWITZERLAND | LOVEWORLD RADIO SWISS | AFRICA | | 7 – 9PM |
| 228 | SYRIA | LOVEWORLD RADIO SYRIA | ASIA | | 7 – 9PM |
| 229 | SYRIA | RADIO LIVE | ASIA | | 7 – 9PM |
| 230 | TAIWAN | LOVEWORLD RADIO TAIWAN | ASIA | | 7 – 9PM |
| 231 | TAJIKISTAN | LOVEWORLD RADIO TAJIKISTAN | ASIA | | 7 – 9PM |
| 232 | TANZAIA | LOVEWORLD RADIO TANZANIA | AFRICA | | 7 – 9PM |
| 233 | TANZANIA | LOVEWORLD RADIO SWAHILI | AFRICA | | 7 – 9PM |
| 234 | THAILAND | LOVEWORLD RADIO THAILAND | ASIA | | 7 – 9PM |
| 235 | TIMOR | LOVEWORLD EAST TIMOR | ASIA | | 7 – 9PM |
| 236 | TONGA | Leo Motu'Onga Ofa – Tonga | ASIA | LIVE | 7 – 9PM |
| 237 | TONGA | LOVEWORLD RADIO TONGA | ASIA | | 7 – 9PM |
| 238 | TRINIDAD & TOBAGO | LOVEWORLD RADIO TRINIDAD & TOBAGO | NORTH AMERICA | | 7 – 9PM |
| 239 | TURKEY | LOVEWORLD RADIO TURKEY | ASIA | | 7 – 9PM |
| 240 | TURKMENISTAN | LOVEWORLD RADIO TURKMENISTAN | ASIA | | 7 – 9PM |
| 241 | UAE | LOVEWORLD RADIO UNITED ARAB EMIRATES | ASIA | | 7 – 9PM |
| 242 | UGANDA | DWANWA | AFRICA | UGANDA | 7 – 9PM |
| 243 | UGANDA | ELGON FM | AFRICA | UGANDA | 7 – 9PM |
| 244 | UGANDA | ELSHAMA | AFRICA | UGANDA | 7 – 9PM |
| 245 | UGANDA | IBANDAN | AFRICA | UGANDA | 7 – 9PM |
| 246 | UGANDA | KIRYANDONGO FM | AFRICA | LIVE | 7 – 9PM |
| 247 | UGANDA | KTC | AFRICA | UGANDA | 7 – 9PM |
| 248 | UGANDA | KTR | AFRICA | UGANDA | 7 – 9PM |
| 249 | UGANDA | LOVEWORLD RADIO UGANDA | AFRICA | | 7 – 9PM |
| 250 | UGANDA | SOUL TUNES | AFRICA | | 7 – 9PM |
| 251 | UGANDA | SPIRIT FM | AFRICA | | 7 – 9PM |
| 252 | UGANDA | VCC FM | AFRICA | | 7 – 9PM |
| 253 | UGANDA | WOT ONLINE RADIO | AFRICA | | 7 – 9PM |
| 254 | UGANDA | YOFOCHM | AFRICA | | 7 – 9PM |
| 255 | UK | LOVEWORLD RADIO UK | EUROPE | | 7 – 9PM |
| 256 | UKRAINE | LOVEWORLD RADIO UKRAINE | EUROPE | | 7 – 9PM |
| 257 | UNITED KINGDOM | LOVEWORLD RADIO MANCHESTER | EUROPE | MANCHESTER | 7 – 9PM |
| 258 | UNITED KINGDOM | RADIO LIVE | EUROPE | | 7 – 9PM |
| 259 | UNITED KINGDOM | TRIUMPHANT RADIO | EUROPE | | 7 – 9PM |
| 260 | USA | ALL4J RADIO | NORTH AMERICA | | 7 – 9PM |
| 261 | USA | ALL4J RADIO (SIEGNEL) | NORTH AMERICA | | 7 – 9PM |
| 262 | USA | LOVEWORLD RADIO BROOKLYN | NORTH AMERICA | | 7 – 9PM |
| 263 | USA | LOVEWORLD RADIO BRUNEI | NORTH AMERICA | | 7 – 9PM |
| 264 | USA | LOVEWORLD RADIO TEXAS | NORTH AMERICA | | 7 – 9PM |
| 265 | USA | LOVEWORLD RADIO USA | NORTH AMERICA | | 7 – 9PM |
| 266 | USA | RADIO LIVE | NORTH AMERICA | | 7 – 9PM |
| 267 | UZBEKISTAN | LOVEWORLD RADIO UZBEKISTAN | ASIA | | 7 – 9PM |
| 268 | VANUATU REPUBLIC | LOVEWORLD RADIO VANUATU | PACIFIC\OCEANIA | | 7 – 9PM |
| 269 | VENEZUELA | LOVEWORLD RADIO VENEZUELA | SOUTH AMERICA | | 7 – 9PM |
| 270 | VIETNAM | LOVEWORLD RADIO VIETNAM | ASIA | | 7 – 9PM |
| 271 | WESTERN SAHARA | LOVEWORLD WESTERN SAHARA | AFRICA | | 7 – 9PM |
| 272 | YEMEN | LOVEWORLD RADIO YEMEN | ASIA | | 7 – 9PM |
| 273 | ZAMBIA | LOVEWORLD RADIO ZAMBIA | AFRICA | | 7 – 9PM |
| 274 | ZIMBABWE | LOVEWORLD RADIO ZIMBABWE | AFRICA | | 7 – 9PM |
TV Stations
| | | | | | |
| --- | --- | --- | --- | --- | --- |
| S/N | COUNTRY | STATION NAME | CONTINENT | STATE OR CITY | TIME (GMT +1) |
| 1 | ARGENTINA | ROKU TV | SOUTH AMERICA | | 7 – 9PM |
| 2 | Australia | BEE IPTV | PACIFIC\OCEANIA | | 7 – 9PM |
| 3 | Australia | KORDIA TV AUSTRALIA | PACIFIC\OCEANIA | | 7 – 9PM |
| 4 | AUSTRALIA | Loveworld Queensland Australia | PACIFIC\OCEANIA | | 7 – 9PM |
| 5 | AUSTRIA | LYCA TV | EUROPE | | 7 – 9PM |
| 6 | AUSTRIA | ZAAP TV | EUROPE | | 7 – 9PM |
| 7 | BAHRAIN | BEE IPTV | ASIA | | 7 – 9PM |
| 8 | BAHRAIN | Rapture Broadcasting Network | Asia | | 6 – 9PM |
| 9 | BANGALEDESH | BEE IPTV | ASIA | | 7 – 9PM |
| 10 | BELGIUM | LYCA TV | EUROPE | | 7 – 9PM |
| 11 | BELGIUM | ZAAP TV | EUROPE | | 7 – 9PM |
| 12 | BENIN REPUBLIC | Evangelique TV | AFRICA | | 6 – 9PM |
| 13 | BHUTAN | BEE IPTV | ASIA | | 7 – 9PM |
| 14 | BHUTAN | LYCA TV | ASIA | | 7 – 9PM |
| 15 | BRUNEI | BEE IPTV | ASIA | | 7 – 9PM |
| 16 | BURMA | BEE IPTV | ASIA | | 7 – 9PM |
| 17 | BURMA | LYCA TV | ASIA | | 7 – 9PM |
| 18 | CANADA | LYCA TV | NORTH AMERICA | | 7 – 9PM |
| 19 | CANADA | ROKU TV | NORTH AMERICA | | 7 – 9PM |
| 20 | CARIBBEAN ISLAND | NEW HOPE TV | NORTH AMERICA | | 7 – 9PM |
| 21 | Cayman Islands | WESTSTAR TV | NORTH AMERICA | Cayman Islands | 7 – 9PM |
| 22 | CENTRAL EUROPE | ZAAP TV | EUROPE | | 7 – 9PM |
| 23 | CHILI | ROKU TV | SOUTH AMERICA | | 7 – 9PM |
| 24 | COLOMBIA | ROKU TV | SOUTH AMERICA | | 7 – 9PM |
| 25 | COSTA RICA | ROKU TV | SOUTH AMERICA | | 7 – 9PM |
| 26 | DENMARK | LYCA TV | EUROPE | | 7 – 9PM |
| 27 | EGYPT | LOVEWORLD MENA | ASIA | | 7 – 9PM |
| 28 | EL SALAVADOUR | ROKU TV | SOUTH AMERICA | | 7 – 9PM |
| 29 | FIJI | MAI TV | PACIFIC\OCEANIA | | 7 – 9PM |
| 30 | fiji | Mai Tv Fiji | PACIFIC\OCEANIA | | 6 – 9PM |
| 31 | FINLAND | LYCA TV | EUROPE | | 7 – 9PM |
| 32 | FRANCE | LYCA TV | EUROPE | | 7 – 9PM |
| 33 | FRANCE | ZAAP TV | EUROPE | | 7 – 9PM |
| 34 | GERMANY | LYCA TV | EUROPE | | 7 – 9PM |
| 35 | GERMANY | ZAAP TV | EUROPE | | 7 – 9PM |
| 36 | Ghana | Light TV | Africa | | 6 – 9PM |
| 37 | Ghana | Top TV | Africa | | 6 – 9PM |
| 38 | GREAT BRITAIN | ZAAP TV | EUROPE | | 7 – 9PM |
| 39 | GREECE | LYCA TV | EUROPE | | 7 – 9PM |
| 40 | GUATEMALA | ROKU TV | SOUTH AMERICA | | 7 – 9PM |
| 41 | HONDURA | ROKU TV | SOUTH AMERICA | | 7 – 9PM |
| 42 | HONGKONG | LYCA TV | ASIA | | 7 – 9PM |
| 43 | INDIA | Amazon fire stick | ASIA | | 7 – 9PM |
| 44 | INDIA | BEE IPTV | ASIA | | 7 – 9PM |
| 45 | INDIA | CHRISTIAN IPTV | ASIA | | 7 – 9PM |
| 46 | INDIA | DAJIWORLD TV | ASIA | | 7 – 9PM |
| 47 | INDIA | EL SHADDIAH TV | ASIA | | 7 – 9PM |
| 48 | INDIA | GOSPLE TV CHANNEL | ASIA | | 7 – 9PM |
| 49 | INDIA | INIGO IPTV | ASIA | | 7 – 9PM |
| 50 | India | LIFETV INDIA | ASIA | Karnataka State | 7 – 9PM |
| 51 | India | LIFETV INDIA | ASIA | Tamilnadu Province | 7 – 9PM |
| 52 | India | LIFETV INDIA | ASIA | Kerala State | 7 – 9PM |
| 53 | India | LIFETV INDIA | ASIA | Andrapradesh | 7 – 9PM |
| 54 | India | LIFETV INDIA | ASIA | Telengana | 7 – 9PM |
| 55 | India | LIFETV INDIA | ASIA | North India | 7 – 9PM |
| 56 | India | LIFETV INDIA | ASIA | Bombay Mumbai | 7 – 9PM |
| 57 | India | LIFETV INDIA | ASIA | Oddisa | 7 – 9PM |
| 58 | India | LIFETV INDIA | ASIA | Delhi | 7 – 9PM |
| 59 | India | LIFETV INDIA | ASIA | Jaipur | 7 – 9PM |
| 60 | India | LIFETV INDIA | ASIA | Agra | 7 – 9PM |
| 61 | INDIA | LYCA MOBILE APP | ASIA | | 7 – 9PM |
| 62 | INDIA | LYCA TV | ASIA | | 7 – 9PM |
| 63 | india | Platinum TV, India | Asia | | 6 – 9PM |
| 64 | INDIA | Power Vision Tv | ASIA | | 6 – 9PM |
| 65 | INDIA | REAL TV | ASIA | | 7 – 9PM |
| 66 | INDIA | ROKU | ASIA | | 7 – 9PM |
| 67 | INDIA | TAMILIN IPTV | ASIA | | 7 – 9PM |
| 68 | INDIA | THY WILL IPTV | ASIA | | 7 – 9PM |
| 69 | INDIA | YOYO IPTV | ASIA | | 7 – 9PM |
| 70 | INDIA | ZAAP TV | ASIA | | 7 – 9PM |
| 71 | INDIA | ZBS | ASIA | | 7 – 9PM |
| 72 | India | BIG J TV INDIA | ASIA | | 7 – 9PM |
| 73 | India | Impact Tv | ASIA | | 7 – 9PM |
| 74 | India | KILPZOO WEB CHANNEL INDIA | ASIA | | 7 – 9PM |
| 75 | IRELAND | LYCA TV | EUROPE | | 7 – 9PM |
| 76 | ITALY | LYCA TV | EUROPE | | 7 – 9PM |
| 77 | ITALY | ZAAP TV | EUROPE | | 7 – 9PM |
| 78 | JAMAICA | JAMAICA TV | NORTH AMERICA | | 7 – 9PM |
| 79 | JAMAICA | LOVE TV | NORTH AMERICA | | 7 – 9PM |
| 80 | JAMAICA | READY TV | NORTH AMERICA | | 7 – 9PM |
| 81 | JAPAN | LYCA TV | ASIA | | 7 – 9PM |
| 82 | MALAYSIA | BEE IPTV | ASIA | | 7 – 9PM |
| 83 | MALYSIA | LYCA TV | ASIA | | 7 – 9PM |
| 84 | NEPAL | BEE IPTV | ASIA | | 7 – 9PM |
| 85 | NEPAL | LYCA TV | ASIA | | 7 – 9PM |
| 86 | NETHERLAND | LYCA TV | EUROPE | | 7 – 9PM |
| 87 | NETHERLAND | ZAAP TV | EUROPE | | 7 – 9PM |
| 88 | NEW ZEALAND | BEE IPTV | PACIFIC\OCENIA | | 7 – 9PM |
| 89 | NEWZEALAND | LYCA TV | PACIFIC\OCEANIA | | 7 – 9PM |
| 90 | NICARAGUA | ENLACE TV | SOUTH AMERICA | | 7 – 9PM |
| 91 | NICARAGUE | ROKU TV | SOUTH AMERICA | | 7 – 9PM |
| 92 | Nigeria | DBS | NIGERIA | warri | 6 – 9PM |
| 93 | Nigeria | Taraba TV | NIGERIA | taraba | 6 – 9PM |
| 94 | Nigeria | DTSV | NIGERIA | Port Harcourt | 7 – 9PM |
| 95 | Nigeria | PATHWAY TV | NIGERIA | Warri | 7 – 9PM |
| 96 | Nigeria | Super Screen TV | NIGERIA | Lagos | 7 – 9PM |
| 97 | NORWAY | LYCA TV | EUROPE | | 7 – 9PM |
| 98 | ONLINE\WEB TV | LOVEWORLD CASA | NIGERIA | | 7 – 9PM |
| 99 | ONLINE\WEB TV | LOVEWORLD PACIFIC | NIGERIA | | 7 – 9PM |
| 100 | Pakistan | ETERNAL TV | ASIA | Islamabad | 7 – 9PM |
| 101 | PAKISTAN | HEAVEN TV | ASIA | Faisalabad | 7 – 9PM |
| 102 | Pakistan | ISAAC TV | ASIA | Lahore | 7 – 9PM |
| 103 | Pakistan | LIFE TV | ASIA | Islamabad Province | 7 – 9PM |
| 104 | PANAMA | ROKU TV | NORTH AMERICA | | 7 – 9PM |
| 105 | PAPUA NEW GUINEA | EM TV | PACIFIC\OCEANIA | | 7 – 9PM |
| 106 | PERU | ROKU TV | SOUTH AMERICA | | 7 – 9PM |
| 107 | PHILIPPINES | BEE IPTV | ASIA | | 7 – 9PM |
| 108 | PHILIPPINES | LYCA TV | ASIA | | 7 – 9PM |
| 109 | PORTUGAL | ZAAP TV | EUROPE | | 7 – 9PM |
| 110 | PORTUGUAL | LYCA TV | EUROPE | | 7 – 9PM |
| 111 | RUSSIA | ZAAP TV | EUROPE | | 7 – 9PM |
| 112 | Rwanda | Vivtory TV | Africa | | 6 – 9PM |
| 113 | SCANDINAVIA | ZAAP TV | EUROPE | | 7 – 9PM |
| 114 | Sierra Leone | SLBC Sierra Leone | Africa | | 6 – 9PM |
| 115 | SINGAPORE | BEE IPTV | ASIA | | 7 – 9PM |
| 116 | SINGAPORE | LYCA TV | ASIA | | 7 – 9PM |
| 117 | SouthIndia | Mana TV | Asia | | 6 – 9PM |
| 118 | SPAIN | LYCA TV | EUROPE | | 7 – 9PM |
| 119 | SPAIN | ZAAP TV | EUROPE | | 7 – 9PM |
| 120 | SRI LANKA | BEE IPTV | ASIA | | 7 – 9PM |
| 121 | SRI LANKA | LYCA TV | ASIA | | 7 – 9PM |
| 122 | SURINAME | UCB TV | ASIA | | 7 – 9PM |
| 123 | SWEDEN | LYCA TV | EUROPE | | 7 – 9PM |
| 124 | SWITHERLAND | LYCA TV | EUROPE | | 7 – 9PM |
| 125 | Tonga | Tonga Broadcasting Television | PACIFIC\OCEANIA | | 6 – 9PM |
| 126 | UAE | LYCA TV | ASIA | | 7 – 9PM |
| 127 | uk | FAITH TV2 UK | Europe | | 6 – 9PM |
| 128 | Uk | Faith TV, UK 1 | EUROPE | | 7 – 9PM |
| 129 | Ukraine | LOVEWORLD EURO | EUROPE | | 7 – 9PM |
| 130 | UKRAINE | NOVY TV | EUROPE | CHERKASY | 7 – 9PM |
| 131 | UKRAINE | NOVY TV KIEV | EUROPE | KIEV | 7 – 9PM |
| 132 | UNITED KINGDOM | LYCA TV | EUROPE | | 7 – 9PM |
| 133 | UNITED STATES | LYCA TV | NORTH AMERICA | | 7 – 9PM |
| 134 | UNITED STATES | ROKU TV | NORTH AMERICA | | 7 – 9PM |