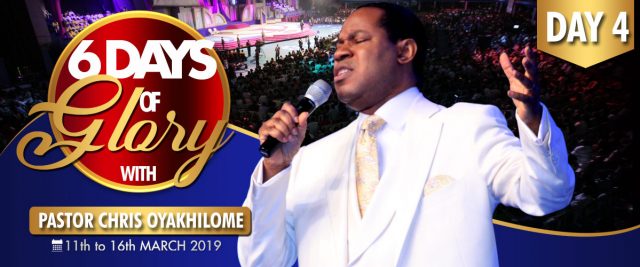 Oh, glory to Jesus! In the cool of the evening, in an arena filled with God's people hungry for the word, the Spirit of God was present to satisfy their hunger through our Man of God Rev. Chris Oyakhilome as he began to share on God's number one business.
Pastor Chris read from Matthew 13:10-17, John 16:7-12. The Holy Spirit will teach you all things. John 7:37. If anyone believes as the scriptures have said, out of them shall flow rivers of living water, Acts 2:3. When you are ready to make an impact with your life, you have to learn to be free with the Holy Spirit.
Zachariah 10:1, the latter rain refers to the last move of the Spirit of God, before Jesus Christ comes back. Joel 2:28, Acts 2:14-17, Acts 11:15."I will cling to the old rugged cross and I will exchange it that day for a Crown". God had only one son and He gave Him one job, which was to win souls.
Your thoughts are your choice. You don't have to worry. Cast all your cares upon him for he cares for you. Be anxious for nothing but in everything by prayer and supplication make your request known to God.
Acts 10:43-45, Learn to be filled with the Spirit. Be drunk in the spirit always. Be free with the Spirit, let Him take you in his everlasting arms of Love. Release yourself in the arms of the spirit, learn to give yourself to the sway of the holy ghost like a baby, learn to lean on his everlasting Arms.
It doesn't matter where you've been in your life; all you need is worship because it helps your spirit make a connection outside the flesh, So many things happen when we worship God much more than when we are asking and asking.
I'm done with the old way of doing things, I'm moving with the Spirit.
So many things happen when you worship God, if you're given 30mins to ask God for what you want, how much can you ask of Him. But when you worship a lot of things happen. Get in the flow of God's Spirit. Get drunk with the Spirit, there are things that only the holy spirit can teach you.
When I minister to you like this I come with the blessings of what I'm ministering to you. They come as gifts of Grace, you begin to see things. that you didn't see before, then you're moved in the spirit and granted Spiritual knowledge. (Spiritual Knowledge is not a memorizing of scriptures but an understanding of it). Then you find out you're set in the course of truth.
My Father in heaven lives in me through the Holy Spirit. Even if I'm seated here, things are happening right now on my behalf by the Holy Spirit. We have angels attending to us and the Holy Spirit making things happen on our behalf.
LORD, MY LIFE IS FILLED WITH YOUR GOODNESS AND YOUR GLORY! EVERYWHERE I GO, EVERY WHERE I AM, I AM UNLIMITED. Jesus is the Love of God manifested to us. Love is actually something from God that actually one day became a human and came to this earth. Love is personified. Love walked the earth. Walk in Love!
Thank you, Lord, for the efficacy of your word that produces in us what it talks about, Glory! We are so ready for more and for sure our man of God is ready to load us more on the Day 5 Halleluyah! If you missed any of the days click here Day 1, Day 2 and Day 3.
Please follow and like us: