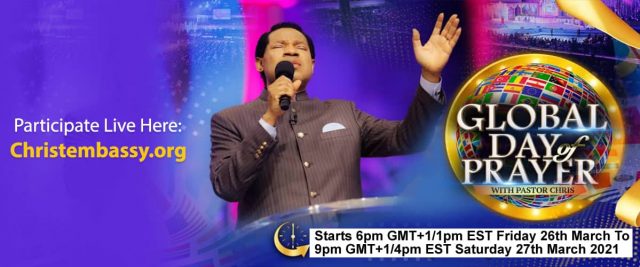 22 DAYS TO GO
2 Chron. 14: 11 – 12 And Asa cried unto the Lord his God, and said, Lord, it is nothing with thee to help, whether with many, or with them that have no power: help us, O Lord our God; for we rest on thee, and in thy name we go against this multitude. O Lord, thou art our God; let not man prevail against thee. So the Lord smote the Ethiopians before Asa, and before Judah; and the Ethiopians fled. What a mighty God we serve.
With the blast of a single breathe he parted the red sea. He is the all-powerful, all-sufficient, and all-conquering God. There is nothing, absolutely nothing that is impossible unto Him. And this is the remarkable degree of confidence that we have in Him, that as we pray together with our Man of God, Rev (Dr) Chris Oyakhilome at the Global Day of Prayer from 6:00 pm GMT +1, 1:00 pm EST Friday 26th to Saturday 27th March 2021; that which man said was impossible will become possible. Hallelujah.
As part of the spiritual preparation for this historic program, we will be having a special 21 Day prayer program beginning from Saturday 6th March 2021. Get set to join in for a time of deep and heartfelt prayer as we make tremendous power available every day ahead of the Global Day of Prayer.
🌎Participate live on this platform and through our Loveworld Network Stations, Live TV and Ceflix Apps. 
Please follow and like us: