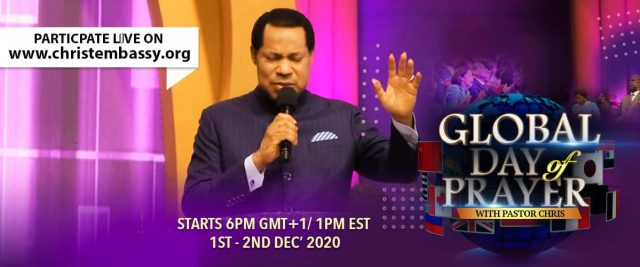 18 DAYS TO GO PRAYER GUIDE FOR TODAY, FRIDAY 13TH NOVEMBER 2020 PRAYER FOR THE GLOBAL ATTENDANCE TO THE PROGRAM
Mark 3:7-8 Jesus withdrew to the sea with His disciples, and a great multitude from Galilee followed; and also from Judea, and from Jerusalem, and from Idumea, and beyond the Jordan, and the vicinity of Tyre and Sidon, a great number of people heard of all that He was doing and came to Him.
PRAYER POINT
Pray and thank the Lord for an UNPRECEDENTED GLOBAL ATTENDANCE to the Global Day of Prayer. Proclaim that the news of this program spreads rapidly in all nations of the world, and everyone that hears about this program attends. Pray and proclaim that at this program, we exceed the 5 BILLION SOULS mandate given to us by the Spirit of God through our Man of God, and every attendee of this program will be impacted in a most extraordinary way by God's Spirit.
PROCLAMATIONS
I PROCLAIM that we exceed the 5 BILLION MANDATE participation for the Global Day of Prayer. I PROCLAIM that the news of this program spreads uncontrollably in all nations, and everyone who hears about it will attend. I PROCLAIM that through this program, billions of souls all around the world will be impacted for Jesus.
Please follow and like us: