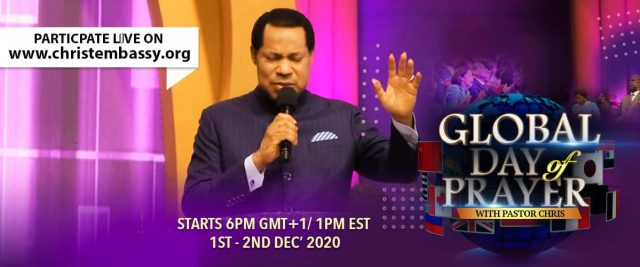 1 DAY TO GO Matthew 4:24 And his fame went throughout all Syria: and they brought unto him all sick people that were taken with divers diseases and torments, and those which were possessed with devils, and those which were lunatick, and those that had the palsy; and he healed them.
It's a few hours to the highly anticipated Global Day of Prayer, and as we prepare for this glorious program, remember we will be praying and fasting tomorrow, Tuesday 1st December 2020. The Global Day of Prayer will be a special time of Healing and the Miraculous. As we pray together with our Man of God Reverend (Dr) Chris Oyakhilome, the Healing Power of God will be strongly present to Heal all that are sick and afflicted.
Do you require healing? Do you know anyone who requires healing? Then ensure you get everyone you know to join Pastor Chris at the Global Day of Prayer from 6 pm GMT +1 Tuesday 1st December to Wednesday 2nd December 2020. It's your set time. Don't miss it.
Please follow and like us: