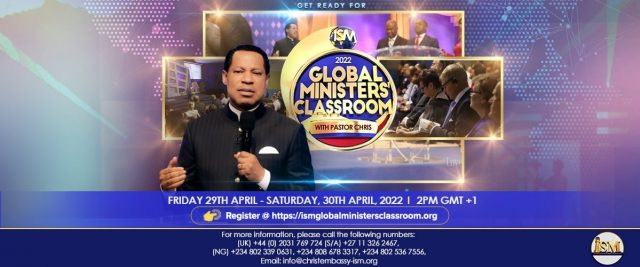 The ISM Global Ministers' Classroom (GMC) with Pastor Chris is a specialized program for Prayer, Fellowship, Strategy and the Word for ministers of the Gospel around the world. Over the years, the International School of Ministry (ISM) has organized Ministers' Conferences with more than 181 countries in attendance.
These include the ISM Ministers' Conferences in Johannesburg, South Africa and the World Evangelism Conference(WEC), in London, United Kingdom. Now in its 4th edition, this year's ISM Global Ministers Classroom is a divinely orchestrated time of Prayer, Fellowship and Strategy for ministers of the gospel all around the world, as the church of Jesus Christ prepares and gathers in the end-time harvest.
The ISM Global Ministers Classroom is open to all Ministers of the Gospel: Church Pastors, Youth Pastors and Ministry Leaders. Ministering at the Global Ministers Classroom, alongside the Man of God, Pastor Chris will be several other seasoned and anointed ministers of the gospel.
What to Expect as a Participant :
1. Increased focus on the Mission and Purpose of the Church
2. Strategic Insight for the End-Time Harvest
3. Networking with millions of ministers of the Gospel from around the world.
This epochal event will run for 24 hours, specifically, from Friday, 29th April, at 2pm (GMT+1), to Saturday, 30th April 2022.
You can also register your Church to be a Classroom, where other ministers of the Gospel can join you onsite to participate in the program and online as a part of your Virtual Classroom.
Make plans today to participate in this global and landmark event! You are sure to be indelibly impacted by the Spirit of God and further rightly positioned for the work of ministry in these last days. Kindly Click Here to Register. God bless you.
Please follow and like us: