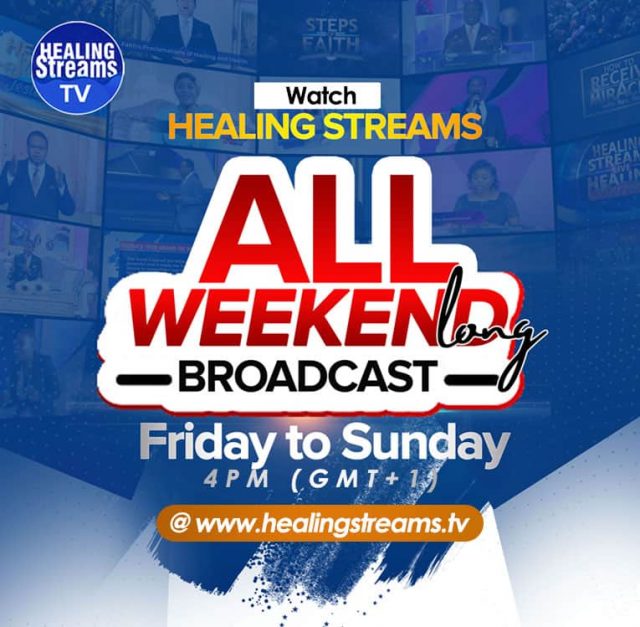 Join us every weekend for the re-broadcast of the past Healing Streams live services with our Man of God Pastor Chris Oyakhilome Dsc DD. Starts every Friday at 4pm.
Kindly click Here to Watch
"Greetings, I would like to thank Pastor Chris for the Healing Streams Programs. I have been suffering from pain under my left breast for almost 2 years. I tried different ways to alleviate the pain such as using a hot water bottle and ointments but to no available. I decided to register for October 2021 Healing Streams with Pastor Chris after watching others receive their healing during the July 2021 Healing Streams. I received my healing after Pastor Chris told the viewers to touch where they were feeling pain, I touched under my left breast and he prayed for us, the pain left instantly. Halelluyah! " Boikanyo Boikanyo Gobuamang Botswana. For more click here.
For healing school and/or Healing Streams related information, please use any of the details below.
SOUTH AFRICA
Christ Embassy Healing School
303 Pretoria Avenue Cnr.
600 Harley and Braam Fischer
Randburg, Gauteng South Africa.
P. O. Box 323 Randburg 2194
Phone Numbers
+27 (79) 967-5852
+27 (79) 967-5853
NIGERIA
Christ Embassy Healing School
51/53 Kudirat Abiola Way,Ikeja
Lagos State
P.O. Box 13563, Ikeja Lagos, Nigeria
Phone Numbers
+234 808 678 3344
+234 (01) 888 5066
+234 8039816243
UNITED STATES
Christ Embassy Healing School
Christ Embassy International Office USA
4237 Raleigh St, Charlotte, NC 28213
USA
Phone Numbers
+1 289 622 1634
+1 832 724 9390
UNITED KINGDOM
Loveworld Central Office
Unit 402-403 Cannon Wharf
Pell Street London SE8 5EN
Rainham, Essex, RM13 8BT
Phone Numbers
+44 203 176 9724
Please follow and like us: