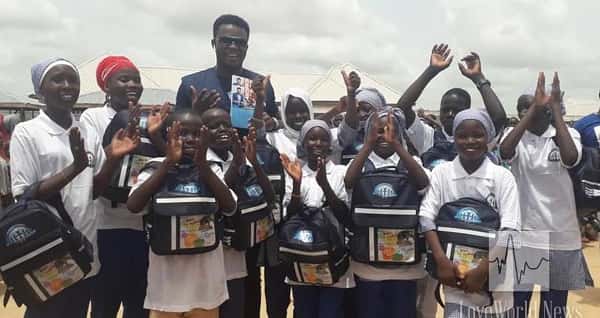 he InnerCity Mission and partners establish temporary learning spaces for displaced children in Northeast Nigeria.
The Innercity Mission for Children and its partners have constructed temporary learning spaces to cater for the educational needs of children, at the Gubio Internally Displaced Persons (IDP) Camp in Maiduguri, North-East, Nigeria. The Gubio camp is home to over 3,000 displaced children whose hope for education, and a desired future seem to have been shattered by the recent insurgency in North-East, Nigeria.
Recounting the ugly experience, 12-year old Hawa said, "the rebels attacked my village, destroyed many things, including my home and my primary school; we ran for our lives on foot for days till we came to the Gubio camp which has been our home for 4 years now. I miss school, I miss my friends," she lamented. In response to Hawa's ordeal and that of several other children, Innercity Mission partners constructed a temporary learning space of 5 classrooms with a perimeter fence in the camp. School furniture and other school supplies were also donated to the children.
At The commissioning of this laudable project, the InnerCity Mission received great commendations from government agencies such as the Ministry of Women Affairs, State Emergency Management Agency, for being the first humanitarian actors to invest in emergency education for displaced children in the camp. Speaking during the event, the State Chairperson, State Emergency Management Agency (SEMA), Borno State, represented by the Director of Operations, said, "When the InnerCity Mission approached me on their intentions, it did not take me 5 minutes to append my signature of approval. The InnerCity Mission is the first humanitarian organisation that has approached us to carry out such intervention." he asserted. UNICEF, Save the Children group, and other NGOs were also present at the occasion.
The InnerCity Mission for Children, is a non governmental organization birthed by the man of God, Reverend (Dr.) Chris Oyakhilome, to reach out and save indigent children in the inner cities of the world. In line with its vision, and through the Back to School Campaign, the InnerCity Mission is committed to protecting the right to education for indigent and vulnerable children in North-East, Nigeria. Particularly, in Borno and Adamawa states, which have been worst hit by the insurgency. This gesture is great and worthy of emulation.
Please follow and like us: