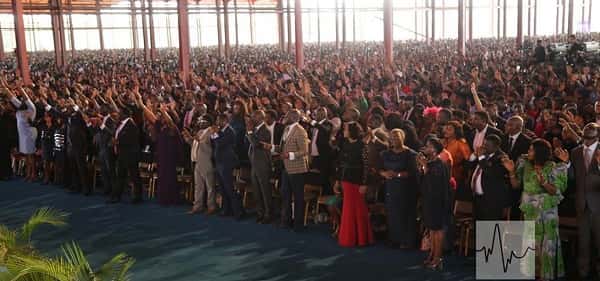 "Act your faith, take a hold of that expected miracle because once the man of God steps into the arena, miracles will begin to happen," Pastor Deola to attendees.
The much anticipated March Prayer Festival and Miracle Service with the man of God, Reverend (Dr.) Chris Oyakhilome commenced amidst great rejoicing. The congregation expressed palpable excitement singing and speaking in other tongues as the world-renown worship leader led in spirit-lifting songs of worship and praise to God.
The special program which was held at the LoveWorld Crusade Grounds, along Lagos Ibadan Expressway, South-West Nigeria, witnessed large influx of excited and expectant attendees from every part of the Lagos metropolis and neighboring cities. 
The service opened with a session of prayers led by esteemed Pastor Femi Otenigbagbe, Zonal Director, Christ Embassy Lagos Zone 3 and the singing of the LoveWorld Anthem led by Rita Soul.
A heartwarming and faith-stirring address by the esteemed CEO of the LoveWorld Nation, Pastor Deola Phillips, set the tone for a glorious time in God's presence. She admonished the attendees to act their faith and take a hold of God's Word for their expected miracles when the man of God begins to minister. With these beautiful words, she excitedly welcomed the congregation with loud cheers following.
Being a prayer and miracle Service, the esteemed Pastor Yemisi Kudehinbu, Zonal Director, Christ Embassy Lagos Virtual Zone and the esteemed Pastor Emeka Eze, Zonal Director, Christ Embassy Lagos Zone 2, took turns to lead in special sessions of prayers. The congregation prayed fervently and the atmosphere was engulfed with God's glory. Many came with great expectations to receive healings for their bodies and God's divine intervention in their lives and endeavor. In faith, they anticipated the arrival of the man God.
Stay glued to LoveWorld News for more exclusive updates on the Prayer Festival and Miracle Service with Pastor Chris.
Please follow and like us: