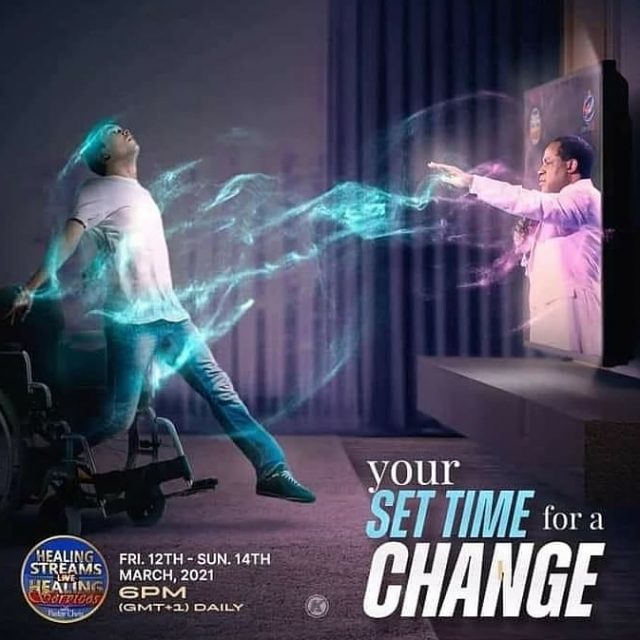 Daily broadcast of the epic 3-day Healing Streams Live Healing Services to massive global audience at www.healingstreams.tv, other platforms.
A blast of God's healing power is set to ripple out across the globe through the upcoming revolutionary Healing Streams Live Healing Services with world renown healing evangelist Reverend (Dr.) Chris Oyakhilome. Slated to run for 3 days; Friday 12th March to Sunday 14th March 2021, this historic crusade would be beamed live to a teeming global audience across all continents via the Healing Streams TV at www.healingstreams.tv, the Healing School mobile app, and various social media platforms, daily at 6 pm GMT+1.
The Healing Streams Live Healing Services, since inception, have become a hub of hope, miracles and outstanding testimonies for myriads who have participated from around the world. Hosted by the Director of the Healing School in the LoveWorld nation, Pastor Deola Phillips, these special live healing services have sponsored utter joy and relief through various healing ministrations administered by senior ministers of the LoveWorld nation including Rev. Tom Amenkhienan, Rev. Ray Okocha, Evang. Dr. Eddy Owase, among others in previous editions. Braces and corsets have been loosened, limbs grown, migraines quashed, wheelchairs rendered redundant and many other miracles have been attested to, in the special testimony segments of earlier episodes of this program.
While these earlier sessions are being relished, the beckoning edition heralds gigantic impact, bringing with it a tide of prevailing faith, diverse miracles, an exegesis of the undiluted Word of God and numerous testimonies of salvation. The LoveWorld President, Pastor Chris Oyakhilome who rains God's healing power on thousands gathered in the Healing School regularly, would grace the Healing Streams Live Healing services this time. An uproar of excitement has clothed the atmosphere as the whole world through online connection, singles into an auditorium where the power of God would be greatly manifested.
Brace yourself for a special time of the miraculous in the presence of the Lord at the largest ever healing crusade to be witnessed by the world. Register now at www.healingstreams.tv/3days and clear your schedules to participate in this momentous program poised to grant you more grace to walk in divine health. 
Please follow and like us: