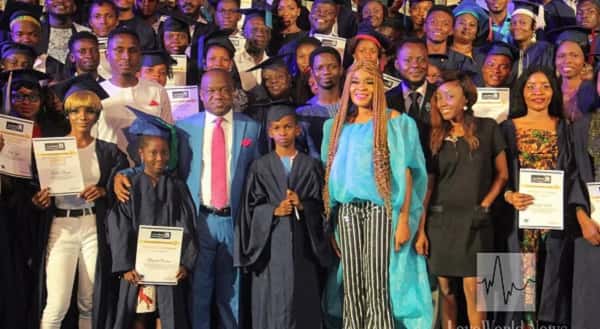 106 graduates of LoveWorld skills acquisition program receive head start for a life of success and self-sufficiency.
September 15th was a day of celebration for beneficiaries of the LoveWorld Skills Acquisition Program, who were part of the first set of graduates from the Calabar campus, South-South, Nigeria. 106 students graduated in this first class, having received training in varying skills. The LoveWorld Skills Acquisition Program, birthed by the man of God, Reverend (Dr.) Chris Oyakhilome, was inaugurated in a bid to prevent an uncertain future for youth.

For a period of time, the inaugural session of the program provided specialized training in online sales and marketing, wig-making, fashion design, make-over, web design, mini-importation, photography, and video production, intended to empower the beneficiaries to be self-employed and guarded from financial insecurity. Some of the beneficiaries testified to the positive effect of the training, which helped to reshape their mindsets, birthing in them new perspectives toward life, and opening up fresh opportunities.
The esteemed Director of the LoveWorld Skills Acquisition Scheme, Pastor Vale Odu-Thomas, presented the best graduating students from each of the skill-sets, with a financial prize. In collaboration with other sponsors from the Ministry Center, the program offered students financial aid to start up sustainable businesses with the knowledge they had just received. The graduates were admonished to make the most of the training, before being presented with certificates of completion.
Others who witnessed the occasion, on hearing testimonies of the graduating beneficiaries, were inspired and encouraged to enrol for the next session. The event also fueled their determination, raising expectations of better living standards through the judicious use of skills acquired from the training. The LoveWorld Skills Acquisition program has come to give many hope, confidence, and courage to face life and win. 
Please follow and like us: