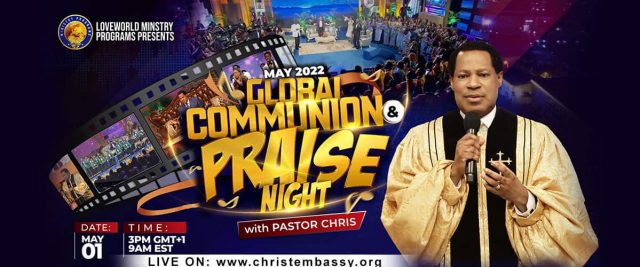 GET SET FOR THE MAY GLOBAL COMMUNION SERVICE AND PRAISE NIGHT WITH PASTOR CHRIS
As we celebrate the Death, Burial, and Resurrection of our Lord Jesus Christ in this beautiful Easter Season, we are grateful for His body that was broken for us and His blood that was shed, and we take this message to the whole world; turning men from darkness to light and from the power of satan unto God. Glory! Glory!! Glory!!!
And in this special season, we are counting up to the epochal May Global Communion and Praise Night with our Man of God, Pastor Chris; taking place on Sunday 1st May 2022 by 3 pm GMT +1, 10 am EST. It will indeed be an avalanche of Praise, Worship, the Word, and the Communion. Spread the word everywhere.
Please follow and like us: