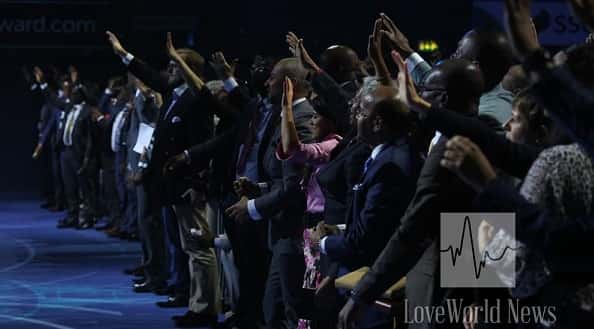 "Jesus — the son of God — is more real than your skin, your wife, your husband, your children and the neighbor next to you!" Pastor Benny Hinn.
The second day of the glorious World Evangelism Conference with Pastor Chris at the SSE Arena, London, was memorialized with the teaching on the person of the Holy Spirit and the unique worship and praise opportunities that the congregation had to minister to Him.

Delegates expressed their love for God and commitment to the course of the Gospel with their hands lifted, singing along as various anointed music ministers led in electrifying and soul-lifting songs.
The session also featured various enlightening talk show panels, educating the delegates on how best to effectively preach the Gospel in today's world.
Reverend Alakamani took attendees to a new height in understanding as he exhorted on the living hope we have in Christ, being begotten of Him through His resurrection from the dead.
This was followed by a highpoint in the session, in which Pastor Benny Hinn taught on the importance of the Holy Spirit in the believer's life. He unveiled the mystery of the reality of the unseen Christ and our tangible love for Him, made possible by the Holy Ghost dwelling in us today.
What a time of upgrade it was for everyone present at the SSE Arena, Wembley! Watch the featured video excerpts above for exciting moments from the session.
Please follow and like us: