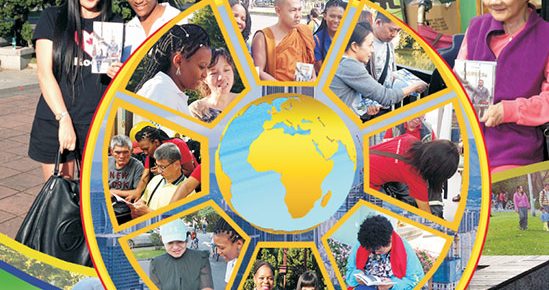 Recently, Rhapsody of Realities missionaries from Pretoria, South Africa, embarked on a mission trip to Taiwan, where they brought the message of God's love and hope to many in the country. It was an impactful three-day trip, filled with several activities that blessed many and resulted in the salvation of souls.
Blessing The Elderly and Several Tourists In Taipei
On the first day, the missionaries started out by visiting the Aden Disabled Home, where they were warmly welcomed by the staff members. They met disabled elderly people, whom they prayed for and spent quality time with. To support the home, the missionaries presented relief materials to the management who were very grateful.
From the home, they visited the biggest historical site in Taipei called Chiang Kai Shek Memorial hall which is a major attraction for tourists from all over Asia. It was erected in memory of Generalissimo Chiang Kai-shek, former President of the Republic of China. The missionaries distributed copies of Rhapsody of Realities to everyone they met, and the people were very receptive. That day, fifteen people gave their hearts to Christ at the site. The missionaries ended the day by visiting the night market, where they reached out to shopkeepers who were very excited to receive Rhapsody of Realities.
Visits To The Orphanage And Several Attractions
The following day, they visited an orphanage and other tourist attractions where they met hundreds of people who they ministered to and gave free copies of Rhapsody of Realities. A man who they ministered to requested for them to pray for him to be more zealous for the Lord. They did, and gave him 10 copies of Rhapsody of Realities to distribute. Immediately, he began to evangelise to others, something he previously found difficult to do.
Power-packed Sunday Service
On the third day, they attended the Sunday morning service at Wan Fan Baptist Church, where they were given the opportunity to minister. The power of God was present, and healings began to take place. Six people were healed, among whom was a young girl who had been partially blind. Her eyes opened, and she started seeing clearly.
An elderly man, who had been unable to walk well for 35 years and had been using a walking stick, gained strength in his legs and arms. He marched gallantly across the altar as he demonstrated his miracle, full of praise to God!
The missionaries concluded their trip by visiting the most prestigious university in the country, National Taiwan University. There, they reached out to thousands of students, distributing free copies of Rhapsody of Realities and TeeVo. So many young people received salvation that day.
In all, 68 souls were won to the Lord during the three-day trip, and many others received the Holy Spirit. Many experienced the love of God for the first time, and their lives were transformed forever.
To sponsor a Mission Trip, click here.
Please follow and like us: