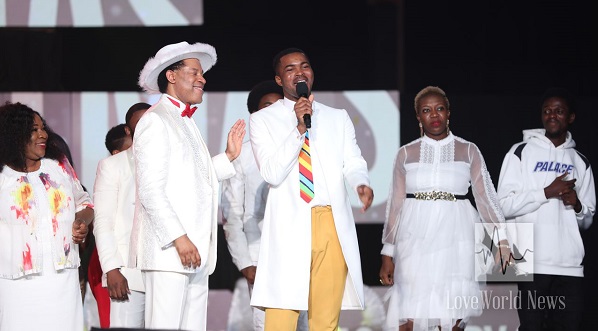 "The joy of Christmas is fulfilled in Heaven everytime Christ is born in the heart of a man" — Pastor Chris Oyakhilome.
The sounds of Christmas bells reverberating around the world hoisted several unforgettable moments within the season, including the epochal Christmas Eve Service with Pastor Chris, 2020. Hosted from the prestigious LoveWorld Crusade Grounds along Lagos-Ibadan Expressway, Southwest, Nigeria, the special service was brimmed with colorful decorations, sonorous and electrifying performances, awesome presentations and a profound exhortation on Christmas. The unique service was beamed live to a teeming global audience via all LoveWorld Networks, numerous terrestrial TV stations, various internet platforms and transmitted via several radio stations.
A scenic view of the beautifully decorated auditorium filled to capacity by worshipers.
In a special heartfelt music presentation, the President of LoveWorld Inc., Reverend (Dr.) Chris Oyakhilome wished all around the world a resounding Merry Christmas. He continued, in an eye-opening expository, to unveil several significant reasons for the celebration of Christmas, heralding that it will be continually celebrated everywhere in the world. Pastor Chris charged the saints to remember their real responsibility amid the joy of the Christmas festivity. "The celebration has meaning when Christ is born in the heart of a man, that's what brings joy to Heaven, that's what Christmas means," the man of God remarked.
LMAM Stars join Pastor Chris on stage to wish the world a merry Christmas as they sang.
The gaiety of the momentous Christian Entertainment International Awards, which was birthed last year, was witnessed once again in a unique segment of the service. With a further introduction of new categories of awards, individual artistes, groups and production teams were recognized specially for their splendid ministrations that night. With stellar performances, the Abuja Choir and Ur Flames tied up with the Overall Best Song that night. Pastor Israel and Sister Wisdom also claimed the Best Presentation (Individual/Duet Category) award while many others including the UK Band, Praise Nation, Obi Nelson and Deacon Ralph were plumed in the Top Best Songs of the Night category.
The exceptional duo, Ur Flames and the team celebrate their cherished award.
Pastor Chris, in the company of members of the LMAM, sang the melodious 'We Wish You a Merry Christmas' to all around the world. Palpable joy effused as different LMAM stars took turns to lead a special rendition of the famous Christmas song. The bliss of the Christmas Eve service with Pastor Chris 2020 will forever linger in the hearts of many around the world, who are set to extend the essence of Christmas to their individual spheres.
Please follow and like us: