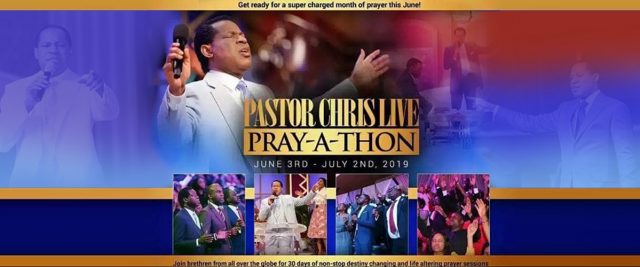 PRAY FERVENTLY IN TONGUES OF THE SPIRIT:
The PastorChrisLive Pray-A-Thon has been rich, most rewarding, gloriously impactful, and a great blessing to the entire world. We're grateful to the Lord for the opportunity to make tremendous power available through prayer, for the advancement of God's kingdom in the earth. Hallelujah!
Ephesians 6:18 says, "Praying always with all prayer and supplication in the Spirit, and watching thereunto with all perseverance and supplication for all saints". 1 Corinthians 14:14 says, "For if I pray in an unknown tongue, my spirit prayeth, but my understanding is unfruitful".
At our scheduled times of prayer (12noon and 10pm Local; with your group, or an extra 15min if your group is not scheduled today), we'll pray fervently in tongues of the spirit for all 15min, yielding ourselves to the intercessory ministry of the Spirit, and prophecies as the Holy Spirit inspires. The Church is marching on, and the gates of hell shall not prevail against it. Glory to God forevermore!
From Wednesday July 3rd to Friday July 5th, we would have a live edition of 'Your Loveworld' to round off our month of prayer, and we'll be fasting too on those days. Prepare for it. God bless you.
Please follow and like us: