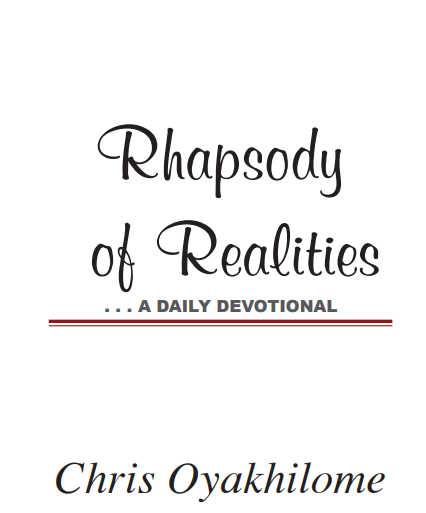 CELEBRATE THE NAME OF JESUS
And whatsoever ye do in word or deed, do all in the name of the Lord Jesus,
giving thanks to God and the Father by him (Colossians 3:17).
You need to learn to celebrate the Name of Jesus. I mean you shut your door for privacy, and dance to the Name of Jesus, all by yourself! For some people, when they're alone, they mope and gripe about everything that bothers them and makes them unhappy. They're always overwhelmed by their challenges, thinking about some unattained goals or "disappointments" they may have experienced. They can't see what God has done. That shouldn't be you.

When others aren't with you, in your closet, you can say what you want and really express yourself in the presence of the Lord with no inhibitions. You can shout as much as you want to in celebration of the
Lord, for His greatness and grace upon your life. Before long, you'd find yourself so stirred in the anointing of the Holy Ghost that you'd prophesy. Hallelujah!

I like to shout. I may not shout in a way that somebody else will hear me; I know how to shout "under my breath," all by myself. I never have time for gloominess or to mull over negativity. The life of God
in us is a great miracle; you ought to learn to celebrate
it all the time.

There's no reason for frustration or for you to be disadvantaged. If you'd learn to do these things, and do them consistently, even if you were in penury, He'll bring you out, into abundance. Even if you thought you were already a failure, you'll come out of that place.
When you live your life in joy, in celebration of the Lord—His Name, and your life in Him, every day—you'll always be on top. Glory to His Name forever.
PRAYER

Blessed Jesus, how glorious and precious you are! I acknowledge and appreciate your grace at work in me. Thank you for your mighty blessings in my life. With all of my heart, I worship you. I ascribe to you the glory due your Name. Thank you for perfecting all that concerns me, and for your power and wisdom by which I live triumphantly today. You've made me your glory and righteousness. I love you forever, blessed Lord Jesus. Hallelujah!
FURTHER STUDY:
Psalm 103:1-2; Ephesians 5:20; 2 Samuel 22:50
1-YEAR BIBLE READING PLAN: John 10:1-21 & 2 Kings 6-7

2-YEAR BIBLE READING PLAN: Mark 12:1-12 & Numbers 24
Please follow and like us: