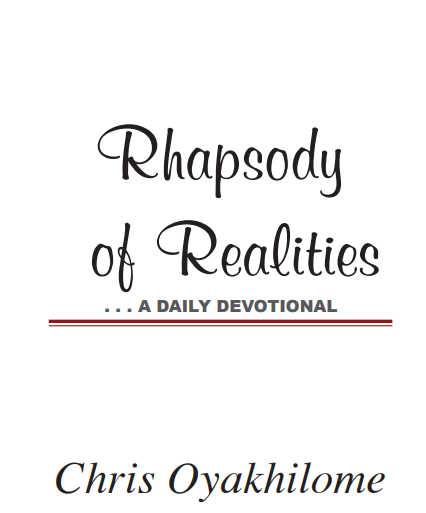 HE DIDN'T ASK US TO PRAY IN VAIN
Pray without ceasing
(1 Thessalonians 5:17).
Prayer can be very effective, and prayer can be mere religion. There're people who don't expect answers when they pray. To them, prayer is part of their religiosity. But God never told us to pray for nothing. Prayer is real communication; you're actually talking to someone that's listening to you, and ready to answer you. Here's another beautiful thing about the Lord: He knows what's in your heart even before you ask Him. Before you pray, He knows what you'd say to Him.

Why then does He expect you to pray? It's because God operates in legality; in spite of the fact that He loves you, He operates with rules, laws that He's put in place. The Bible tells us that He gave the earth to
human beings to live in and to run it. Thus, He requires their invitation to intervene in their circumstances.

For instance, if you're paying your rent duly, your landlord can't just walk into your apartment because he owns the house; that'll be illegal, because you're the custodian of the apartment; he has to come at
your invitation. That's the way it is with God. We're custodians of the earth. He needs our invitation to intervene in the affairs of men.

When you get in trouble or you don't know what to do about a particular situation and you require His intervention, you have to ask for it, even though He sees what's going on. Take for instance the way He related with the Children of Israel; in Ezekiel 36, He outlined several blessings for them. But in the 37thverse, He said, "Thus saith the Lord GOD; I will yet for this be enquired of by the house of Israel, to do it
for them; I will increase them with men like a flock" (Ezekiel 36:37). That's God dealing in His legality.

So, through prayers, you convey your mind, feelings, emotions and supplications to God, while He responds with answers. As you pray, especially in other tongues, the Holy Spirit puts words in your mouth, sanctified words that you can speak to God, to cause changes in your world.

Prayer holds an important place in the life of a Christian. Amongst other glorious benefits and blessings, prayer assures God's protection over you; your insecurity disappears and you receive courage to
tackle whatever comes against you in this life. So as admonished in our theme verse, pray without ceasing. Praise God!
PRAYER

Dear Father, thank you for always delighting to hear and answer my prayers. Even now, I pray that righteousness is poured out upon the nations producing salvation everywhere; thank you for your Spirit of grace working on men's hearts to be receptive, more than ever before, to the Gospel, in Jesus' Name. Amen.
FURTHER STUDY:
Luke 18:1; Ephesians 6:18

1-YEAR BIBLE READING PLAN: Luke 6:1-16 & Deuteronomy 29-30

2-YEAR BIBLE READING PLAN: Romans 3:1-12 & Psalm 94

Please follow and like us: