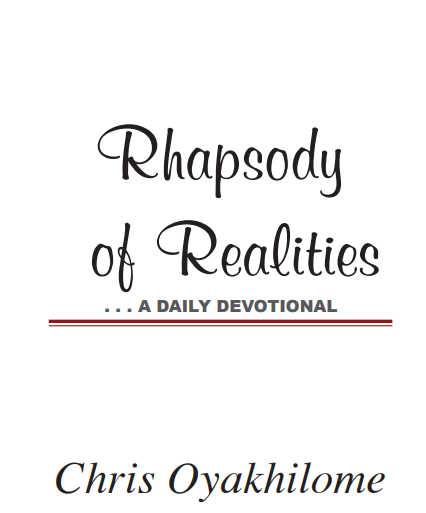 PARTAKERS AND DISPENSERS
OF DIVINE LIFE
For the scripture says, "The first man, Adam, was created a living being"; but the last Adam is the life-giving Spirit (1 Corinthians 15:45 GNB).
2 Peter 1:4 says, "Whereby are given unto us exceeding great and precious promises: that by these ye might be partakers of the divine nature, having escaped the corruption that is in the world through lust." Being partakers of the divine nature means we're associates of the God-kind; we're in comradeship with divinity. But that's not all!

Not only did He graciously grant us to be sharers of His life, He also made us the dispensers or distributors of that life. In John 10:10, the Lord Jesus declared, "…I am come that they might have life, and
that they might have it more abundantly." He came to give eternal life to those who would believe in Him. No wonder He's described in our opening verse as the life-giving Spirit.

Now, having been born again, you're one with Him; He made you a life-giving spirit. Like Him, your life's purpose is to bring the lost into the life of righteousness through the Gospel. Jesus said in John
20:21, "…as my Father hath sent me, even so, send I you." You're His representative in the earth, to manifest the God-life in your world.

You're the bearer of eternal verities. When you show up, life is manifested. When you touch the sick and the afflicted, the life in you is transferred and transfused into them, bringing them wholeness and
perfection. No wonder Jesus charged us in Matthew 10:8, "Heal the sick, cleanse the lepers, raise the dead, cast out devils…."

As you show up with the consciousness that you're the carrier of His divine essence and people listen to you share the Word, eternal life is unveiled to them. And everything of darkness bows. The Bible says He brought life and immortality to light, through the Gospel (2 Timothy 1:10). Hallelujah!
PRAYER
Dear Father, what an awesome blessing to be a carrier and dispenser of the divine life and to bring the lost and afflicted into the life of righteousness and joy through the Gospel. Your love, power, glory,
compassion and grace are expressed through me today, in Jesus' Name. Amen.
FURTHER STUDY:
1 Corinthians 15:45 AMPC; 1 Peter 2:9 AMPC; Luke 8:41-45 GNB
1-YEAR BIBLE READING PLAN:Titus 3:1-15 & Jeremiah 31-32

2-YEAR BIBLE READING PLAN: James 4:1-17 & Ezekiel 30
Please follow and like us: