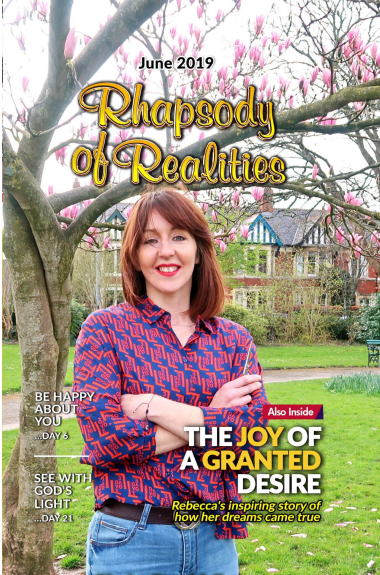 We're Luminaries
And they that be wise shall shine as the brightness of the firmament; and they that turn many to righteousness as the stars for ever and ever (Daniel 12:3). The word translated, "Shine" in the scripture above is "zahar" in Hebrew, and it means, "to admonish, teach, inspire, or send out light." These all connote leadership, and light gives leadership; it gives guidance.
It parallels what Jesus implied when He said, "Go ye therefore and teach all nations, baptizing them in the name of the Father, and of the Son, and of the Holy Ghost" (Matthew 28:19). "Go and teach all nations" means go and shine to all nations; inspire all nations.
This is our calling as God's people: we make students or pupils of the nations. We show the world the true life. We show them true happiness and joy. We show them what the love of God is as we unveil the Gospel to them. We're the light in a dark world, to lead men into Christ and His priceless inheritance.
When you arrive, illumination comes; there's direction; darkness is dispelled and the light and righteousness of God are established. You're like Paul, whom the Lord commissioned to open the eyes of the unsaved and turn them from darkness to light, and from the power of Satan unto God (Acts 26:18).
Proverbs 11:30 says, "…he that winneth souls is" put that together with our opening verse and see that, indeed, we're luminaries. We take the light of the Gospel everywhere we go. We give direction and show the way; we bring fulfillment and joy. These are qualities of light, and we're the light of the world.
In John 8:12, Jesus said, "…I am the light of the world. If anybody follows me, he shall not walk in darkness, but shall have the light of life." 1 John 4:17 declares, "…as he is, so are we in this world." We have the light of life, and dispense the same to our world.
Sickness, poverty, discouragement, death and all other works of darkness and evil can't, and should never find a place in your life. You're a shining light; walk in this reality.
PRAYER
Thank you, Holy Father, for enlisting me in your army of soul winners; and now, I illuminate my world, and the hearts of sinners are open to receive the message of your saving grace today, in Jesus' Name. Amen.
FURTHER STUDY:
2 Corinthians 5:19; Matthew 5:14-16
1 YEAR BIBLE READING PLAN: John 20:19-31 & 1 Chronicles 23-25
2 YEAR BIBLE READING PLAN: Mark 15:25-32 & Deuteronomy 5
Please follow and like us: