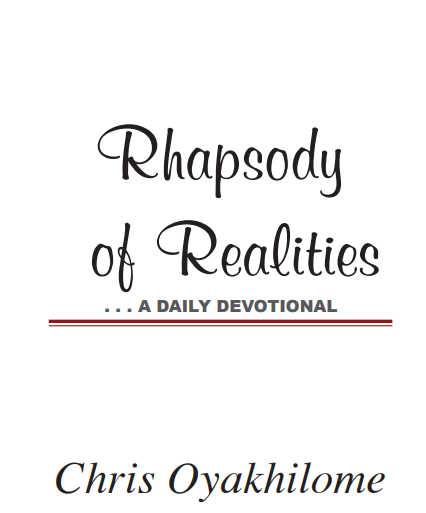 Overcoming Anxiety
Do not fret or have any anxiety about anything, but in every circumstance and in everything, by prayer and petition (definite requests), with thanksgiving, continue to make your wants known to God (Philippians 4:6 AMPC).
Around the world today, many are terrified, not just about the future, but even about the present. There's fear and terror, but the word "terror" isn't new. If you study the Bible, you'd be amazed at how many times it talks about terror. Nevertheless, Jesus assured us of victory over all crises. He said in John 16:33, "…In the world ye shall have tribulation: but be of good cheer; I have overcome the world."

There's no need for you to have anxiety or panicbouts over anything; you've already overcome Satan, the world and every crisis: "Ye are of God, little children, and have overcome them: because greater is he that is in you, than he that is in the world" (1 John 4:4). Therefore, stop the fear. Stop the anxiety. Anxiety refers to worry; it's a state of nervousness. But our theme verse says, "Do not fret or have any anxiety about anything…."

If you say, "But I can't help being worried," then you're accusing God of lying to you. You're accusing Him of asking you to do something you couldn't do. The fact that He says, "Don't be anxious," means you can live without anxiety. Your response, therefore, should be, "Blessed be God! I live in the peace and provisions of Christ; I do not fret! He has perfected all that concerns me. Hallelujah!" That's how you respond
to God.

Refuse to have anxiety about your son, your daughter, your husband, your wife, your brother, your sister, your house rent, your health, your job, business, education, or about anything! When you do, the Bible says the peace of God that's beyond human comprehension will garrison your heart and mind in Christ Jesus (Philippians 4:7). Hallelujah!
PRAYER
Dear Father, thank you for your Word that stirs faith in my heart and dispels fear and anxiety. I reject every thought of fear, for I'm shielded from the pain and darkness in the world. Greater is He that's in me than he that's in the world. I'm full of might by the Spirit of the Lord, for the peace of God which passes all understanding mantles my heart and mind, in Jesus' Name. Amen.
FURTHER STUDY:
Deuteronomy 31:6; 2 Timothy 1:7; Matthew 6:25-26 AMPC
1-YEAR BIBLE READING PLAN: Acts 21:37-22:1-21 & Job 32-35

2-YEAR BIBLE READING PLAN:Galatians 3:23-29 & Isaiah 33
Please follow and like us: