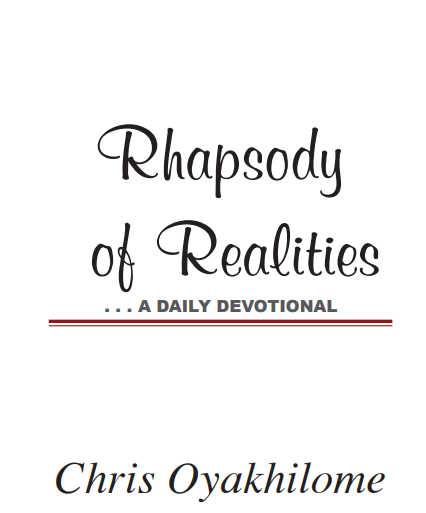 Conceptualize And Act
For it is God which worketh in you both to will and to do of his good pleasure (Philippians 2:13).
Many people have great ideas, be it about their jobs, finances, business, ministry or career; but sadly, not many are able to fulfil or bring those ideas to fruition. Yes, they have this very inspiring idea of what they'd do or could do, but they procrastinate; before long, discouraging thoughts and seeming "valid reasons" not to act will come up, until the inspiration wanes and the dream dies.
Success comes from "doing"; that is, acting; not from seeing only. That's why we have lots of people with great ideas—in business, politics or ministry— whose ideas never amounted to a hill of beans; they never took action. In fact, if you'd listen to them speak, you'd be awed at their lofty ideas, but they lack the drive and motivation to act.
If the foregoing describes you, the solution is simple: you need to meditate on the Word. God's Word is a propelling force. That's why beyond "sophia" and "sunesis" which are two different kinds of wisdom (remember, the Word of God is the wisdom of God), you must walk in "phronesis"; (these are three kinds of wisdom in the Greek New Testament).
"Sophia" is theoretical wisdom and insight into reality; it's the collective understanding of things. "Sunesis" is critical wisdom; that is, mental or analytical knowledge; the ability to understand concepts and see relationships between them. But "Phronesis" is practical wisdom; it's a force that makes you do and say the right things before you even think.
Therefore, if you're in this situation of "conceptualizing" and not "acting," begin to have daily sessions of meditating on the Word. Begin with Philippians 2:13; several times every day, you say out loud, "For it is God who works in me, both to will and to do of His good pleasure. He's effectively at work in me, strengthening and energizing me, not just to think or know what to do, but to actually do them." Practise this long enough and you'll never have dreams or goals that didn't materialize.
"Doing" people are successful people because many people see but they don't act! But when you see and act, it sets you apart for greatness. So, by the Spirit, go all out to pursue your dream and achieve your goals this year.
PRAYER
Dear Father, I thank you for granting me supernatural ideas and innovative solutions for my life, job, and ministry. I'm yielded to your Word, and therefore take full advantage of your inherent power and energy, which so powerfully work in me to do all things, in Jesus' Name. Amen.
FURTHER STUDY:
Acts 1:8 AMPC; Colossians 1:29 NIV
1-YEAR BIBLE READING PLAN: Luke 18:15-43; 1 Samuel 11-13
2-YEAR BIBLE READING PLAN: Romans 13:1-14; Psalm 120-122
Please follow and like us: