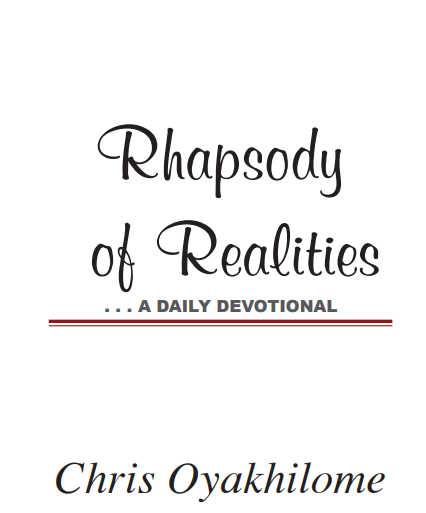 Activating The Treasures In You
…we have this treasure in earthen vessels, that the excellency of the power may be of God, and not of us (2 Corinthians 4:7).
This is so profound! There're treasures in you; divine treasures. Hallelujah! It brings to mind the words of Jesus in Matthew 12:35: "A good man out of the good treasure of the heart bringeth forth good things…." Every good thing you require in life is already in the treasure domiciled in your spirit; it's in you. What many haven't learnt is how to bring forth that which they require from within. Jesus said out of your belly shall flow rivers of living waters (John 7:38); He didn't say they shall flow from heaven. So, how do you activate the treasure in you?
Philemon 1:6 gives us an important insight; it says, "That the communication of thy faith may become effectual by the acknowledging of every good thing which is in you in Christ Jesus." There're three keywords in that verse. The first is "communication," translated from the Greek word "koinonia," and it means fellowship or participation. The second word is "effectual," which derives from the Greek word "energĕs"; and it means to become active or operative. The Lord wants your participation or fellowship in the faith to become active, to produce results through the acknowledging of every good thing, which is in you in Christ Jesus. That's the third keyword, "acknowledging," and it's from the Greek word "epignosis." "Epignosis" is full discernment and recognition of spiritual truths. This means that your participation or fellowship in the Gospel of Christ will become effective through your full and absolute knowledge of every good thing that you have in your spirit by virtue of your oneness with Christ. Beyond recognizing who you are in Christ, your inheritance and heritage in Him, you must affirm them to become your vital experience in life.
Study the Word to know more about the divine treasures in you. God has imparted amazing blessings to your spirit, but through knowledge and affirmation, you activate these and other blessings to produce results in your personal life. Praise God!
CONFESSION
I have the life of God in me; His glory and righteousness are in my spirit. Thank you, righteous Father, for the amazing blessings you've deposited in me in Christ Jesus. I acknowledge your peace and joy that mantles my heart always. I'm blessed beyond measure. Hallelujah!
FURTHER STUDY:
Psalm 87:3; 1 Corinthians 2:12-13
1-YEAR BIBLE READING PLAN: Luke 5:1-16; Deuteronomy 25-27
2-YEAR BIBLE READING PLAN: Romans 2:12-20; Psalm 91
Please follow and like us: