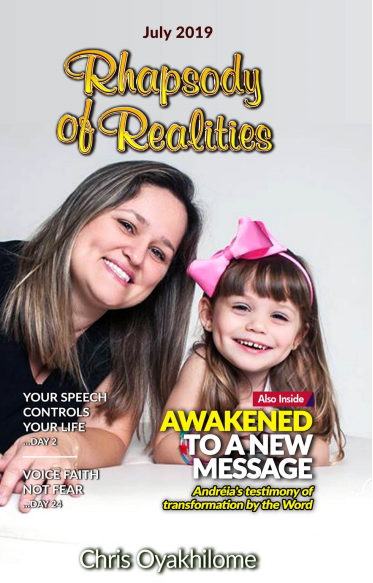 The Energy Of The Spirit
Whereunto I also labour, striving according to his working, which worketh in me mightily (Colossians 1:29). In our opening verse, Paul refers to the inherent ability, the energy of the Spirit at work in him.
This isn't exclusive to Paul but to each and every one of us that has the Holy Spirit. Like Paul, be conscious of this divine energy at work in you.
It makes no difference what challenges you face in the course of your day; there's a force—an empowerment—at work in you to blaze through the barriers. It's the energy of the Spirit. The Apostle Paul referenced this same power in 2 Corinthians 3:5 when he said by the Spirit, "Not that we are sufficient of ourselves to think anything as of ourselves; but our sufficiency is of God."
We have a sufficiency; we have the ability of God's Spirit at work in us, because we have the light of God in us. The Bible says, "…Christ in you, the hope of glory" (Colossians 1:27). The power of God is at work in you, coursing through your being. Become conscious of this.
The Apostle Paul was conscious of this divine energy working in him from within. The word he used in our opening verse for "working" is the Greek, "energeia" which refers to superhuman energy. Paul, filled with the Holy Spirit, recognized that the "working," the operational power of God, was in him. What a consciousness!
Have you come to the point in your life where you know and you can say confidently that there's a superhuman power at work in you? You ought to know. You're not labouring or striving by your physical might or human ingenuity, but by the energy of the Spirit.
This energy isn't at work in you sparingly, but mightily, meaning that you can't wear out! What a life you've got! Now you can further understand Paul's submission by the Spirit in 2 Corinthians 4:16: "For which cause we faint not; but though our outward man perish, yet the inward man is renewed day by day."
CONFESSION
My potentials are limitless because I'm divinely endued to live the life of glory, according to God's mighty power which works in me mightily! With that divine ability working in me, I achieve results that are beyond my physical ability. The Holy Ghost lives in me; He works in me! He carries out His ministry through me! Hallelujah!
FURTHER STUDY:
Philippians 2:13; Philippians 4:13; Micah 3:8
1 YEAR BIBLE READING PLAN: Acts 19:8-41 & Job 15-18
2 YEAR BIBLE READING PLAN: Luke 7:18-35 & Joshua 3-4
Please follow and like us: