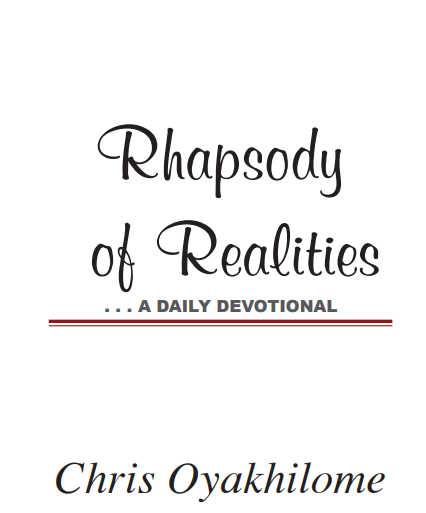 CONSCIOUSLY PRACTISE THE WORD
But whoso looketh into the perfect law of liberty, and continueth therein, he being not a forgetful hearer, but a doer of the work, this man shall be blessed in his deed (James 1:25).
Consciously practicing the Word is how you can enjoy its full blessings in your life because the power of God is in His Word. For example,
the Word says, "…Love your enemies, bless them that curse you, do good to them that hate you, and pray for them which despitefully use you, and persecute you" (Matthew 5:44). Consciously practise this; let it be your daily walk.

When you start out practising something, you may miss it, but don't give up and say, "Well, I tried." Keep at it until you gain mastery. Again, the Word says, "…take no thought for your life…" (Luke 12:22);
in other words, have no cares. Practise it. Don't find yourself worrying over the mundane things of life, with fear of lack; rather, by prayer and supplication with thanksgiving, let your requests be made known to God.

Psalm 1:3 reveals something phenomenal about the extraordinary life of blessings you have in Christ. It says you're like a tree planted by the rivers of water—ever luscious and green—fruitful and eternally productive. Affirm this every day about yourself. Irrespective, and independent of the happenings in the world, be unmoved, because you know you're empowered to prosper. For you, it's blessings only.
Hallelujah!

We're Word-practitioners; Jesus Christ is the Living Word, and we're born after Him. Paul said, "Ye are the Epistles of Christ" (2 Corinthians 3:3). That means we're the expression of the Word. The Apostle Peter
referenced a similar thought in 1 Peter 1:23, saying, "Being born again, not of corruptible seed, but of incorruptible, by the word of God, which liveth and abideth for ever."

Being born of the Word means you must live in, by, and through the Word; you must live it out in your daily walk.

CONFESSION
Righteous Father, how I love your Word; your truth is the light by which I see, and the foundation on which my strength is anchored. I'm blossoming in righteousness, flourishing in glory, producing lasting
results and making an undeniable impact with the Gospel, to the praise of your Name. Hallelujah!
FURTHER STUDY:
James 1:22-25; Colossians 3:16
1-YEAR BIBLE READING PLAN: Mark 13:1-37 & Numbers 22-23

2-YEAR BIBLE READING PLAN: Matthew 21:12-17 & Exodus 17
Please follow and like us: