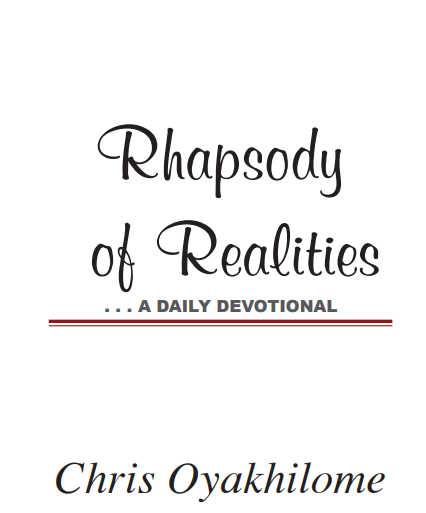 HE'S WITH YOU AND IN YOU ALWAYS
Yea, though I walk through the valley of the shadow of death, I will
fear no evil: for thou art with me; thy rod and thy staff they comfort me
(Psalm 23:4).
The Bible tells us of an encounter Jesus had with Jairus, the ruler of the synagogue, whose daughter died. He told Jairus, "…Fear not: believe
only, and she shall be made whole" (Luke 8:50). In another instance, He admonished His listeners as He taught them God's Word, "Do not fear, little flock, for it is your Father's good pleasure to give you the
kingdom" (Luke 12:32 NKJV).

Always, He charges us not to fear, because He's with us to help us deal victoriously with the issues of life. He said in Matthew 28:20, "…lo, I am with you always, even unto the end of the world. Amen." Then,
when He was to physically leave this world, He sent the Holy Spirit—to be in us and with us: "And I will pray the Father, and he shall give you another Comforter, that he may abide with you forever; Even the Spirit of truth…for he dwelleth with you, and shall be in you. I will not leave you comfortless…" (John 14:16-18).

Take Him at His Word. The Holy Spirit came to take the place of the ascended Christ, and now, He lives in you. Be ever conscious of His presence in you; take advantage of His grace and power in your life.
Since He says, "I'm with you always," you should say, "Blessed be God! I can do all things through Christ that's in me and with me. He's all I need for an evervictorious and successful life!"

It doesn't matter where you go in this world; the Lord is with you, morning, noon or night. This should enrich your fellowship with Him. Talk to Him with the consciousness that He's really and truly with
you. This should bring great excitement into your life because the One who really cares, the One who has all power—the great God of glory—is with you, and in you ALWAYS.

PRAYER

Righteous Father, what a blessing it is to know that you're forever with me, and in me. I walk in the light and blessings of your indwelling presence, knowing that I'm mightily helped of you in all things, and
energized for success. I walk in absolute victory today, in Jesus' Name. Amen.
FURTHER STUDY:
John 14:16-18; 2 Corinthians 13:14
1-YEAR BIBLE READING PLAN: Hebrews 11:1-16 & Ezekiel 5-7

2-YEAR BIBLE READING PLAN: John 11:47-57 & 1 Chronicles 13
Please follow and like us: