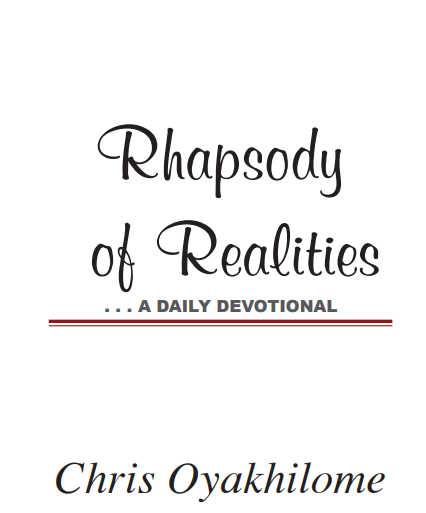 GUARD YOUR SALVATION
How shall we escape, if we neglect so great salvation; which at the first began to be spoken by the Lord, and was confirmed unto us by them that heard him (Hebrews 2:3).
If anything should be precious to you in this life, especially in these last days, it must be your personal salvation. Our theme verse says, "How shall we escape, if we neglect so great salvation…." Your salvation is the number one thing in your life. Protect it. See that you're walking in the light of God, in the totality of salvation. He said, "…work out your own salvation with fear and trembling" (Philippians 2:12).

No matter your accomplishments in life, they'll all be a waste without your salvation. Jesus said in Mark 8:36, "For what shall it profit a man if he shall gain the whole world, and lose his own soul?" It doesn't matter how many conferences you held or attended or how many people you helped; without your salvation, they'll mean nothing.

Don't trade your salvation for anything. We're surrounded by hawks and beasts that don't spare the flock; they'll do anything for their personal gains. Don't let them deceive you, and don't lead yourself astray. Stay in Christ, in His Word, and keep expressing His love and righteousness to your world.

Remember, not only are you here for your salvation, you're here also to help others receive salvation. When you really understand what salvation is, you'll not only protect it with your life, but you'd also be eager to share it with others. The Apostle Paul said, "For I am not ashamed of the gospel of Christ: for it is the power of God unto salvation to every one that believeth; to the Jew first, and also to the Greek" (Romans 1:16). The only way you can help others receive salvation is to share the Gospel with them. So make this a vital part of your daily routine and pursuit.

CONFESSION

I serve the Lord in spirit and in truth. His love is continually expressed through me to others. There's no room for hatred, bitterness, jealousy or pride in me, for the love of God is shed abroad in my heart by the Holy Spirit. And that love propels me to preach the Gospel and reach out in love to the lost, to turn them from darkness unto Christ. Amen.

FURTHER STUDY:
Philippians 2:12; Mark 8:36-37; 1 Corinthians 9:26-27 AMPC

1 YEAR BIBLE READING PLAN: Hebrews 11:17-40 & Ezekiel 8-10

2 YEAR BIBLE READING PLAN: 1 John 2:1-14 & Ezekiel 45
Please follow and like us: