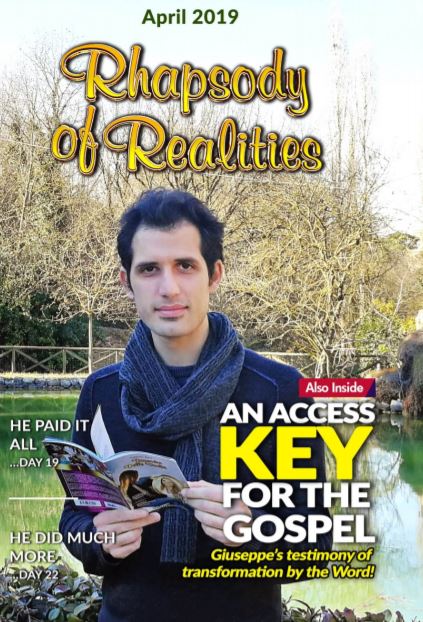 He's Your Ransom
And all things are of God, who hath reconciled us to himself by Jesus Christ, and hath given to us the ministry of reconciliation (2 Corinthians 5:18).
The underlined portion of the scripture above shows that it was God who took the responsibility of reconciling us to Himself.
He was the one behind all that Jesus Christ accomplished for us. Actually, He was the one doing it. We see that in 2 Corinthians 5:19; it says, "To wit, that God was in Christ, reconciling the world unto himself…."
It isn't just that God loved us so much and sent Jesus, but that He was actually doing everything that had to do with man's salvation by Himself. He was in Christ, reconciling the world to Himself, not counting their trespasses against them. Hallelujah! He took the responsibility, and paid the full penalty for all your sins; He's not mad at you at all.
Even if you got into trouble for something that you did wrong, He's obligated to saving you, to helping you out of any trouble, for one reason: because you have a ransom in Christ Jesus!
This is why the birth of Jesus means so much to us; He was born to live, die, and give His life as a ransom for many: "For even the Son of man came not to be ministered unto, but to minister, and to give his life a ransom for many" (Mark 10:45).
The Bible says He chose us in Him, before the foundation of the world, to be holy and without blame before him in love (Ephesians 1:4). You're holy and without blame before the Father, because Christ is your ransom! He took responsibility for your sins. This is the message of the Gospel!
No wonder He calls us His righteous ones; His justified ones; meaning that we can't be charged with sin, because not only are we righteous, we have also become the righteousness of God in Christ Jesus. 2 Corinthians 5:21 says, "For he hath made him to be sin for us, who knew no sin; that we might be made the righteousness of God in him."
PRAYER
Dear loving Father, thank you for expressing your love through the sacrifice of Jesus in my behalf, by which I'm presented to you faultless, holy, and unblameable. Blessed be your Name forever!
FURTHER STUDY:
2 Corinthians 5:19; Colossians 1:21-22; John 1:29
1 YEAR BIBLE READING PLAN: Luke 18:15-43 & 1 Samuel 11-13
2 YEAR BIBLE READING PLAN: Mark 4:1-12 & Leviticus 20
Please follow and like us: