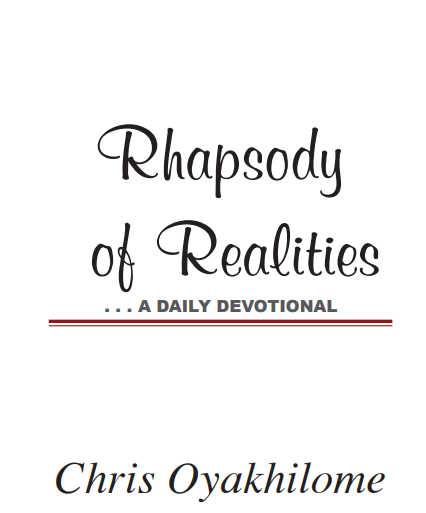 Stay Focussed On The Word
Looking unto Jesus the author and finisher of our faith… (Hebrews 12:2).
The Amplified Classic translation of our opening verse says, "Looking away [from all that will distract] to Jesus…." What God is telling you
here is simple: stay focussed on the Word! Jesus is the incarnate Word; fix your gaze on Him; don't get distracted.

Recall the case with Peter and the Master when they walked on the sea; Peter began to sink when he took his focus off Jesus. If he had kept his gaze on the Master, he wouldn't have been overwhelmed by the billowing waves and tempest (read Matthew 14:25-31). The same thing happens to many today; when they allow themselves to be overwhelmed by problems and circumstances instead of focussing on the Word of God, they sink even further.

There's no situation you can't handle successfully with the Word of God. Make the Word of God your stay; live in the Word! Learn from Jesus; He lived the Word, even though He is the Word! He was focussed and was never distracted from the Word. He looked at the result of His faith; for the joy that was set before Him He endured the Cross, despising the shame. He didn't care what people thought about Him; His focus was to carry out the will of the Father.

It should be the same with you. They may call you names because of your devotion and dedication to the Lord, but don't let that affect you. If anything, be inspired to love Him more; be challenged to serve Him even more passionately. Don't be moved by hard times and turbulent circumstances; hold on tight, with your focus on Jesus.

1Timothy 6:12 says, "Fight the good fight of faith, lay hold on eternal life…." Don't turn away from the Word. Isaiah 26:3 reveals part of the result of keeping your focus on God's Word; the Lord will keep you
in the peace of prosperity: "Thou wilt keep him in perfect peace, whose mind is stayed on thee: because he trusteth in thee."
CONFESSION
The Word of God is producing results in me by the power of God's Spirit as I walk in my heritage in Christ! I experience the peace of prosperity because I live in God's Word! I'm unflustered by tests, trials, and persecutions because the Word makes me triumphant always. Hallelujah!
FURTHER STUDY:
Hebrews 4:12; Isaiah 55:10-11
1-YEAR BIBLE READING PLAN: 1 Corinthians 13 & Proverbs 1-2

2-YEAR BIBLE READING PLAN: Colossians 4:10-18 & Jeremiah 15
Please follow and like us: