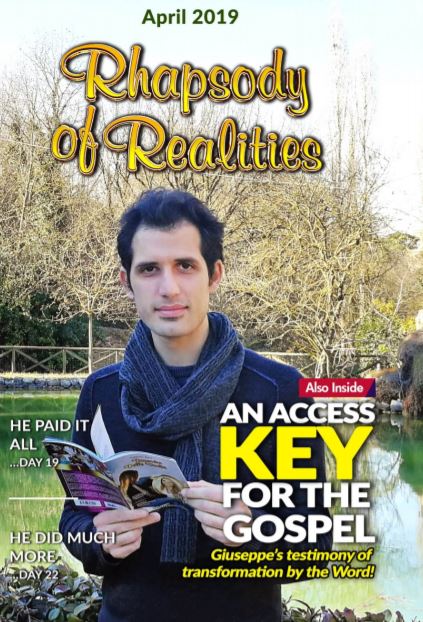 Risen, And Seated With Christ
If ye then be risen with Christ, seek those things which are above, where Christ sitteth on the right hand of God (Colossians 3:1).
When Jesus died on the Cross, in the mind of justice, the whole world died with Him, because He died for all men.
However, Christianity didn't start from His death, but from His resurrection. When God raised Him from the dead, you were raised together with Him, and you became a new creation, alive to God.
The new creation is the fruit of His redemption (Romans 8:23). You've been brought out of death—spiritual death—into life! You came alive with Christ; with His resurrection life. Knowing that you've been raised together with Christ, and seated with Him in the heavenly realms, the Bible says you should seek those things which are above. Have the consciousness of one who's seated together with Christ in the place of dominion, glory and power. It's a place where there's no darkness, no sickness, no defeat, and no pain; a place of absolute mastery and authority.
The Bible says Jesus is seated at the right hand of God (the right hand of power). This means He has authority over all creation; over all of heaven and earth. But guess what? God has lifted us up into glory along with Christ. We sit with Him in the heavenly realms of power, dominion, and majesty (Ephesians 2:6). We occupy the same position of authority, with the power of attorney to act in His stead. What a blessed reality!
PRAYER
What an awesome privilege to sit together with Christ in the place of power, far above all principality, and power, and might, and dominion, and every name that's named, not only in this world, but also in that which is to come! I function from a place of glory, power, authority, and dominion, separated from the debilitating effects of sin, corruption and darkness, in Jesus' Name. Amen.
FURTHER STUDY:
Ephesians 2:4-6; Philippians 2:9-10; Colossians 3:1-3
1 YEAR BIBLE READING PLAN: Luke 19:1-27 & 1 Samuel 14-15
2 YEAR BIBLE READING PLAN: Mark 4:13-20 & Leviticus 21
Please follow and like us: