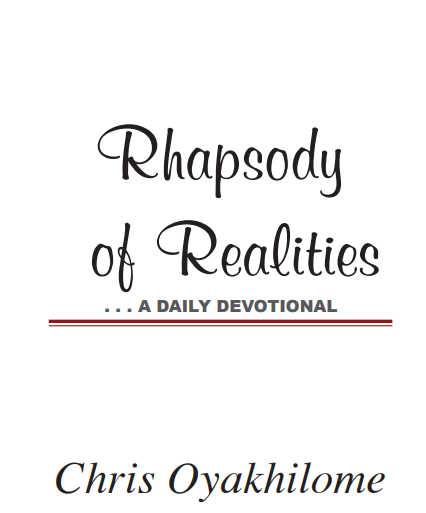 REJOICE AND BE GRATEFUL
Let us be glad and rejoice, and give honour to him: for the marriage of
the Lamb is come, and his wife hath made herself ready (Revelation 19:7).
True Christianity is living by faith in God's Word, where you're forever grateful and giving glory to God for His life in you. Your ability to
express gratitude is key to your greatness. David was never ashamed or afraid to express his gratitude to the Lord openly. Many times, he expressed his gratitude in songs, and in psalms. No wonder he lived such agreat life.

On a certain occasion, while I was meditating on the awesomeness of the Lord and thanking Him for all He's done, I was drawn to one of the psalms of David, which is recorded in 1 Chronicles 16. It says, "Then on that day David delivered first this psalm to thank the LORD into the hand of Asaph and his brethren. Give thanks unto the LORD, call upon his name, make known his deeds among the people" (1 Chronicles 16:7-8). This is so beautiful.

When we realize all that the Lord has done for us in a world that's gone so cruel and dark, and how He glorified Jesus in our lives in an extraordinary way, we can only be full of gratitude to Him. Don't live like those who are blind to all the good things happening in and around them, for which they ought to be grateful.

The New International Version of our underlined portion of the opening verse says, "Let us rejoice and be glad and give him glory…." Always, we should praise the Lord, declaring that He's the One who has given us victory over the world and its systems. He's exalted the Name of Jesus in our lives, and through us, He spreads salvation to the world. Trust Him with your life and be full of gratitude to Him every day.
PRAYER
Heavenly Father, thank you for giving me victory over the world and its systems, and imparting into my spirit the faith that conquers the world. You've exalted the Name of the Lord Jesus in my life, and through me, you've brought salvation to many. I'll make known your deeds and the awesomeness of your power in my life. Thank you for your mercy and
your love that's new every morning! Your Name is praised and glorified forever in heaven and in all the earth, in Jesus' Name. Amen.
FURTHER STUDY:
Psalm 103:1-3; Psalm 107:1; Ephesians 5:20; Psalm 32:11

1-YEAR BIBLE READING PLAN: Luke 9:37-62 & Joshua 16-19

2-YEAR BIBLE READING PLAN: Romans 6:12-23 & Psalm 106

Please follow and like us: