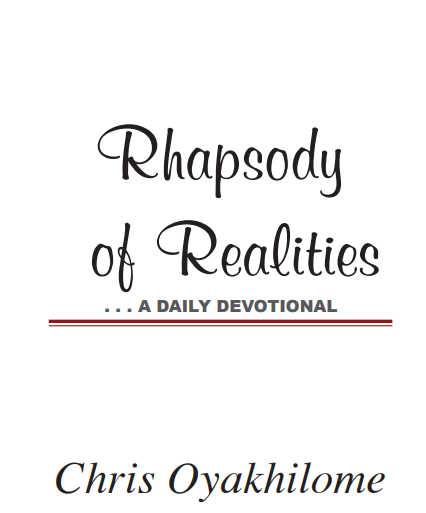 HE HAS A GREAT PLAN FOR YOU
For we are God's [own] handiwork (His workmanship), recreated
in Christ Jesus, [born anew] that we may do those good works which God predestined (planned
beforehand) for us [taking paths which He prepared ahead of time], that we should walk in them [living the good life which He prearranged and made ready for us to live]
(Ephesians 2:10 AMPC).
God has a great plan for your life, but if you don't know it, you can't walk in it. He prearranged a good life for you. That's what we read
in our theme verse. There're good things God has planned for you to do. But you may never do them until you know that God has such a plan.

This is why the study and meditation on the Word is very important; it helps you become more acquainted with His plans and the life He prearranged for you. And through the ministry of the Holy Spirit who
helps you fulfil God's plan for your life, you receive the mysteries and realities of the Kingdom. Hallelujah!

The Word declares, "But you are a chosen race, a royal priesthood, a dedicated nation, [God's] own purchased, special people, that you may set forth the wonderful deeds and display the virtues and perfections of Him Who called you out of darkness into His marvelous light" (1 Peter 2:9 AMPC). He chose you for excellence and perfection, to display
His virtues and wondrous works. He chose you to be the light of the world.

This is extraordinary! I understood this very early in my life, and I made up my mind to live the life that Jesus gave me, nothing short of it! That's our calling; that's God's plan. Why would you want to live any
lower or lesser life? Don't accept it. This year, you can be as successful as God has ordained for you to be if you'd walk by the Word. You were born to manifest the glory of God and establish His will and righteousness in the earth.
PRAYER
Blessed Father, thank you for loving me so lavishly! I trust you with my life, to lead and guide me in your perfect will always. I'm yielded to the guidance of the Holy Spirit to be led in the paths of success, victory and boundless joy, manifesting your glory and establishing your will—your righteousness—upon the earth, winning souls and bringing men out of darkness into your marvellous light, in Jesus' Name. Amen.
FURTHER STUDY:
Jeremiah 29:11; John 16:13; Psalm 16:11
1-YEAR BIBLE READING PLAN: Mark 10:1-31 & Numbers 11-13

2-YEAR BIBLE READING PLAN: Acts 23:22-35 & Psalm 55
Please follow and like us: