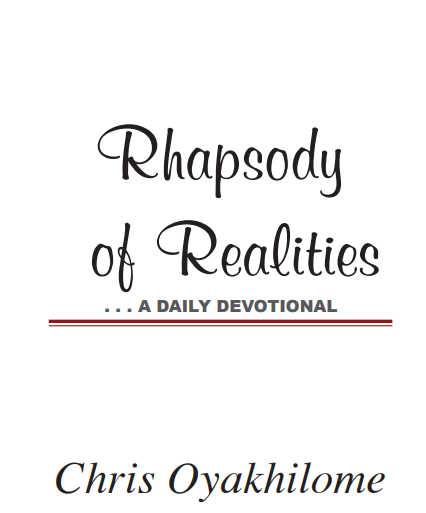 Live For Christ
I call heaven and earth to record this day against you, that I have set before you life and death, blessing and cursing: therefore choose life, that both thou and thy seed
may live (Deuteronomy 30:19).
There're Christians who're fretful about the rapture, uncertain about their eternal security. The Lord doesn't want us to live in such fear or anxiety. The truth is, eternal security is real for the one who's born again, but it's conditioned on your living the Christ-life, living in His righteousness until the end.

If, for example, someone who's been born again changes his mind later about following Jesus, such a person is in trouble, because his eternal security with God is in jeopardy. When you're born again, you're born into God's presence; you live in God's presence. He's your Protector. He keeps you, and no one is able to pluck you out of His hand, according to the Scriptures.

However, life is full of choices. You're the one to make a choice to live for Him continually. When God guides us, He presents us with the options, and then He also tells us what to choose. But He doesn't force us in the choices we make, though He lets us understand the consequences of making the wrong choices.
What you must do, therefore, is to live according to His Word. That's the simplest thing ever. When you're born again, living for Christ is the most natural thing to do with your new nature in Christ. Living right
is so natural to you that you have to be tempted to do wrong. This is also where the ministry of the Holy Spirit comes in. The Holy Spirit helps you live the Christian life, and with Him in your life, you never have to worry about missing your way.

Moreover, the Bible says, "Now unto him that is able to keep you from falling, and to present you faultless before the presence of his glory with exceeding joy" (Jude 1:24). As you live for the Lord, serving Him passionately with absolute conviction, He'll fulfil His purpose and ministry in your life.
CONFESSION
I live purposefully, fulfilling my ministry, and calling in Christ Jesus. I refuse to allow anything take my attention away from the Lord and His eternal Kingdom. I'm not slothful in business; I'm fervent in spirit, serving the Lord so that I might finish my course with joy, and the ministry which I've received of the Lord Jesus, to testify of the Gospel of the grace of God. Hallelujah!
FURTHER STUDY:
2 Peter 1:5-11; 2 Corinthians 5:15
1-YEAR BIBLE READING PLAN: 1 Corinthians 15:35-58 & Proverbs 8-9

2-YEAR BIBLE READING PLAN: 1 Thessalonians 2:10-20 & Jeremiah 18
Please follow and like us: