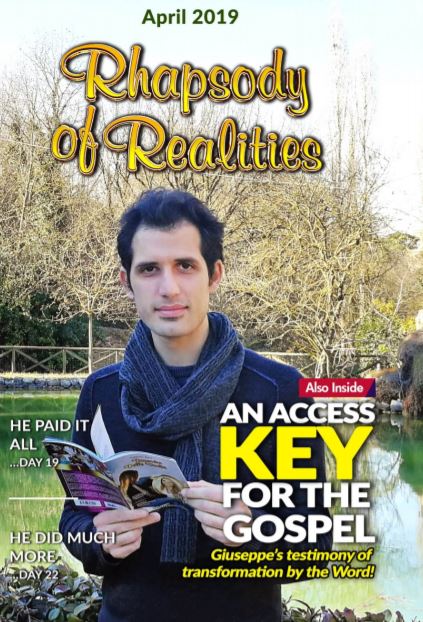 He Leads Us In His Light
Thy word is a lamp unto my feet, and a light unto my path (Psalm 119:105).
The Word of God is light, the true light that lights every man who comes into this world. Our opening verse describes the ministry of the Word in giving us direction in life.
It's one of the things that light does: it gives direction; it shows the way. Until you turn the light on, you wouldn't know what's covered in darkness or which way to go.
If you've ever attempted to find your way in the dark, you'd agree it wasn't without bumping into objects or obstacles that you couldn't see as a result of the darkness. Moreover, if you were journeying in the dark, you wouldn't know when you arrived at your destination or hit a crossroads. That's why the personal knowledge and application of the Word of God (His light) is so important for every Christian.
Some people have their lives in jeopardy, because they're not following the guidance and direction of the Word. They've thus journeyed in a different environment rather than God's environment. Some others are journeying with a ticket to nowhere, because they ignore the Word which should light up their path and give them a destination.
Wisdom and direction come from God's Word. As long as you live in the light that God gives, you'll never walk in darkness. He leads us in His light. The Bible says to walk in the light as He (God) is in the light. You're to walk in the same light in which God dwells (1 Timothy 6:16). This is possible because you're born of the Word of God (1 Peter 1:23), which is the true light.
God has given you His Word to light up your path, so there would neither be darkness nor uncertainties as you journey through life. Therefore, being led by His light, you'd go in the direction of love, joy, righteousness, health, peace, and prosperity. Blessed be God!
PRAYER
Blessed Father, I thank you for your Word is my light and the compass by which I navigate my way through life. I do not grope or wander in the dark, because your Word illuminates my path, gives me direction and guidance, and makes me an absolute success in life, in Jesus' Name. Amen.
FURTHER STUDY:
1 John 1:5-7; Ephesians 5:13; Psalm 36:9
1 YEAR BIBLE READING PLAN: Luke 20:1-19 & 1 Samuel 18-19
2 YEAR BIBLE READING PLAN: Mark 4:30-41 & Leviticus 23
Please follow and like us: