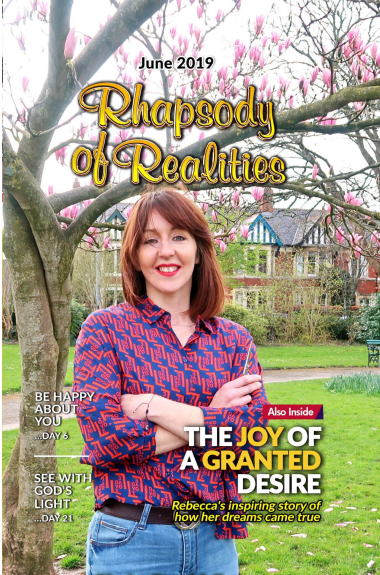 We Always Win
And the patriarchs, moved with envy, sold Joseph into Egypt: but God was with him, And delivered him out of all his afflictions, and gave him favour… (Acts 7:9-10). As God's children, we're never disadvantaged. Everything in life, every situation we find ourselves, can only work to our advantage.
Consider the story of Joseph. Everywhere he went, he prospered. He was described as a prosperous man, despite being a slave in Potiphar's house. What made the difference in his life was God's presence.
Genesis 39:2 says, "And the Lord was with Joseph, and he was a prosperous man…." God's presence, Christ in you, is your advantage; that's your assurance for victory. 1 John 4:4 says, "Ye are of God, little children, and have overcome them: because greater is he that is in you than he that is in the world." The reason we win, and would always win, is Christ in us; the greater One in us. Hallelujah!
I mean, think about it: Joseph was eventually unjustly sent to prison, due to false accusations from Potiphar's wife. Yet, in prison, the Bible says, "…the LORD was with Joseph, and shewed him mercy, and gave him favour in the sight of the keeper of the prison" (Genesis 39:21). The Bible doesn't say you might not get into trouble; but the Lord's assurance is that in the midst of the trouble, you'll prevail. He'll rid you of that trouble because He's with you and in you.
Nothing compares to Christ in us! That's our confidence and assurance for a triumphant and prosperous life. Christ in you means you can never be disadvantaged, irrespective of the situation or circumstance that you may find yourself. Right in that seeming dungeon, He'd cause you to triumph.
The Bible says in 2 Corinthians 2:14, "Now thanks be unto God, which always causeth us to triumph in Christ…." This is your life. This is your story: one of the endless victories and persistent progress and productivity in Christ Jesus.
It makes no difference the challenges you might be facing at home, in your workplace, etc.; be comforted! Christ in you will put you over and turn things around in your favour. Therefore, rejoice, because come what may, you'll always win.
CONFESSION
I'm surrounded with God's favour as a shield, and positioned by His grace for a life of peace and total prosperity! I win every day because I live by the faith of Jesus Christ. His divine power has given me everything I require for life and godliness, and I know it. Therefore, I rejoice in my victories, prosperity, and blessed life in Christ. Hallelujah!
FURTHER STUDY:
Genesis 39:21-23; 2 Corinthians 2:14; Romans 8:35-37
1 YEAR BIBLE READING PLAN: Acts 11:19-30 & Nehemiah 1-3
2 YEAR BIBLE READING PLAN: Luke 4:1-13 & Deuteronomy 23
Please follow and like us: