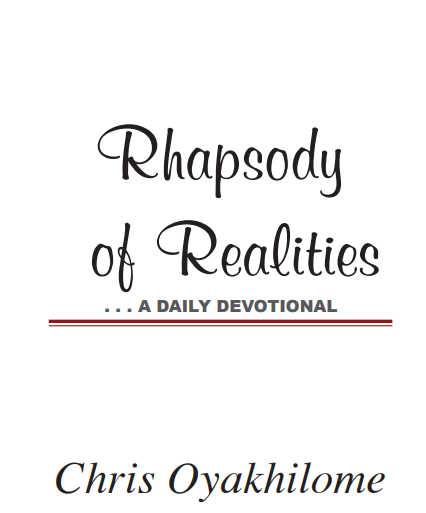 THE HOLY SPIRIT:
THE GLORY OF CHRISTIANITY
But ye are not in the flesh, but in the Spirit, if so be that the Spirit of God
dwell in you. Now if any man have not the Spirit of Christ, he is none of his
(Romans 8:9).
It's impossible to live the authentic Christian life without the Holy Spirit; as a matter of fact, what you'd have wouldn't qualify to be called the Christian life. The Holy Spirit is the glory of Christianity. You
couldn't know God or love Jesus without the Holy Spirit. Christians who don't have the Holy Spirit are vulnerable to Satan, to his attacks, manoeuvres, and manipulations.

In Matthew 12:43-44, Jesus tells us something instructive, which in a sense, describes the condition of the one who doesn't have the Holy Spirit. He said, "When the unclean spirit is gone out of a man, he
walketh through dry places, seeking rest, and findeth none. Then he saith, I will return into my house from whence I came out; and when he is come, he findeth it empty, swept, and garnished."

The one who's born again but hasn't received the Holy Spirit has his "spirit" swept and garnished, but empty! Consequently, he easily falls into temptations and sin. He'd be unable to control his fleshly appetites
or restrain himself from evil. It's only through the Holy Spirit that you mortify the deeds of the body and carnal desires: "For if ye live after the flesh, ye shall die: but if ye through the Spirit do mortify the deeds of the body, ye shall live" (Romans 8:13).

Without the Holy Spirit, you can't have the character of Christ. Jesus had to have the Holy Spirit. The apostles had to have the Holy Spirit. Life without the Holy Spirit is empty. If you haven't received the Holy Spirit, do so right away. Simply say, "Blessed Holy Spirit, I receive you into my heart now in the Name of Jesus Christ"; and be filled with the Spirit of God. Amen.
PRAYER

Precious Holy Spirit, I'm grateful for the privilege of fellowship with you. You've set me on the path of consistent progress, unending success, and recurrent victory. You brought fruitfulness and productivity into my life, making my Christian walk one of beauty and joy. I pray for those who haven't known you, that they be granted an understanding of your indispensable ministry in their lives, in Jesus' Name. Amen.
FURTHER STUDY:
Acts 19:2-6; John 14:16-17
1-YEAR BIBLE READING PLAN: Matthew 26:57-75 & Exodus 36-37

2-YEAR BIBLE READING PLAN: Matthew 13:24-33 & Genesis 40
Please follow and like us: