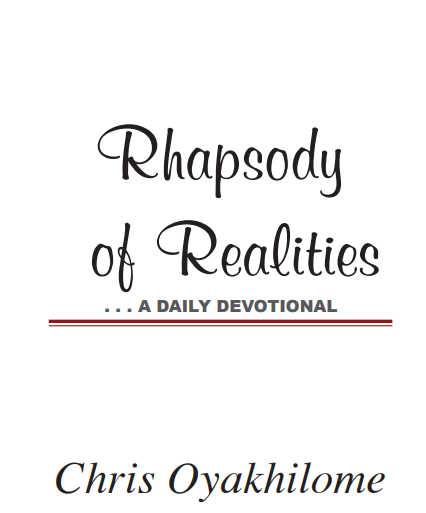 THE GOSPEL IS IN YOUR TRUST
O Timothy, keep that which is committed to thy trust, avoiding profane and vain babblings, and oppositions of science falsely so called (1 Timothy 6:20).
The word "trust" in the scripture above is an interesting Greek word, "parakatathēkē" and it means a deposit, the investment of your personality. Something has been deposited in you. You have to come to the realization that the Gospel, the same message that saved your life, has been committed to your trust.

Paul knew it. In 1 Timothy 1:11, he affirmed, "According to the glorious gospel of the blessed God, which was committed to my trust." What a consciousness! He took personal responsibility for the Gospel. It should be the same with you.

Your co-workers, business associates, schoolmates, family members, co-tenants, friends and all those He ever connects you with are all hanging on to the trust committed to you by God. He holds you responsible as their witness; you're the witness to your generation.
You've got to be committed to bringing salvation to those in your world. That's what success is. You become a fruit-producing branch, fulfilling what Jesus said in John 15:5: "I am the vine; ye are the branches…."

Always declare, "I'm a fruit-bearing branch, in the Name of the Lord Jesus! I bear fruits of righteousness and manifest works of righteousness." Declare it, and act accordingly. That's what the Apostle
Paul was communicating to the young minister, Timothy, in our theme
verse—the consciousness of what was committed to his trust.

You carry the seeds of the Kingdom of God inside you. That's your
number one ministry in life. Remember the words of Jesus: "But seek ye first the kingdom of God and his righteousness, and all these things shall be added unto you" (Matthew 6:33). Now that you're in His Kingdom, make it your priority, and His glory will be manifested in and
through you.

PRAYER

Dear Lord, thank you for the privilege of being your partner in soulwinning. You counted me faithful and committed the Gospel to my
trust. There'll be no limit to how far I'm willing to go and do for the
Gospel, for it's your power to make sinners righteous, to catapult
the poor from obscurity and misery to a life of prosperity, glory, and
excellence. I preach it boldly everywhere and to everyone, and many
are converted, in Jesus' Name. Amen.

FURTHER STUDY:

2 Corinthians 5:18; Jeremiah 20:9; 1 Corinthians 9:16-17

1 YEAR BIBLE READING PLAN: Revelation 8 & Obadiah

2 YEAR BIBLE READING PLAN: Revelation 14:1-10 & Nahum 1-3
Please follow and like us: