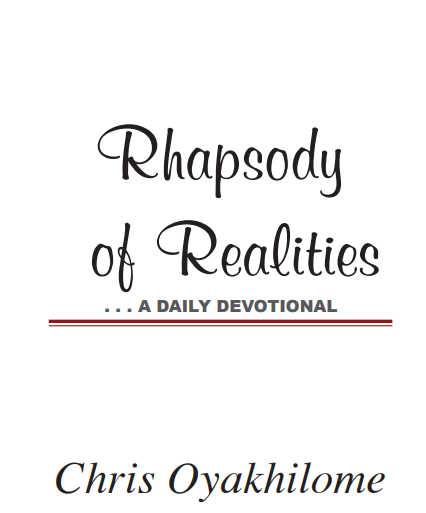 YOU'RE ON A UNIQUE ASSIGNMENT
But rise, and stand upon thy feet: for I have appeared unto thee for this purpose, to make thee a minister and a witness…(Acts 26:16)
There are billions of people on earth today and no all uniquely gifted, blessed and called of God. So, let your joy be in fulfilling the calling that God has given you. You're on a unique assignment; stay in the grace that God gave you, as no one can do it exactly like you.
Think about Paul: He was an apostle to the Gentiles; that wasn't something fashionable in his day, but he celebrated his unique assignment. He said in Romans 11:13, "…I am the apostle of the Gentiles, I magnify mine office." He didn't wish to have been sent to the Jews; Peter had that.
It's like Joshua too; though He walked closely with Moses before Moses died, he understood the uniqueness of what God wanted him to do. In Joshua Chapter 1, God said to him: "…go over this Jordan, thou, and all this people, unto the land which I do give to them…for unto this people shalt thou divide for an inheritance the land, which I sware unto their fathers to give them" (Joshua 1:2-6).
When Joshua got those marching orders, he understood that his assignment was unique from that of Moses. God had earlier told Moses, "I want you to bring my people out of Egypt" (Exodus 3:7-10). Moses brought them out of captivity in Egypt all right, but it was Joshua who took them into the land of promise and divided it for their inheritance (Joshua 1:2 & 6).
Have you established your unique assignment in that country, city, town, village, neighbourhood, school, or office? Don't think you're there just like everyone else, to do the same things they're all doing. Understand that you're on a unique assignment; fulfil your purpose with poise!
PRAYER
Dear Father, I'm immensely grateful and excited about the uniqueness of my assignments in the earth. I fulfil my purpose in Christ and walk in preordained paths that you planned before the foundation of the world, that I may serve and live for you. Through me, your Kingdom reigns and expands in the earth, and in the hearts of men, in Jesus' Name. Amen.*
FURTHER STUDY
Acts 26:16, Colossians 4:17, Ephesians 2:10 AMPC

1-YEAR BIBLE READING PLAN: John 3: 1 – 21, 2 Samuel 22
2-YEAR BIBLE READING PLAN: Mark 8: 10 – 21,Numbers 9
Please follow and like us: