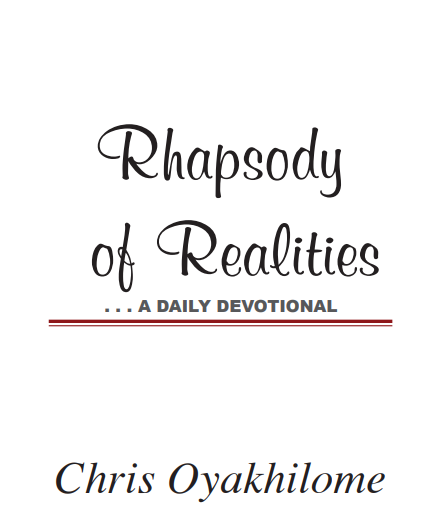 YOU ARE THE LIGHT: PERSONALISE IT
While ye have light, believe in the light, that ye may be the children of light. These things spake Jesus, and departed, and did hide himself from them (John 12:36).*
Remember the words of Jesus in Matthew 5:14: "Ye are the light of the world. A city that is set on a hill cannot be hid." The world is in darkness, but you're the light of the world. In John 8:12, Jesus said, "…I am the light of the world: he that followeth me shall not walk in darkness, but shall have the light of life."
He also said in John 9:5, "As long as I am in the world, I am the light of the world." Remember Jesus has ascended to heaven; therefore, we're now the light of the world because we live in His stead; He lives in us and reigns through us.
1 Thessalonians 5:5 says, "Ye are all the children of light, and the children of the day: we are not of the night, nor of darkness." Being children of light means we're light. You might say, "Pastor Chris, isn't that a conjecture?" Read Paul's beautiful revelation in Ephesians 5:8; it says, "For ye were sometimes darkness, but now are ye light in the Lord: walk as children of light."
Notice that it says we used to be darkness, but now we are light in the Lord. Blessed be God. As long as you're in this world, you're the light of the world. This should be your declaration! As long as you're in that family, that school, town, community, city, or that region, you are the light! You have to personalize it.
PRAYER
Dear Father, I thank you that I am the light of the world, illuminating, enlightening, revealing and manifesting the glory, manifold graces, beauties and perfection of divinity to my city, state, nation and region. I'm a city set on a hill that can't be hidden. I'm making the Name of the Lord Jesus known and bringing men and women into righteousness. Amen.
FURTHER STUDY
Philippians 2:14-15, Matthew 5:14-16
1-YEAR BIBLE READING PLAN: 2 Corinthians 10:1-18, Proverbs 27-28
2-YEAR BIBLE READING PLAN: Luke 22:14-23, 1 Samuel 29 
Please follow and like us: