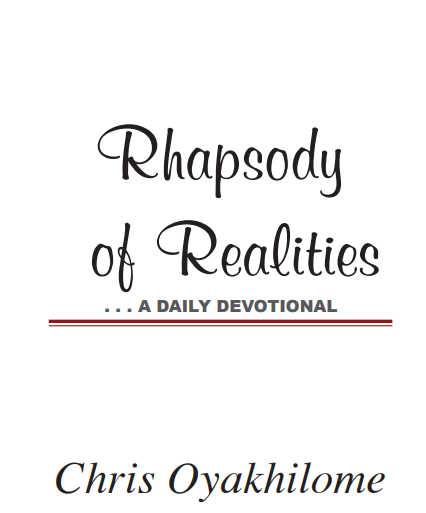 HIS GOODNESS IN THE EARTH
He loveth righteousness and judgment: the earth is full of the goodness of the
LORD (Psalm 33:5).
Some don't believe that the earth is truly full of the goodness of God. But that's exactly what the verse above unequivocally declares. All that some have experienced in their lives is bitterness and pain. Part of
the reason for this is the works of wicked and evil men and women. These evil manipulators destroy the economies of nations for their selfish gain.
Nevertheless, there's more than enough food and good things for every human being on the face of the earth. There's more than enough wealth in this world. There's more than enough grace in this world. There's more than enough power and ability in this world. It's one of the reasons God wants us to intercede for all men so they can enjoy all that He's blessed them with in the earth.

We read it: the earth is full of the goodness of the Lord (Psalm 33:5). Therefore, affirm that the lines are fallen unto you in pleasant places; you have a goodly heritage (Psalm 16:6). Believe it and act accordingly. God said, "My people are destroyed for the lack of knowledge…" (Hosea 4:6). But knowledge has come to you today: all the blessings of God upon the earth are yours to enjoy.

Don't settle for less. He said in Psalm 50:10-11, "For every beast of the forest is mine, and the cattle upon a thousand hills. I know all the fowls of the mountains: and the wild beasts of the field are mine." Then in
Psalm 24:1, David said, "The earth is the LORD's, and the fulness thereof; the world, and they that dwell therein." No wonder Paul said, "…All things are yours" (1 Corinthians 3:21); because you're an heir of God and a joint heir with Christ. Hallelujah!
PRAYER

Gracious Father, the whole earth is filled with your glory and goodness, but many are in bitterness and pain. Therefore, in the Name of the Lord Jesus, I come against the works of ungodly men who have filled the earth with violence, poverty, and deaths, keeping men from experiencing your goodness on the earth. Their works are frustrated, and God's people experience your blessings, health, prosperity, and power, in Jesus' Name. Amen.
FURTHER STUDY:
2 Peter 1:3; Isaiah 1:19; Psalm 27:13 AMPC & NIV

1-YEAR BIBLE READING PLAN: Matthew 11:1-30 & Genesis 36-37

2-YEAR BIBLE READING PLAN: Matthew 6:14-24 & Genesis 15

Please follow and like us: