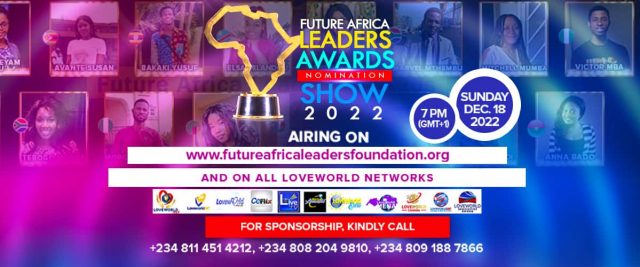 This year, 30 outstanding, vibrant, and exceptional youth leaders from Africa who have contributed immensely and demonstrated exemplary leadership by impacting their generation positively through education, youth empowerment, mentoring, agriculture, technology, economic development, and some special programs and projects will be nominated.
The top 10 African youth leaders will be selected for the 2022 Future Africa Leaders Awards, and one youth leader will emerge as a star-prize winner after a meticulous screening.
These 10 are chosen for the awards presented by the President of Loveworld Incorporated and the Grand Patron of the Future Africa Leaders Foundation, Rev. Dr. Chris Oyakhilome DSc. DD.
It will be shown live on www.futureafricaleadersfoundation.org and all Loveworld Networks at 7 p.m. (GMT+1) on Sunday, December 18, 2022.
Please follow and like us: