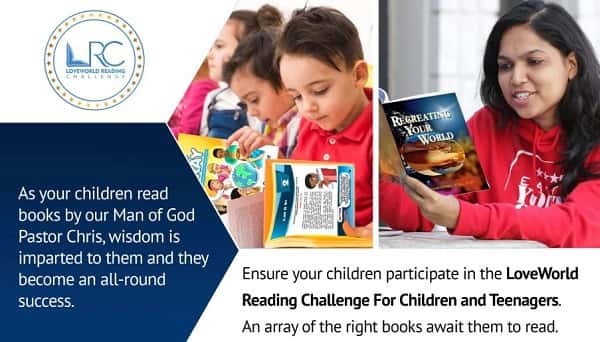 The LoveWorld Reading Challenge is on, and so much is happening around the world already! Children in elementary classes and teenagers all over the world are participating in the LoveWorld Reading Challenge for Kids and Teenagers.
Starting Them Early With The Right Materials
In the next few weeks all the way to the 30th of October, 2019, these youngsters will get to read inspiring and life-transforming books by the man of God that will position them for a life of success and impact. The kids will read books such as, "My Book Of Bible Stories", the six-part "I Know Who I Am" series, and "Let's Pray", while teenagers will read: "Recreating Your World", "Praying The Right Way", and "The Power Of Your Mind".
Kids and teenagers around the world will also get to participate in loads of activities including quiz competitions, where they can win fantastic prizes such as tuition-free scholarships, smartphones, laptops and so much more!
Take The Challenge!
This special initiative of the LoveWorld Publishing Ministry for kids and teenagers will improve their reading habits, improve their interaction with the Word and enable them to shine as bright lights by helping others like them develop their reading habits.
Get ready to be improved and to be a catalyst for positive extraordinary change in the lives of other young people. Spread the good news!
For more information on how to participate in the LoveWorld Reading Challenge, please call: Nigeria: +234 808 665 6497, +234 808 665 6533, +234 808 665 6547; Ghana: +233 – 0244211623, +233 548951736, +233 548951799, +233 54895 1800; United Kingdom: +44 1708 556 604, +44 2081 816 290; United States: +1 980 2195150, +1 281 759 5111, +1 281 759 6218 Canada: +1 647 341 9091; South Africa: +27 113260971 Or visit www.loveworldhooks.org
Please follow and like us: