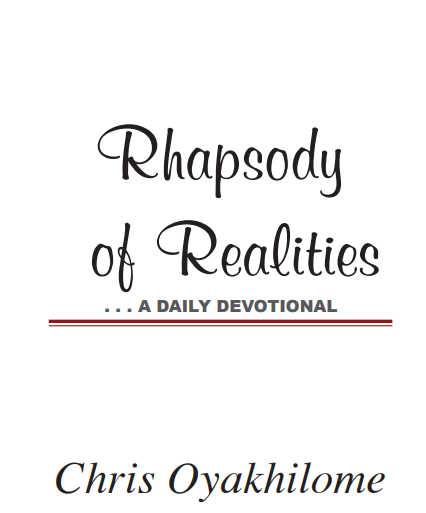 SPEAK BLESSINGS IN HIS NAME
Thou shalt also decree a thing, and it shall be established unto thee: and the light shall shine upon thy ways (Job 22:28).
When you pray, learn to speak words of blessings; speak things into being. Ecclesiastes 11:3 says, "If the clouds be full of rain, they empty themselves upon the earth…." There're clouds that are calamitous, catastrophic, ruinous and tragic, but our clouds carry spiritual waters of
blessings, prosperity and victories.

In John 7:38, Jesus said, "He that believeth on me, as the scripture hath said, out of his belly shall flow, rivers of living water." The 39th verse says, "(But this spake he of the Spirit, which they that believe on him should receive: for the Holy Ghost was not yet given; because that Jesus was not yet glorified)."

The Holy Spirit in you is a fountain of life. That's why there's a gusher, an outflow of life and blessings as you speak. Always speak blessings; words that cancel Satan's plans. Even now, make a decree concerning your nation, your city, your life or about anything, and it shall be established unto you (Job 22:28, Ecclesiastes 8:4).

Remember, it's by the blessing of the upright that the city is exalted (Proverbs 11:11). Speaking blessings over anyone, anything, any city or nation can be done by giving thanks. Therefore, give thanks as the Word enjoins us in 1 Timothy 2:1-2: "I exhort therefore, that, first of all, supplications, prayers, intercessions, and giving of thanks, be made for all men; For kings, and for all that are in authority…."
PRAYER

Dear Father, I thank you for the light of the glorious Gospel that continues to shine in all the nations of the world, with signs and wonders taking place as the Gospel is preached. Indeed, the knowledge of your glory is covering the earth as the waters cover the sea, in Jesus' Name. Amen.
FURTHER STUDY:
Job 22:28 AMPC; 1 Peter 3:9; Proverbs 11:11

1-YEAR BIBLE READING PLAN: Revelation 19:11-21 & Zechariah 9-11

2-YEAR BIBLE READING PLAN: Revelation 21:1-12 & Zechariah 11-12

Please follow and like us: