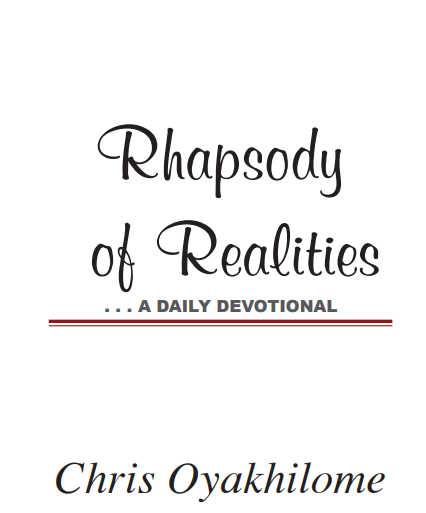 DEAL WITH IT ON YOUR KNEES
And he was withdrawn from them about
a stone's cast, and kneeled down, and
prayed (Luke 22:41).
Our opening verse reminds of what the Apostle Paul said in Ephesians 3:14-15: "I bow my knees before the Father of whom the whole family in heaven and earth is named." Learn to bow your knees in prayer. Sometimes people go through tough times and severe persecutions. The way to deal with such situations is on your knees in prayer.

In Luke 18:1-8, the Lord Jesus emphasized the importance of persistence in prayer. This is because being the righteousness of God in Christ Jesus, you can change anything through prayer. When Satan stirs persecution against us, take it to the Lord in prayer.

Never allow any crisis or situation take your attention such that you begin to mull it over, feeling helpless. One minute with the Holy Ghost will make a far much greater impact than five hours of melancholy and sad cogitations. So, pray in, and with, the spirit. "Is any among you afflicted? Let him pray…" (James 5:13). Ephesians 6:18 says, "Praying always with all prayer and supplication in the Spirit…."

It doesn't matter the persecution or how unsavoury the economy of your nation is; keep praying about it. Ecclesiastes 11:3 says, "If the clouds be full of rain, they empty themselves upon the earth: and if the tree fall toward the south, or toward the north, in the place where the tree falleth, there it shall be."

Keep watering the clouds with prayer; soon enough, the condensation will take place and there'll be a deluge: the answers will come pouring down.
CONFESSION

The Lord reigns and rules in the affairs of men. The Lord is strong and mighty, the God of all flesh, and there's nothing too difficult for Him. He's the God of possibilities, and He's given me the power of attorney to use the Name of Jesus to effect the changes I desire. Therefore, I live an ever-winning life, with dominion over Satan and his cohorts, spreading the Gospel of Christ in my world and beyond, in Jesus' Name. Amen.

FURTHER STUDY:
Luke 18:1; 1 Thessalonians 5:17; James 5:16 AMPC

1-YEAR BIBLE READING PLAN: Luke 8:1-21 & Joshua 3-4

2-YEAR BIBLE READING PLAN: Matthew 26:36-46 & Exodus 38

Please follow and like us: