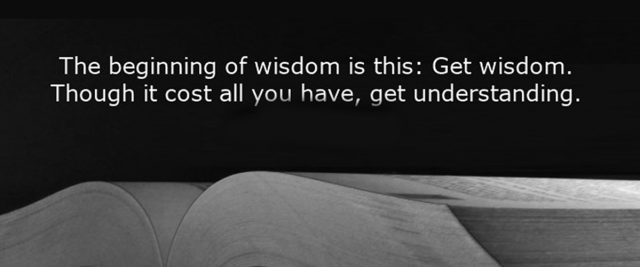 Wisdom is the principal thing; therefore get wisdom; and with all thy getting get understanding. (Proverbs 4:7)
Before Jesus, King Solomon was the wisest and the wealthiest man that ever lived. God showed up in his room one day and asked him what he wanted. Solomon had learnt to ask with discretion and precision; he asked for wisdom being fully conscious that every other requirement was embedded in wisdom!
Wisdom is the capital you require in life. It's the prerequisite for productivity, expansion and stability. Wisdom according proverbs 4:7 is the principal thing; it is the capital! The wisdom referred to here is not the one that comes with age or experience, nor is it the wisdom of this world: for the wisdom of this world is foolishness with God. For it is written, he taketh the wise in their own craftiness" (1st Corinthians 3:19). The wisdom that we are dealing with here is divine wisdom- insight into reality.
Galatians 3: 27 say, "as many of you that has been baptized into Christ has been put into Christ"; then, colosians2:3 reveal that all the treasures of wisdom and knowledge are hid in Christ. Therefore if you put on Christ by virtue of new birth (2nd Corinthians 5:17), it means you have put on all the treasures of wisdom and knowledge. No wonder the bible says you're complete in Christ, who is made unto us wisdom (Colossians 2:10, 1st Corinthians 1:30).
So Christ is your wisdom, and that wisdom cannot be improved upon; it's called excellent wisdom. Walking in this wisdom, which has been made available to you in Christ, is your guarantee for a life of consistent success, victory, and excellence.
Please follow and like us: